We are officially in full swing with kids activities this week. Somehow, we've ended up with activities every night of the week, which has me breaking out the instant pot and opting for quick meals.
I usually have the option of prepping stuff during the day since I work from home, but my schedule this week won't even allow for much of that so I've had to get really creative and keep it super simple.
Download this
Free Meal Planning Guide and Template
Aldi Grocery Shopping List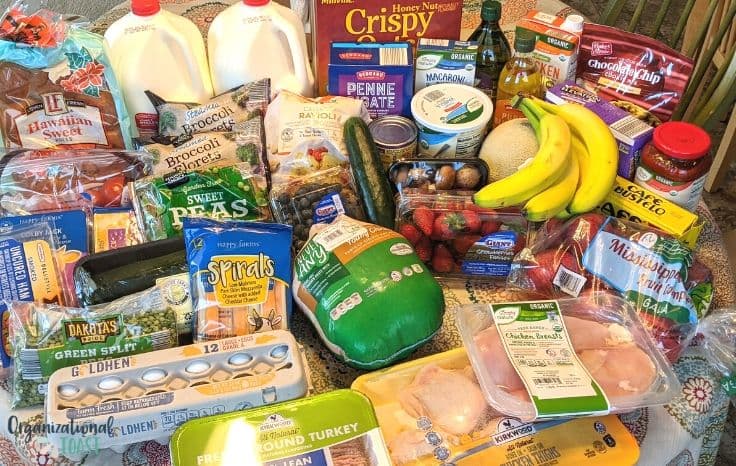 2 – Frozen Broccoli Florets – $0.99 x 2
Frozen peas – $0.99
Bone in Skin on Chicken Thighs – $2.93
Organic Chicken Breasts – $7.47
Whole Chicken – $8.54
Fresh Ground Turkey – $3.99
Frozen Cheese Ravioli – $2.79
Organic Chicken Broth – $1.79
Honey Crisp Oats Cereal – $2.45
Penne Noodles – $0.79
Granola Bars – $2.19
Organic Macaroni & Cheese – $1.15
Dried Split Peas – $0.95
Dozen Eggs – $1.27
Cookie Mix – $1.59
Ham Lunch Meat – $2.35
Colby Jack Cheese – $1.69
Zucchini – $2.30
Sliced Colby Jack Cheese – $1.79
String Cheese – $2.79
Grapeseed Oil – $3.99
Olive Oil – $2.49
Roma Tomatoes – $0.99
Organic Vanilla Yogurt – $2.69
Coffee – $2.88
Strawberries – $2.19
3lb Gala Apples – $2.99
Cucumber – $0.59
Bananas – $0.68
Cantaloupe – $1.19
Hawaiian Sweet Rolls – $1.59
Baby Bella Mushrooms – $0.99
Blueberries – $1.29
2 Gallons Whole Milk – 2 x $2.45
Total (with tax) – $87.69
Meal Plan
Before I go to the grocery store, I always take stock of what we have in the pantry and fridge.
This week, we had leftovers from a taco night pot luck we went to which included lots of tortillas, shredded cheese, sour cream and tortilla chips. I froze the shredded cheese and tortilla's and will use them as lunches and as a compliment to other stuff we're eating for the next couple of weeks. It's why I have 2 soups on my meal plan this week!
I'll use the tortilla chips as school snacks. Sure, it might not be the healthiest option but I hate to throw out food and the kids will love it!
I'm also planning to make Baked Ziti. Instead of buying ricotta cheese, I'll use the sour cream and add some cream cheese and seasoning to give the baked ziti that creamy element.
Dinners
Baked Ziti with Ground Turkey (2 Dinners)
Instant Pot Rotisserie Chicken with Rice and Broccoli
Instant Pot Chicken Soup and Quesadillas
Instant Pot Split Pea Soup and Bean and Cheese Burritos (the kids will eat Burritos and the adults will have soup)
Sauteed Chicken with Mushrooms, Broccoli and rice
Ravioli with Peas
Lunch
Leftovers (Split Pea and Chicken Soup)
School Lunches – Ham and Cheese Sweet Rolls
Macaroni and Cheese
Breakfast
Cereal
Oatmeal
Scrambled Eggs
Snacks
Cheese Sticks
Fruit and Yogurt
Chocolate Chip Cookies
Leftover party snacks
Chocolate Chip Cookies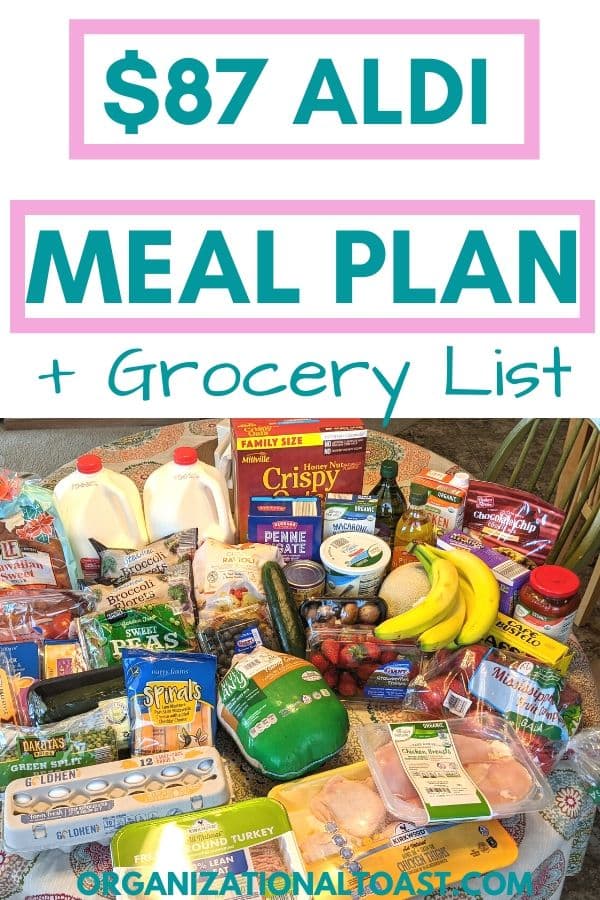 Looking for more of my meal plans? Check out all my weekly meal plans here.