This week's grocery shopping looks a little different than some of my other grocery hauls because I finally bit the bullet and renewed my Costco membership!
I haven't had a Costco membership for about 3 years now. When I was shopping at Costco back then I always found my self overspending and wasting a lot more. At that time I needed to get my grocery budget under control and this was one step I took towards reducing our spending on groceries.
Our grocery budget hasn't changed much since then but our needs as a family have. Our kids are older and we are going through food much faster than when they were little. I want to provide as many healthy options as possible for them but also have snacks and foods the kids can just grab when they are hungry.
My monthly grocery budget for our family of 4 is $500 which is about $125 a week. I spent $150.06 at Costco this month, which leaves me with about $88 a week for fresh foods and for the rest of the items we need. And I'm proud to say I have been sticking to that reduced budget! I plan to only shop at Costco once a month to help stick to my budget.
Costco Grocery Haul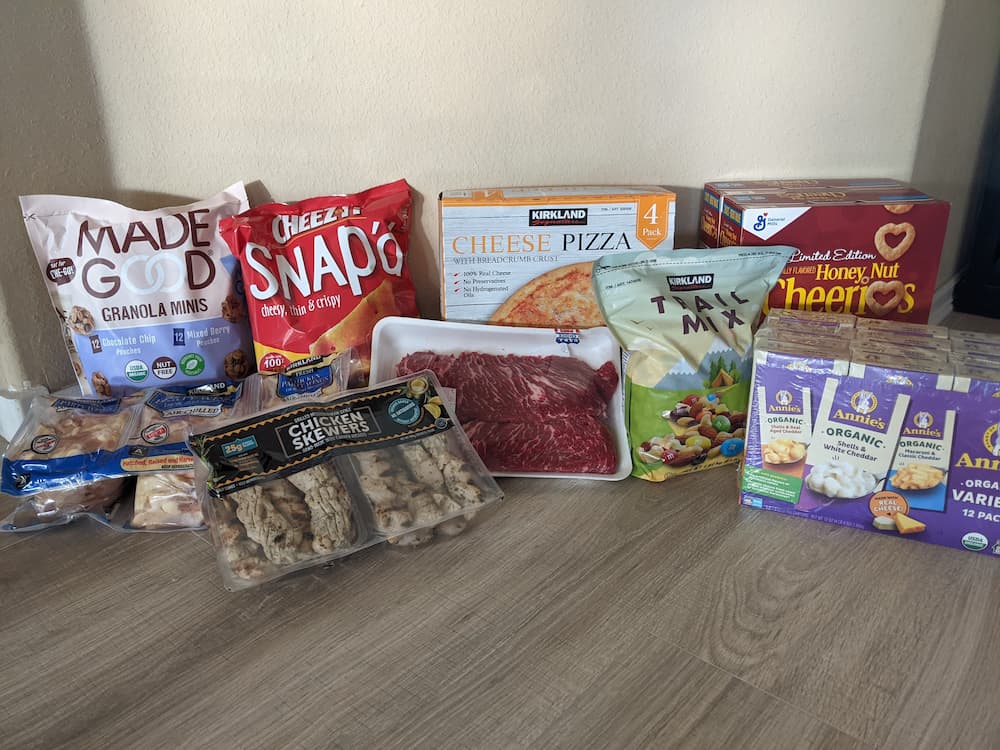 These items will last us all month, at least that is the plan! I will be able to incorporate these into our meal plan for the rest of the month. I also purchased items that were on sale to help keep the cots of these items down.
Grilled Chicken Skewers – $17.40
Kirkland Cheese Pizza – $13.05
Annies Mac & Cheese – $13.67
Made Good Organic Granola Minis – $8.70
Honey Nut Cheerios – $6.71
Chicken Wings – $32.10
Trail Mix – $14.92
Snap'ed Crackers – $4.96
Beef Loin Tip Steak – $38.55
Total – $150.06
Aldi Grocery Haul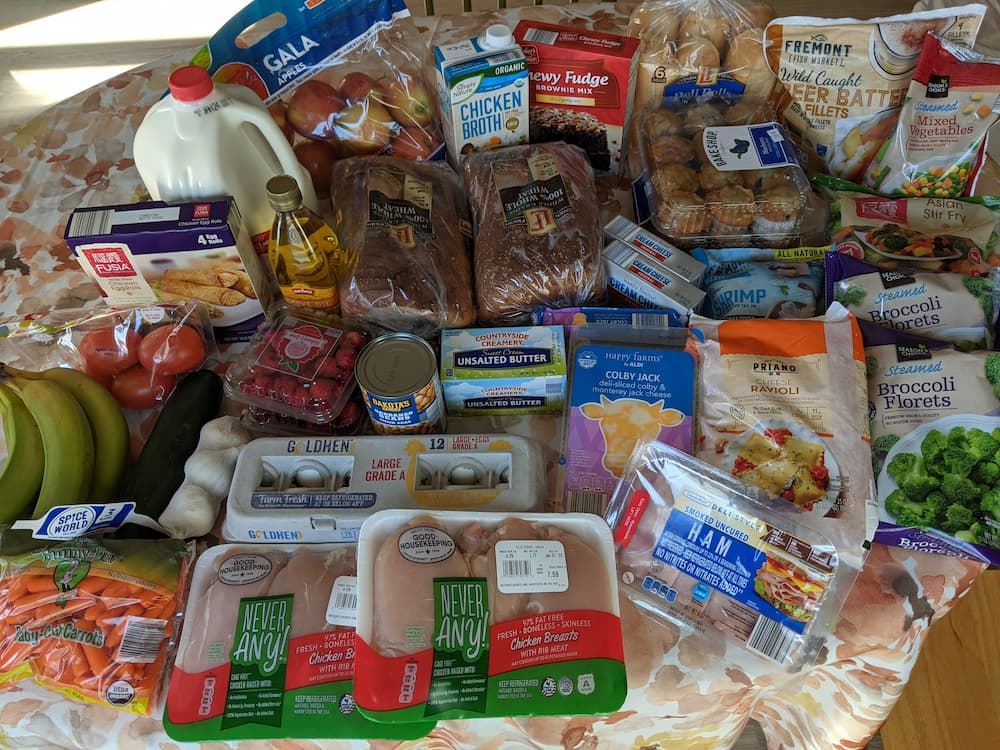 Raspberries 2 x $2.25 – $5.10
Garlic (3 Count) – $1.39
Organic Baby Peeled Carrots – $1.39
Sliced Colby Jack Cheese – $1.99
Olive Oil – $2.75
Unsalted Butter – $3.19
Dozen Large Eggs – $1.75
Frozen Broccoli Florets – 2 x $.99 – $1.98
Frozen Broccoli Stir Fry – $1.98
Frozen Cheese Ravioli – $3.25
3lb Gala Apple Bag – $2.75
Cucumber – $.55
Roma Tomatoes 1lb – $1.05
Whole Wheat Bread – 3 x $2.05 – $6.15
Fresh Deli Rolls – $2.19
Colby Jack Cheese Block – $2.05
Garbanzo Beans – $.69
Mini Blueberry Muffins – 2 x $2.75 – $5.50
Lunch Meat Ham – $2.55
Brownie Mix – $1.09
Cream Cheese – 2 x $1.09 – $2.18
1 Gallon Milk – $3.89
Beer Battered Cold Fillets – $5.75
Frozen Shrimp – $5.49
Frozen Mixed Vegetables – $.89
Frozen Egg Rolls – $2.95
Bananas – $1.01
Chicken Broth – $1.99
Chicken Breast – $17.12
Total $88.63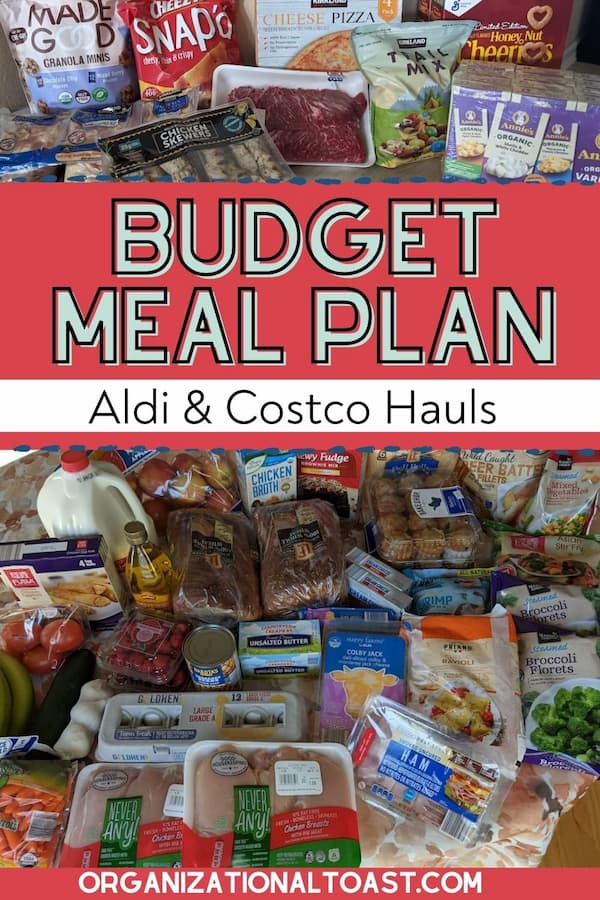 Weekly Meal Plan
As with all my meal plans, I always take a quick inventory of what I have on hand before I grocery shop. I usually have a small stockpile in my pantry and I use that stockpile to build my meal plans. Read my tips for building a stockpile on a budget.
In addition to salt, pepper and basic seasonings, these are the pantry items I incorporated into my meal plan this week:
Spaghetti
Rice
Potatoes
Marinara Sauce
Peanut Butter
I also purchased a few items to keep my stockpile going. This included chicken broth, beans, and olive oil. I had enough room in my budget to be able to buy these few items to add to my stockpile.
Dinners
Shrimp Scampi with Spaghetti and Broccoli
Vegetable Stir Fry with rice and Egg Rolls
Ravioli with Chicken in Marinara Sauce served with tomato and cucumber salad
Beer Battered Cod Fillets with Potatoes and mixed vegetables
Baked Chicken Breast with rice and carrots. (I really like this seasoning for the chicken, the recipe is for chicken thighs but it works on breasts)
Grilled Steak and potatoes served with broccoli
Chicken wings, air fryer french fries and carrots
Lunch
Macaroni and Cheese with Chicken Skewers
Frozen Pizza
Peanut Butter/Honey and Ham/Cheese Sandwiches
Breakfast
Cereal
Scrambled eggs and toast
Toast with Cream Cheese
Snacks
Granola Bites
Fruit
Snapp'd crackers
Trail Mix
Muffins
Brownies