This week I wanted to challenge myself to spend only $30 on 5 dinners for our family of 4 and come up with an extreme budget meal plan. I wanted the meals to be easy and quick to suit our busy weekday schedules but also include fruits and vegetables at every meal.
I always to try keep our grocery bill to around $125 a week for our family of 4. I consider this a pretty large grocery budget that includes breakfast, lunch and dinner. But we've needed to scale back some of our spending and the grocery budget is one place that we definitely have some room to reduce our spending.
I've done 7 meals for $50 at Aldi and 7 dinners for $40 dollars at Walmart but I know sometimes planning out 7 dinners in advance isn't always possible. So if you've only got $30 to allocate towards a dinner budget this meal plan will get your through 5 days. The best part is, I actually came in under $30 and spent only $22.84 before tax.
For this meal plan I only used a couple of kitchen staples including butter, salt, pepper and soy sauce.
I also purchased applesauce and bananas which I will serve at each meal as a side.
In this trip I bought a bag of whole carrots. I will only use 3 of them for my recipe, so I will serve the rest as carrot sticks as a side dish or even a snack during the day.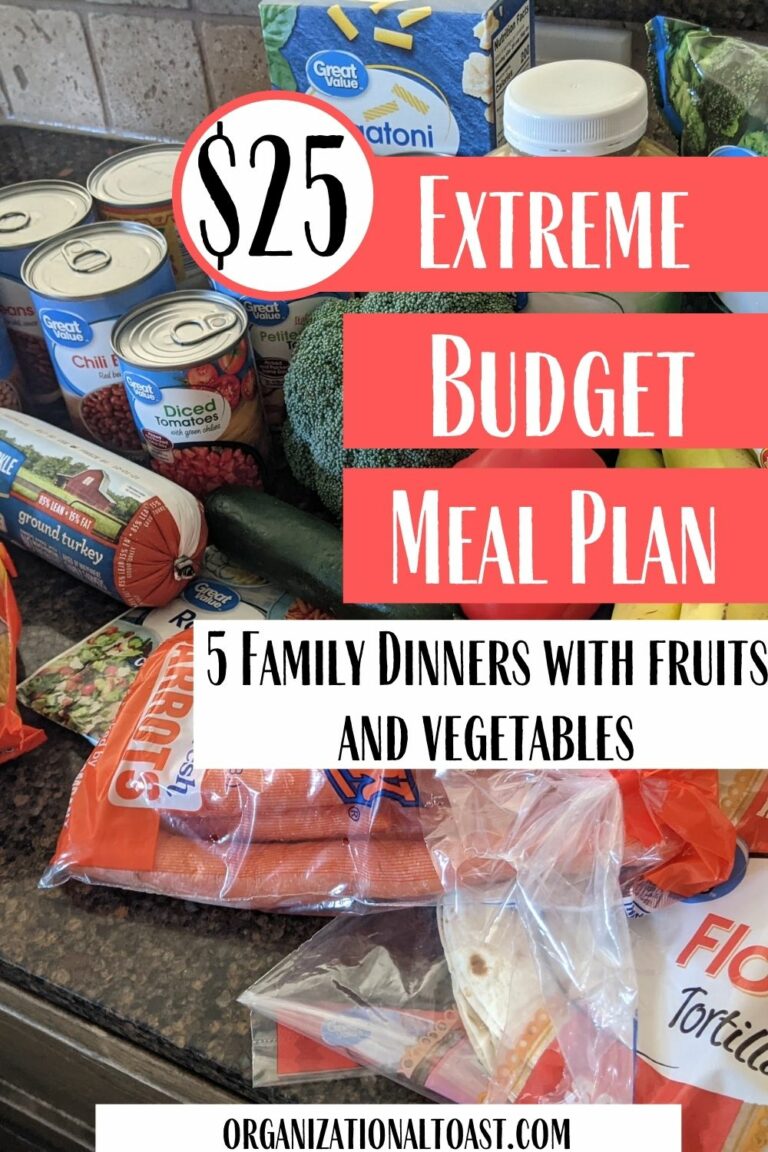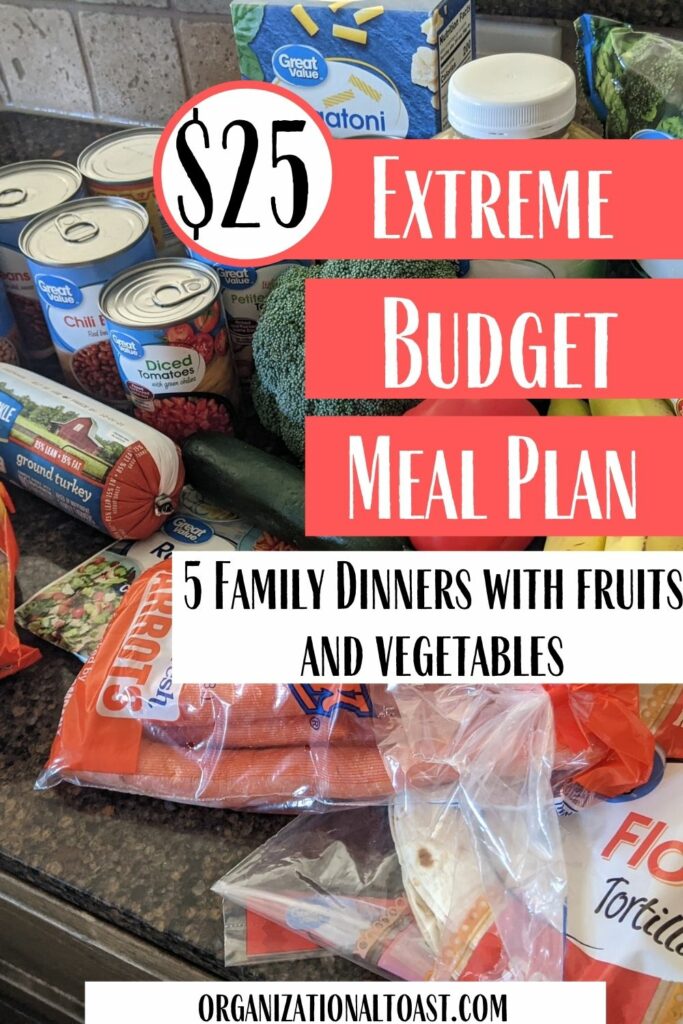 You'll notice in my meal plan that I've purchased a lot of pre-seasoned food. For example, I bought chili beans with seasoning so I didn't need to purchase any additional seasoning. I bought two different kinds of tomatoes: Italian seasoned and tomatoes with chili. They cost about the same as the unflavored versions but can bring a lot of flavor into your cooking without all the extra cost.
I also used my ibotta app. I earned $.20 back on this shopping trip. It might not seem like much, but it accumulates pretty quickly. Use this link to earn $10!
Extreme Budget Meal Plan
Ranch Broccoli Pasta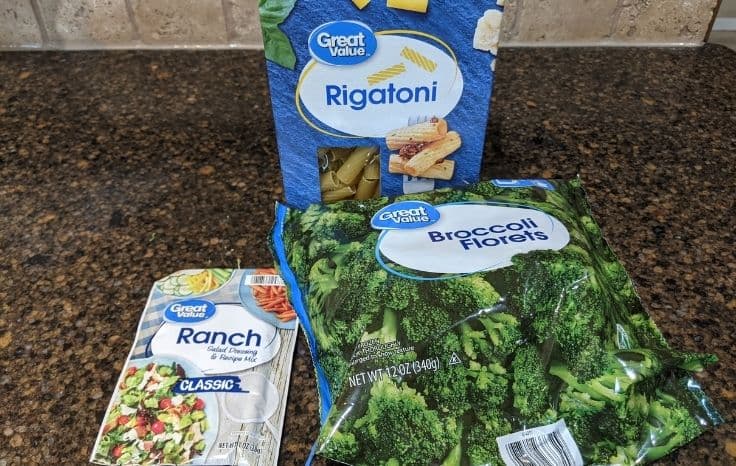 Pasta is cheap but eating spaghetti and marinara sauce gets really boring after awhile. I was looking for a new and inexpensive pasta recipe when I found this Ranch Broccoli Pasta. It's simple and tasty. Plus, if you're kids love anything ranch as much as mine do they gobble this up without complaints, broccoli and all!
Pasta – $.82
Ranch Dressing Packet – $.48
Frozen Broccoli – $1.00
Total – $2.30
Chickpea Mediterranean Bowls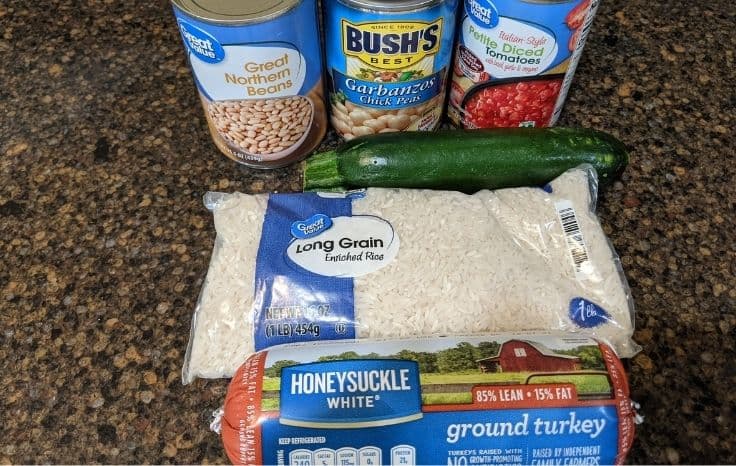 I didn't know how this would turn out, but it was actually a family favorite. This Chickpea Mediterranean Bowl recipe is hearty, full of flavor and surprisingly healthy. I also added half of the ground turkey to this recipe. You could add any leftover meats you have as well or just eat it meatless.
I did a Walmart pickup order and they substituted my Garbanzo beans with 1 bush's Garbanzo bean and one Northern Bean. It worked out just fine and was nice to have two different white bean types.
2 cans of beans – $1.36
Canned Italian Tomatoes – $.80
16 oz bag of white Rice – $.72 (I'll only use about half of this and the other half with my chili)
Zucchini – $.81
Total – $3.69
Ramen Stir Fry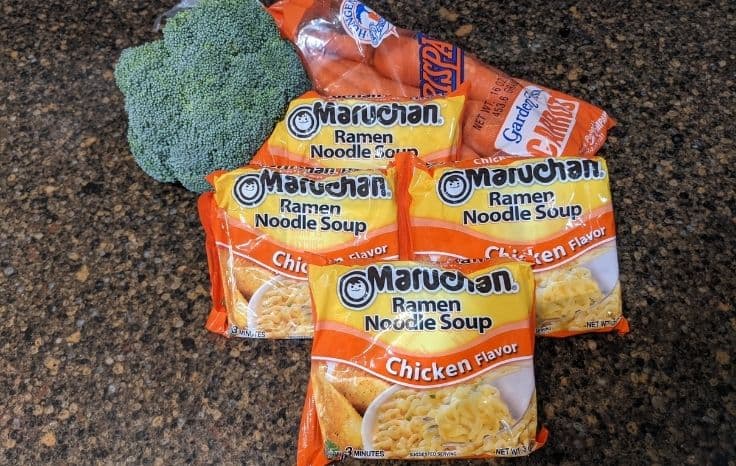 There are plenty of ways to jazz up ramen noodles and make them a more substantial meal. This recipe calls for soy sauce which I did not include in my budget haul. We actually had some soy sauce packets leftover from take out a few weeks ago so I used those. But soy sauce is usually a pantry staple of mine.
For this recipe I bring about 6 cups of water to boil in a pot. I add chopped carrots and broccoli and cook until they soften. Then I add the ramen noodles. Once the noodles are cooked, drain the water from the noodle and vegetables.
In a small bowl, I mix 2-3 packets of ramen seasoning with soy sauce ( I used 5 packets of soy sauce which I believe is about 1/4 cup soy sauce). You can also add Dijon mustard or some honey for different flavors. 2
Pour your sauce over your cooked noodles and vegetables. If you have an extra egg or some other leftover protein you can also stir that into your mix. I served this with bananas as a side and it was so good!
4 packets of Ramen noodles – $1.12
Fresh Broccoli – $1.34
Whole Carrots 1 lb Bag – $.84
Total – $3.30
Turkey Chili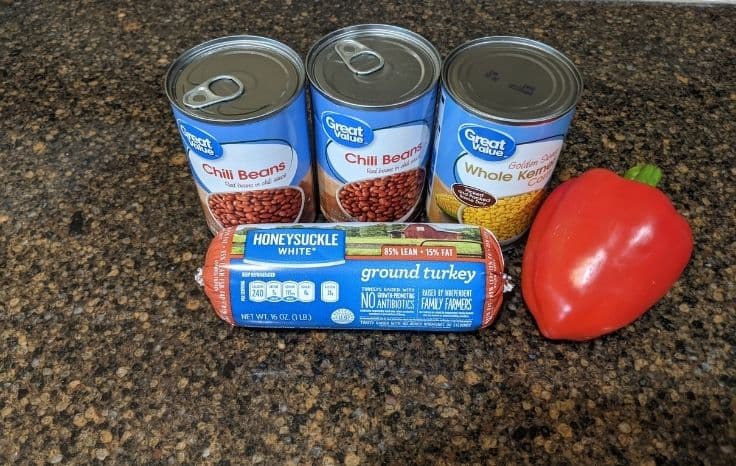 By purchasing the seasoned chili beans and the tomatoes with chili's I'm able to get a really flavorful chili without having to buy too much extra. This is a pretty spicy chili so if you want to take down the heat you could use regular diced tomatoes.
I also purchased the ground turkey from the freezer section. It's about $1 cheaper than buying a pound of fresh turkey. The fat content is a little higher but that helps to make this a little bit heartier and adds some flavor.
This recipe also provides enough for leftovers the next day. My husband and I both had this as lunch!
I don't really follow a specific recipe for this one but have kind of adapted this recipe from lots of other ones I have found online. I'll share with you how I make this but feel free to tweak and adjust how you like.
For this recipe, you can cook this in a crockpot (4 hours high/8hours low) and instant pot (use the chili setting) or on the stove (let simmer for at least 30 minutes).
I brown a half pound of turkey and season with salt and pepper. Add the diced peppers and cook about 3-4 more minutes.
Add the beans, corn and tomatoes into the pot with the turkey and peppers. Cook using your desired method and enjoy. We had extra rice left from the Mediterranean bowls so I cooked up some rice to serve with this as well.
2 cans Chili Beans – $1.36
Ground Turkey – $2.77
Canned tomatoes with chilis – $.68
Canned Corn – $.50
Red Pepper – $1.36
Total – $6.67
Bean and Cheese Burritos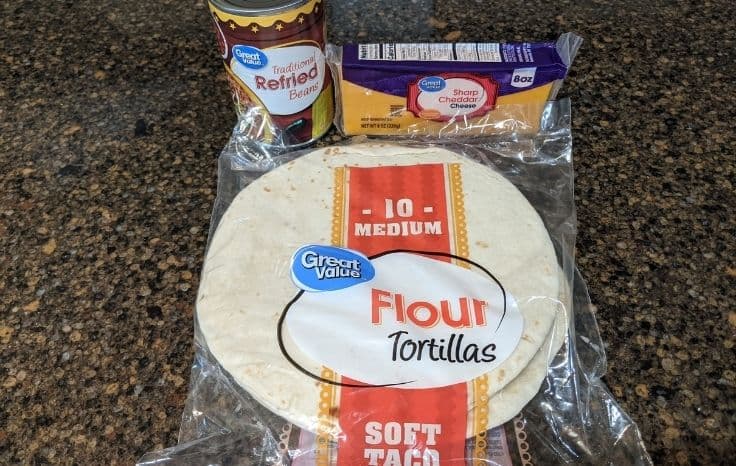 These are actually a staple in our house. Using the refried beans and cheese I can make 10 bean and cheese burritos. I'll freeze 5 for later and serve 5 for dinner (2 for my husband and 1 each for me and the kids). I'll serve this with applesauce and carrot sticks for some added nutritional value.
I use this recipe as a base but I don't put in the tomatoes. I've done the bean and cheese burritos with the tomatoes and my kids were not fans so I leave them out now. I also don't buy pre-shredded cheese because it can upwards of $2 more expensive than shredding it myself. I think saving $2 on the block of cheese is well worth the 2 minutes it takes to shred the cheese myself.
You can also jazz these up with anything you have on hand like salsa, sour cream, or avocados.
Tortillas – $1.70
Refried Beans – $.80
Cheese – $1.86
Total – $4.36
Extras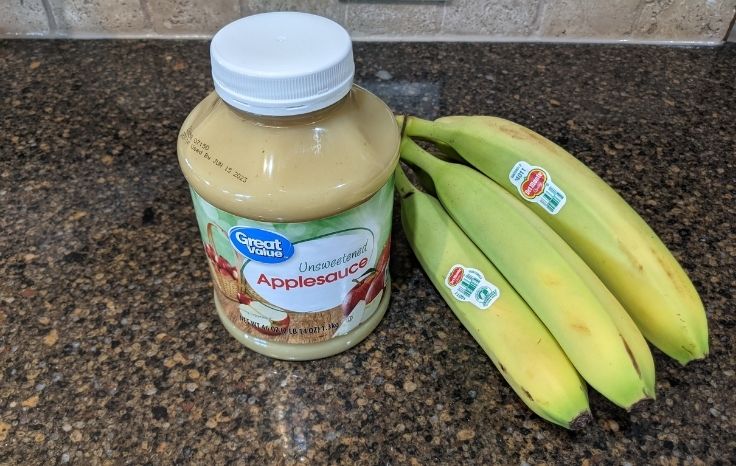 As I mentioned, I bought a big jar of applesauce and bananas to offer alongside each meal. These are my budget go to fruits!
Bananas – $1.38
Applesauce – $1.98
Total – $3.36
I hope you were able to get some good ideas on how you can really stretch your money to find dinners that include fruits and vegetables that will fill you and your family up! This extreme budget meal plan doesn't have to be a regular but can help you when times get tough.