With food prices creeping higher, those of us with tight grocery budgets are left scrambling to figure out how to stretch every dollar. Even in these tough times, there are some simple tips you can use to help you grocery shop on a budget while still feeding your family wholesome and filling foods.
How much should I budget for groceries?
The answer to this question is a bit tricky. It depends on so many factors like where you live and how many people are in your family. There are multiple grocery budget calculators you can use. You can use the calculator but also consider your own budget and what you can afford. (Check out these quick tips for creating a budget if you don't have one already).
For our family of 4, I budget $500 a month for groceries which is $125 a week. This does not include cleaning products or household products. In lean times, I have been able to feed our family for less than $100 a week.
I also don't always spend $125 each week. Some weeks I will spend more, especially if I find something on sale that I want to stock up on. Then I know that I have less money the next couple of weeks but I make it work.
If you have food allergies or food sensitivities in your family, your budget may be higher.
Always go with what makes you comfortable and what works for your families diet and budget. If you need to adjust your grocery budget, that's ok too!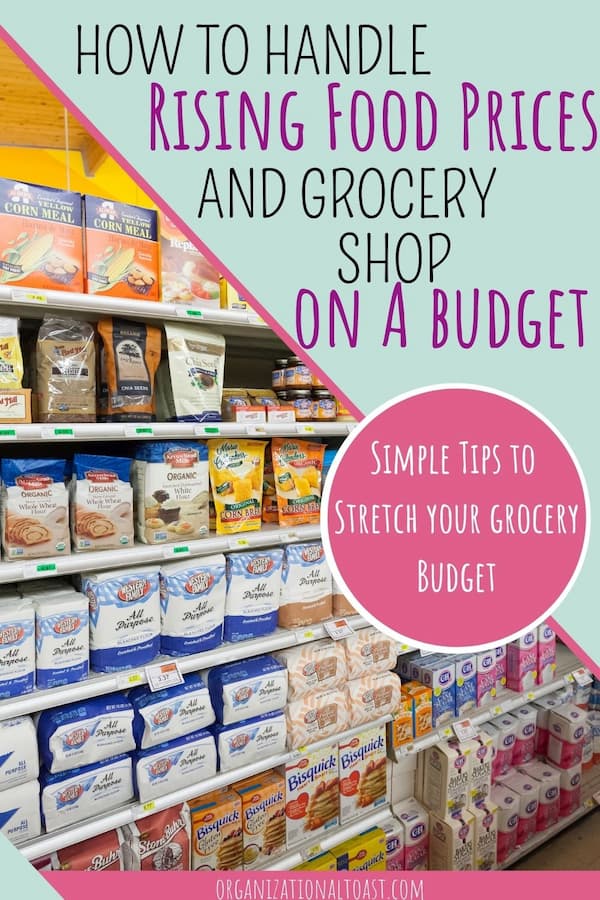 Tips for Grocery Shopping on a budget
1. Use what you already have
Before you head to the store take an inventory of what you already have in your fridge, pantry and freezer and see what meals you might already have on hand. You might be surprised at just how much food you actually have on hand. If you have a list of totally random food items and aren't exactly sure what to make, you can use a tool like My Fridge Food or SuperCook. Select the ingredients you have on hand and these tools will provide you with possible meals. 
Check out this list of meals you can make from what you have in your pantry.
2. Meal Plan
Take a few moments before heading to the grocery store to consider exactly what you are going to cook this week. Then make a list of ingredients you'll need for those meals. This is so helpful because it: 
Reduces the chances of you impulse buying at the store.
Reduces the chances you'll need to run the store midweek to pick up one ingredient (which in my case usually turns into 3 or 4 or 5….)
If meal planning is new to you check out my tips for meal planning for ultimate beginners. It also includes a free meal planning guide to help you get organized!
3. Use rewards apps
I used to knock rewards apps until I actually tried them. I love the Ibotta app for so many reasons, but mostly because I'm able to earn money back on items I am purchasing anyway. It's not couponing, it's just smart shopping! Before I head to the store, or place my grocery order online, I check ibotta to see if items on my list are also listed on the website. Sometimes I earn a dollar sometimes I can earn up to $10 a trip! Ibotta is totally free and you get $10 dollars using this link!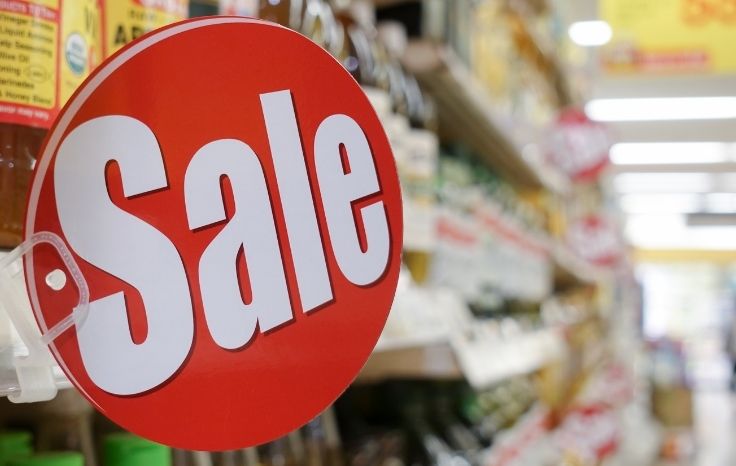 4. Shop sales
You can check store sales on their websites or in their weekly mailers. But sometimes I find the best deals when I actually get to the store. This is especially true when I shop at Aldi or Walmart. You would be surprised by the markdowns, especially on meat, that both Aldi and Walmart offer. When the meat is marked down it usually means it needs to be sold asap. I'll either throw it right in the freezer, or cook up a whole batch and then freeze it to have on hand for quick meals.  Which leads me to my next tip!
5. Be Flexible
If you get to the store and you realize that ground turkey is on sale and cheaper than the ground beef, don't be afraid to go for the cheaper option and mix it up. Allow yourself a little room to deviate from your shopping list so that you can shave off a few dollars from your list. This also is true if you find a super deal! If you find something that is at a stock up price, stock up! Maybe that means you need to let another item or two off your list but it could mean big savings in the long run!
6. Make It From Scratch
Convenient foods are, well, convenient, but you pay a price for that convenience. But making food from scratch can help to reduce your grocery budget in surprising ways. Maybe baking your own bread isn't an option but there are some smaller changes you can make that can reduce your grocery budget. Here are just a few examples:
Slice or grate your own cheese – pre-sliced cheese and pre-grated cheese cost more per ounce!
Make your own oatmeal – instead of buying the flavored packets of oatmeal, but the big canister and add in your own sweeteners and flavors.
Make your own pancake mix. With just a few simple ingredients you can make pancake and waffle mix that is cheaper and healthier. I love this recipe. 
7. Eat Less Meat
Don't make meat the star of every dish. This doesn't mean you need to go completely meatless, but it does mean cutting down your meat portions. For example, if you are making spaghetti with meat sauce, instead of using a pound of meat use half a pound. Same goes for something like chili. If you do want to try some meatless meals, check out these Meatless Monday Family Friendly Meals or these Meatless Crockpot Meals.
8. Shop Around
Don't be afraid to try different grocery stores to find good deals on certain items. I regularly shop at Aldi, Walmart, Costco and Sprouts and shop these stores because each has better prices on different things. 
9. Stock your pantry
When there aren't any good sales and your budget is extra tight, having a pantry stockpile can be your saving grace. You can pull from your stockpile and create some tasty pantry meals without having to extend your budget. Check out my tips for stocking your pantry on a budget.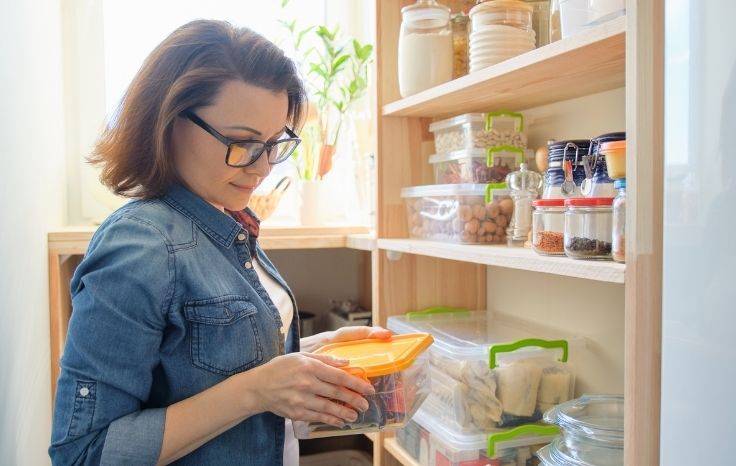 Please know that if you are still struggling to put food on the table for you and your family there are lots of churches and other organizations that can help to supplement your grocery budget. There is no shame in using these services during lean times and they are there for a reason! They can help to fill in the gaps when you are truly struggling.