When times are lean, I always look for any small cuts we can make in our budget. Sometimes that means I need to incorporate more frugal meals into our regular meal plans to keep our grocery budget super low.
Whether that means planning for one or two dirt cheap meals a week or frugal meals every day for every meal, a bit of planning can go a long way.
When I've needed to cut our spending on groceries, I always refer to this list of meals.
The best part about this list of frugal meals?
They are also super simple to make!
You won't be slaving in the kitchen for hours to get a healthy meal on the table.
I've included prices for each meal. Please note that the portions are for a family of four. We live in Oklahoma, where the cost of living is generally lower.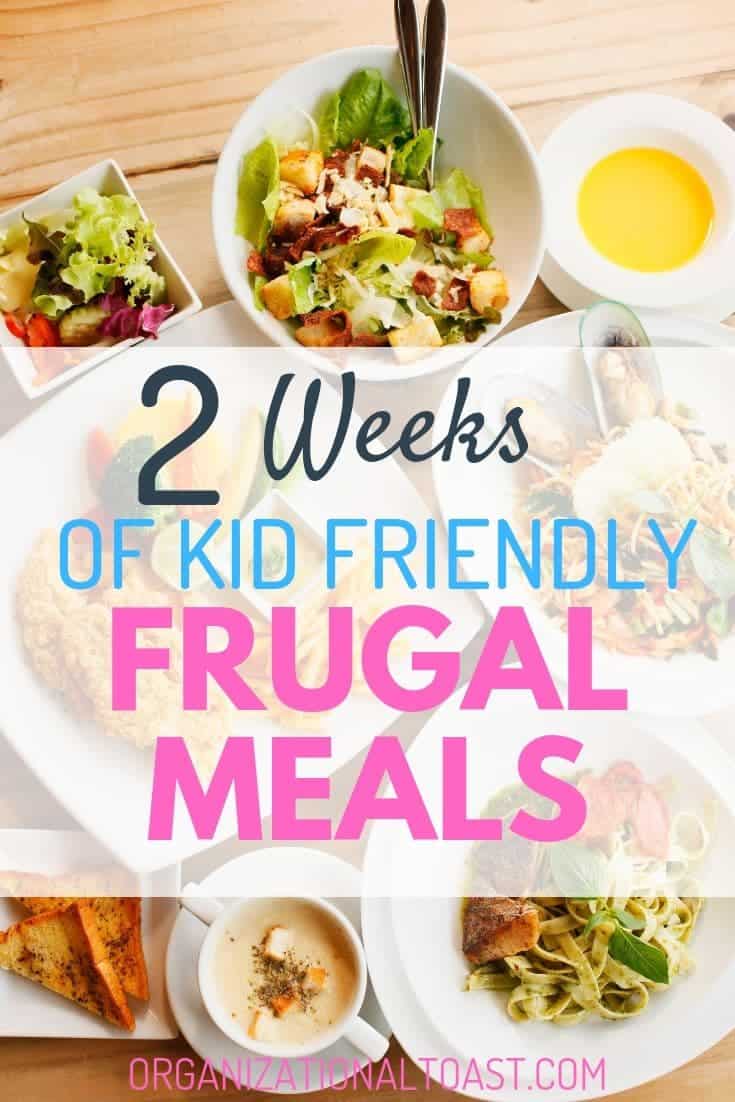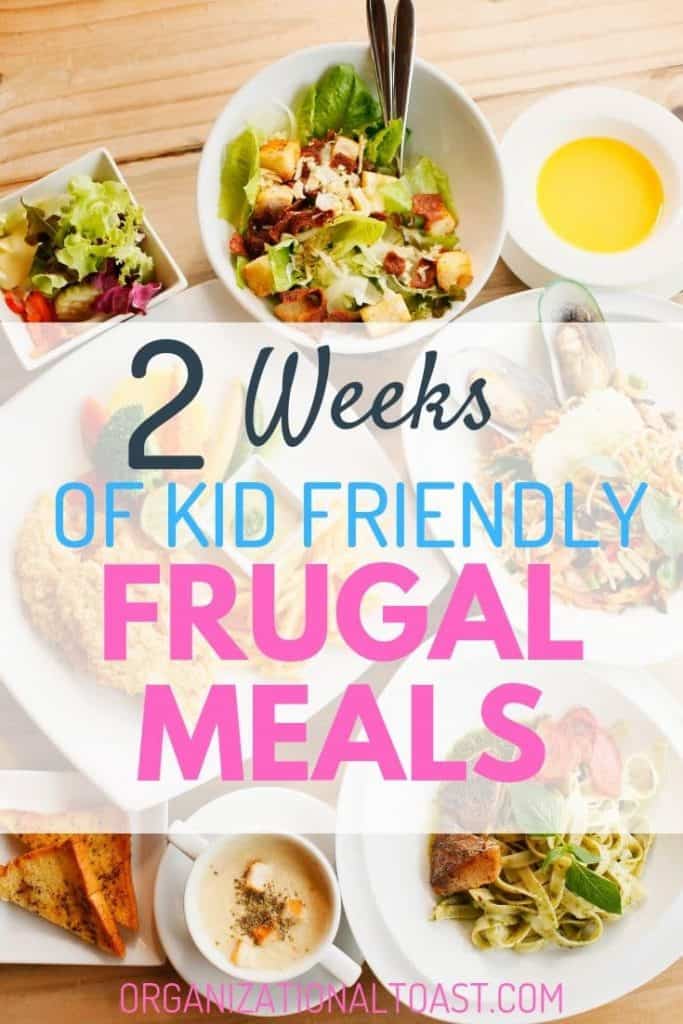 We do all our shopping at Aldi, Walmart and Sprouts. Prices will vary based on where you live but I wanted to include them so can get a ballpark idea of about how much these meals will cost you.
In most cases I didn't include the price of seasoning and oil as that will vary based on your tastes and your needs.
If veggies aren't included in the actual recipe, I will often serve the meal with either a frozen veggie, carrot sticks, cucumber slices or any other fresh veg we have (especially if it needs to be used up). Again, this will vary based on individual families tastes and needs.
List of Frugal Meals
Rice and Beans
For some reason rice and beans has a bad reputation, but is a really versatile combination that lends itself to providing lots of variety for very little money. You can add a Mexican twist by mixing in some taco seasoning and topping with cheese or go Asian with chickpeas and soy sauce. Give it an Italian feel with some tomato paste and Italian seasoning. Rice and beans is also a great way to use up any leftover meat that isn't really enough for a whole other meal. Plus, it's really easy to make. Cook the rice until done. Add your favorite beans, 1 bag of your favorite (defrosted) frozen vegetables and season to taste and you have a healthy and very filling meal!
Ingredients:
1 Can Beans – $0.69
2 Cups Rice – $1.00
1 Bag Frozen Mixed Vegetables – $0.79
Optional – Taco Seasoning, Any leftover meat
Total – $2.68
Slow Cooker Mexican Black Bean and Corn Chicken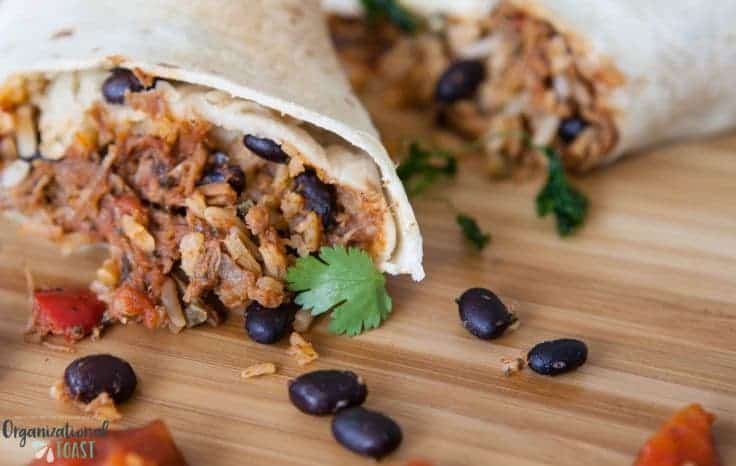 This is a staple in our house and actually one of my go to meals not only because it's cheap but also because it's so easy. Simply combine black beans, corn and salsa in the slow cooker. Add chicken breasts to pot and cover with mixture. Cook on low for 6-8 hours. Shred chicken before serving. Serve with rice or tortillas.
Ingredients:
1 lb. Chicken Breasts – $1.99
1 Can Black Beans – $0.69
1 Cup Frozen Corn – $0.79
½ Cup Salsa – $0.50
Tortillas – $1.48
Total- $5.45
Sausage and Peppers
I like to pre-cook my sausages in the instant pot before I slice them and saute them in the pan (here's an easy tutorial). I do it this way because it's easier to know they are cooked all the way through and it's easier to slice them. Once they are done in the instant pot, I slice the sausages and peppers, add them to a skillet with a bit of oil and seasoning and cook covered until the peppers are done. Serve over rice or with your favorite noodles.
Ingredients:
1 package (5) Mild Italian Sausages – $2.89
2 Peppers – $1.50
2 Cups Rices – $.70
Total – $5.09
Spaghetti and Meat Sauce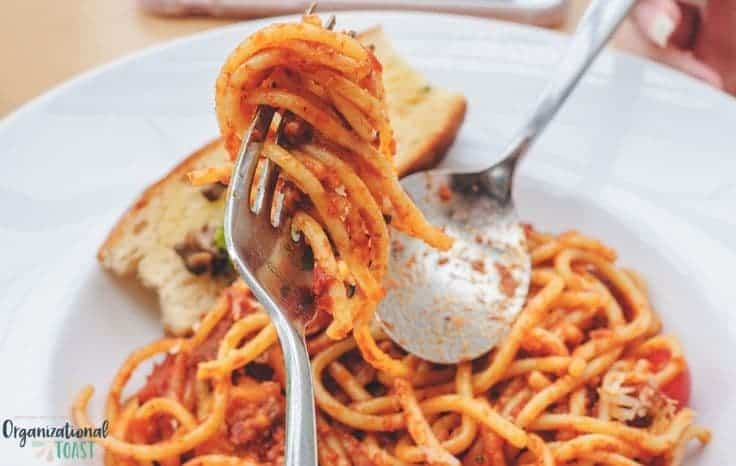 Spaghetti and sauce is as cheap as it gets. For a heartier alternative without breaking the bank, brown a half a pound of ground meat (either beef or turkey) and add it to your sauce.
Ingredients:
1 Box Spaghetti – $1.00
1 Jar Sauce – $1.50
1/2 lb Meat – $1.88
Total: $4.38
Kielbasa Potato Skillet
We used to eat this all the time when I was a kid and every time I make it, it brings back childhood memories. I microwave the potatoes (about 3-4 minutes until they are soft). While they are cooking, I brown cubed kielbasa and green peppers in the skillet in a little bit of oil. I chop up the cooked potatoes and add them to the skillet to brown. And dinner is ready!
Ingredients:
1 Kielbasa – $2.75
1.5 lb potatoes – $1.29
1 Green Pepper – $.75
Total – $4.79
Pesto Ravioli
Another quick and easy dinner for the win! Cook ravioli according to the package instructions. Once drained, mix in pesto sauce and serve hot.
Ingredients:
1 Jar Pesto – $2.45
1 Bag Spinach and Cheese Ravioli – $3.09
Optional – Top with Parmesan Cheese
Total – $5.54
Bean and Cheese Burritos
These are great because you can dress them up with lots of toppings or keep it simple and serve as is. They also freeze great, so you can make a ton ahead of time and pull them out on a busy weeknight. (Here are the instructions on how to freeze these burritos.)
Ingredients:
1 Can refried beans – $0.85
1 16oz block of cheese (shredded) – $1.99
1 Can diced tomatoes and chilies – $0.65
Soft tortillas – $1.48
Optional – Top with Guacamole, salsa, sour cream
Total – $4.97
Frozen Pizza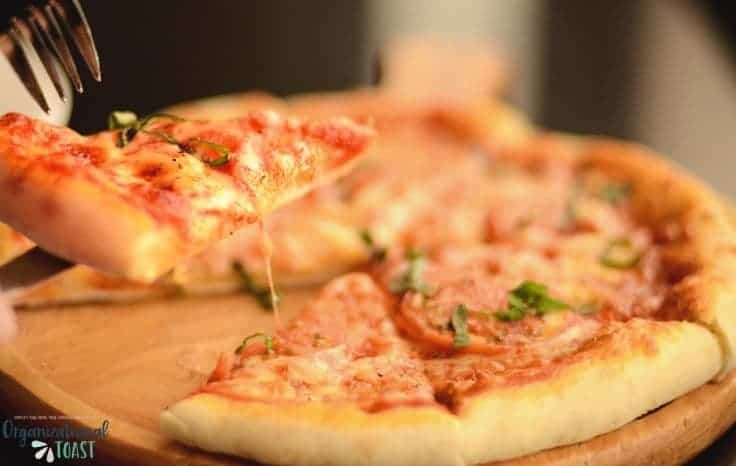 That's right. There is no shame in heating up a frozen pizza for dinner. Especially when you can get frozen pizzas for as low as $2.78 a pie at Walmart. Add toppings to freshen it up and you'll have a tasty meal!
Ingredients:
1 pie -$2.78
Total – $2.78
Chicken Stir Fry
Feel like having Chinese takeout but know it's not in the budget? Make your own! Cube and then saute chicken in Teriyaki Sauce. Mix in frozen Chinese vegetable medley and serve over a bed of rice. Yummy!
Ingredients:
Frozen Asian Vegetable Medley – $1.85
1 lb Chicken Breast – $1.99
2 Cups Rice -$0.70
4-5 Tablespoons Teriyaki Sauce – $0.38
Total – $4.76
Easy Baked Ziti
This recipe is enough for 2 dinners in our house. And anytime I can cook and have leftovers I am happy! Cook noodles until tender. While noodles are cooking mix ricotta cheese, egg, and spaghetti sauce in a bowl. Add cooked noodles to the bowl and mix until noodles are coated. Place in a greased 9×13 baking dish and sprinkle mozzarella cheese on top. Cook for 25-30 minutes until cheese on top is bubbling.
Ingredients:
Penne Noodles – $1.00
Ricotta Cheese – $1.89
Spaghetti Sauce – $1.50
Mozzarella Cheese Block – $1.99
1 Egg – $0.07
Total – $6.45
Bacon and Spinach Crustless Quiche
Breakfast for dinner is another great inexpensive option. If you want to get fancy, you can try a crustless bacon and spinach quiche. It's an egg bake, but calling it quiche makes me feel fancy. Just mix all the ingredients and add to a baking dish. Bake at 350 for 40-45 minutes.
5 Eggs – $0.33
3 cups shredded Monterey Jack Cheese – $2.99
1 package Spinach – $1.00
½ packet of bacon – $1.99
Total $6.31
Tips For Planning Your Own Frugal Meals
Here are a few more tips to help you choose and cook frugal meals for your family.
Choose Cheap Protein
Dried beans, canned tuna fish, eggs, lentils, and canned salmon are all incredibly filling and super cheap. You can also choose cheaper cuts of meat. Instead of boneless skinless chicken breasts, you might choose chicken thighs. Also, buy fresh meat and freeze it yourself. Frozen chicken breasts are actually more expensive than fresh ones!
Treat Meat As A Side Dish
Instead of planning your meals around meat, treat meat as a side dish or as a compliment to the main meal. For example,you can cut up some kielbasa or sausage and add it to a potato hash or macaroni and cheese.
Cut Your Ground Meat Portions In Half.
This is something I do, even if I'm not trying to cut our budget! When I make chilli, I only use half a pound of ground meat and then add an extra can of beans. Or, if I'm making meat sauce for spaghetti, I'll use half a pound of meat and shred zucchini and carrots into it. The best part? Nobody in the family even knows I do this! (Shhh don't tell them!)
Shop Sales
Before heading to the grocery store, check out the store's weekly flyer and see what is on sale. Then plan your meals around that. You can use SuperCook to plug in the ingredients and it will give you recipes based on those ingredients. Cool, right? I also check my Ibotta App to see where I can earn cash back on my purchases!
Buy Frozen Vegetables
Frozen vegetables are cheaper and just as healthy as fresh vegetables.When you buy frozen vegetables, your also less likely to waste them because they've gone bad.
My last piece of advice is don't be afraid to keep it simple. It took me a while not to feel guilty (ugh mom guilt) about super simple frugal meals until I realized that the simple meals were often the tastiest. A few of them have even turned into our favorites!
Looking for more meal ideas?
Check out my weekly Grocery List and Meal Plan Series