I received this product for free in return for my honest review. All opinions in this post are 100% mine!
I'm super excited to share with you my review of Simply Earth essential oils and their subscription box. I love essential oils but often struggle with the high price point of quality oils.
That's where Simply Earth comes in! These super affordable high quality essential oils are what I have been looking for.
So check out this complete review of the company and their products and find out what I like (or didn't like) about the April 2019 recipe box I received!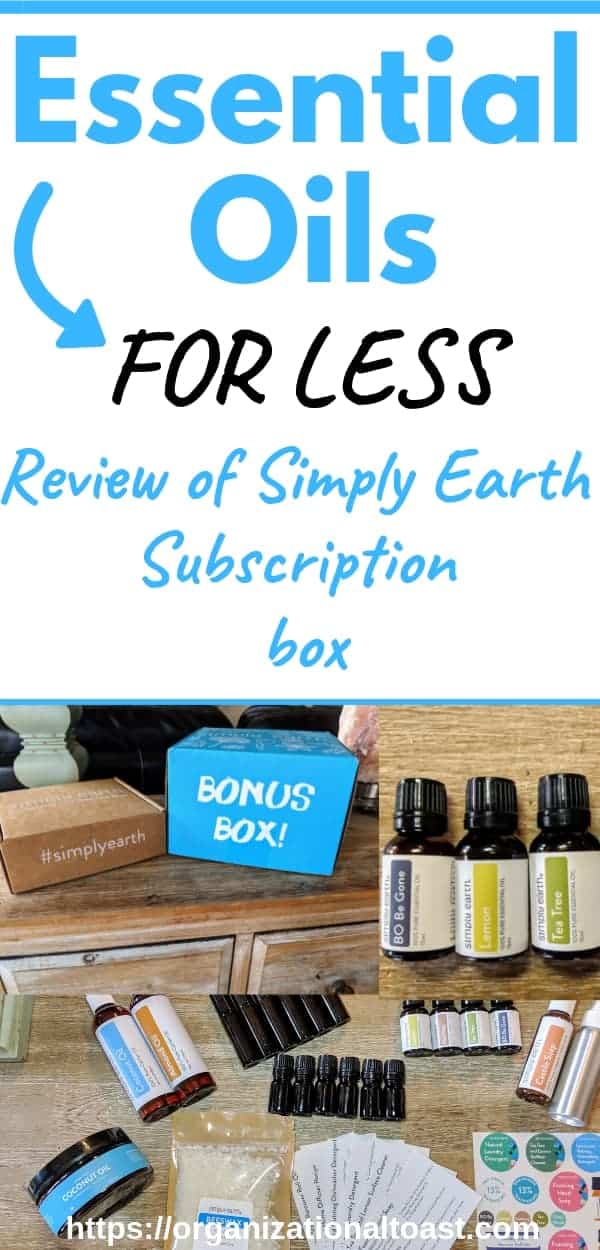 But before I go any further….
Simply Earth is not another network marketing company. I will not try to recruit you onto my team or invite you to parties to sell you oils.
The prices on their website are the prices for everyone. You can order as much or as little as you want and they offer a 365 day money-back guarantee.
I will tell you that if you decide you love their products after reading this review you can use this code OTOASTFREE when you order a $39 subscription box and you'll get a $20 gift certificate plus a big blue box for free!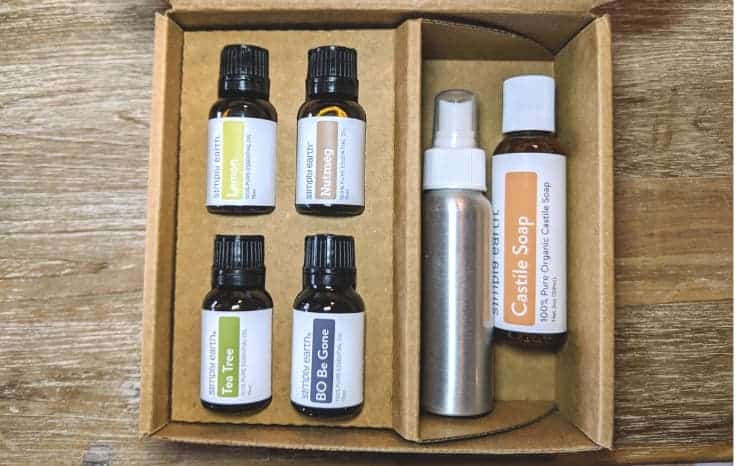 Simply Earth Overview
Simply Earth is a relatively new, small, family run oils company based in Wisconsin. They sell 3rd party oils at an affordable price.
What does this mean?
It means the plants for their oils are grown all over the world in optimal and ethical conditions.
Once the plants are harvested, they extract the oil through either cold-pressing or steam distillation. Every batch of oil then undergoes quality testing to ensure 100% purity using GC/MS analysis reports.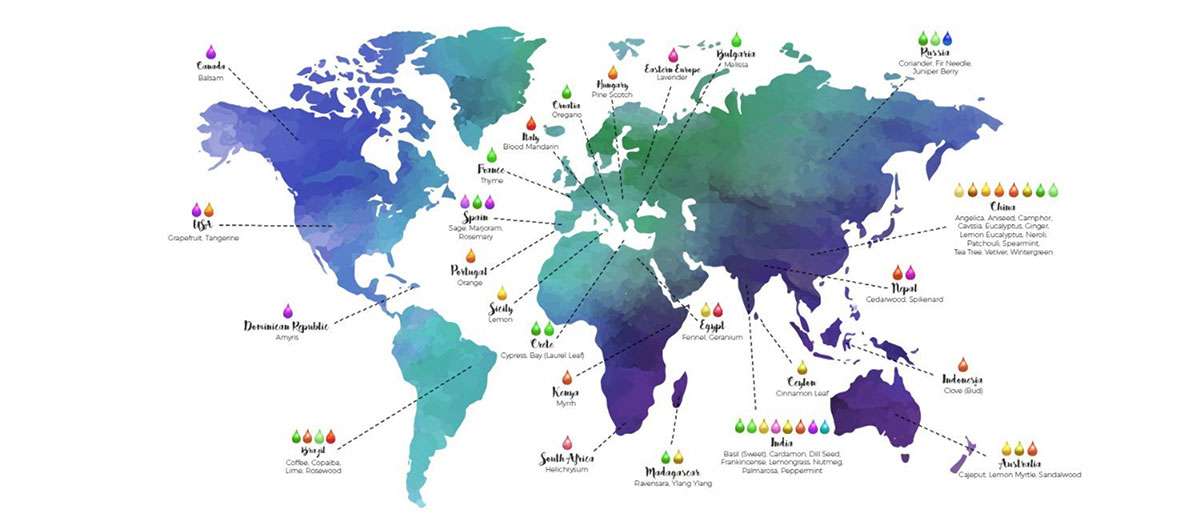 Things to Know About Simply Earth and Their Products
Simply Earth has a full online shop and carries over 60 single oils and over 25 blends.

They offer several different starter packs all under $50 including a wellness box and a cleaning box.

They offer a $39 monthly subscription box called the "recipe box" which can be cancelled at anytime. Each subscription box is carefully put together and has a theme for the month.

Shipping is free for orders $29 and up anywhere in the United States (there's a flat $5.99 shipping fee for orders under $29).

All orders arrive within 2-5 business days.

They have a 365 day Simply Earth return policy, which means if you aren't completely satisfied with these oils within 365 you can return them for a full refund in the form of store credit.

13% of profits donated to organizations fighting human trafficking
I also want to point out that their website has lots of great resources. In addition to their blog which includes recipes and how to's they offer a free ebook.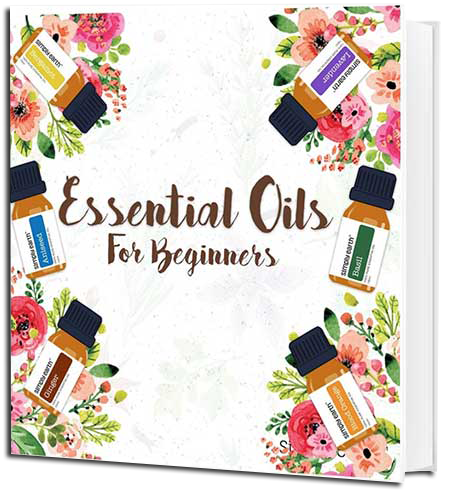 I have to say I'm pretty impressed with the ebook. It gives great information on how to apply essential oils, safety, clear dilution amounts (which I always get confused about), a quick reference guide for all the oils uses along with some basic recipes to get you started.
April 2019 Simply Earth Recipe Box Review
Each Simply Earth monthly recipe box contains 4 big (15 ml) sized oils, accessories and 5-6 recipes for those oils. Each month's box has a theme and April's theme is "clean home".
In the April recipe box you get:
Nutmeg Oil (15ml)

Lemon Oil (15 ml)

Tea Tree Oil (15 ml)

BO Be Gone Oil Blend (15 ml)

Castile Soap Oil (2 oz bottle)

Aluminum spray bottle

6 Recipe Cards. This month's recipes are:

Natural Laundry Detergent

Foaming Hand Wash

Laundry Stain Remover Roll On

Natural Home Diffuser

Lemon and Nutmeg Dishwasher Detergent

Tea Tree and Lemon Surface Cleaner

Recipe and Oil Bottle Labels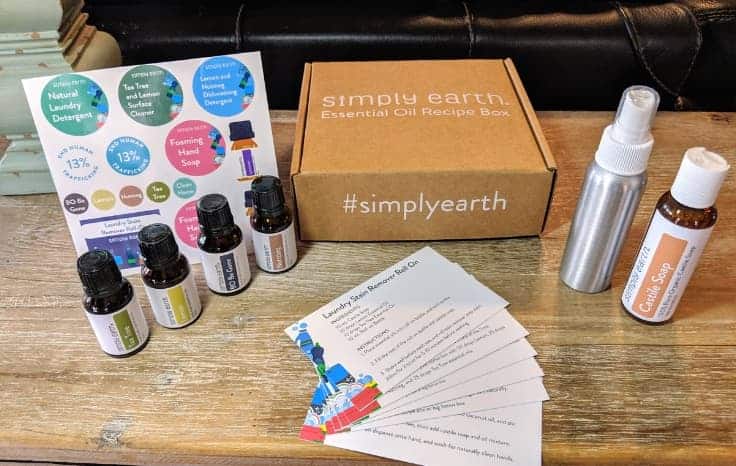 With your first subscription box you also receive a Bonus Box FOR FREE. You'll get a free Bonus Box every sixth subscription box to replenish your stock. In the Bonus Box you get:
Beeswax

Coconut Oil 6oz (solid)

Almond Oil 4 oz

Fractionated Coconut Oil 4 oz

6 roller bottles

6 blend bottles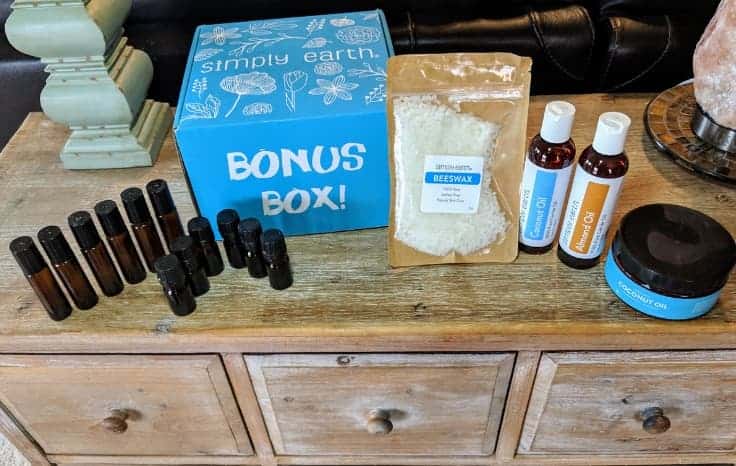 The price of the bonus box and the subscription box is $39 and shipping is free!
If you use code OTOASTFREE, you'll get all this PLUS a $20 gift card!
I have to say I'm impressed with the Simply Earth Oils and their subscription boxes. I have been using essential oils for a more natural home and lifestyle for about 4 years. I've used both Young Living and DoTerra and can say the Simply Earth Oils are at the same level in terms of quality.
Despite having purchased and used oils for several years, I never got into making my own blends or recipes. The two main reasons was that I needed to purchase all the extras and because hunting down recipes was time intensive. I know, I know it sounds lazy even as I'm typing it. But really, it's the truth.
This is why I love the subscription box along with the Big Bonus Box. I don't need to figure out where to get amber bottles cheap or hunt down recipes and try to figure out what oils I need to purchase or don't have.
Everything is laid out for me and this month's theme of a clean home is perfect for our lifestyle.
Favorite Things about the Simply Earth Recipe Box
The Oils Are Awesome
Lemon, nutmeg and tea tree oils are not the sexiest oils out on the market, but they are foundational to so many recipes and have such versatile uses. I'm so pleased that these were the first ones I got because they are so important and I use them frequently in our house.
The BO Be Gone blend smells great. I used a few drops of it in my laundry just to see what would happen and all my laundry came out smelling fresher than with my regular unscented laundry detergent. I also diffused it it our bathroom while we had company and it helped to get rid of bathroom odors.
Informative Oil Labels
I also have to point out the labeling. I love love LOVE that on the bottle it tells you whether it is safe to use with children.
For example, the tea tree oil is marked safe for kids 2 and up and provides the dilution percentage for topical use for children. (Their free ebook gives you a an understandable rundown on dilution).
For the BO Be Gone, the recommended age is 10 and up.
This makes it so easy to use these oils safely with the kids.
The labels also tell you where the plants were grown and what part of the plant they derived the oil from.
Having this information on the bottle is so useful for understanding the oils and for safety. It shows this company's commitment to both!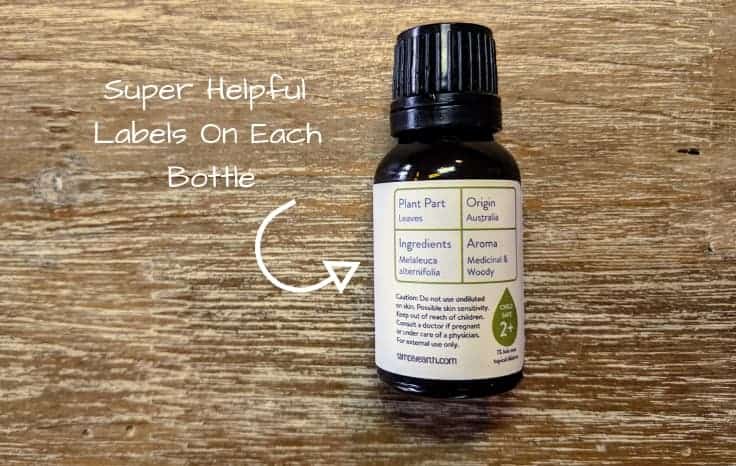 The Recipes Are Simple
In this month's box there are 6 recipes. This month's recipes are:
Natural Laundry Detergent

Foaming Hand Wash

Laundry Stain Remover Roll On

Natural Home Diffuser

Lemon and Nutmeg Dishwasher Detergent

Tea Tree and Lemon Surface Cleaner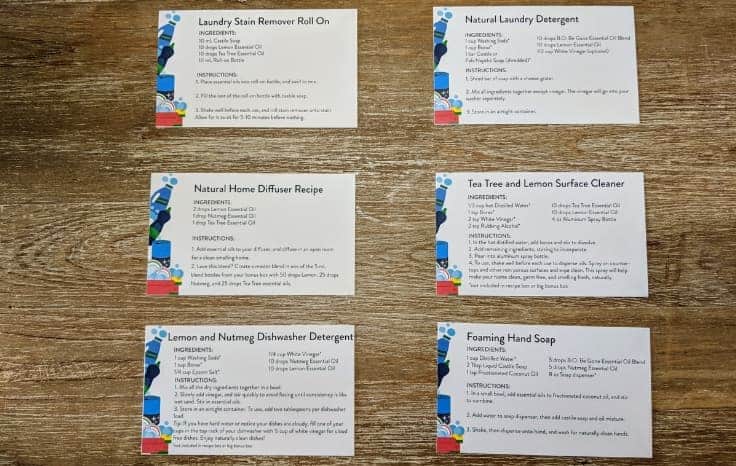 Two of the recipes did not require any additional ingredients. The other 4 required some additional ingredients. I had most on hand. These ingredients included things like vinegar, epsom salt and borax.
I've never made any of my own cleaning products before and I was a little intimidated to get started. These recipes were so easy and only took me a couple of minutes to mix.
I made the Tea tree and Lemon Surface Cleaner and I love it! It's great on my kitchen counter tops. It didn't leave any streaks. My husband even noticed how shiny the counters looked, and he doesn't typically notice those kinds of things! I also used it on my glass shower doors and it cut through the soap build up better than any other product I've tried up until now.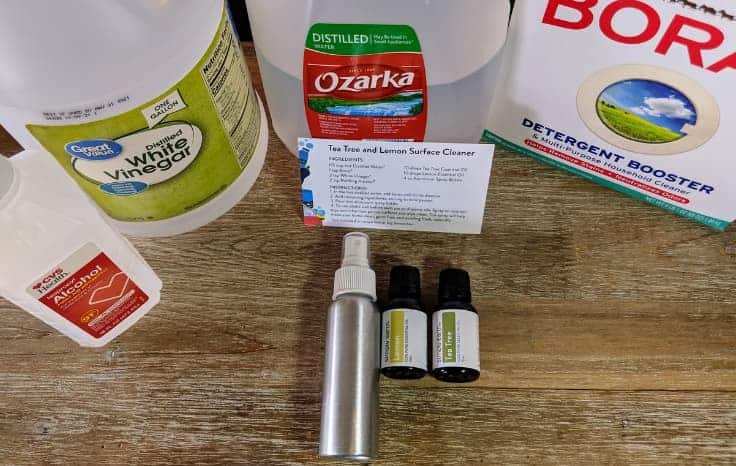 I thought the 4 oz bottle would be too small and I would have to make a new batch everyday. However, the 4 oz lasted me about 5 days of cleaning the kitchen counters multiple times a day and using it on my shower doors.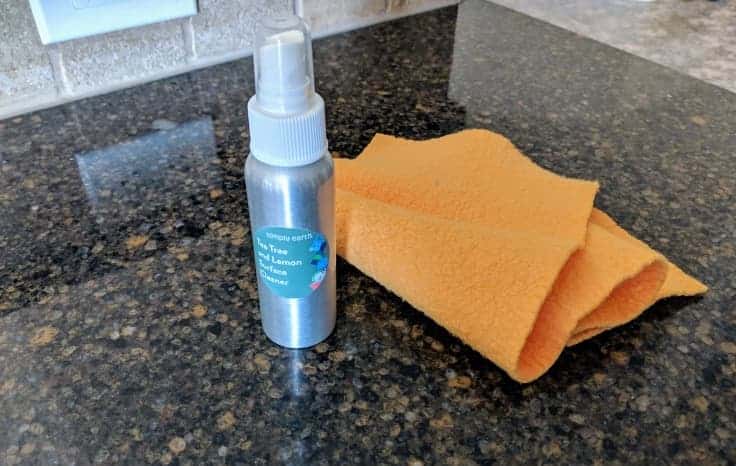 I also tried the Laundry Stain remover and was equally as impressed.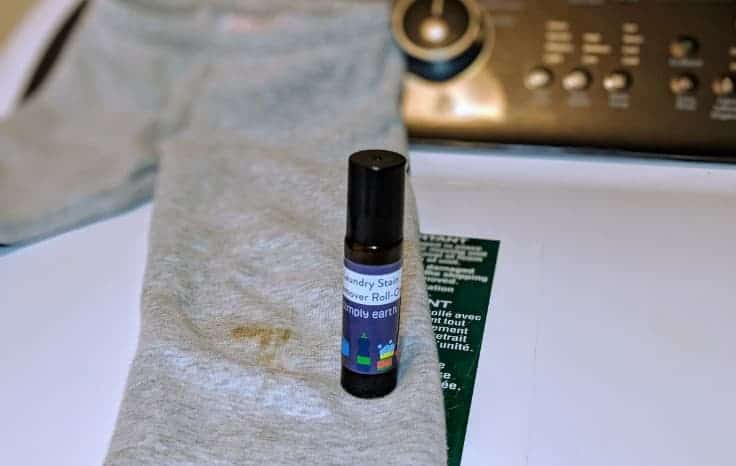 I like how sturdy the recipe cards are and I will absolutely keep them in a recipe box for future reference.
Low Prices Compared to Competitors
Hands down you cannot beat the price. I compared the prices of the oils alone to both DoTerra and Young Living and I couldn't believe how much I saved with Simply Earth. DoTerra didn't even have nutmeg available (and that's too bad because I think it's one of my new favorite scents!)
Oil/Blend
Simply Earth
Young Living
DoTerra

Nutmeg Oil

15 ml – $12.99

5ml – $17.43

Not Available

Tea Tree Oil

15 ml – $9.99

15 ml – $35.20

15 ml- $28

Lemon Oil

15 ml- &7.99

15 ml – $15.13

15ml -$14.67

Purifying Blend

BO Be Gone- 15ml -$11.99

Purification – 5 ml – $20.72

Purify – 15ml – $26.67

Total
$42.96/ + tax and free shipping OR

$39/subscription box

$88.48 + tax and shipping
$69.34 + tax and shipping
There Are So Many Extras
The big bonus box is chock full of so many extras!
The almond and fractionated coconut oil along with the roller bottles by themselves are so great to have.
And for anyone that loves labeling and making sure you keep your oils organized the labels are great. Not only do the oils and blends have labels but you have a label for each recipe too!
I mean, look at all this for only $39!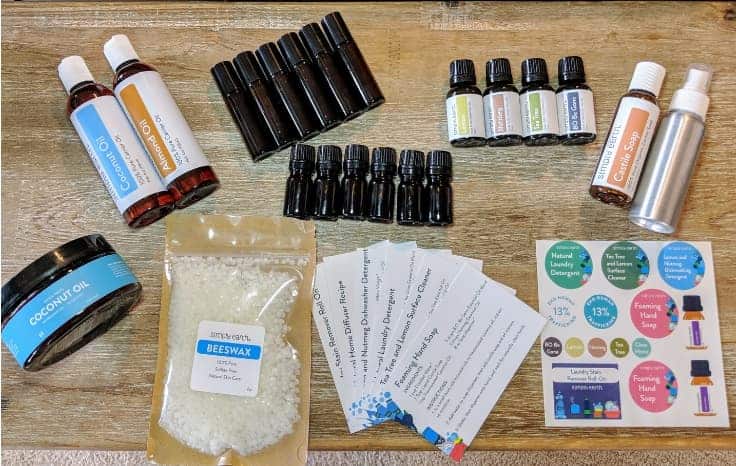 Things I Disliked About the Recipe Box
While there isn't a whole lot I don't like about the recipe box and the oils I received, I did find a few drawbacks.
You Can't Choose What's in the Box
This might seem obvious but it's important to point out. In April's recipe box I got another bottle of lemon so now I have 2 bottles. Will I use them both? Absolutely! But I didn't need an extra bottle right now.
I do like that it forced me to try different oils like nutmeg that I wouldn't have thought to try.
You Need to Purchase Additional Ingredients
While a couple of the recipes didn't require extra ingredients, and I did have some on hand for a couple of the others, I didn't have all the ingredients to make all the recipes.
Should You Try Simply Earth Products?
Yes! If you are looking for high quality oils at a fraction of the cost Simply Earth oils are for you.
The April subscription box is also a great way to start incorporating more natural cleaning products into your home in a really easy way!
When you order, remember to use my code OTOASTFREE to get your Big Bonus Box and $20 gift card for free!