Easter morning is an exciting time with egg hunting, Easter baskets and more. There is no need to add to the excitement (read: craziness) with too much candy and cheap knick-knack toys in your child's Easter basket! That's why I've come up with the list of the best non-candy Easter basket ideas!
While I always include a small treat in our kid's Easter baskets, I have steered clear from making it all about candy year after year.
The first couple of years I went nuts at the dollar store buying non candy items for the kids Easter baskets. They were excited by all the goodies but the toys either broke or just added to the already cluttered playroom.
Now I focus on fewer but better quality Easter basket items. That doesn't mean I'm spending a ton of money either. I'm just more focused on buying items the kids will use over and over again rather than a throwaway toy!
If you're like me and are looking for inexpensive non-candy Easter basket ideas you are going to love this list
I've separated the non-candy gifts out by age and provided lots of ideas for each category. The best part is each item is under $10.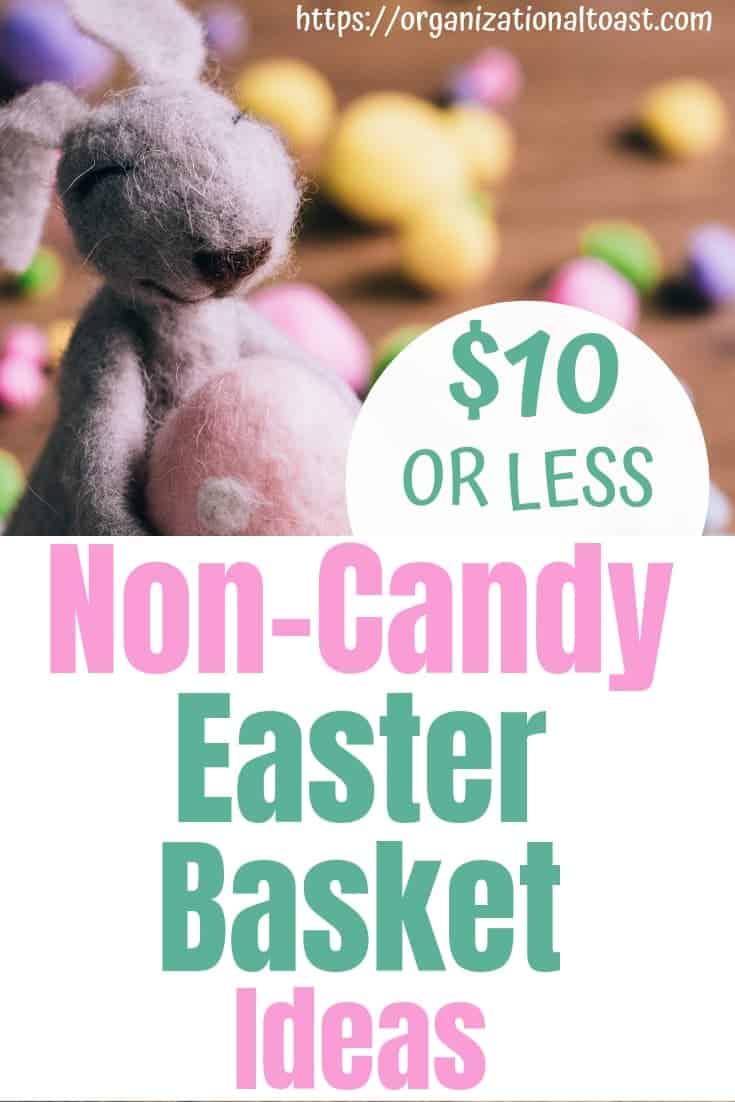 Newborns and Babies (0-12 months)
Bubbles
Bubbles, bubble machines, bubble toys, you can't go wrong with these in the your baby's Easter basket. Blowing bubbles for your baby helps with their visual tracking and as they get older they can help with hand eye coordination as you and baby pop the bubbles!
Little Kids Fubbles No-Spill Tumbler 
Lovies
A sweet lovie for your baby is never a bad idea. This little lamby is perfectly soft and something your sweet baby will love snuggling with!
Board Books
It's never too early to start reading to baby. Buying age appropriate sturdy board books will encourage you to read more with your child and help build your child's library! 
Teething Accessories
Oh teething! Teething toys can help baby feel better and keep you sane. 
New Clothes
Babies grow so fast. Easter is the perfect time to buy some cute springtime outfits for your little one. Shoes and other accessories like a sun hat for summer are also great ideas.
Pacifier/Toy Click
Even though this is in baby's basket this is a gift for mommy and daddy. A pacifier/toy clip will help you keep track of your baby's binky or lovie so it's near when you need it most!
Liname Pacifier Clip for Boys with Bonus Teething Toy & eBook
Toddlers (ages 1-3)
Sippy Cups/Snack Containers
Having an extra sippy cup or snack container is never a bad idea. These items are something you'll use often, if not everyday. This is also a great time to introduce different types of cups for your little one.
Bath Toys
Make tubby time fun with some new bath toys in your toddler's Easter basket. These colorful little boats have numbers on them and are sure to keep your little ones entertained. You can also try some bathtub crayons or colorful bubble bath!
Simple Puzzle
As your toddler begins to explore and learn, simple puzzles are super fun and educational. There are tons of chunky puzzle options out there. Melissa & Doug have lots of cute ones for under $10 and this farm one is one of our favorites.
Melissa & Doug Farm Wooden Chunky Puzzle
Blocks
Whether you choose duplo blocks for your older toddler or some softer bigger blocks for your little one, you are sure to have a happy kiddo on your hands! These really cute nesting blocks from Melissa & Doug (can you tell I love Melissa & Doug) kept our little ones super busy and the pictures and letters added some learning opportunities as well!
Melissa & Doug Alphabet Nesting and Stacking Blocks
Balls
Small ones, big ones, light up balls or soft and squishy balls are guaranteed fun for your toddler. 
Balloons
Kids love balloons. Period. Buy a pack of balloons to blow up and watch your toddler giggle as they bop and play with their balloon.
Night Light/Projectable
Nothing makes bed time a little more exciting than a new nightlight or a projectable. This one is extra cool and your child will continue you to enjoy it as they get older!
Projectables 13347 Six Image LED Plug-In Night Light
Music Shaker
Toddlers love making noise. And as long as you don't mind some extra noise, simple maracas or egg shakers are so much fun for your little on.
Finger Puppets
Finger Puppets are a great interactive way you can play with your toddler. Tell stories and sing your favorite songs with this pack of adorable finger puppets!
16 Pack Soft Plush Finger Puppets Set
Preschoolers  (ages 3-5)
Coloring Books/Crayons
A new coloring book and some crayons can go a long way. Pick an Easter themed one or a coloring book with their favorite characters.
Paints
A new set of paints or a painting kit is a special surprise your preschooler will love. 
Play-doh and Accessories
Play-doh and and play-doh toys are great for this age group. This pizza making play-doh kit is super simple but tons of fun for little ones!
Play-Doh Kitchen Creations Pizza Party
Simple Board Games
There are so many great simple board games beyond just Candy Land for this age group. Check out these educational and fun board games.
Little Treasures 3D Snakes N Ladders 
Back Pack
Whether it's for school or for play a backpack is a practical gift. Also, you can stuff the backpack with other Easter goodies instead of having an Easter basket.
Kids Tablet Back-Bag for Children 
Rain Gear
April Showers bring May flowers. Help keep your kids dry with some new rain gear. Stock up on rain boots, rain jackets or even an umbrella. There are tons of adorable options. I love this one from Melissa & Doug because it has a safety open and close so little fingers don't get pinched!
Melissa & Doug Giddy Buggy Umbrella for Kids With Safety Open and Close
Indoor garden
Your child will be excited to plant their own indoor garden and watch it grow. There is a wide variety of indoor gardens available. My daughter loves the fairy garden and even after the plants were gone, we filled it with rocks and gemstones and she still loves playing with it!
My Fairy Garden – Bean Blossom
Clock
A clock for your preschooler's bedroom is a great way to begin teaching time and learning what happens at different times of the day! This one is super easy to read and even changes colors.
Wake Up Light Digital Clock with Indoor Temperature & Calendar & 6 Natural Sound & 7 Colors Changing Light (Blue)
Sidewalk Chalk
As the weather warms up, sidewalk chalk is great to have on hand to help keep your preschooler busy! This glitter chalk adds a little extra fun to your child's chalk drawings.
Cars/Trains
This age group loves things that go! These cars are simple but sure to keep your little one entertained. Matchbox cars are also a great inexpensive Easter basket item!
Pull Back Car, 12 Pack Assorted Mini Plastic Vehicle Set
Rocket Launcher
This rocket launcher is SO.MUCH.FUN. I'm honestly not sure who liked it more, my husband or the kids, but it was one of the best gifts we gave in their Easter baskets!
Rocket Launcher with 2 Foam Darts Activity Play Set with Jump Foot Trigger 
Elementary School (ages 6-10)
Perler Beads
This perler bead kit has everything you need to start making amazing shapes and designs. My son loves making Minecraft themed designes while my daughter is all about the hearts and rainbows.
Perler Multi Mix Assorted Fuse Bead Bucket
Kites
This is sure to get your kids away from their screens and outside! Kites are a great activity for the whole family to enjoy!
Hengda Kite Kids Children Cartoon Monkey Kites with Flying Line
Science Kit
Watch as your kids are amazed by these simple kitchen science experiments.
4M Kitchen Science Kit
Puzzles
Stock up on puzzles for those rainy spring days. There are so many inexpensive and fun options ranging from standrad puzzles to 3D puzzles.
Board Games
Buy some new games for your family game night. These are a couple of our family favorites!
Jenga Classic Game
Clue Game
Crystal Digging Kit
This is a great kit for your little geologist. The gem digging takes an hour or two and they are a good sized gems so they won't be disappointed!
NATIONAL GEOGRAPHIC Gemstone Dig Kit 
Jewelry Making Kit
This is a great jewelry making kit for your little fashionistas. This kit includes everything you need to make bracelets and necklaces. It includes a good selection of beads.
Money
Why not surprise your child with a few dollars so they can pick something out on their own or save up for a bigger item?
Sunglasses
Easter is a the perfect time to stock up on summer stuff like sunglasses.
Rubber Kids Polarized Sunglasses with Strap Glasses 
Jump Rope
Get your kids up and moving with this jump rope.
Toysmith Jump Rope
Book Marks
These magnetic bookmarks are great for your little bookworm.
Constellation Theme Series Magnetic Bookmarks
Door Basketball Hoop
If you have a sports fanatic in your house, they will love this door basketball hoop. It's simple and easy to install!
Nerf Sports Nerfoop Jump Shot
Tweens and Teens
Cool Room Light
Find a cool room light for your tween or teen to personalize their room.
Mood Light Deco Cube with Color Changing LED
Key Chain
Find a funky key chain for your child to help them keep track of their keys!
Wbeng Teris Game Stress Relif Handheld Toy Game Console
Cell Phone Case/Accessories
Let's be honest. This age group loves their cellphones. A new cell phone case or chargers are something your teen will love.
Gift Cards 
Instead of giving cash, give your kids a gift card. You can get one for the movies, Starbucks, Target, mall , or to their favorite fast food place.
Picture Frames
For your sentimental teen pick out a picture frame for their room.
Journal/Diary
If you have a tween or teen that loves to journal, put a new notebook into their Easter basket.
Leather Writing Journal Notebook, EvZ 7 Inches Vintage Nautical Spiral Blank String Diary Notepad Sketchbook Travel to Write in, Unlined Paper, Retro Pendants, Classic Embossed, Sky Blue
This list just goes to show that you can be creative without breaking the bank. I hope you found some non-candy Easter basket ideas for your child no matter what age!