Now that school has started, we are getting back into the swing of things. This means after school activities, homework and everything in between. It also means it's time to pull out my list of easy meals for busy nights.
There are many nights we are running from one place to another. Especially now that the kids are older, they are much more involved in after school activities.
While I love that my kids are participating in after school sports and arts, it makes for more hectic afternoons and much less time for cooking and getting dinner out on the table.
A lot of the times we get home late and everyone is starving or we need to leave early for practice and there isn't enough time to prep dinner.
Planning ahead is so very important to making sure we have something quick and easy for dinner on these nights. You can check out this meal planning guide to see how we build our weekly meal plan.
In addition to meal planning, I have created a go to list of easy meals for busy nights. These easy meals are tried and tested by yours truly. Also, they are all kid tested and approved.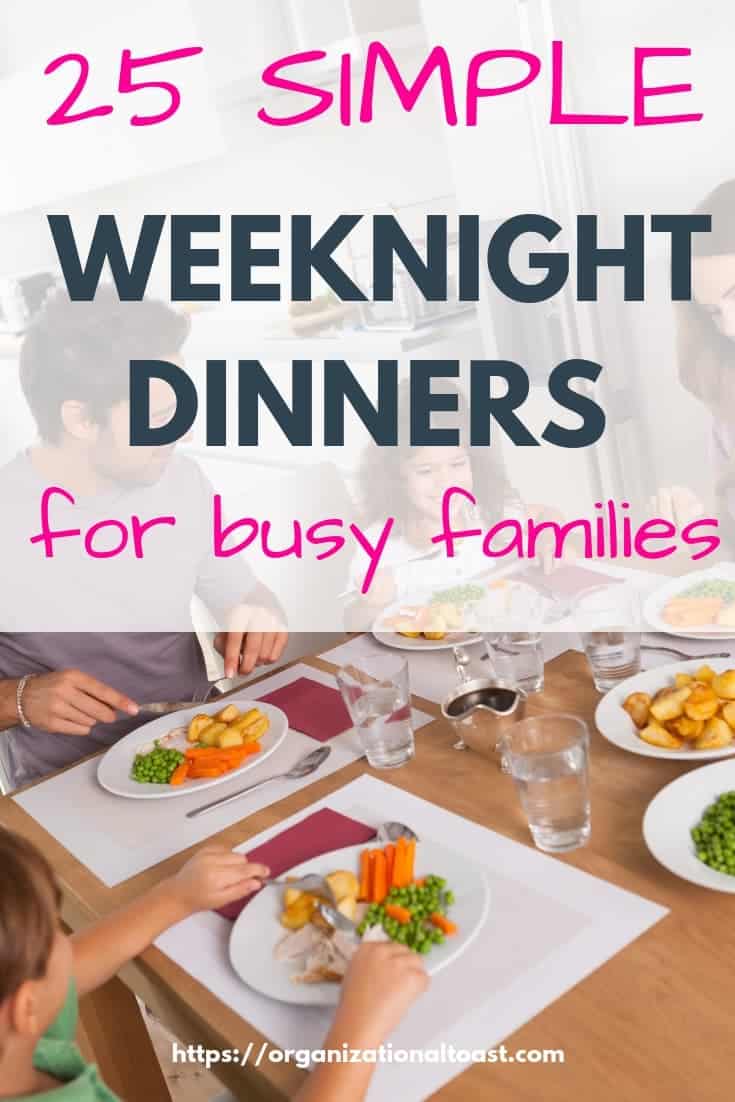 25 Easy Meals for Busy Nights
No/Little Cooking Meals
Friends, I'm here to tell you that home cooked meals don't always have to involve home cooking. Grant yourself a little bit of grace and check out these no to little cooking easy meals for busy nights. I serve all these options with fruit and raw veggies on the side for quick and healthy weeknight meals.
Sandwiches Ham and Cheese, Peanut Butter and Jelly, Tuna fish. Pick your favorites, slice up some fruit and carrot sticks and voila! Healthy meal. This is a great one for on the go dinners.
Scrambled Eggs
Macaroni and Cheese
Hamburgers Throw those bad boys on the grill, top with some cheese and you have a group of happy kids and very little clean up!
Instant Pot Meals
The Instant Pot is awesome for so many reasons, but mainly because it cooks things so fast and the meals are usually one pot meals. Less mess + less cleanup = Happy Mom.
These are a few of my favorite east Instant Pot dinners that the kids love:
Easy Lo Mein From Kirbie Cravings
Sesame Chicken From Julie Harrington
Chicken Pot Pie Casserole From Adventures of a Nurse
Picadillo From Skinny Taste
Bang Bang Pasta From Kirbie Cravings
Instant Pot Cheesy Taco Pasta From Rebooted Mom
Instant Pot Pizza Pasta From Family Fresh Meals
Slow Cooker Meals
I love crockpot meals but some can actually be really time consuming! I have listed a few favorites that only require you to dump the ingredients in the crockpot and walk away. You can always make double batches if you have particularly busy weeks!
Salsa Chicken With Black Beans and Corn From Skinny Taste
Cowboy Brisket From Country Living
Chicken Soup From Delish
Slow Cooker Jambalaya From Creme de la Crumb
Lemon Chicken From Melanie Makes
Kielbasa Green Beans and Potato Casserole From Bake at Midnite
Chicken Tortilla Soup From Country Living
Make Ahead Casseroles for the Freezer

Nothing is easier than opening your freezer, and reheating some already cooked meals. Yes, you can buy pre-made freezer meals at the store but a lot of the time they are chock full of sodium and other questionable ingredients and quite frankly, they just don't taste as good as homemade. With a little planning, you can make a whole bunch of freezer meals on the weekend and set your self up for a month or two of pre-prepared healthy meals. Here are a few of my favorites.
Easy Cheeseburger Casserole From Six Sisters Stuff
Baked Chicken Pesto Alfredo From Happy Money Saver
Chicken, Broccoli, Bacon and Potato Bake From Kylee Cooks
Freezer Bean and Cheese Burritos From Money Saving Mom
Spinach Lasagna Rollups From Six Sisters Stuff
Chicken and Wild Rice Casserole From My Recipes
Traditional Meatloaf From Taste of Home
With a meal plan and this list of easy meals for busy nights you will easily be able to get healthy dinners on the table with a lot less stress. What are your go to easy meals for busy nights?
Download the Meal Planning Guide to organize your meal plan for those busy weeknights!