The kids went back to school this week and that means my grocery shopping and meal planning changes a bit.
My daughter gets lunch and morning snack at pre-school and my son brings a packed lunch from home. My son's school is nut free which makes things a little bit trickier. I send him mostly with bagels and cream cheese. I'm grateful he doesn't complain about the lack of variety, even though I know he would prefer a peanut butter and jelly sandwich. My husband takes leftovers to work most days.
Related: Back to School Lunch Box Ideas
I still keep to my $125 weekly budget for our family of four.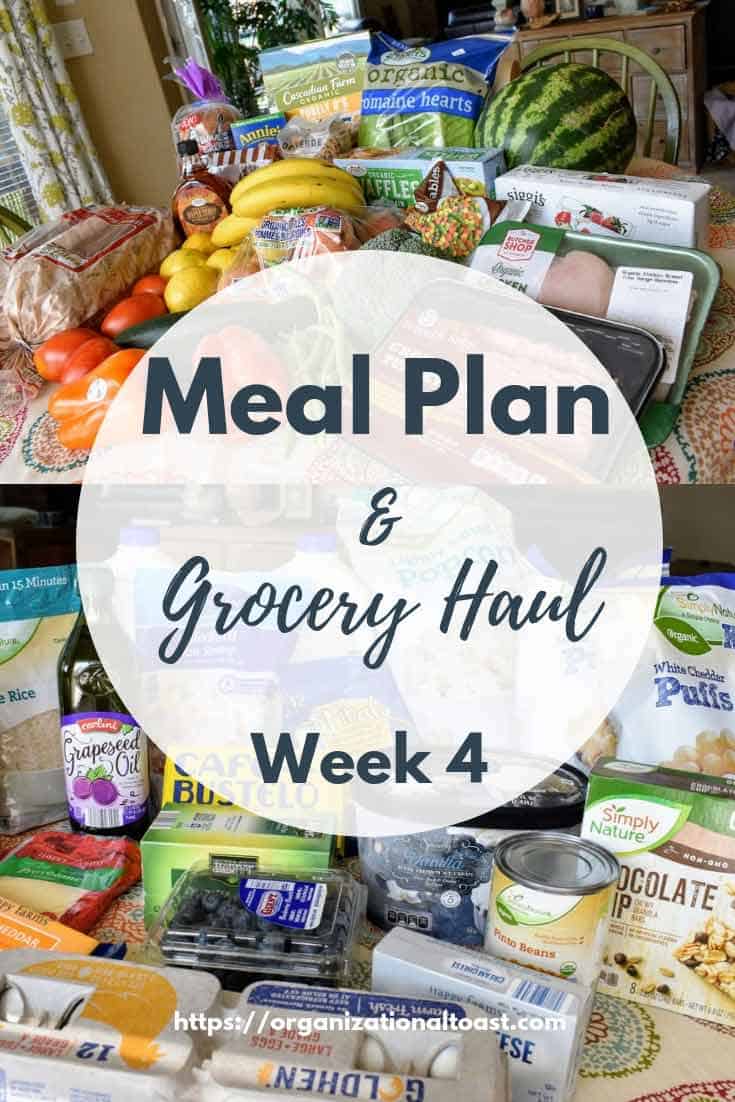 I also didn't include the money I earned using the Ibotta App in my budget calculations. I like to think of this as a bonus. If you haven't tried Ibotta, you are seriously missing out. I earned $2.25 this week on my regular grocery shopping just by using the App. Check out my post on How to Earn Money with Ibotta to learn more!
Weekly Grocery Haul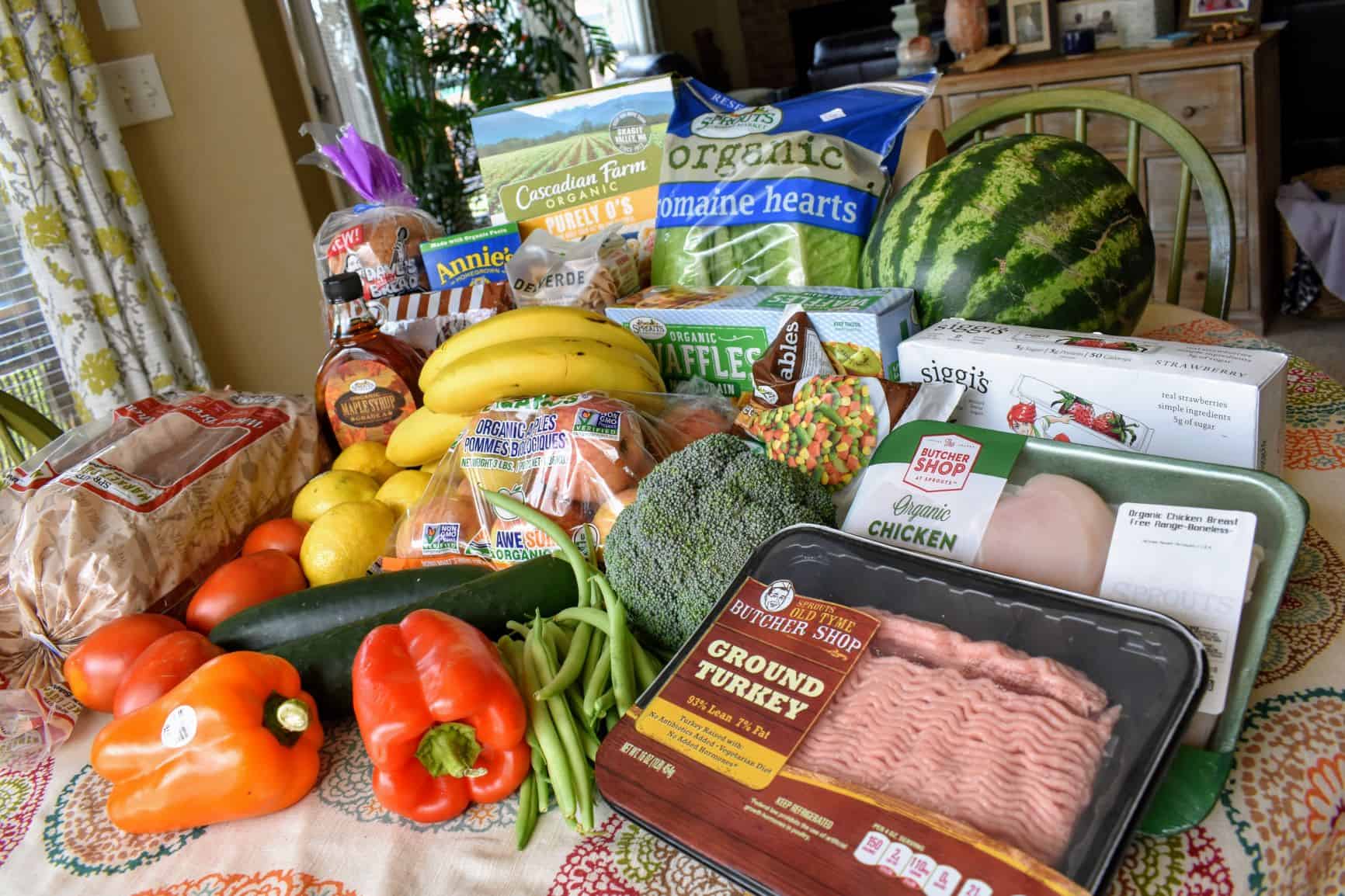 Sprouts
Broccoli Crowns 0.65lb@ $1.69/lb – $1.10
Cucumbers 2@ 2 for $1.00 – $1.00
Green Beans .43lb @ 1.99/lb – $.86
Lemons 4 @ 2 for $1.00 – $2.00
Orange Bell Pepper – $.98
Organic Fuji Apples 3 lb bag – $4.99
Organic Romaine Hearts 3 pack – $2.99
Organic Chopped Garlic – $1.99
Red Bell peppers – $.98
Roma Tomatoes 1.13lb @ $.068/lb – $.77
Seedless Watermelon – $1.98
Yellow Bananas 2.85/lb @ $.59/lb – $1.68
Chocolate Sandwich Cookers – $1.99
Annie's Macaroni and Cheese – $1.99
Cascadia Farms Purely O's – $3.99
Organic Maple Syrup – $8.99
Organic Whole Wheat Penne Pasta – $2.99
Yogurt Tubes – $2.85
Ground Turkey – $4.99
Organic Chicken Breast – $9.30
Organic Chicken Breast – $7.76
Dave's Bagels – $4.49
Whole Wheat Bread x 2 – $3.98
Frozen Mixed Vegetables $1.59
Organic Multigrain Waffles – $2.23
Total – $76.78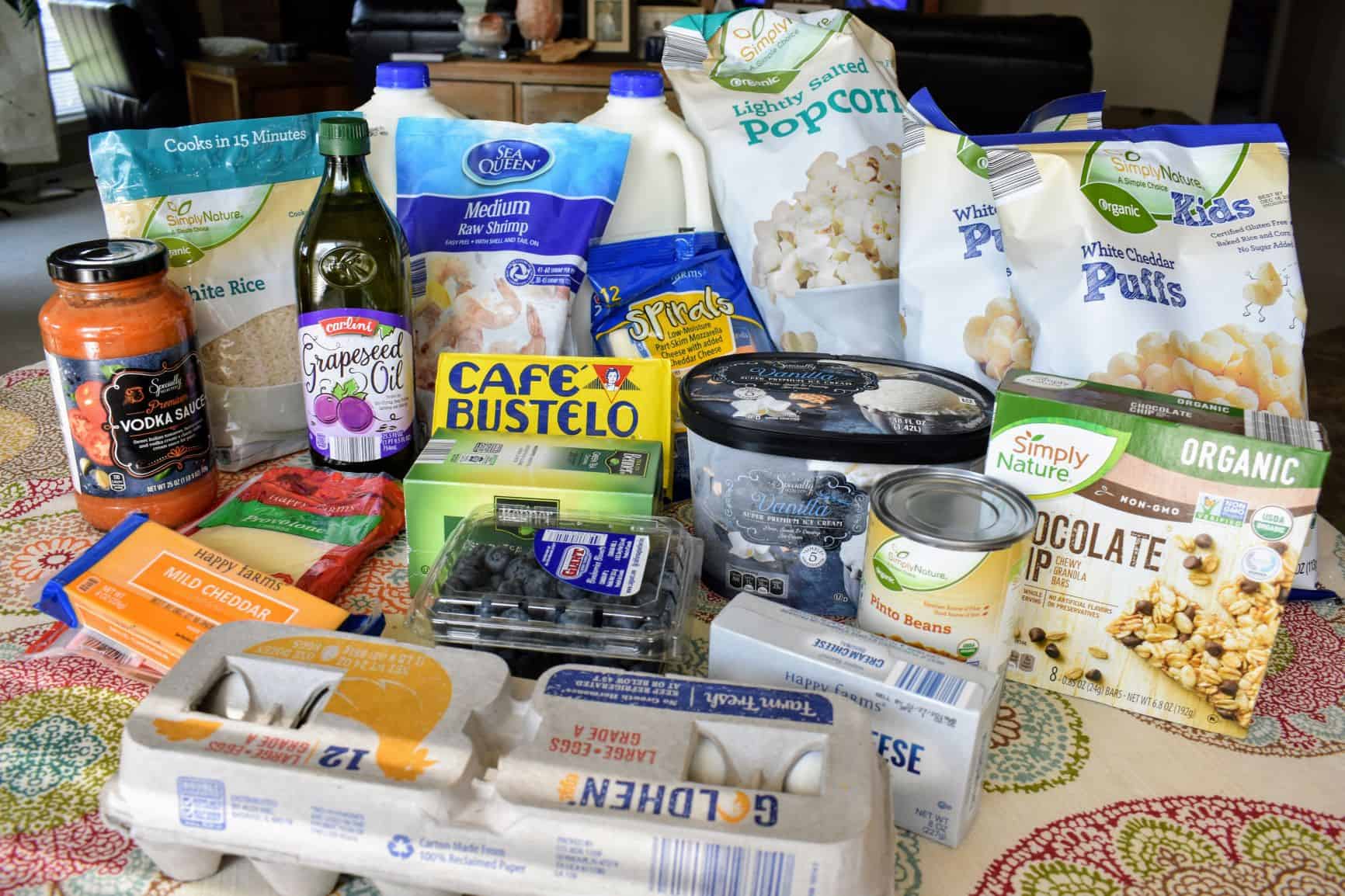 Aldi
Organic Pinto Beans – $.89
String Cheese – $2.49
Sliced Cheese – $1.99
Cheddar -$1.99
Frozen Shrimp -$4.99
Ice Cream – $4.19
Blueberries – $.99
Egss – .$47
Cream Cheese $1.29
Coffee – $2.88
Green Tea – $.99
Organic Granola Bars – $2.39
Grape seed oil – $3.99
Organic Puffs x 2 – $2.98
Organic Rice – $2.99
Penne A La Vodka Sauce $2.89
2 Gallons of Milk – $4.90
Popcorn – $1.49
Total: $46.78
Weekly Total – $123.56
Meal Plan
Dinners:
Penne A La Vodka with ground turkey, frozen mixed vegetables and apples (A made a double batch)
Grilled Chicken with mashed potatoes, salad and watermelon
Shrimp scampi with rice and green beans and watermelon
Chicken and vegetable stir fry with rice and apples
Rice and beans with frozen mixed vegetables, salad and apples
Lunch: (all lunches served with fruit)
Macaroni and Cheese
Bagels with cream cheese and yogurt tubes
Grilled Cheese
Breakfast:
Cereal with Bananas
Frozen waffles with blueberries
Egg and Cheese omelettes with toast
French toast from scratch
Snacks
Cheddar Puffs
Granola Bars
Cheese Sticks
Popcorn
Yogurt tubes
Check out the full Grocery Haul and Weekly Meal Plan Series to see how I've been doing with my grocery budget and find more meal plans.
If you are looking for some meal planning inspiration, check out this Meal Planning for Beginners Guide and 25 Easy Meals for Busy Nights!