It's that time of year when I pull out the slow cooker and I've combined my love of all things Aldi with my favorite slow cooker recipes to bring you this 5 Day Aldi slow cooker meal plan.
These meals are all under $10 and will feed a family of 4 with leftovers. These are all kid-friendly dinners that your family will gobble up! These slow cooker meals are perfect so summer nights when you don't want to cook on the stove top or cold winter evenings when you're looking for a hearty meal.
If you're looking for some more Aldi meal plans that aren't slow cooker specific, I have a ton here.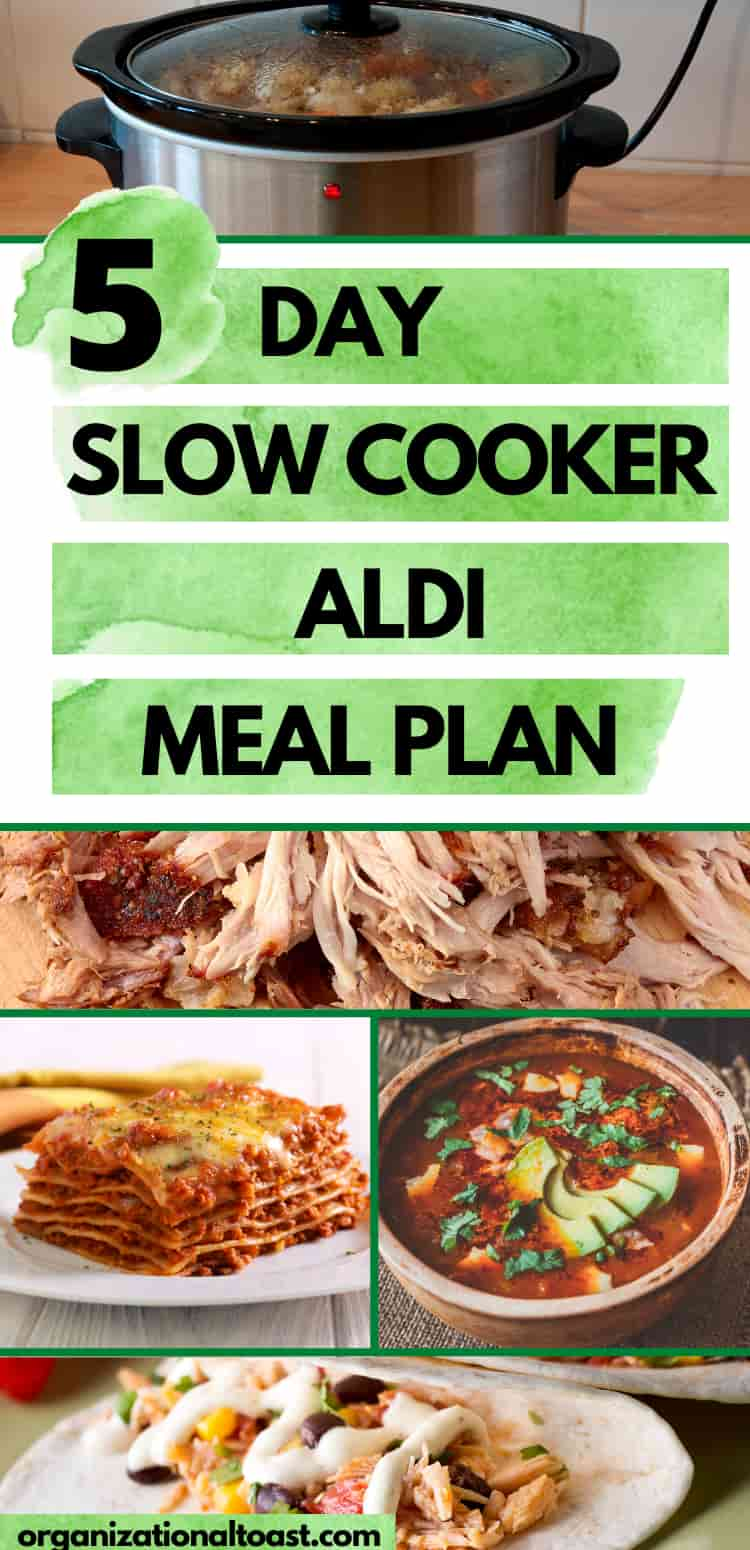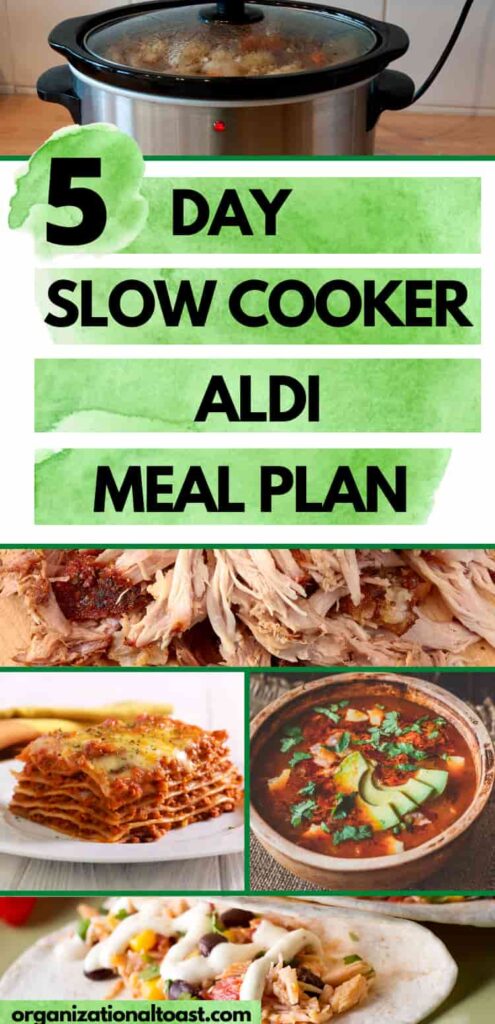 Meal #1 – Slow Cooker Salsa Chicken
Chicken Breast (2lbs x 1.89) – $3.78
Salsa – $1.35
1 Can of Corn – $.55
1 Can black beans – $.55
Tortillas – $1.29
Cheese (optional) -$1.89
Total: $9.31
This is a crowd pleaser in our house! This can be served in tortillas or over rice and you can do as many or as few toppings.
Get the recipe and instructions here
Meal #2 – Slow Cooker Pulled Pork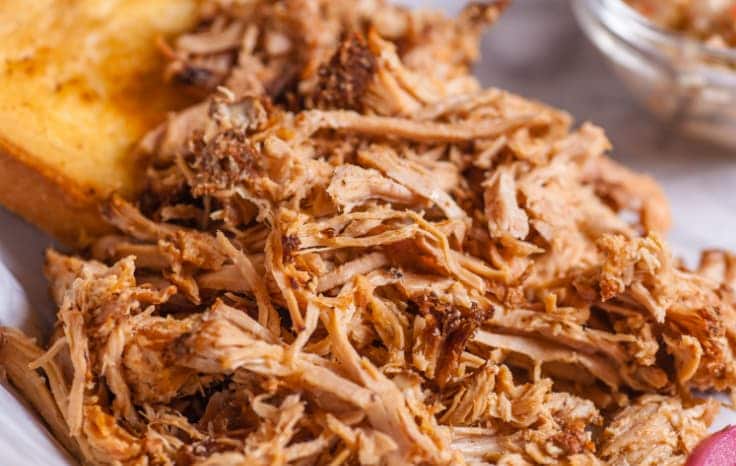 BBQ Seasoned Pork Shoulder Roast (3lbs x $1.99) – $5.97
Sesame Brioche Buns – $2.75
Total: $8.72
This meal is so simple you don't even need a recipe. You can find already seasoned BBQ Pork Shoulder and drop it in your crockpot on low for 8 hours (or high for 4). Add a little chicken broth or water so it doesn't burn. Serve on tasty brioche buns or for a more frugal meal you can buy hamburger rolls for only $.89! Get fancy and add coleslaw for $1.65 and make your own coleslaw dressing!
Meal #3 – Slow Cooker Chicken Tortilla Soup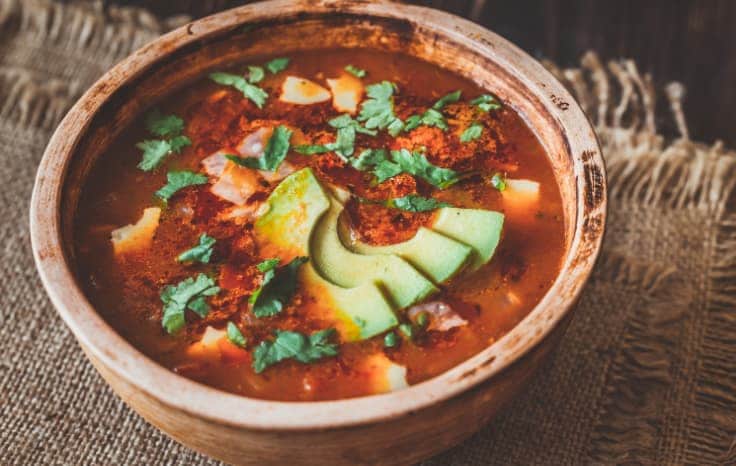 Chicken Stock – $1.89
Enchilada Sauce – $1.96
Shredded Chicken – ( 2 lbs Chicken Breast @ $1.99lb) – $3.98
Fire Roasted Tomatoes – $1.05
Sweet Corn – $.55
Total: $9.43
This recipe is a perfect meal for a cold winter night. The recipe calls for rotisserie chicken which my Aldi doesn't sell (whomp whomp). Instead, I use shredded chicken breasts. Every few months I prepare this basic shredded chicken breasts and have it on hand in the freezer for meals like this.
Get the recipe and instructions here.
Meal #4 – Slow Cooker Italian Chicken Thighs
Boneless Skinless Chicken Thighs (3lbs @ $1.69lb) – $5.07
1 Jar Marinara – $.95
Pasta – $.85
Cheese (optional) – $1.89
Total: $8.76
Did you even know dinner could be this simple? Cook the chicken thighs in sauce and serve over your favorite pasta. Top with your own freshly shredded mozzarella and you have a tasty Italian feast!
Get the recipe and instructions here.
Meal #5 – 4 ingredient Crock Pot Lasagna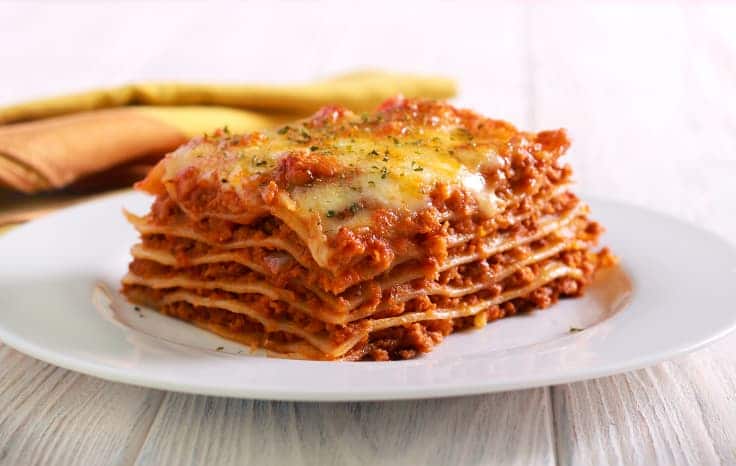 Ground Beef – $3.75
Lasagna Noodles $1.75
Marinara Sauce $.95
Shredded Cheese $3.05
Total: $9.50
Crockpot lasagna is a great way to get that tasty baked flavor without heating up the oven for hours! With just 4 ingredients, this is a frugal and tasty slow cooker meal everyone will enjoy! Save a couple dollars and buy a block of mozzarella for $1.89 instead of the pre-shredded cheese. But sometimes the extra dollar is worth the time!

Get the recipe and instructions here.