Are you looking for a planner to help you maximize your time, increase your productivity, and just keep track of family life?
As moms, there are so many moving parts to our day. Between the kids' school activities (read: pajama day, food drive, and school performances) and your own day-to-day tasks if you don't have a planner to keep you organized you are bound to drop the ball at some point.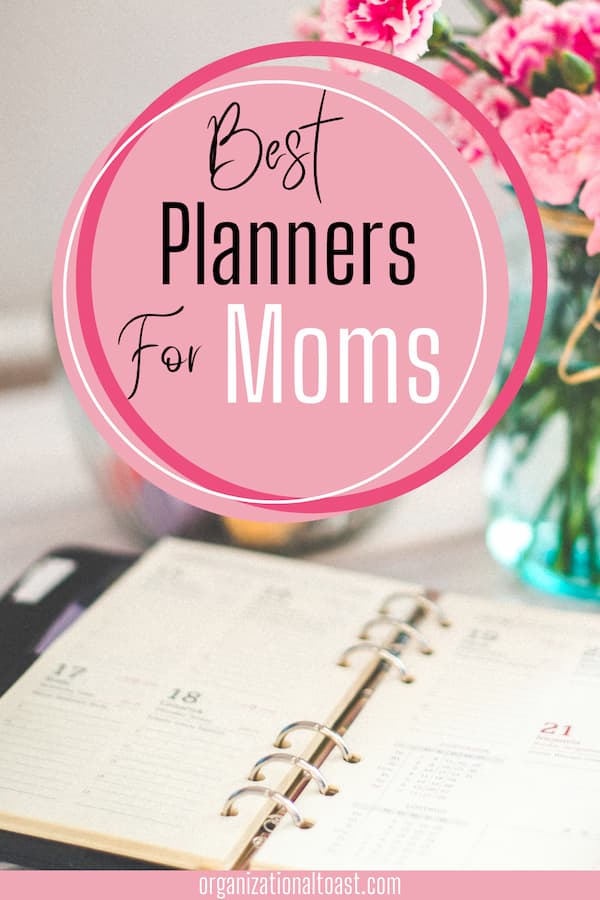 Before I share my list, I want to say I am a total planner snob. I started investing in good paper planners about 8 years ago when I realized the $5 Target planners were just not cutting it.
I use a combination of paper and digital planner.
Cozi is a digital family organizing calendar and I absolutely love it. I can share the calendar with my husband and I get lots of reminders and alerts.
As awesome as it is, I prefer a paper calendar where I can jot down notes, check things off my list (feels so good!) and do more in-depth planning and goal setting.
This list includes planners that are not only super functional but they are also beautiful. They are what planner dreams are made of.
How to Pick a Planner that's Right For You
Because there are so many different types of planners it can be overwhelming to pick the right planner. Here are some questions to ask yourself before picking a planner.
What purpose does your planner serve?
Is your planner to help you keep track of a hectic schedule or track your to do list? Are you working towards some big goals? Or are you just trying to quell the chaos in your family's life? This will help you decide between a more goal oriented planner and a more schedule based planner.
What's your budget?
Good planners will run you between $15-$100, so it's important to consider your budget from the get go! This will help you narrow the playing field.
What Size and Layout works for you?
Do you need a planner that will fit in your purse? Or do you need big pages with lots of space to fill things in? Do you need daily entries with times listed? Do you want an undated or dated planner?
What kind of binding do you prefer?
Binding can make a big difference. Consider if you prefer a spiral bound planner verses a glue binding. Spiral binding allows you to fold the planner better but may lead to loose pages down the line.
Now that you have a better idea of what you want from a planner, here are the best planners for moms in 2021!
Passion Planner
I love the passion planner. This planner is laid out in such a way that you can organize both your personal and professional life.
There is lots of space for goal setting and reflection at the end of each month. It's super high quality and the binding never breaks. You also have the choice between a Sunday Start or a Monday Start.

The Passion Planner also gives you a ton at a great price. Check out the Passion Planner Here.

Day Designer
This is the Rolls Royce of Planners. It is absolutely gorgeous and has all the bells and whistles. This planner was designed with women in mind to help them live life with intention while also being productive. Shop the Day Designer 2021 Planners now!
The daily layout pages are timed from 5 AM to 9PM and provides tons of space to fill out your daily schedule and to do's. There's plenty of space to jot down notes as needed. Plus, the goal setting tools are on another level!
Mom Agenda
These planners are designed especially with moms in mind (hence the name).

The desktop planner is my favorite. The weekly view is uniquely organized to include individualized spaces for up to 4 kids.
This makes keeping track of everyone's activities super easy. It also includes a monthly view. Check out their free printable section for more tools to help you get organized.
Check out all the different styles here
Daily Greatness
Daily Greatness has a planner for every person – gratitude planner, business planner, yoga planner and parenting planner.
The Daily Greatness Parents Journal & planner is a tool for personal and family transformation. Designed to better connect with yourself so you can better connect with your child, this planner will also keep your family organized and to set you up for success as a parent. The planner is undated making it easy to start at anytime. It also includes a self care goal planning system and daily gratitude journal.

Moms 2021 Plan-It Planner

If you're looking for a simple planner to help keep you organized, this is the one for you! This planner includes a 17-month calendar grid which includes 6 individual rows for each family member. Moms 2021 Plan-It Planner also includes 288 reminder stickers plus a storage pocket for loose papers you need to keep track of!
Legend Planner Pro

The Legend Planner Pro is a beautiful and sturdy planner that will help you stay organized and achieve your goals. This planner has more than just weekly and monthly pages to keep track of your to do list, it also has spaces for goal setting, awareness and self discovery, and a place for monthly reflection. The habit tracker will also help you to keep going and develop better habits! This planner also includes stickers for quick and easy organizing!
Planner Accessories
Planner accessories are a great way to keep your planner looking beautiful while still marking it up and keeping track of all the things.

Life Planner Stickers Set. Monthly, Weekly & Daily Planner Stickers 20 Sheets Set of 1,000+ stickers for women

Essentials Weekly Planner Stickers (Set of 575 Stickers)

Me & My Big Ideas MAGC-15 The Happy Planner Magnet Bookmarks, Rose Gold

bloom daily planners Assorted Magnetic Bookmarks, 3 Pack Planner Bookmarks