Even though I love Aldi, lately I have been finding myself doing more and more grocery shopping at Walmart, mostly because of the free Walmart grocery pickup service and their reasonable unlimited delivery service (you can try it for free).
I wanted to see if I could make a week's worth of dinners for under $50, like I have done at Aldi (you can see my 7 dinners for $50 Aldi here). 
I was pleasantly surprised when I put pen to paper and found I could make 7 healthy dinners from Walmart for much less than $50. All these dinners totaled $38.83!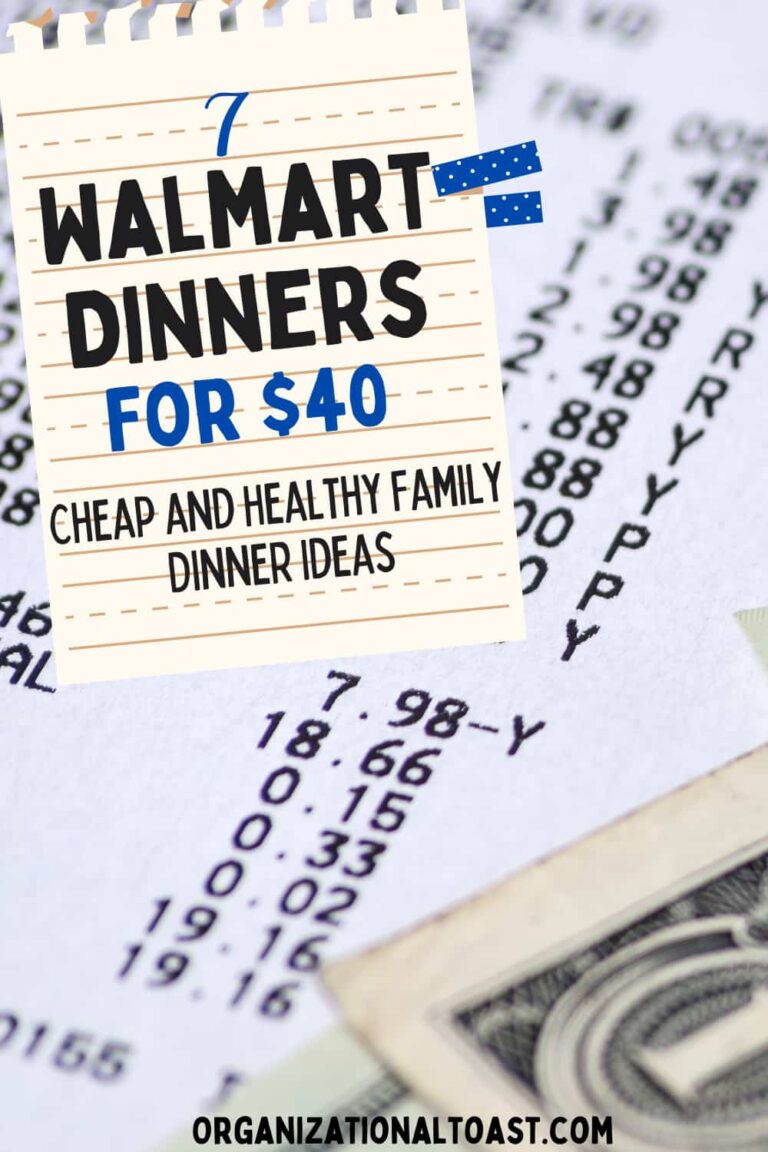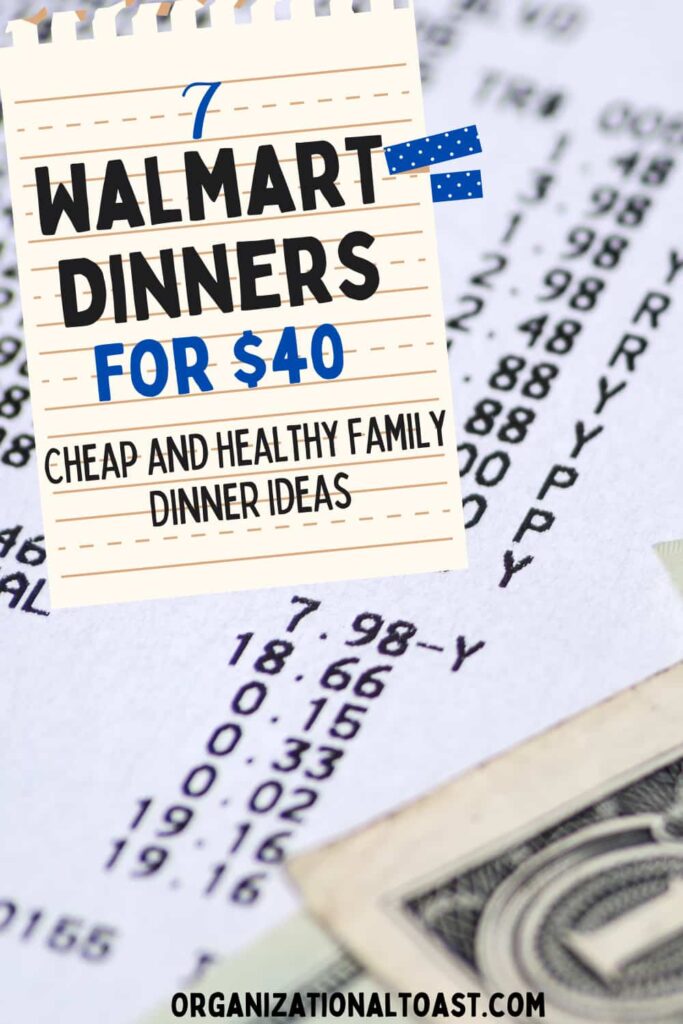 This dinner meal plan assumes that you have some basics already on hand like olive oil, salt and spices on hand. I also realize that prices vary based on where you live. These are the prices at my local Walmart in Oklahoma. 
When I plan meals, I always take into account what I have on hand and I also try to use what I have in more than one meal. You'll notice with this particular meal plan, I bought a bottle of bbq sauce that I used for a couple of the dinners including BBQ Turkey meatloaf and pulled chicken sandwiches. This is a simple way I make sure I don't waste anything I buy.
I like to buy a lot of the Walmart brand food items. I find buying store brands can mean huge savings and I have found the quality of Walmart brand foods to be consistently very good.
$40 Dinner Meal Plan From Walmart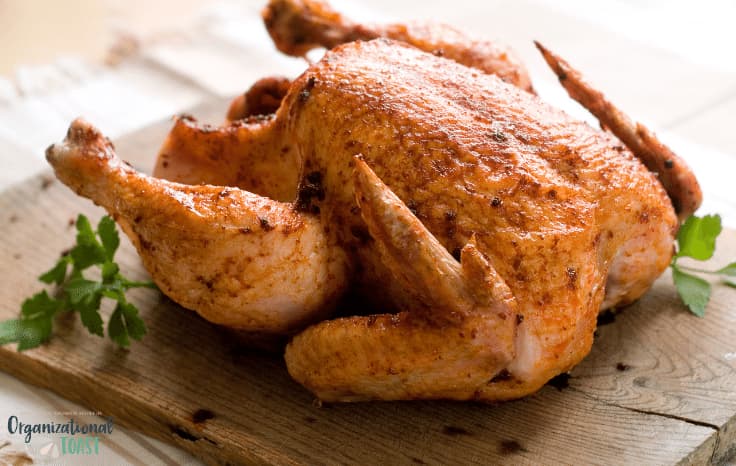 Dinner 1: Instant Pot Rotisserie Chicken
Whole Chicken – $5.47
Great Value Frozen Vegetable Mix – $1.00
Rice (2 cups) – $.50
Total – $6.97
This dinner is a family favorite! I love this instant pot rotisserie chicken. If you don't have an instant pot, don't despair! You can roast the chicken in your oven (this is a super simple recipe). I serve the chicken with rice and a bag of frozen vegetables that I steam. The best part is, there is leftover chicken you can use for other meals!
Dinner 2: BBQ Chicken Pizza
Using Leftover Chicken from Instant Pot Chicken
4 Count Naan – $2.73
Block of Colby Jack Cheese – $2.08
BBQ Sauce (less than half a bottle) – $.25
Total – $4.81
I use the leftover Instant Pot Chicken meat for this quick weeknight dinner. I use this recipe as my base, which also calls for onions and shallots. But my kids don't eat those and honestly it's tasty without them!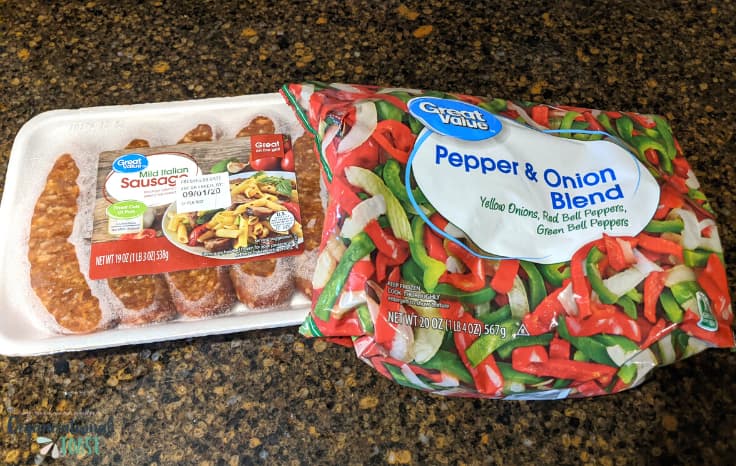 Dinner 3: Sausage and Peppers
Great Value Italian Sausages (5 Count) – $3.66
Great Value Frozen Pepper & Onion Blend – $2.33
Rice (2 cups) – $.50
Total- $6.49
There are tons of great sausage and peppers recipes out there like this one, but I honestly keep it super simple. I brown the sausages in a pan then add the frozen peppers and onion blend. I season with salt, pepper and Italian seasoning and cover and let everything heat through. If I have leftover spaghetti sauce, I'll sometimes add 2 tablespoons of that. This is served over rice for a hearty meal!
Dinner 4: BBQ Turkey Meatloaf
Ground Turkey – $2.58
Egg – $.10
Panko -$.60
BBQ Sauce – $.50
1 bag steamable Red Baby Potatoes – $1.98
1 Bag Great Value Broccoli – $1.00
Total – $6.26
Ground turkey can be cheaper than beef or pork and with this simple recipe you can make a moist and flavorful meatloaf for much less. I serve it with steamable baby red potatoes and steamed broccoli for a healthy and tasty family dinner!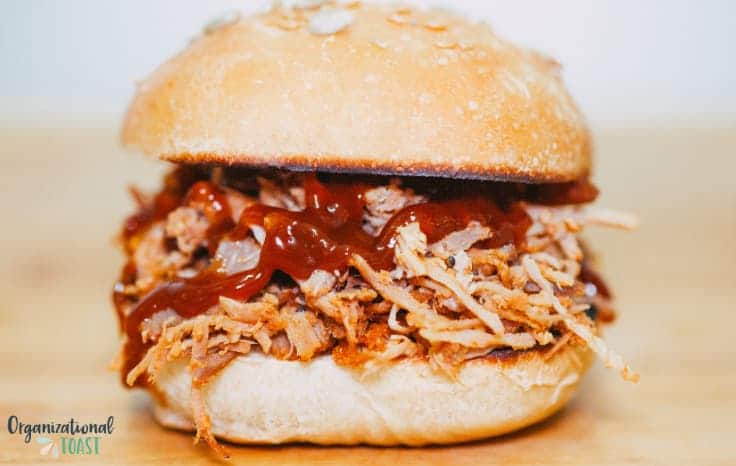 Dinner 5: BBQ Pulled chicken
1 lb Chicken Breast – $1.99
1 Cup BBQ Sauce – $.50
Hamburger buns – $.88
Baby Carrots – .98
Total: $4.60
This is a great slow cooker meal. Take a pound of chicken, smother with 1 cup BBQ sauce and cook on low for 8 hours. Shred the chicken and serve on hamburger buns with a side of baby carrots!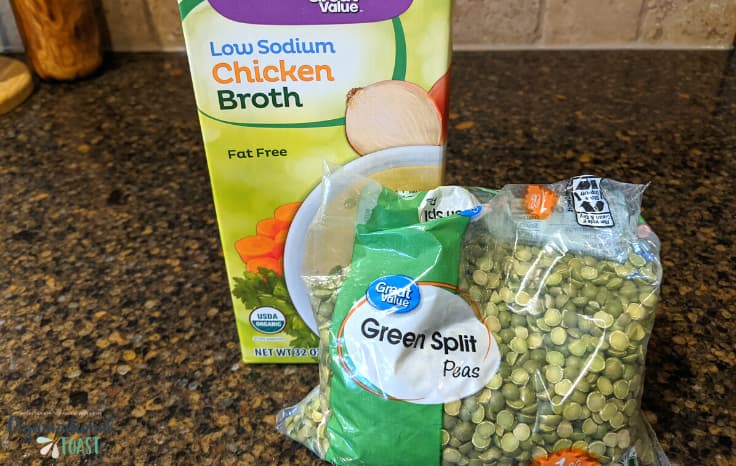 Dinner 6: Split Pea Soup
1 lb Dried Split Peas – $1.37
32 Oz Vegetable Broth $1.22
French Bread – $1.00
Total – $3.59
Soups are a really inexpensive meal option and split pea soup is one of the cheaper soups you can make. You can make split pea soup in your instant pot or slow cooker. While some recipes call for celery, garlic and other vegetables, I often keep it simple with just peas, broth and some basic spices like salt, pepper and bay leaves. You could use leftover carrots (or even Italian sausages from the sausage and peppers dinner) you can throw those in the soup as well. Serve with French bread for a filling and protein packed meatless dinner.
Dinner 7: Chicken Alfredo
1 pound linguine – $.82
1 lb chicken – $1.99
1 Jar alfredo sauce – $1.50
1 bag frozen peas – $.80
Total – $5.11
Follow this simple recipe for a kid friendly Italian dinner! You could use leftover chicken from your instant pot rotisserie chicken, but I like to make this dinner with chicken breasts. I season the chicken with salt and pepper and sauté in olive oil until fully cooked. I chop the cooked chicken and add to the pasta!
Walmart really surprised me with their healthy and inexpensive dinner options. I'd love to hear what cheap Walmart dinners you are making!