While the holidays are a time for enjoying our families and reflecting on what we are grateful for, they are also one of the most financially stressing times of the year.
Most of us have suffered from the debt hangover after the holidays. You know, that awful feeling we have once the credit card statement shows up in January and we realize we went overboard AGAIN this year.
So how do you make Christmas enjoyable and affordable?
Here are some of my favorite tips for having a festive and frugal Christmas!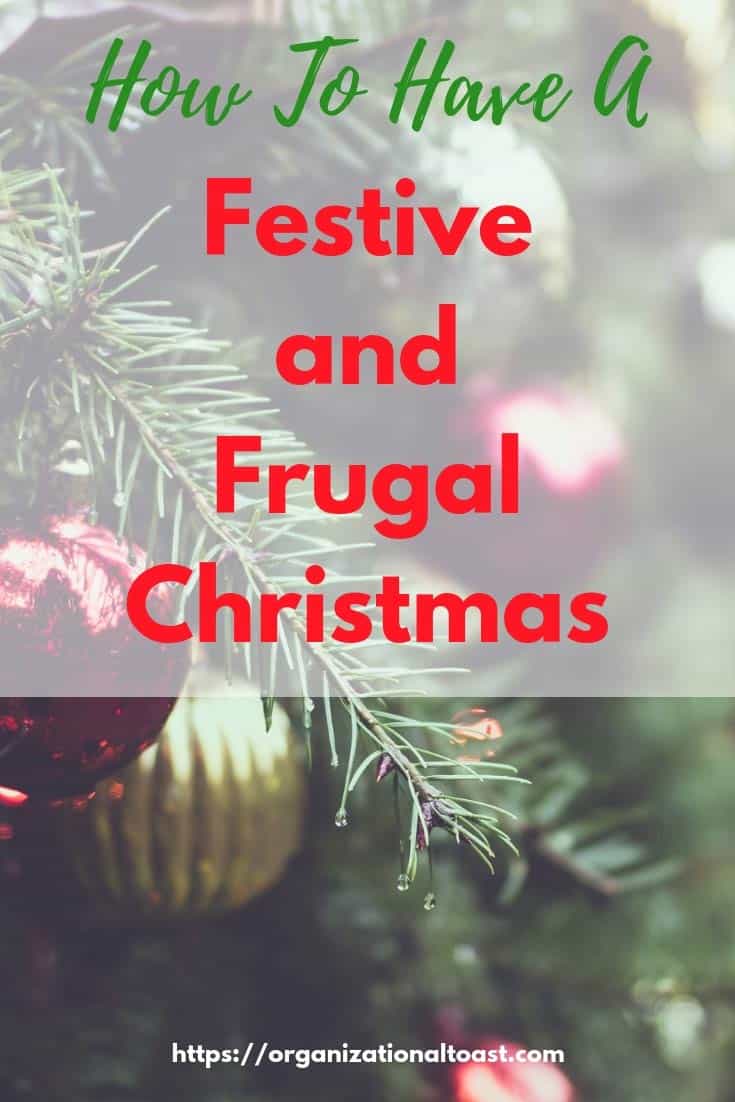 Festive and Frugal Christmas Fun
Free Pictures of the Kids With Santa
Taking your kids to the mall for pictures with Santa is a holiday tradition for many families. But it is also one that is so expensive!
But don't worry, friend. You don't have to pay to get a cute photo of the kids with Santa.
There are so many free options these days for getting those special pictures. Churches, local festivals or even businesses offer free pictures with Santa.
Each year, we take the kids to Bass Pro Shop and have their picture taken with Santa. You get one free photo that has a Bass Pro logo on it. They will also allow you to take pictures with your own camera (quickly of course because there often is a line). While you wait for you picture with Santa, there are lots of activities and crafts for the kids to enjoy.
If you don't have a Bass Pro shop near you, check your local news or local family resource to find out where you can take free pictures with Santa in your area.
Christmas Light Displays
Looking for a festive activity that doesn't cost any money? Go look at Christmas lights!
Whether it's just scoping out your neighborhood, or going to see a professional Christmas light display, this is a free and fun activity the whole family will enjoy.
Every year, we pack the kiddos into the car, play Christmas music and bring hot cocoa and cookies with us while we look at lights!
Borrow Christmas Books and Movies from the Library
Stock up on Christmas children's books and Christmas movies from the library instead of buying books or renting movies.
We like to get 12 books and read one book each day for the 12 days of Christmas. But word to the wise, don't wait for the last minute because lots of people love borrowing these materials!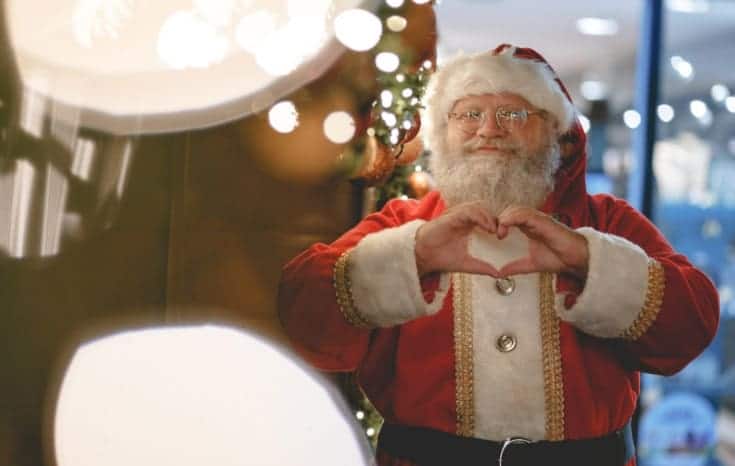 Festive and Frugal Christmas Gifts on a Budget
Make a Plan
It's important to have a good plan in place for buying Christmas presents. This will prevent waiting for the last minute and buying anything. Not only is Christmas shopping without a plan stressful (I should know I'm totally guilty of this) it will often lead you into an overspending trap.
Before you go to the store (or start shopping online) come up with a budget.
First, look at your finances and see how much you can reasonably spend on Christmas.
Next, write a list of all the people you need to buy for.
Finally, start divvying up how much you will spend on each person. Once you know how much you can spend on each person, you'll be able to shop smarter and stay on budget.
Use Reward Programs
My favorite app for earning cash back on purchases is Ibotta. They are partnered with so many awesome retailers including Target, Walmart, Khols, Macy's, Sears and more!
Sign Up Now and Get a $10 Bonus!
Shop the Dollar Tree for Stocking Stuffers
The Dollar Tree is my absolute favorite place to shop for stocking stuffers.
There is literally something for everyone! From candles and picture frames to puzzles and books for the kids there are so many great budget friendly stocking stuffers.
Send E-cards Instead of Mailing Christmas Cards
Save money on printing fancy Christmas cards and postage by sending your family's Christmas card by email!
You can use pre-made e-cards from americangreetings.com or hallmarkecards.com.
You can even add you own pictures for free to some of the cards!
Shop Consignment Stores or Facebook Marketplace For Good Quality Used Toys
If you have young children, this is by far my #1 recommendation. If the toys are in good condition, they won't know that they are used nor will they care!
You can often find good quality toys for a third of the price! That's my kind of deal.
Get Organized this Free Christmas with the 2019 Christmas Planner! Shopping lists, To do lists, Calendar and more! Get It Now!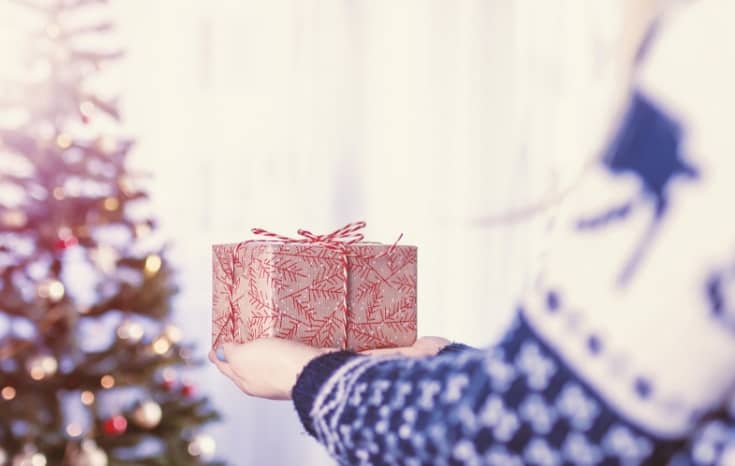 Festive and Frugal Christmas Decorations
Make Your Own
I LOVE Christmas decorations. I love them so much, I decorate the house for Christmas the day after Thanksgiving #sorrynotsorry.
But decorations can get expensive fast!
Instead of spending money on new decorations for the tree you can make your own. You can create a popcorn garland or have the kids use construction paper to cut out stars and angels.
Not only will these make your home more festive but you will create memories and keepsakes!
For those things you can't make, there is often a great selection of decorations at the Dollar Tree. Last year I was able to score new stockings, candy canes and even a wreath! All for $1.
Skip the Lights
To save on your electricity bill, skip the lights on the outside of the house and on the tree.
Instead, you can put ribbons, garland and tinsel on the tree. To decorate the outside without lights, you can wrap columns and trees with ribbon and put a wreath on the door.
Christmas Tree
For real trees, buy a pre-cut tree and buy it closer to Christmas. If you wait until the second week of December, you may even be able to haggle the price down at the Christmas tree lot!
If you prefer a fake tree, you can buy a pre-owned tree or use store coupons to get great deals. Hobby Lobby and Michael's often have coupons for 40-50% off one item. You can get a great tree AND a great deal!
You can also buy a table top tree at your local drugstore for under $20.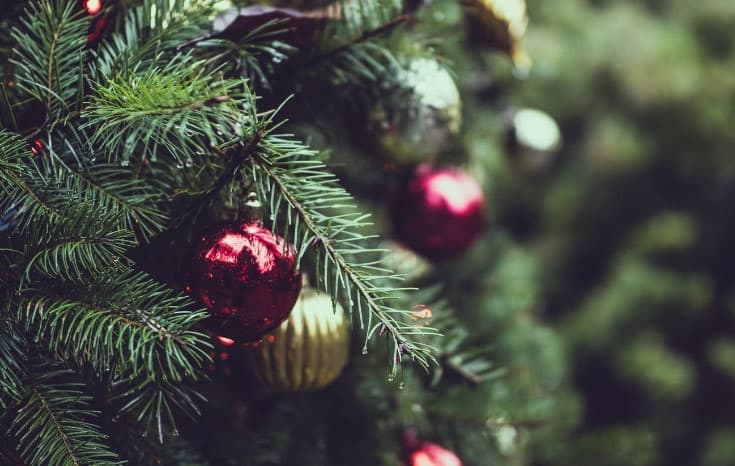 The Bottom Line
My last piece of advice is if you are really struggling financially, talk to your friends and family and be honest. Simply ask if you can skip the gift exchange/holiday vacation/etc. this year. Trying to keep up with everyone will just suck the joy out of your holidays and breed resentment towards your family and friends.
It may not be easy to have these conversations, but it the long run it will be well worth.
You don't have to spend so much money over the holidays to be festive. Making some small and simple changes to your traditions can ensure that you are able to still have a wonderful Christmas without the debt hangover in January.
What are some of your frugal tips for the holidays? How do you save and still stay festive?
Get Organized this Free Christmas with the 2020 Christmas Planner! Shopping lists, To do lists, Calendar and more! Get It Now!