I took a little bit of a break from my weekly grocery haul posts because things were sort of crazy around here. We had my parents visiting and my dad loves to cook. He also loves to grocery shop for his own products, so he did a lot of the shopping while he was here.
We also took out our RV for the last time this season during the kids' fall break. I shop totally differently for our RV trips and I did a half week grocery shop, then a travel grocery shop.
But I'm back!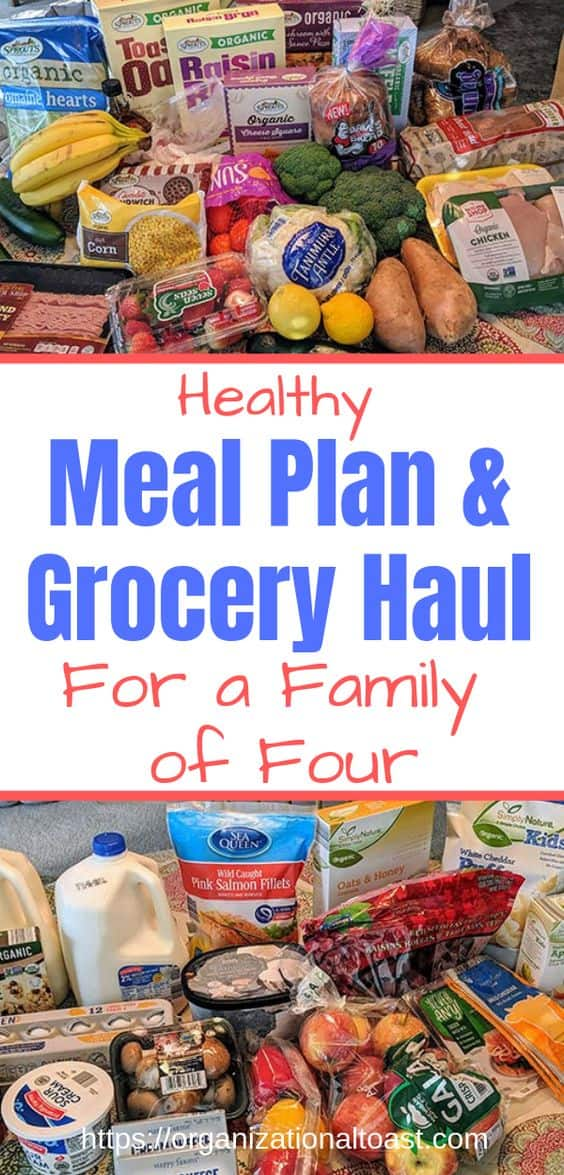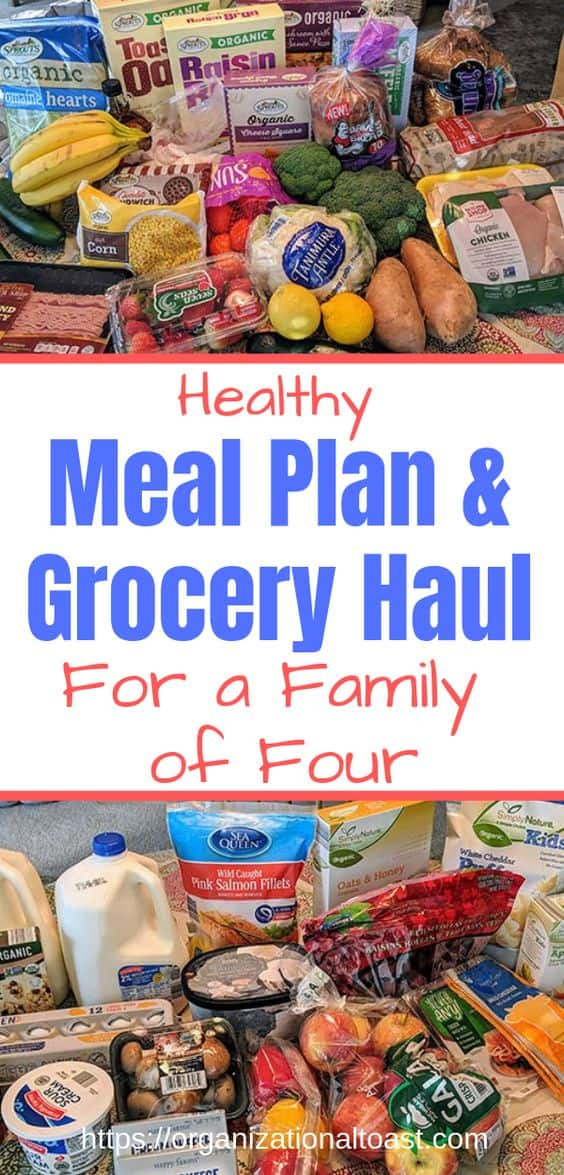 My current grocery budget is $125/week for a family of four. We eat all breakfast and dinner at home and I pack everyone lunches. My daughter's pre-school serves lunch but lately the teacher has reported she is not eating it. So I have also started sending her a sack lunch.
I try to buy mostly organic, though it's not always possible. I try my best but try not to obsess over it.
I did go a bit over this week, but I know the following week we will be under because we have some parties we will be eating at.
I also love using the Ibotta app. I earn money on purchases I'm making and then I use that extra cash to help build up my pantry stockpile.
If you sign up with this link, you can get up to $20 in welcome bonuses.
Week 5 Grocery Haul and Meal Plan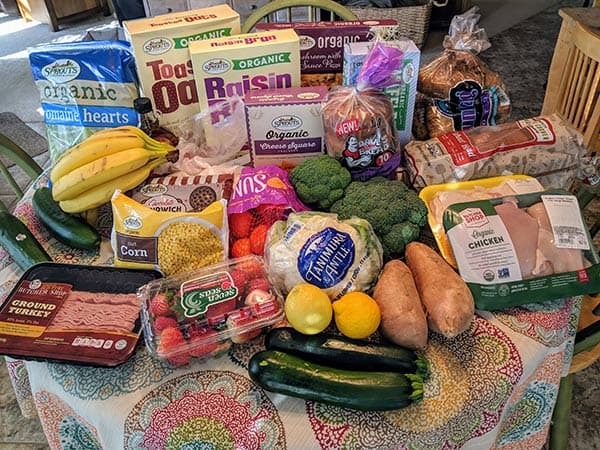 Sprouts:
1 lb. Strawberries – $2.50
5 lb. Russet Potatoes – $1.99
Broccoli Crowns 1.38 lb @ $1.69/lb – $2.33
Cauliflower 1.85 lb @ $0.77/llb – $1.42
Italian Squash 1.18 lb @ $0.77/lb – $0.91
2 Lemons – $1.00
2lb Mandarin Oranges – $2.88
Organic Romaine Hearts – $2.50
Sweet Potatoes – 1.65 lb @ $1.29/lb – $2.13
Yellow Bananas 2.70 lb @ $0.59/lb – $1.59
Chocolate Sandwich Cookies – $1.67
Organic Cheese Crackers – $2.99
Organic Raisin Bran – $1.99
Organic Toasted Oats – $2.99
Organic Maple Syrup – $6.99
Organic Quick Oats – $1.39
Chicken Thighs – $4.78
Ground Turkey – $6.99
Organic Chicken Breast – $12.37
Bagels – $4.79
Wheat Bread – $2.29
Organic Mushroom Pizza – $2.99
Multigrain Waffles – $2.79
Organic Cut Corn – $2.49
Total: $94.70
Aldi: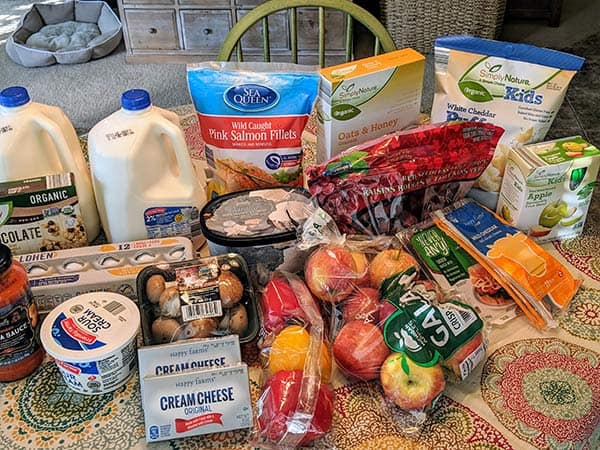 Ice cream – $4.19
Organic Puffs – $1.99
Organic Granola – $2.79
Sliced Cheese – $1.99
Sliced Ham Lunch meat – $3.29
Organic Granola Bars – $2.39
Cream Cheese x 2 – $3.29
Baby Bella Mushrooms – $1.89
Vodka Sauce – $2.89
Sour Cream – $.99
Applesauce Pouches – $1.49
Peppers 3 pk – $1.69
3 lb bag Gala apples – $1.49
2 Gallons of Milk – $4.82
Red Grapes 2.49lb @ $0.79/lb – $1.97
Dozen Eggs – $0.48
Total: $33.45
This Week's Total – $128.15
Meal Plan
I already had the following items in my pantry: rice, carrots, penne, beans and yogurt.
Dinners (all served with fruit)
Vegetable stir fry with rice
Chicken Soup with Salad
Baked Lemon Garlic Salmon with sweet potatoes
Penne a la Vodka with steamed Broccoli and Salad (2 nights)
Rice and beans
Chicken Paprikash with Mixed Vegetables and Mashed Potatoes/Cauliflower
Lunch (all served with fruit)
Frozen Pizza (for the weekend!)
Ham and Cheese Sandwiches
Bagels with Cream Cheese
French Toast Sticks with Yogurt and Granola
Grilled Cheese
Leftovers
Breakfast (all served with fruit)
Waffles
Hard Boiled Eggs with Toast
Cereal
Oatmeal
Snacks
Fruit
Fruit and Granola
Cereal with Milk
Cheese Puffs
Granola Bars
Apple Sauce
Cheese Crackers
Check out the full Grocery Haul and Weekly Meal Plan Series to see how I've been doing with my grocery budget and find more meal plans.
If you are new to meal planning, check out this Meal Planning Guide for Beginners.