Does the idea of deep cleaning your house make you break out in sweats? Do you avoid spring cleaning at all costs? Feel embarrassed about the condition of your house?
First, DON'T PANIC.
We've all been there.
Instead, just know that there is a way forward and you can spring clean your house even if you are completely overwhelmed.
Why It's Hard to Clean A Messy House
There are a few main reasons that it's so hard to even get started to clean a messy house.
#1 You're Overwhelmed
You don't know where to even start.
And as soon as you start, you realize there are 10 other things that need to get done.
You realize you don't have the right sponge, container or cleaner to get the jobs done.
You bounce from task to task without ever finishing anything and in the end throw your hands up because you feel you've made zero progress.
#2 Clutter
There are things everywhere. Piles of things. Things on top of things.
You don't even know where the things came from or if you still need them.
You realize you'll never be able to clean unless you pull out all the things and sort them. That stops you dead in your tracks because how can you possibly go through all those things?
#3 Things Don't Have a Place
Even if you could get through the piles of things, where would you even put them?
You start spiraling at this point, thinking things like "our house is too small," "I need to run to Target and get more containers, shelves and storage,".
You don't want to spend all that money OR you spend the money and then never use the storage containers.
#4 You're a Perfectionist
You want your house to look like a reveal at the end of an HGTV episode.
To get the house they way you'd like it, you'd need a playroom, mudroom, updated laundry room and extra closets.
You survey your house and realize it never will look the way you want so you give up.
How to Get Started Cleaning a Messy House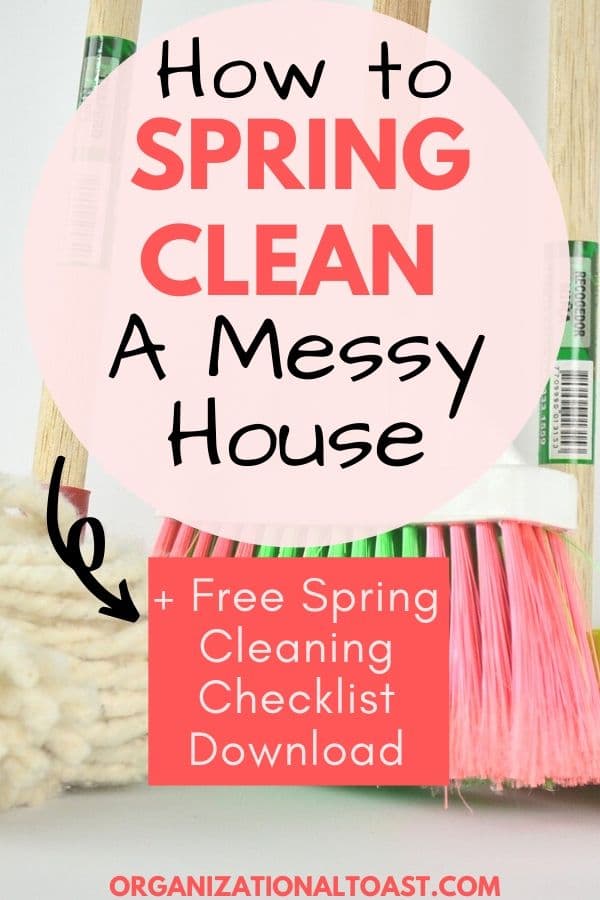 Make a Plan
Before you get started, come up with a plan This includes coming up with some realistic goals.
It also includes coming up with a timeline. If you know you have a weekend full of soccer games and birthday parties, don't plan to tackle everything that weekend. Instead, maybe you need to spread your spring cleaning across two or 3 weekends, tackling only what you can honestly handle. It's ok if you can't do it all in one day. (check #4 for details on zone cleaning for your master plan)
Before you clean, declutter first
Get rid of the things. This will honestly be the HARDEST part of the whole process.
You can quickly start this process by picking up one item and saying to yourself "Keep, Donate or Throw Away?" Have a trash bag handy for throwing away and a donation box handy to place all your donations.
And just keep going.
A good rule of thumb is if you haven't used it in a year, let it go.
It might be difficult at first, but once you get going you'll be surprised how quickly you can make those decisions.
Gather your supplies
Make sure you have all the tools you need to clean and organize. Do you need more bins for your kids monster truck collection?
Or do you need something to wipe down the interior of your windows?
Since you already have your plan laid out, you know in advance what you'll need to get the job done.
Basic supplies you'll need:
Microfiber cloths – perfect for dusting
Bamboo Cloths – for window washing inside and out; leaves less streaks than microfiber or paper towels.
Scrubbers
Window Cleaner
Furniture Polish
All purpose cleaner
Oven Cleaner (I like this all natural over cleaner)
Baking Soda and Vinegar (great all purpose cleaners)
Zone Clean
Choose to tackle one room or one area at a time. Here is a checklist of things to clean by room. You can also download it here.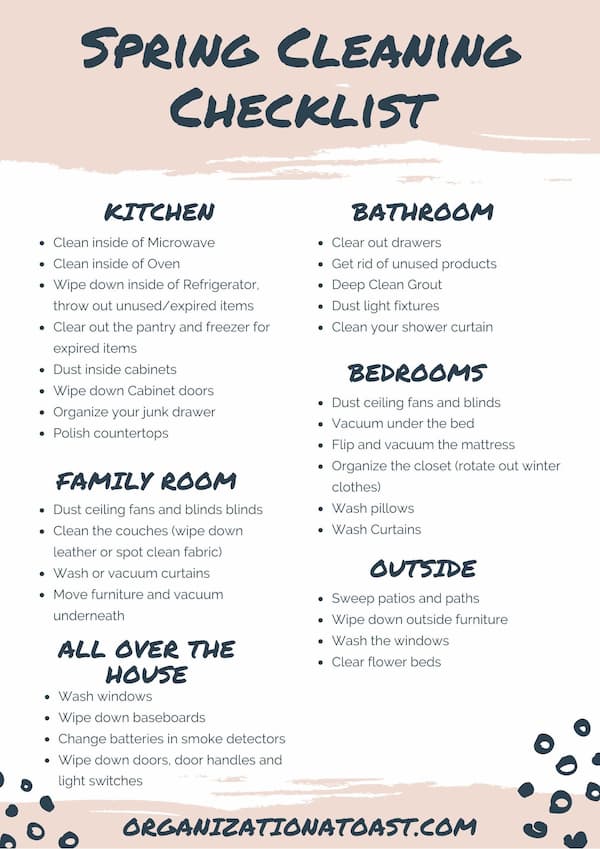 Kitchen
Clean inside of Microwave
Clean inside of Oven
Wipe down inside of Refrigerator, throw out unused/expired items
Clear out the pantry and freezer for expired items
Dust inside cabinets
Wipe down Cabinet doors
Organize your junk drawer
Polish counter-tops
Bathroom
Clear out drawers
Get rid of unused products
Deep Clean Grout
Dust light fixtures
Clean your shower curtain
Bedrooms
Dust ceiling fans and blinds
Vacuum under the bed
Flip and vacuum the mattress
Organize the closet (rotate out winter clothes)
Wash pillows
Wash Curtains
Family room
Dust ceiling fans and blinds blinds
Clean the couches (wipe down leather or spot clean fabric)
Wash or vacuum curtains
Move furniture and vacuum underneath
Outside
Sweep patios and paths
Wipe down outside furniture
Wash the Windows
Clear flower beds
Throughout the house
Wash windows
Wipe down baseboards
Change batteries in smoke detectors
Wipe down doors, door handles and light switches
Celebrate Each Cleaning
Don't forget to celebrate each time you've made some progress! Instead of thinking about how much more you
Take Breaks
Don't work yourself to the bone! Make sure to give yourself an opportunity to take breaks so you don't burn yourself out!
Once you've tackled the spring cleaning, you CAN maintain your clean home.
Coming up with a simple cleaning routine will make it much less overwhelming.
You can check out my Simple Cleaning Schedule for busy moms here. This schedule has helped me so much and has made keeping my home clean so much more manageable.