Summer birthdays get a bad rap.
Lots of kids are on vacation or at camp.
It's hot and all the fun indoor spots are crowded.
All these things combined can make it difficult to pull off an awesome party for your child.
My son's birthday is right around July 4th, so we always had our challenges with planning his party.
4th of July is an automatic lake weekend around here and there are only a few people who don't already have plans around the holiday.
But year after year we have pulled off awesome summer birthday parties. And we've stuck to a tight budget, so we're not breaking the bank. (Check out his Nerf War party from last year).
So how do you throw a summer birthday party for your child without shelling out tons of money?
Check out these tips for throwing a summer birthday party on a budget!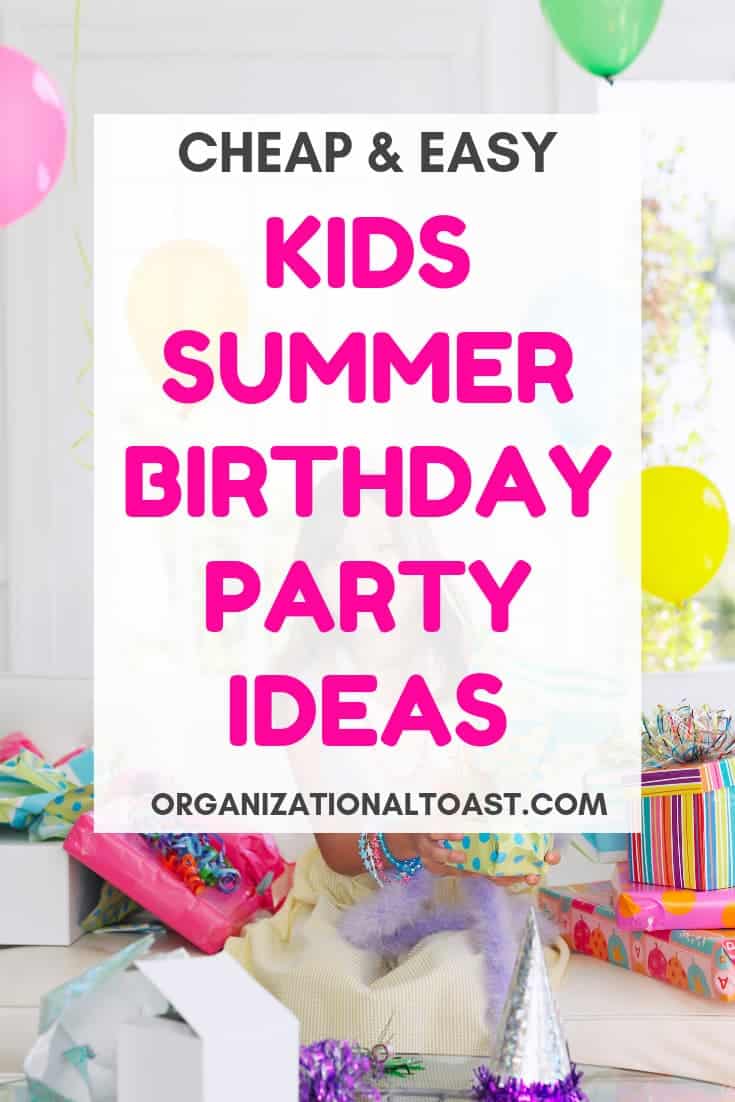 Keep the Guest List Small
Try to keep the guest list as small as possible. If you have a big family already with lots of kids, ask your child to pick just a couple of school or neighborhood friends.
Otherwise, try to keep the list to your child's closest friends. I think around 10 kids is enough to be fun without overwhelming you or your budget!
If you host even fewer kids, say 2 or 3, you can plan to spend a bit more per child and pay for an experience. That might look like going to the movies, rock climbing, laser tag or manicures at a salon.
Invitations
It's a good idea to ask for people's availability well in advance.
Ask around a month ahead of your planned party time to see what everyone's plans are. This way you can make sure your guests are available and gives you enough time to change the day to suit others availability.
Once you're sure of everyone's availability, send the invitations out as soon as possible so friends and family can plan accordingly.
I don't know when invitations for kids birthdays got so fancy, but I could never get on board with it. Not only is it time consuming to put together those fancy invitations, it's an unnecessary expense.
Consider using Evite to design your own invitation
. There are lots of free designs to choose from and you can send the invitations by email or text message.
Another free invitation solution is to create an event in Facebook with the party details. Send the event to your guests via Facebook and you are done!
Free (or super cheap) Party Space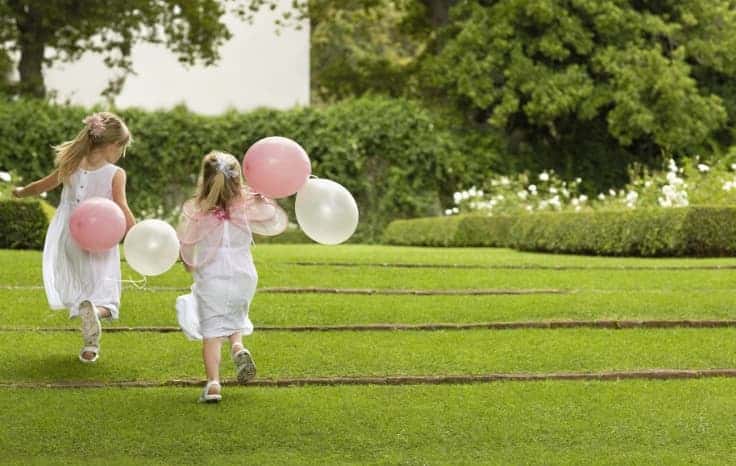 Birthday party spots are super expensive. And while the convenience of purchasing a party package at a designated party place like an indoor trampoline park or a bowling alley is nice, it also comes with a hefty price tag. Here are some free or super cheap party space ideas:
Park

Neighborhood/Community Pool

Splash Pad

Your home/backyard
If it's too hot for an outdoor party by you and you don't want to host the party at your house, you can go some place fun for a party.
Just remember you don't have to buy the party packages at these places for your kids play.
Instead, purchase tickets for your small group of guests and treat them to snacks or pizza from the snack bar. I recommend you purchase the tickets ahead of time, if possible. You'll also want to choose an off-peak time. These are some simple and inexpensive indoor party spaces.
Bowling Alley

Indoor trampoline park

Video Game Arcade

Movies (look for $1 movies in your area)
Food
The easiest way to cut down on the cost of food is to choose a party time when you don't need to serve a full meal.
Ideally,10am-12pm and  2-4pm are great times for a party and an acceptable time to not to serve a full meal.
You should also include on the invitation what you will serve so families can plan accordingly. Something as simple as "Snacks and Cake Will Be Served" will let your guests know not to expect a ton of food.
Snacks
Super easy and inexpensive snack food to serve includes:
Cheese Sticks

Crackers

Popcorn

Goldfish

Pretzels/Chips

Grapes or Watermelon
Brunch
If your party is before lunch, consider serving a simple brunch. Some ideas include:
Mini Bagels with Cream Cheese

Muffins

Fruit

Yogurt
Lunch/Dinner
Here are some simple, kid friendly filling food that won't break the bank!
Cake/Dessert
For the cake, consider making your own to cut down on costs.
One year, I baked cupcakes and let the kids do the decorating themselves. I bought one fancy cupcake from the store for a couple dollars to put the candle in and sing happy birthday with. The kids loved the cupcake decorating activity, and it saved me a ton of stress trying to get my home baked cupcakes looking pretty.
Decorations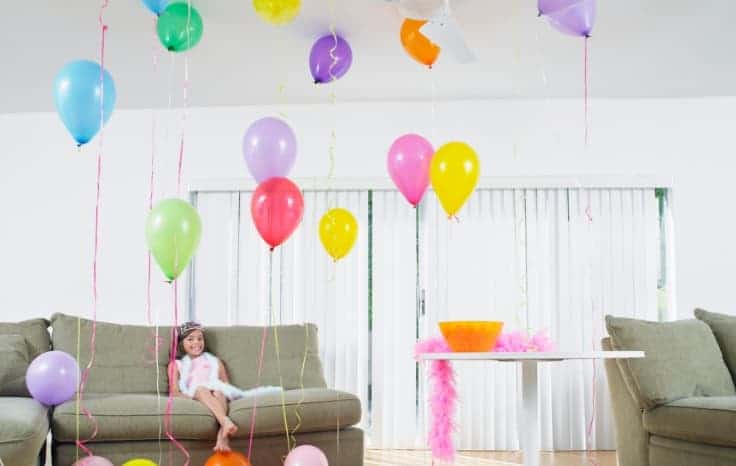 There is no need to spend a ton on decorations, even if your child LOVES paw patrol or Minecraft!
Instead of paying a lot for the character licensed decorations, just choose a color scheme that follows the theme!
For example, if your child loves Minecraft, decorate with green and black. Or if your child loves Moanna, make it more a Hawaiian themed party. 
Activities
While you don't need a super structured plan of activities for the kids, I do always plan one or two activities or party games.
The location of the party will dictate the types of activities you choose but here are few inexpensive ideas we have done, and the kids had a blast!
Water Play
Set up the sprinklers, fill up some kiddie pools and get a bunch of other water toys and let the kids splash and play. Check out the dollar tree for beach balls, water shooters, water balloons and more!
Scavenger Hunt
This is great for any outdoor party space! Come up with a list of things the kids need to find and bring a few of your own to hide! This is also a great way to hide goodies the kids can take home with them as party favors.
Relay Races
Set up some relay races for the kids. Think egg and spoon races, wheelbarrow races, water balloon tosses, and hula hoop competitions! Check out this list of awesome relay races for more inspiration.
Crafts
A simple themed craft is a great activity to keep the kids busy. This activity also doubles as a party favor.
Goodie Bags/Party Favors
I'm seeing more and more families moving away from giving goodie bags. But if you feel obliged to and your budget permits, there are some inexpensive fun party favors you can send your party goers home with!
You do not, I REPEAT, YOU DO NOT have to send kids home with fancy goodie bags.
Get some fun sunglasses, bubbles, or a little stuffed animal. We bought these mini stuffed dogs and let each child adopt a pet! Kids love them and parents are grateful that I'm not sending the kids home with more sugar or too many little plastic things. Dollar Tree has a bunch of stuffed animals for $1 or you can check out this list on amazon for a wide variety of stuffed animals.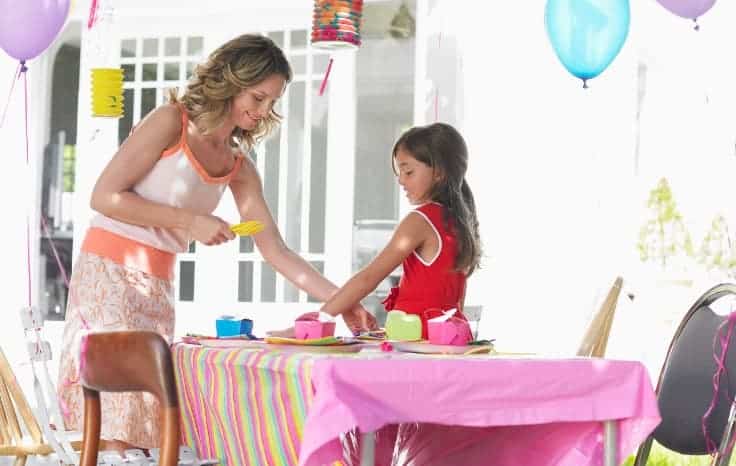 The most important thing to remember about making your kid's birthday party a blast is to relax and have fun! Don't get too caught up in the details. Kids are happy with cake and their friends. Follow these tips to throw your child an awesome summer birthday party on a budget!