I've been sharing my weekly grocery shopping trips and meal plans for awhile now, but some of you have asked to see my dinner meal plan broken down a little bit more.
As I was preparing for my shopping trip, I decided to challenge myself to create a 7 dinners for $50 Aldi meal plan.
Let me just take a second to tell you that for awhile I had stopped shopping at Aldi and was going to Walmart and Sprouts. I also find great deals at both of those grocery stores but when I can't make it to multiple grocery stores to get the best prices Aldi absolutely rocks!
OK….back to the meal plan.
First, I took time to make this meal plan BEFORE I left for the grocery store. I can't stress enough how important this is. This gives me an idea of pantry items I have on hand and lets me use that as a starting point.
If you struggle with just getting your meal plan started check out this Meal Planning Guide to help set yourself up for success (there's a free printable meal plan there too!).
Also, if I buy something for one recipe that I know I can use in another, I try and make that recipe. For example, I know I needed peppers for my chili, but I wasn't going to use all the peppers. So I chose to make a kielbasa skillet using those peppers.
Planning this way helps make sure that I'm not throwing out a bunch of stuff at the end of the week.
You'll also notice I keep things pretty simple. With our schedule, getting a meal cooked on a weeknight can feel like a a herculean task. If your family has a busy weeknight schedule, you'll love these 25 Simple meal ideas for busy school nights. You'll find a few of those dinners on this meal plan.
With this planning and thoughtful shopping, I'm happy to report that I actually came in UNDER my $50 budget. I spent $47.94 for these dinners, plus I had some leftovers to send my husband as lunch to work.
$50 Aldi Meal Plan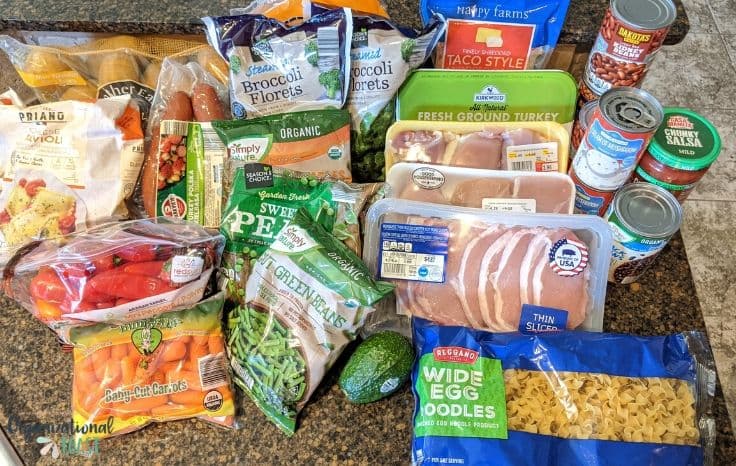 This is everything I bought for my dinner meal plan. I've broken this all out below so you can see exactly what I spent for each meal.
Dinner 1: Chili
For the Chili the only things I had on hand that I didn't need to purchase was a 1/2 can of tomato paste and chili seasoning.
If you don't have those items on hand, you can purchase both for about $1.50 at Aldi. This recipe will make enough to have leftovers.
Ingredients Purchased
3 cans of beans – $0.49 each
1 lb. ground turkey – $3.99
1/2 bag Mini Peppers – $1.46
1/2 bag shredded cheese – $1.50
1/2 bag Carrot Sticks – $.70
Total Spent: $8.14
Instructions:
Heat oil in pot. Add ground turkey to pot. Sprinkle with salt and brown turkey.
Add diced peppers, 3 cans of beans, 1/2 of a 3 oz. can of tomato paste, 1 cup water or chicken broth. Sprinkle in packet of chili seasoning. Mix well.
Bring mixture to a boil over medium high heat, then turn down on low and let simmer for 1 hour.
Top with shredded cheese and serve with carrot sticks!
Dinner 2: Baked Chicken Thighs
This is a super easy and very filling dinner.
Season the chicken thighs with salt, pepper, paprika or any other seasoning you have plus some oil and bake at 375 for about 45 minutes. I'll serve this with mashed potatoes and mixed frozen vegetables. If you're looking for a spice blend recipe, I love this Paprika Chicken Thigh recipe from Let the Baking Begin.
Ingredients Purchased
Chicken Thighs- $3.96
5-6 Potatoes – $.80
1 bag frozen mixed Vegetables – $1.99
Total Spent: $6.75
Dinner 3: Crockpot Salsa Chicken Tacos
This is seriously the easiest dinner on the planet. You throw chicken breasts into the crock-pot with salsa and a can of beans and cook on low for 8 hours. The chicken shreds beautifully and can be served over rice, a bed of lettuce or as taco filler. I chose tacos for this week's dinner!
I won't end up using all the salsa, so I'll use that for another recipe next week. Also, I bought the organic black beans for $.89 because I couldn't find regular black beans which are usually $.49, so this recipe could have been cheaper.
Ingredients Purchased
Chicken Breasts- $5.66
Jar of Salsa – $1.19
Can of Black Beans – $.89
Tortillas – $1.19
Avocado – $.49
Total Spent – $9.42
Instructions:
Add Frozen Chicken to crockpot. Cover with 1 cup salsa and a can of black beans.
Cook on low for 8 hours or high for 4 hours.
Serve on tortillas topped with avocado.
Dinner 4: Kielbasa and Potato Skillet
Another super easy go to meal. I simply saute kielbasa and peppers and then add in cubed cooked potatoes to create a kind of hash. It's super filling and very tasty. I use this recipe from All Recipes and serve with a side of steamed broccoli!
Ingredients Purchased
Turkey Kielbasa – $2.35
1/2 bag mini peppers – $1.46
7-8 Potatoes – $.95
1 bag frozen broccoli – $.99
Total Spent: $5.75
Dinners 5 & 6: Crockpot Pork Chops
One of the ways I save time during the week is to cook a double batch of dinner.
This week, my double batch dinner is this super simple crockpot pork chop recipe. Add your pork chops to the slow cooker cover with 2 cans of cream of mushroom soup and cook on low for 8 hours. Bone in pork tends to be more tender, but any cut of pork chop will do for this recipe. I served this with egg noodles and green beans the first night and peas the second night.
Ingredients Purchased
Pork Chops – $4.82
2 cans cream of mushroom soup – 2 x $.49
Egg Noodles – $1.09
Green Beans- $1.99
Peas – $.99
Total Spent – $14.40
Instructions:
Season the pork as desired. Layer in the crockpot and then cover with 2 cans of cream of mushroom soup and 3/4 cup water or broth.
Cook on low for 8-9 hours or on high for 4-5 hours.
Dinner 7: Ravioli
This is one of the kids favorite dinners so I try and make it often. I honestly can't complain because it's simple and delicious! Plus, it's a meatless meal that is really filling.
I just cook up the ravioli and I lightly saute the broccoli in garlic and olive oil. I serve it topped with Parmesan cheese (which I have on hand).
Ingredients Purchased
1 bag frozen ravioli – $2.49
1 Bag frozen Broccoli – $.99
Total Spent – $3.48