One of the firs things I do before going grocery shopping is to take an inventory of the things in my pantry and freezer. I try to make a meal plan based on what I already have and use grocery shopping to fill in the gaps. (Download my free meal plan template here)
This week, I had quite a bit of meat in my freezer, so my grocery budget was focused more on fresh fruits and vegetables.
Besides berries and bananas, I try to buy fruits and veggies that will last longer in the fridge. This includes potatoes, zucchini, apples and frozen veggies. (I have a list of the cheapest foods I buy when on a tight budge here.)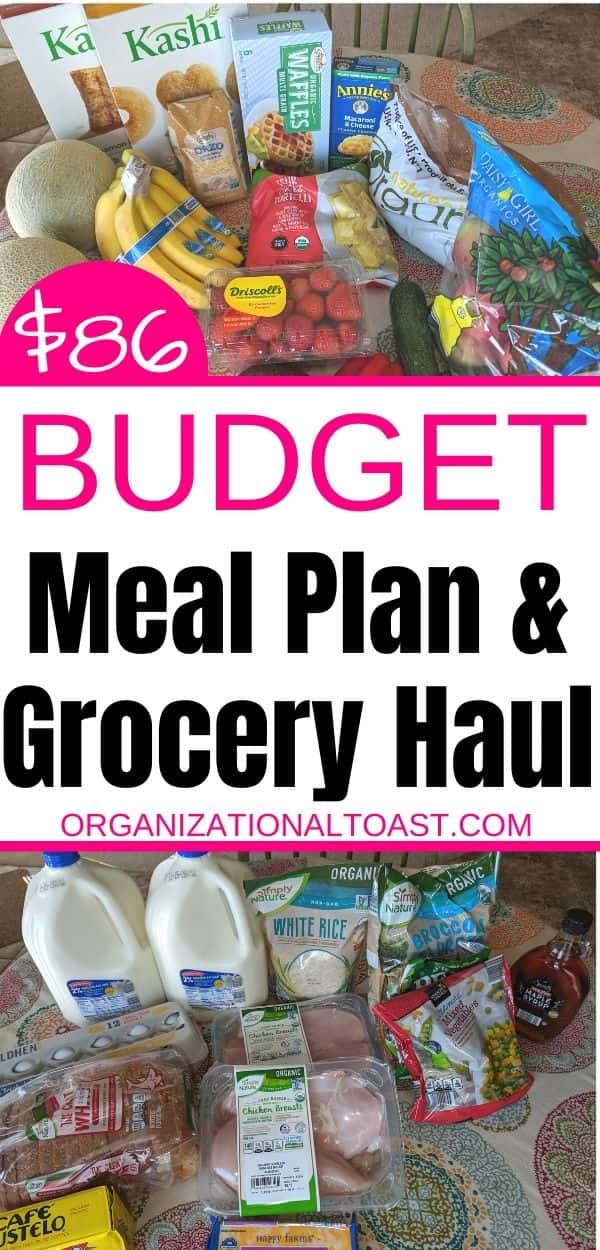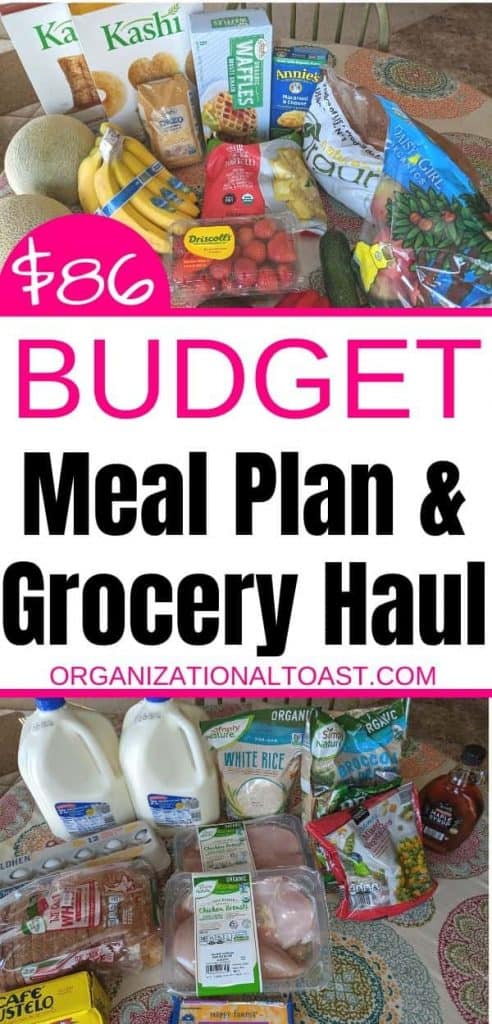 I budget $125 a week for groceries for our family of four. But I try to challenge myself to stay under budget and I put aside any extra for when I can buy up pantry staples for cheap to add to my stockpile.
This week I only spent $86.08!
You'll notice I do buy organic. Sprouts and Aldi make it affordable to buy organic, but if organic is not your thing or you want to reduce your spending more by all means skip the organic!
Grocery List and Haul
Aldi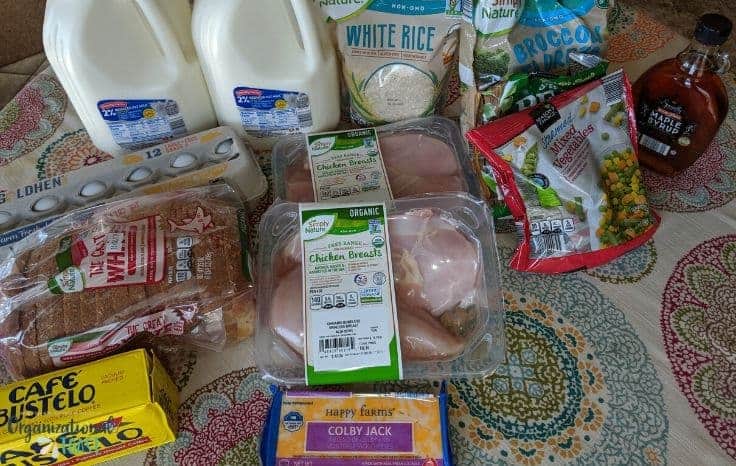 2 X Gallon of Milk – 2 x $3.06
Organic Rice – $2.59
Organic Chicken Breasts – $8.16
Organic Chicken Breasts – $8.63
Frozen Peas – $.99
Organic Broccoli – $1.99
Frozen Mixed Vegetables – $.79
Espresso Coffee – $2.88
Colby Jack Cheese – $1.99
Maple Syrup – $6.89
Organic Bread – $4.29
Eggs – $.78
Tax – $4.72
Total – $50.82
Sprouts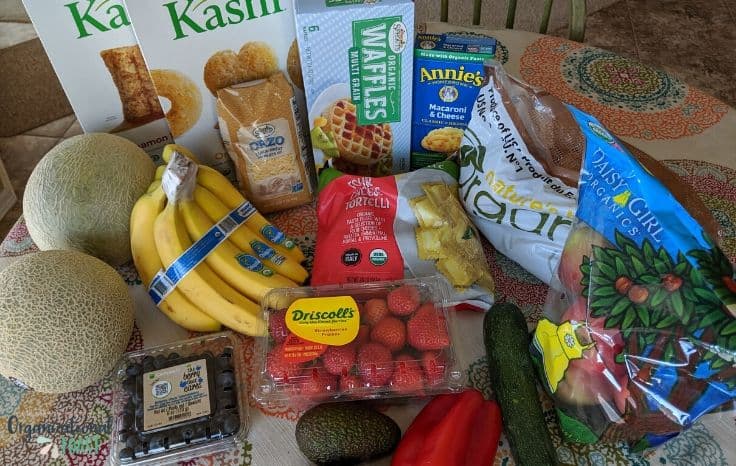 1 lb Strawberries – $1.25
2 x Cantaloupes – 2 x $.99
Cucumber – $.50
Half Pt Blueberries – $1.67
2 Hass Avocados – $.67
2lb. Organic Apples – $2.50
5lb. Organic Potatoes – $2.98
Organic Bananas – $1.74
Red Bell Pepper – $1.25
Kashi Cinnamon French Toast Cereal – $2.50
Kashi Heart to Heart Cereal – $2.50
Annie's Macaroni & Cheese – $1.99
Orzo – $.99
Frozen Tortelli – $6.99
Organic Multigrain Waffles – $2.79
Tax – $2.96
Total – $35.26
Weekly Total – $86.08
Meal Plan
As with all my meal plans, this week's meal plan is based on items I already have in my pantry and freezer. This week that included a whole chicken, 1/2lb ground turkey, chicken thighs, spaghetti, lunch meat and sauce.
I also serve fruit with each meal. I always serve those fruits that spoil quickly first. So this week, we'll eat the strawberries and bananas first, then move on to the apples and cantaloupes.
Dinner
Instant Pot Rotisserie Chicken, Parmesan Orzo and Peas
Chicken Orzo Soup with Grilled Cheese
Grilled Chicken, Mashed Potatoes and Mixed Vegetables
Soy Sauce and Honey Baked Chicken, Rice and Broccoli
Ravioli with Sauteed Veggies
Spaghetti with ground turkey and sauce, Peas
Lunch
Ham and Cheese Sandwhiches
Macaroni and Cheese
Chicken Sandwiches (with leftover instant pot Rotisserie chicken)
Breakfast
Cereal
Hard boiled Eggs with Toast
Waffles
Snacks
We had a bunch of 1/2 eaten bags of snacks leftover from when we had guests last week so I didn't buy any snacks this week. These snacks include pretzels, tortilla chips, hummus and veggies, and popcorn.
Looking for more meal ideas? Check out:
Cheap Meals Your Family Will Love
25 Easy Meals for Busy Weeknights
You can see all my other weekly grocery shopping posts here.