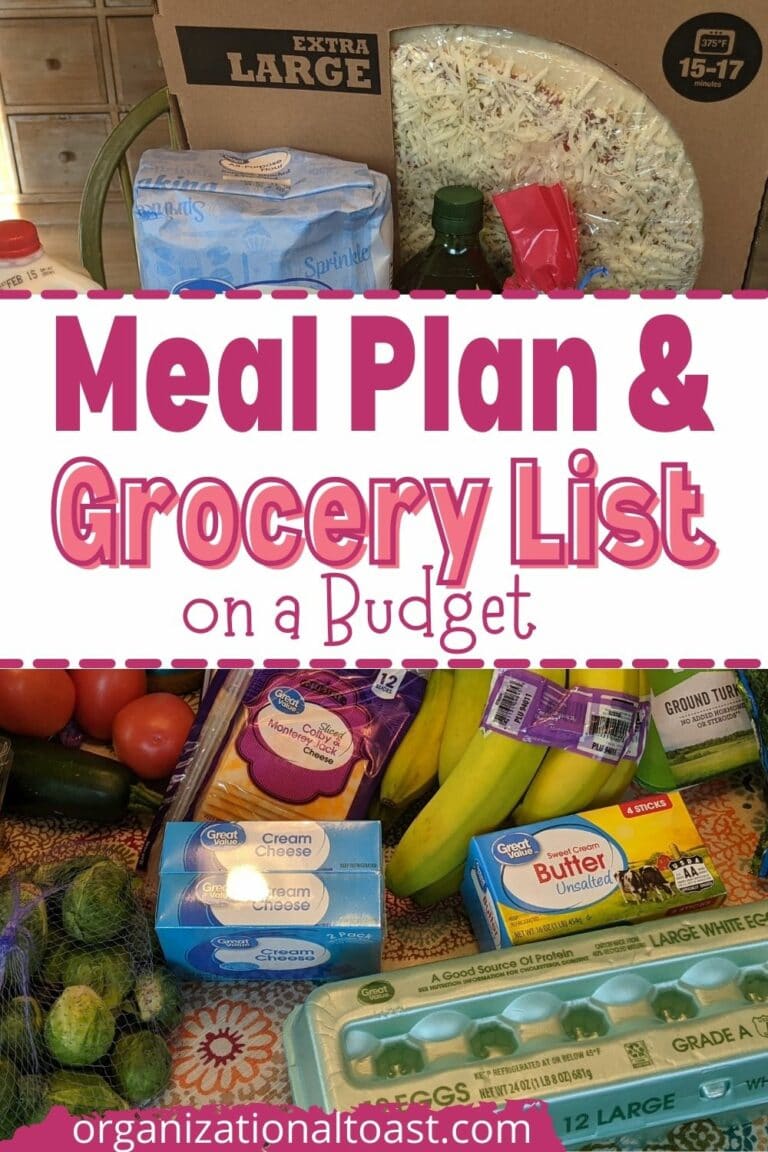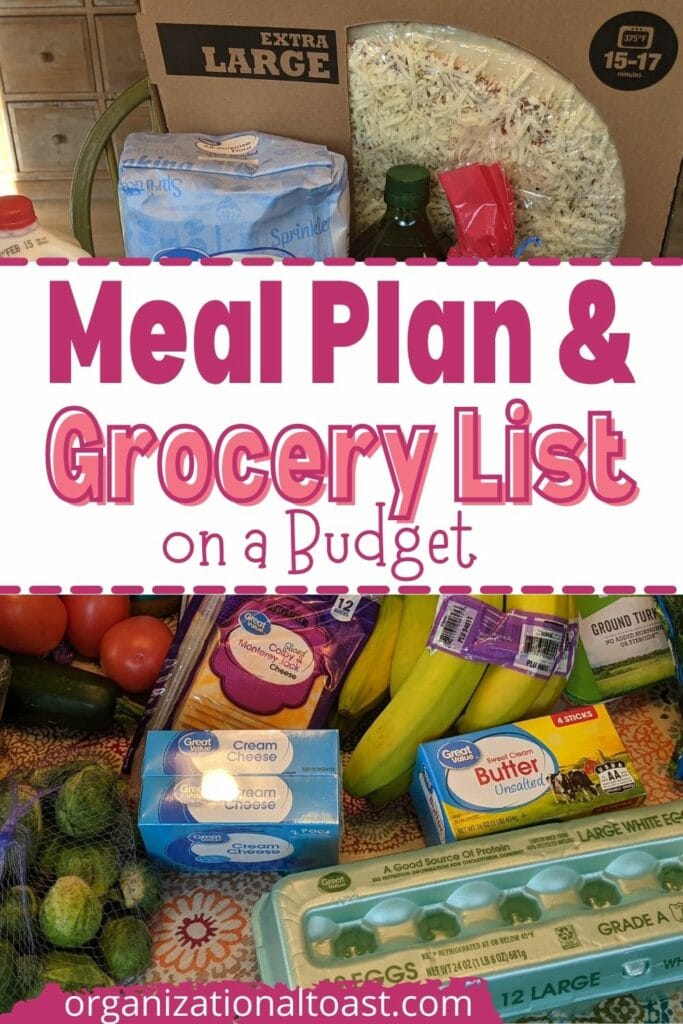 Lately I have been taking advantage of Walmart's Online Ordering and free grocery pick up. As someone who loves to roam the aisles I was always really hesitant to do online shopping but lately I have been really loving it. It saves me a ton of time PLUS it also ends up saving me money.
I find that being able to review my orders in the cart before I purchase makes me think a little harder about our meal plan and weekly needs. Plus, I can always double check my pantry and freezer inventory to make sure I have (or don't have) what I need to make for the week.
As always, I suggest using what you already have in your pantry and freezer and then just using your grocery trip to fill in what you need. I have a small stockpile of pantry staples and frozen foods that I cycle through that have been so important in helping to keep my weekly grocery budget pretty low.
You can check out my tips for creating a good stockpile here. I also have a list of easy meals to make from your pantry.
I highly recommend using Ibotta to help you earn cash back on your groceries. This week I earned  $3.10 back on items I was going to purchase anyway. When I've earned $50, I will withdraw the cash and use it to add to my stockpile and replenish anything I'm really low on. 
Walmart Grocery List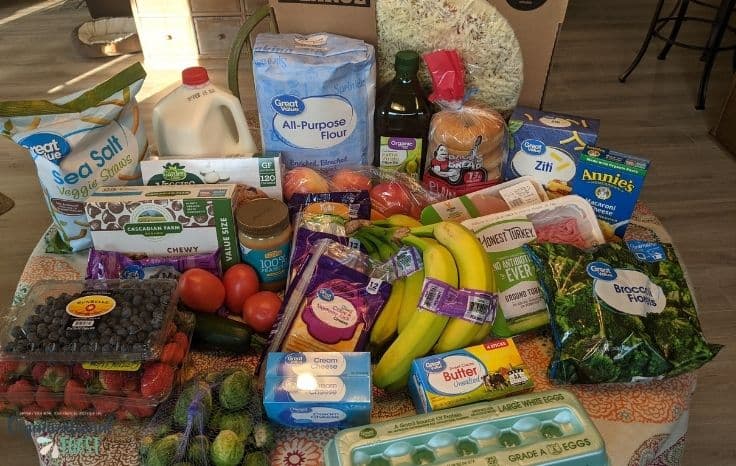 Tomatoes – .$0.71
Zucchini – $.76
Bananas (2 Bunches) – $2.18
3 lb bag Apples – $3.29
Brussel Sprouts – $2.24
2 lb Fresh Strawberries – $3.88
1 Pint Fresh Blueberries – $2.27
Frozen Broccoli – $1.00
Great Value Cheese Sticks – $2.84
Chocolate Chip Granola Bars $4.77
Macaroni and Cheese $1.00
Veggie Straws – $1.98
Extra Virgin Olive Oil- $9.86
Banana Chocolate Chip Muffins – $4.98
Unsalted Butter – $2.98
Dozen Eggs – $.95
Cream Cheese 2 Pack – $2.64
Milk Chocolate Chips – $1.98
Marketside Cheese Pizza – $5.64
Ziti – $.82
Ground Turkey – $3.98
Bagels – $4.56
Sliced Colby Cheese x 2 – $3.68
Chicken Breasts $7.94
1 Gallon Milk – $2.69
Peanut Butter $2.94
10 lbs All Purpose Flour – $2.24
Tax – 8.19
Total – $92.99
Walmart Meal Plan
As I mentioned above, I already have some stuff on hand that I am using for this meal plan. Here's what I had on hand so you get a sense of how I built out my meal plan.
From the Freezer:
Steak
Pasta Sauce
Lunch Meat – I got a good deal on lunch meat so I put one package in the freezer (yes you can freeze lunch meat!)
Bread – I still have a loaf of store bought bread and 1 loaf of homemade bread that is more than enough for the week.
From the Pantry:
Potatoes
Rice
Beans
Quinoa – This was an impulse buy when it was super cheap and I haven't used it yet.
Oatmeal
Baking Soda, Baking Powder, Salt and Spices.
From the Fridge
Ricotta – Walmart substituted the small ricotta in my grocery order for a large one, so I'm using up what's left to make baked ziti.
Lettuce – I always buy a 3 pack of Romaine lettuce and it lasts us about 2 weeks.
Dinners
Grilled Steak, Roasted Potatoes and Brussel Sprouts
Pizza Night
Chicken Paprikash with Rice and Broccoli (This recipe is our kids favorite dish!)
Instant Pot Turkey Chili ( I use this as my base recipe and tweak it)
Baked Ziti and Salad – This will be enough for 2 dinners
Leftovers
Lunch
All served with Fruit
Ham & Cheese Sandwiches
Macaroni and Cheese
Bean and Quinoa Salad
Bagels
Breakfast
All served with fruit
Eggs and Biscuits (I made biscuits from scratch using this recipe. They were a hit. I made a double batch and we can eat them throughout the week)
Bagels
Oatmeal
Snacks
Veggie Straws
Cheese Sticks
Apples and Peanut Butter
Chocolate Chip Cookies (This is my favorite recipe)
Chocolate Banana Muffins
Looking for more Meal Plans? Check out all My Meal Plans Here.