This week's meal plan and grocery haul looks a bit different than my usual shopping trips. I didn't spend my entire grocery budget from last week, so I took some of that leftover money from last week and bought some stock up items to fill in my grocery stockpile. (Read some simple stockpiling on a budget tips here)
Stockpile items included:
Seasoning: Garlic Powder and Everything Seasoning
Peanut Butter: I bought a huge tub which will last us a good long time!
Frozen Vegetables: I prefer frozen vegetables over canned vegetables for my stockpile simply because they have a better consistency and there are no preservatives like salt added. 
Beans: Canned beans aren't the cheapest way to buy beans, but having a few on hand can really help out in a pinch. Plus I already have dried beans on hand for when I have more time to prep.
Canned Tomatoes: These are always good to have on hand, as they can transform a dish really quickly.
Sugar: A good baking staple. I try to bake sweets and treats from scratch whenever possible. It saves money plus they don't have as many preservatives. 
Chicken Thighs: I buy the larger family packs because they are cheaper. Before they go in the freezer, I separate them out into portion sizes we will eat.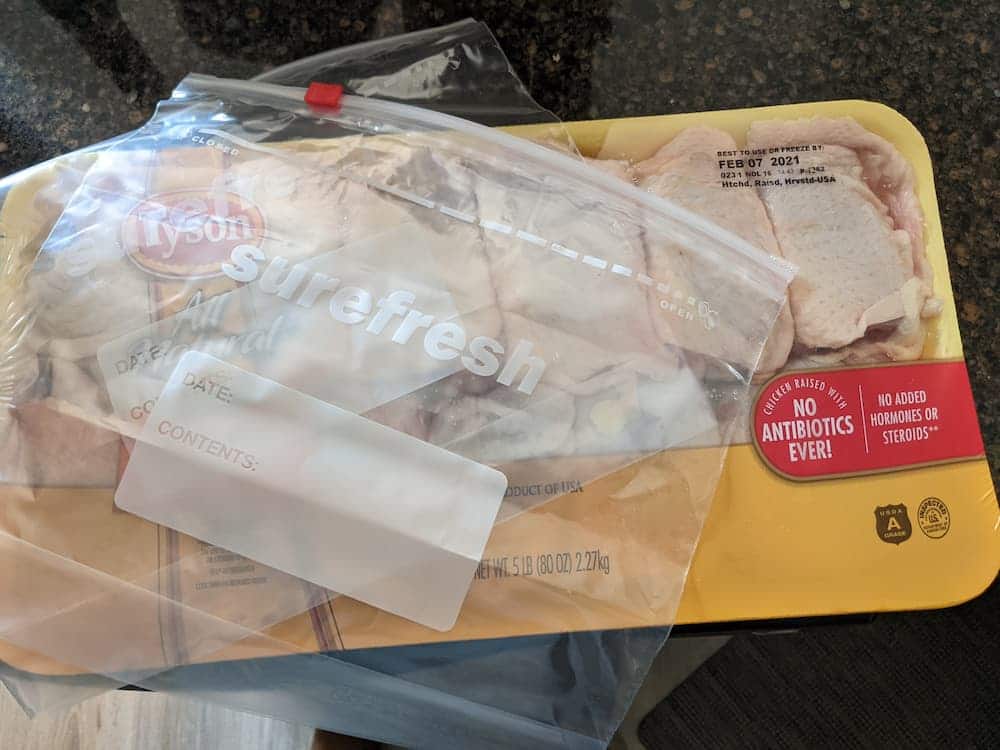 Also, this week the kids are home from school and that just means more snacks. While individually wrapped snacks like cheese or yogurt are a bit more expensive I splurged on convenience because I had the room in my budget. I work from home and having snacks on hand the kids can grab on their own during the school and work day makes it easier on everyone.
I do all my grocery shopping through the Walmart Grocery App. This makes it really easy for me to make sure I'm not overspending. It also links up to my Ibotta app, where I earn money on the items I buy.
Grocery Shopping List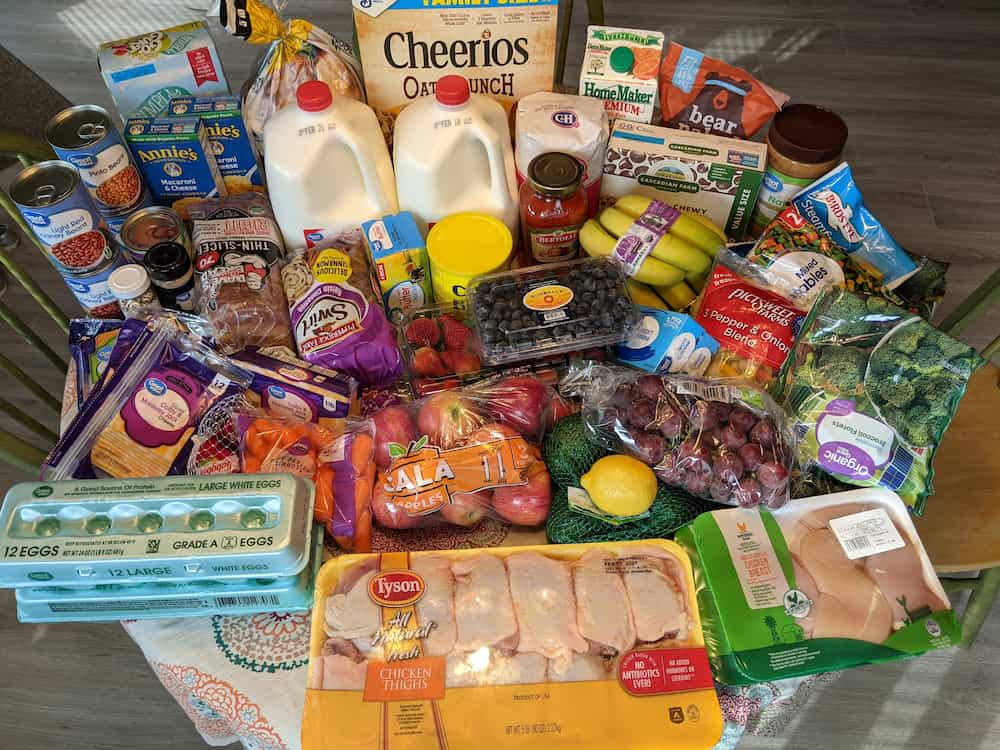 Orange Juice – $2.44
Colby & Monterey Jack Cheese – $2.08
Babybel Cheese – $4.97
Cheese Sticks – $2.84
Cream Cheese 2 Pack – $2.64
Butter – $2.98
2 Milk Gallons – $5.38
Frozen Broccoli – $1.98
Frozen Pepper & Onion Blend 0 $2.98
Frozen Corn – $1.00
Frozen Mixed Vegetables – $2.00
Eggs – $1.70
2 Packs Colby & Monterey Jack Cheese Slices – $3.68
Go Gurt – $3.98
Brownie Mix – $1.34
Peanut Butter – $3.70
Bread – $4.64
Raisin Cinnamon Bread – $2.98
Coffee – $4.33
Sugar – $2.82
Macaroni and Cheese x 2 – $2.00
Diced Tomatoes – $1.14
Pinto Beans x 2 – $1.36
Kidney Beans x 2 -$1.36 
Cheerios – $3.64
Granola Bars – $4.77
Pasta Sauce – $2.12
Bone in Chicken Thighs – $5.94
2 Packs Chicken Breast – $14.18
Granola – $3.78
Grapes – $2.18
5 lb Potatoes $3.47
Bananas – $1.85
Garlic Powder – $.98
3 lb bag Gala Apples – $3.29
Blueberries – $3.46
Lemon – $.54
2 Lb strawberries – $3.88
Baby Carrots – $1.48
Avocados – $2.47
Every Seasoning – $1.99
Sub Total – $126.34
Tax – 9.84
Total – 136.18 
Meal Plan
Before I start shopping, I always go through my pantry and freezer to see what I already have on hand. This week that included rice, oatmeal, flour, jelly, dressing, and ground turkey meat.
You'll also notice that I use this dressing recipe A LOT in this meal plan. It's a simple homemade dressing recipe that is very versatile and super kid friendly. 
Dinner
Chicken & Rice Soup – I use Martha Stewart's basic Chicken Soup Recipe which doesn't require store made broth. I use chicken thighs instead of a whole chicken and  add my own spices to jazz it up including ginger, parsley, a bay leaf and a dash of curry. 
Sheet Pan Chicken and Potatoes – I marinate chicken breasts in my homemade dressing, sprinkle olive oil and everything seasoning on the vegetables and potatoes and bake on a sheet pan for 40 – 45 minutes. 
Grilled Chicken, mashed potatoes, avocado salad – Again, I marinate the chicken breasts in my homemade dressing and throw on the grill. The avocado salad is just diced up avocados and onions drizzled with my homemade dressing.
Turkey Chili (I use this as my base recipe and tweak based on what I have on hand)
Spaghetti and Sauce served with  Broccoli
Lunch
Macaroni & Cheese
Peanut Butter and Jelly Sandwiches
Grilled Cheese
Breakfast
Scrambled Eggs or Hard Boiled Eggs with Toast
Cereal
Oatmeal
Snacks
Granola Bars
Granola
Yogurt
Baby Bel Cheese
Cheese Sticks
Chocolate Chip Cookies (I like this recipe the most)