My name is Jill and I have NOT been sticking to meal plans lately.
Truth be told, we have had a long hard summer with lots of unexpected things that absolutely threw my meal plans out the window. This has led to lots of eating out, overspending at the grocery store and *gulp* throwing out spoiled food.
I wish I could report that my meal planning savvy saved the day more than once but the truth is my focus was not on sticking to our budget and meal planning. Last week, I realized how bad it had gotten as I was throwing spoiled food out of the refrigerator and I realized enough was enough.
You might be wondering why I'm sharing my meal planning failures when I'm supposed to be sharing my best tips for staying on track and inspiring you to meal plan for your families.
The answer is that I don't want you to think that falling off the meal planning wagon is some kind of failure. I'm here to tell you that it happens to every one from time to time. The most important thing is to find your way back to it without all the guilt.
So how did I get back on track?
I sat down and created an inventory of foods I already had on hand and I created a meal plan that I knew I could stick to, with meals that could be prepped ahead of time so I wouldn't be tempted to eat out. I followed my own meal planning for beginners rules and kept it super simple.
The result?
I'm happy to say I stuck to this meal plan this week and it felt so good to be back on track (and my bank account was much happier). The family was also really happy. Dinners were some of our favorite go-tos that they had been missing and surprisingly no one complained about the meals!
Aldi Grocery List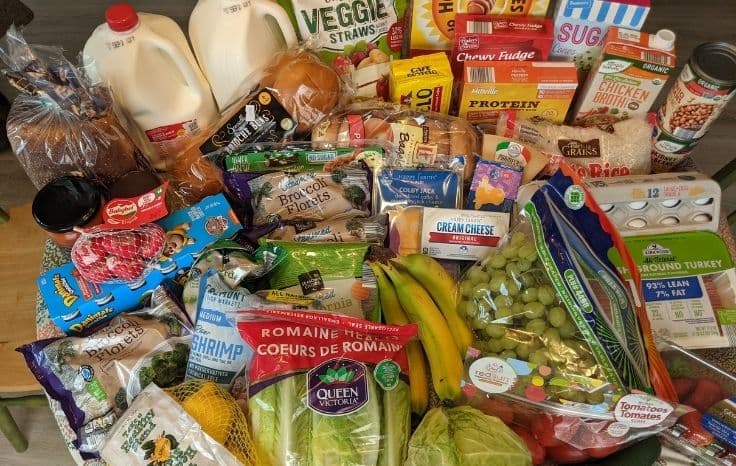 3 X Frozen Broccoli Florets – $.85 x 2
Frozen Vegetable Medley – $.99
Frozen Sweet Peas – $.75
Frozen Shrimp – $4.99
Bacon – $5.99
Ground Turkey – $3.89
Danimals – $4.49
2 Gallons Whole Milk – $3.47 x 2
1 Dozen Eggs – $1.19
Cream Cheese – $.79
Brownie Mix – $.98
Ice Cream Cones – $.89
Cereal – $2.77
Chicken Broth – $1.79
3 lb. Rice – $1.89
2 Cans Pinto Beans – $.96 x 2
Protein Granola Bars – $2.45
Colby Jack Cheese Block – $1.69
Sliced Colby Jack – $1.79
Lemons – $3.29
Brioche Buns – $3.69
Plain Bagels – $1.49
Bread $1.75
Romaine Lettuce – $2.59
Veggie Straws – $1.79
Baby Bel Cheese – $2.97
Roma Tomatoes – $.95
Bananas – $.95
2 Cucumbers – $.65 x 2
Cabbage – $1.91
Green Grapes – $2.53
Strawberries – $1.79
Parmesan Cheese – $3.29
Pasta Sauce – $2.89
Coffee – $2.82
Subtotal: $83.89
Tax: $7.79
Total $91.68
Meal Plan
As I mentioned, I hadn't been sticking to a meal plan so well, so I did have a few items like chicken on hand which allowed me to buy some extras to stock up on because the prices were really good. This included ice cream cones, brioche buns, and danimals.
I also already had the following things on hand:
Spaghetti/Penne Pasta
Soy Sauce
Garlic and Onions
Potatoes
Frozen Peppers
Dinner
Shrimp Scampi, Spaghetti and Peas
Chinese Chicken and Cabbage served with Rice (This recipe was my inspiration. I left out the kale and edamame and used soy sauce and some powdered ginger)
Grilled Chicken Sandwiches on Brioche Rolls with salad
Instant Pot Turkey Chili ( I use this as my base recipe and tweak it)
Baked Garlic Chicken with Mashed Potatoes and Mixed Frozen Vegetables ( I didn't make this a sheet pan dinner like the recipe says because my family prefers mashed potatoes and it turned out amazing. This was my first time making this and it is definitely going to be one of our regular meals)
Penne Pasta with Ground Turkey Sauce and Broccoli
Leftovers (I'm not throwing anything out anymore!)
Lunch
I serve lunch with fresh fruits or veggies.
BLTs
Peanut Butter and Honey Sandwiches
Grilled Cheese
Breakfast
Breakfast is always served with fresh fruit.
Bagels
Cereal
Hard Boiled Eggs
Snacks
Yogurt
Granola Bars
Cheese
Fruit
Veggie Straws