This week's Aldi meal plan is full of simple dinners. We have a really busy week ahead and so I needed a couple of quick meals. I did buy some prepared meal items which I don't usually buy. I prefer to make as much as I can from scratch because it's almost always cheaper to just make it yourself.
With that being said, I KNOW that one night this week I will be short on time. Sometimes buying these quick prepped items can actually help me from caving and getting take out. Having a realistic idea of what I can whip up on a busy weeknight can help me make these kinds of choices. And this can save your time, money and sanity. (Check out my meal planning tips here)
I also know that we will eat out one night for my son's birthday. We let our kids pick where they want to eat out since it's often such a treat to eat out. I'm guessing it will either be pizza or burgers!
Before I go grocery shopping, I always do a quick inventory of what I have on hand. I like to have a bit of a stockpile going, both in my freezer and in my pantry.
By the way, I freeze (almost) everything!
This week, I didn't have to pull from my stockpile too much. That will change week to week. Sometimes, I'll use my grocery budget to stock up on meat that's on sale and then the next week I can use my budget to fill in other pantry staples like rice, beans and potatoes. Check out my tips for building a pantry stockpile.
My normal grocery budget is $125 a week for our family of four. But this week I cam in way under budget at just $75! I'll use that extra cash in the next week or two when I see good stock up prices at Aldi. I also alternate between Aldi and Walmart. I often buy my pantry staples in bulk from Walmart. (You can check out a Walmart meal plan here.)
We all eat breakfast, lunch and dinner at home. This meal plan includes all meals for the week.
Aldi Grocery Haul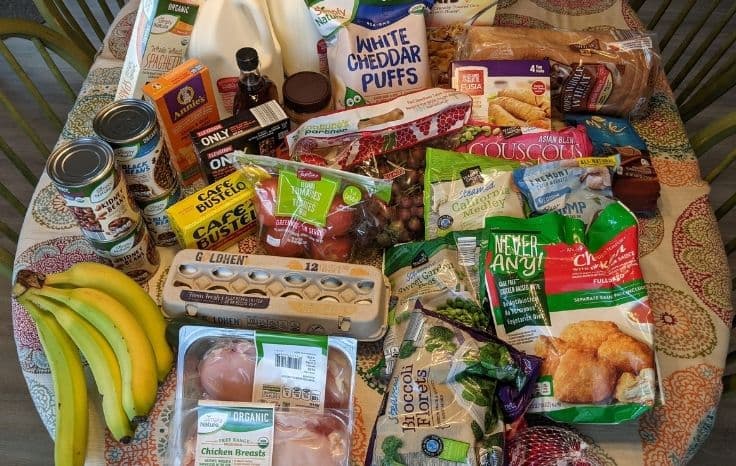 Frozen Sweet and Sour Chicken – $5.99
Frozen Asian Blend – $2.95
Frozen Broccoli – $.85
Frozen Vegetable Blend – $.85
Frozen Egg Rolls – $2.39
Frozen Sweet Peas – $.75
Organic Chicken Breasts – $7.47
Organic Chicken Breasts – $5.62
Frozen Shrimp – $4.99
Cheese Puffs – $1.97
Maple Syrup – $5.69
Nut Bars – $3.29
2 x 1 Gallon Whole Milk – $3.03 x 2
Bananas – $1.09
Coffee – $2.82
Whole Wheat Bread – $1.15
Macaroni & Cheese – $1.19
Eggs – $1.05
Mini Babybel Cheese – $2.97
Cucumber – $.59
Grapes – $2.04 ($.99/lb)
Peanut Butter – $1.19
Spaghetti – $.99
Tomatoes – $.95
2 x Can of Black Beans – $.89 x 2
2 X Can of Kidney Beans – $.89 x 2
Cereal – $1.29
Subtotal – $69.75
Tax – $5.48
Total – $75.23
Simple Aldi Meal Plan
This meal plan includes only a few items from my freezer and pantry. The items I already had on hand were:
Rice
Potatoes
Lunch meat (Ham)
Cheese
Flour, Baking Soda, sugar (for pancakes)
I also used other pantry staples like salt, pepper, oil, vinegar, butter, garlic, and onions.
Dinner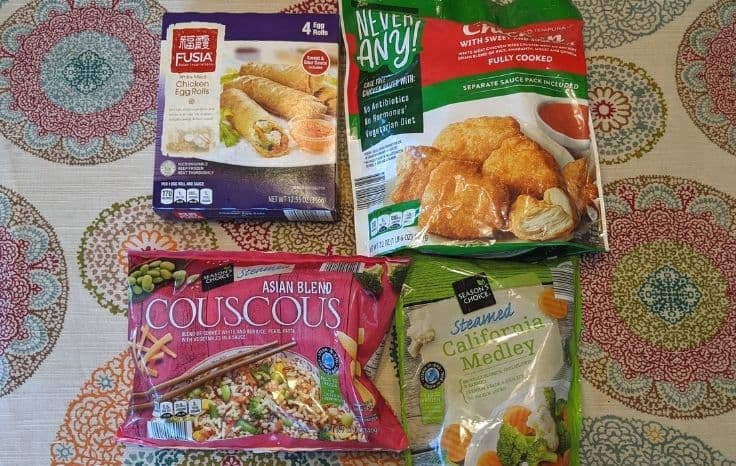 Sweet & Sour Chicken, Asian Blend, Egg Rolls and frozen vegetable mix (pictured above) – This is a simple heat and eat meal for the night I know I will be short on time to cook. I added another bag of frozen veggies to the couscous mix to fill it in!
Grilled Chicken, Cuban black beans and rice, cucumber and tomato salad – I marinate the chicken in whatever I have on hand, usually Italian spices, slat pepper and oil. I love this simple black beans recipe. I replace the red wine vinegar with regular white vinegar and I leave out the scallions and peppers. I also replace the red wine vinegar with regular vinegar in this cucumber and tomato salad recipe and use white onions instead.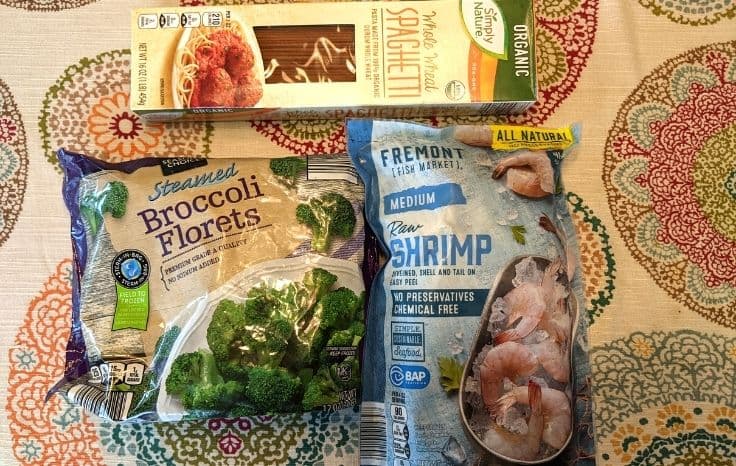 Shrimp Scampi, Spaghetti and Broccoli – For this recipe, I saute the shrimp in olive oil, add garlic, parsley, lemon, salt and pepper. Then I toss the thawed broccoli (I heat in the microwave for about 4 minutes), shrimp and cooked spaghetti together and serve!
Rice and Beans (using any leftover meats) – This is how I use my leftovers! I use 1 cup rice, 1 can of beans and I mix in any leftover meat, vegetables or whatever else I have on hand that sort of goes together.
Sheet pan Chicken Breast, mashed potatoes and peas – Sheet pan chicken is such an easy and versatile way to make a healthy tasty dinner. I served our sheet pan chicken with mashed potatoes and peas for tasty and filling meal.
Leftovers – There are somehow always leftovers, so I like to have one night where we eat anything we have on hand that's left. The kids love this because I lay everything out on the counter and they get to fill their plate with their favorites!
Eating Out
Lunch
Peanut Butter & Jelly Sandwhices
Ham & Cheese Sandwhiches
Omelets (Eggs, mixed vegetables, cheese)
Breakfast
Cereal
Pancakes
Snacks
Fruit
Cheese Puffs
Baby Bel Cheese
Nut Bars