Want to know exactly what you should (and shouldn't) buy from Aldi in 2020? Then you'll love this list of best things to buy at Aldi!
Cutting costs on groceries is one of the many ways you can save money every month. And Aldi really has some of the best prices around.
I'm not an avid couponer, so shopping at Aldi has been a great way to save on groceries.
I use Ibotta to save on grocery purchases for items I can't get at Aldi. However, I'm shopping less and less at other grocery stores as Aldi continues to expand their offerings.
This list includes food that I buy from Aldi every single week because I honestly just can't find cheaper prices anywhere else, including Walmart. (Check out my weekly grocery haul series to see what my meal plans look like)
Aldi has its own brand of foods and I can say that the quality of the foods is so good. Even if you have picky eaters, they won't mind if you switch to the Aldi brand of these items.
I also love that you don't have to wait for sales or coupons to get good prices. These prices are their every week prices.
Please note that the prices pictured will vary depending on where you live. With that said I have lived in both a high cost-of-living area and low cost-of-living area and in both places Aldi prices for these items were always the lowest prices in town.
21 Best Things to Buy at Aldi
Milk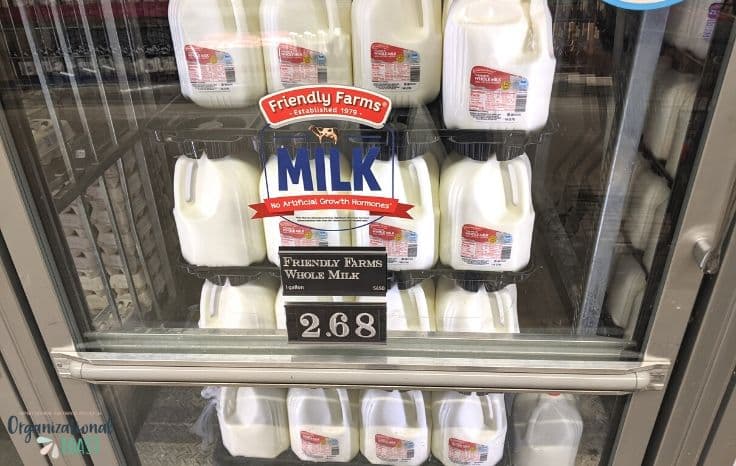 The price of milk changes from week to week but I can consistently get a gallon of milk for under $3.00.
Eggs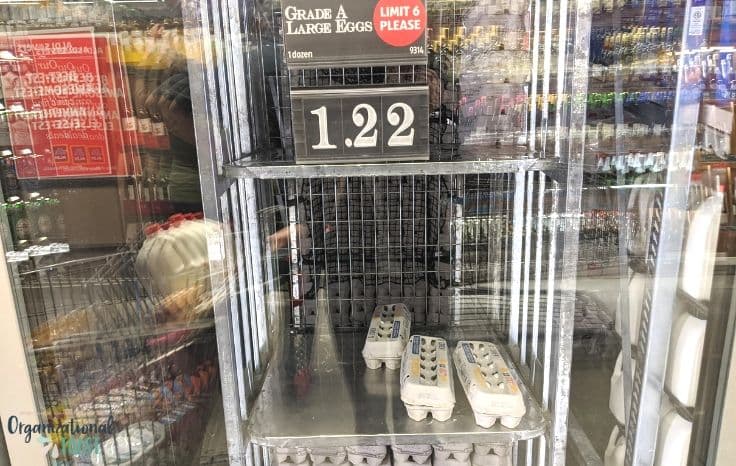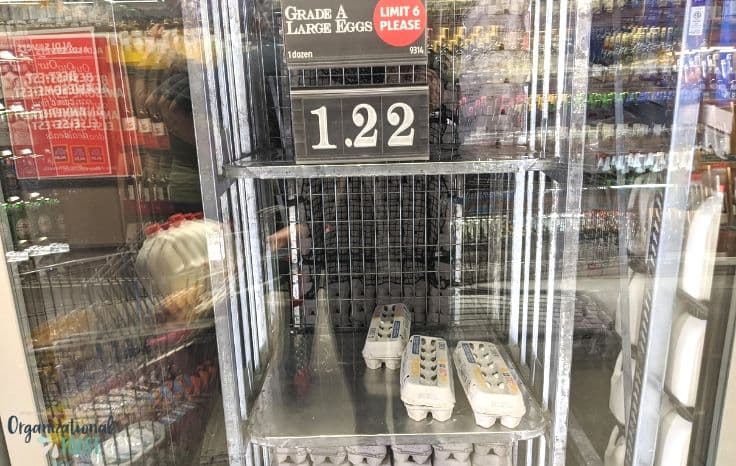 Just like with milk, the price of eggs will fluctuate. This week when I went, the eggs were actually priced the highest I've seen in a long time. I'm usually able to buy a dozen eggs for around $0.80.
Spices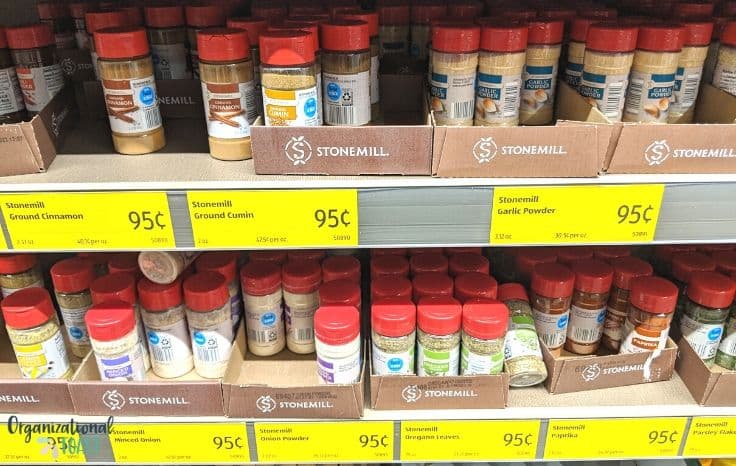 You really can't beat $0.95 for spices. Plus, they have a really nice variety including italian seasoning, cinnamon, and lemon pepper.
Baking goods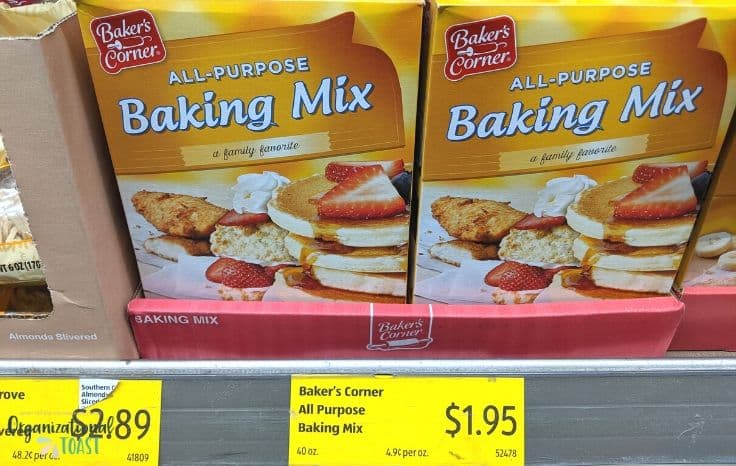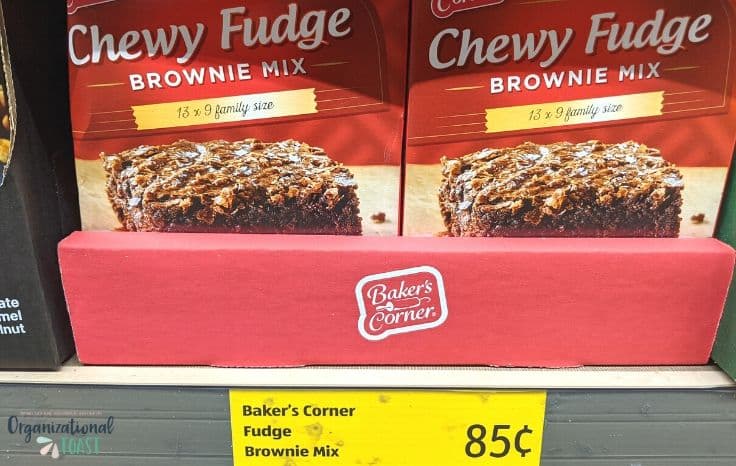 I am not a huge baker but the baking goods are really well priced at Aldi. My level of baking includes the fudgy brownie mix for $0.85 and the Aldi version of Bisquick for $1.95. Plus items like sugar and flour are also available at incredibly low prices.
Salsa
We go through salsa like water in this house and at this price I'm totally fine with it. Plus, they have a really good selection of all type.
Spray Oil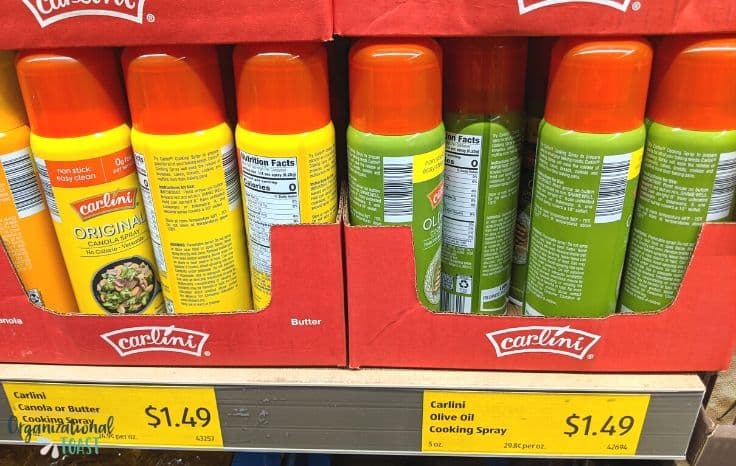 This is one of those cooking essentials that I know is a luxury and not necessary. BUT, I do like the ease and convenience of spray oil. Aldi has the best price for spray cooking oil and it feels like it lasts forever!
Yogurt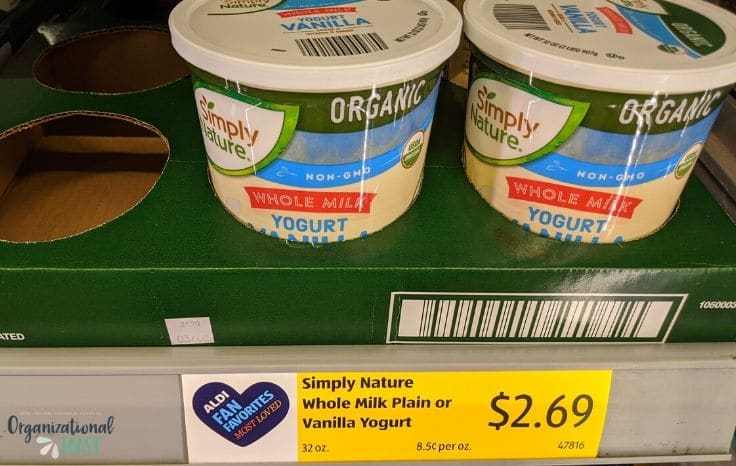 Yogurt prices are amazing at Aldi. I even "splurge" on the organic yogurt because it's so much cheaper than I can get anywhere else. And, my kids love it so I'm able to provide a really simple healthy snack.
Cream Cheese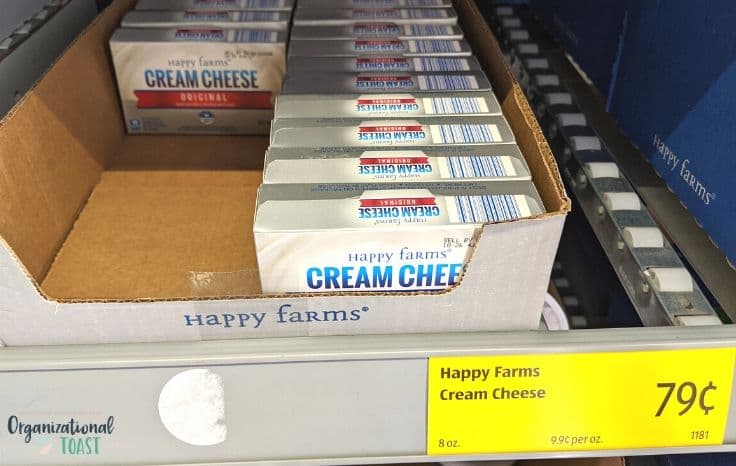 I mean, $0.77 cents for cream cheese. My husband is a total cream cheese snob and insisted on only having Philadelphia cream cheese in the house. Well, I switched out the Philadelphia cream cheese for the Aldi brand and he hasn't complained once!
Beans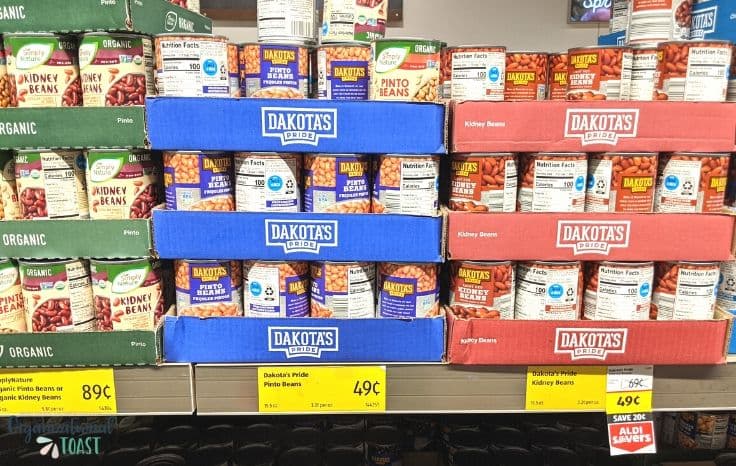 Beans are such a great cheap protein source and a staple for your frugal food pantry. Aldi has incredibly good prices on canned beans and they even run specials on them sometimes.
Hamburger/Hotdog buns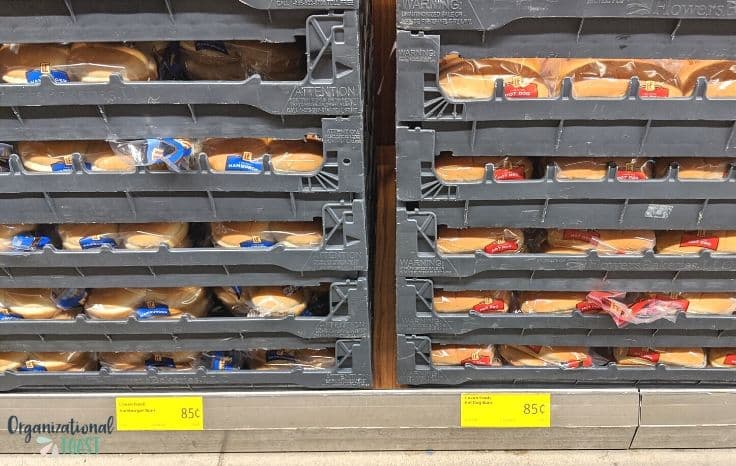 I don't buy these a ton but when we have bar-be-ques or are going camping, I always stock up at Aldi.
Frozen Vegetables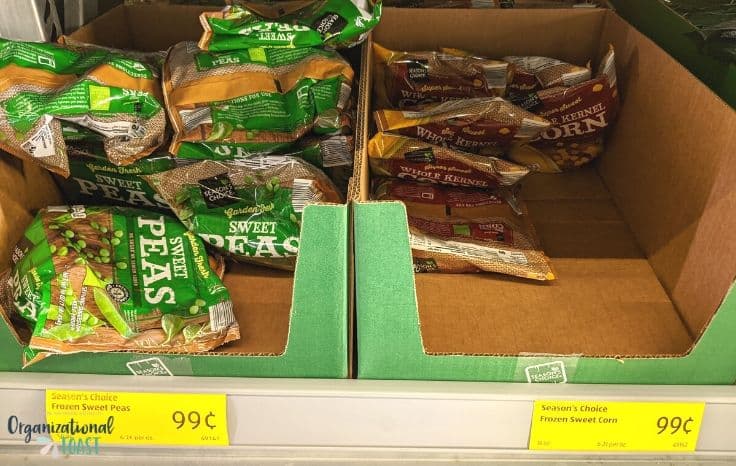 I love using frozen vegetables and use them probably in almost every meal. Aldi has a nice selection of both organic and regular frozen vegetables that are a great buy!
Frozen Salmon
I haven't been able to find frozen wild caught skinless salmon for any cheaper than I can get it at Aldi. It's also always really tasty and even by kids will gobble it right up!
Almond Milk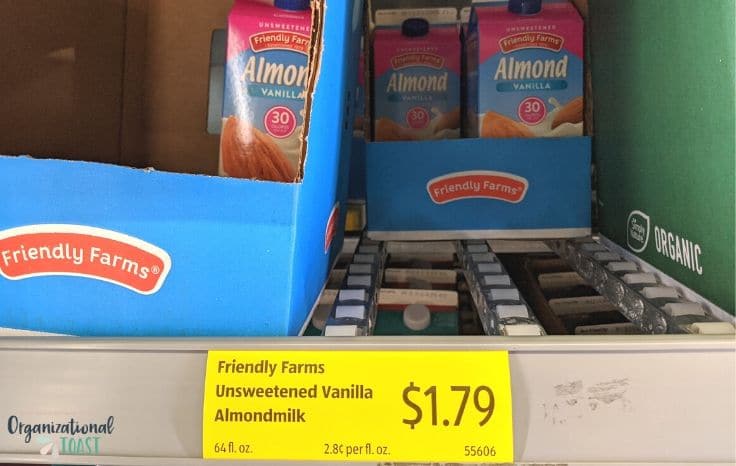 If you're preferred milk choice is almond milk, you can stock up for very little at Aldi. A gallon of Almond milk is only $1.79 and they have gallons of organic Almond milk for less than $2.50.
Peanut Butter
Just like salsa, peanut butter is a staple in our house. This is an every week item that I'm able to buy for less than anywhere else.
Canned Tomatoes
Tomato paste, crushed tomatoes, or whole peeled tomatoes are all so cheap at Aldi.
Lunch Meat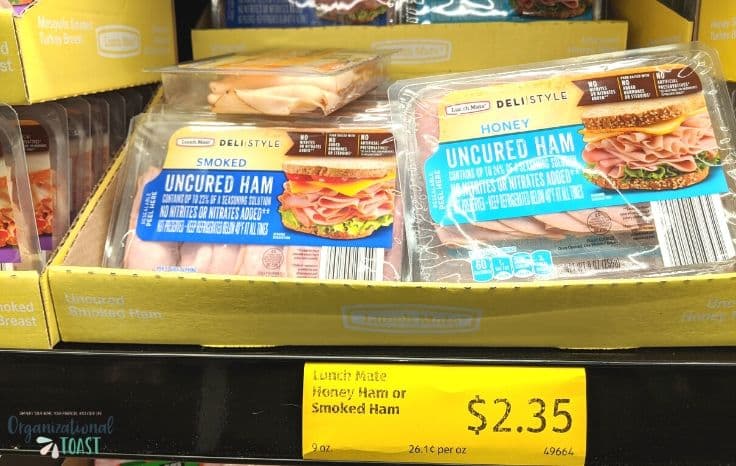 I used to only buy deli sliced lunchmeat but it was really cutting into our grocery budget. I started buying the lunch meat at Aldi and I seriously have never gone back. Not only is it super tasty it's so cheap!
Granola Bars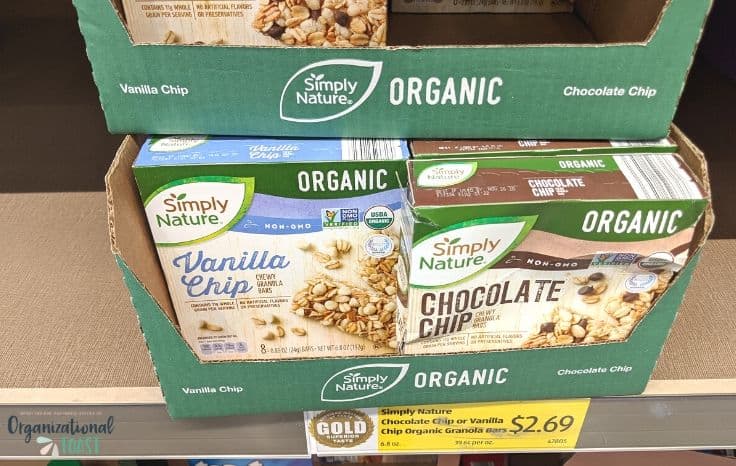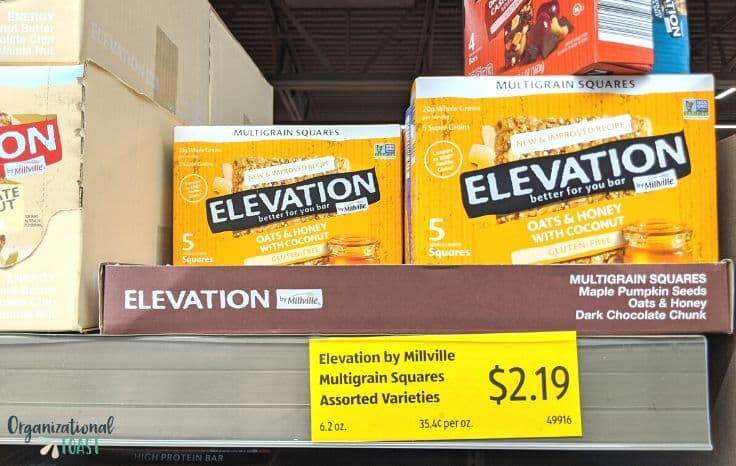 Sure, I could make my own or maybe do some couponing and get granola bars for cheaper but I'm just lazy enough that I won't do either of those things. That's why I buy all our granola bars for Aldi. Both the elevation bars and the organic chocolate chip/vanilla chip bars are under $3.00 a box.
Bananas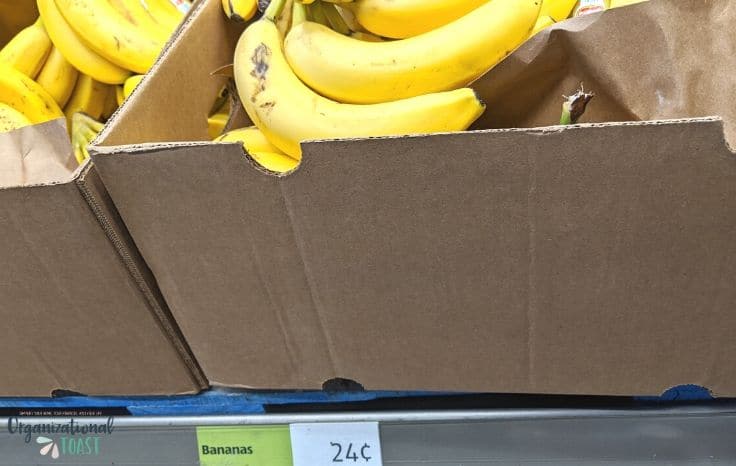 If you have kids, you know you can go through bananas like crazy. At $0.24 a pund you can buy 2-3 bunches for what it would cost for one at any other grocery store.
Berries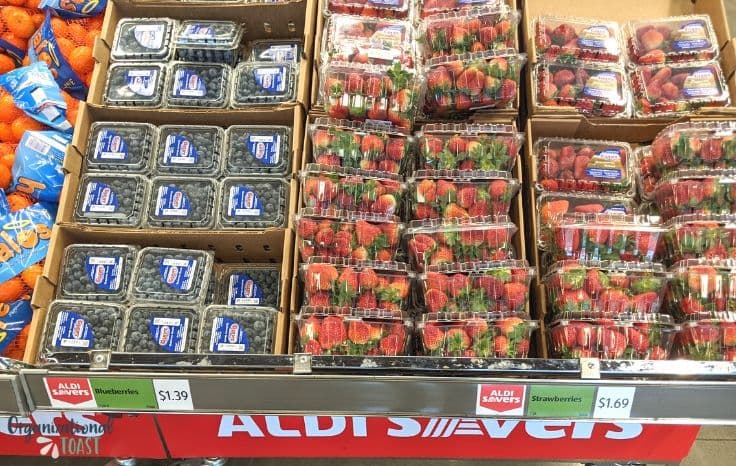 Most weeks, Aldi has great prices on berries. I will say you do have to be careful and check the berries well. While I love to buy berries at Aldi the quality of the berries aren't always consistent.
Wine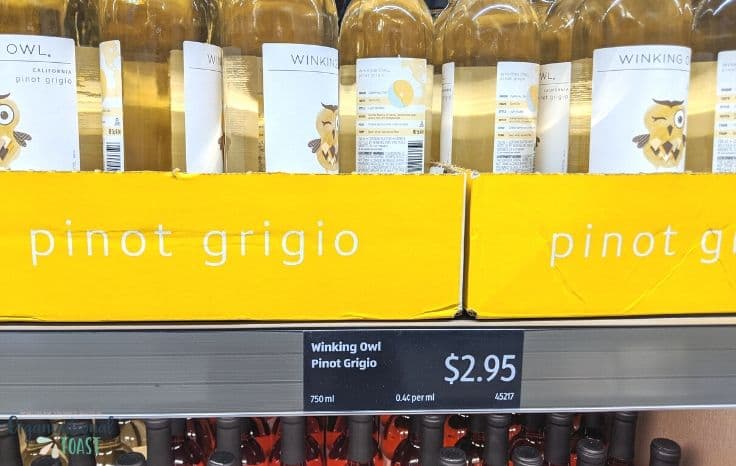 The Aldi three buck chuck is so good. And there are so many wine choices, not just read and white. And their prosseco (which is $6 a bottle) is my favorite for special occassions.
Maple Syrup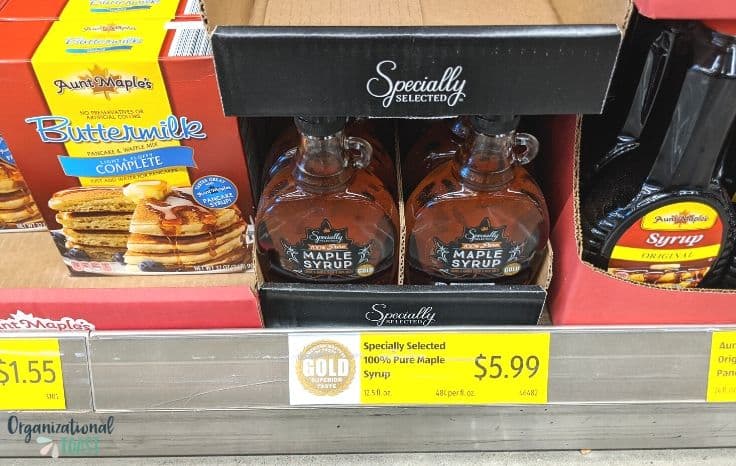 Saturday mornings are pancake mornings in our house. And pancake mornings are not complete without maple syrup. Again, this is a weekly item that I don't mind buying because we really are able to get a good price at Aldi.
What Not to Buy at Aldi
Non Food Items
Basically, stay away from the non-food items or the specials aisle. I've generally found that cleaning products, paper goods toiletries etc are just not as comparable to what you can get in other stores. And not just in price but also in quality.
Produce
Generally, I don't buy fresh produce from Aldi. It's more a quality issue than anything else. I find that the produce is not always the freshest and tends to spoil more quickly that others. With that said, I do check the produce aisle each week and if there is a good price and the quality looks good I will buy it. However, I don't rely on Aldi as my go to for fresh produce.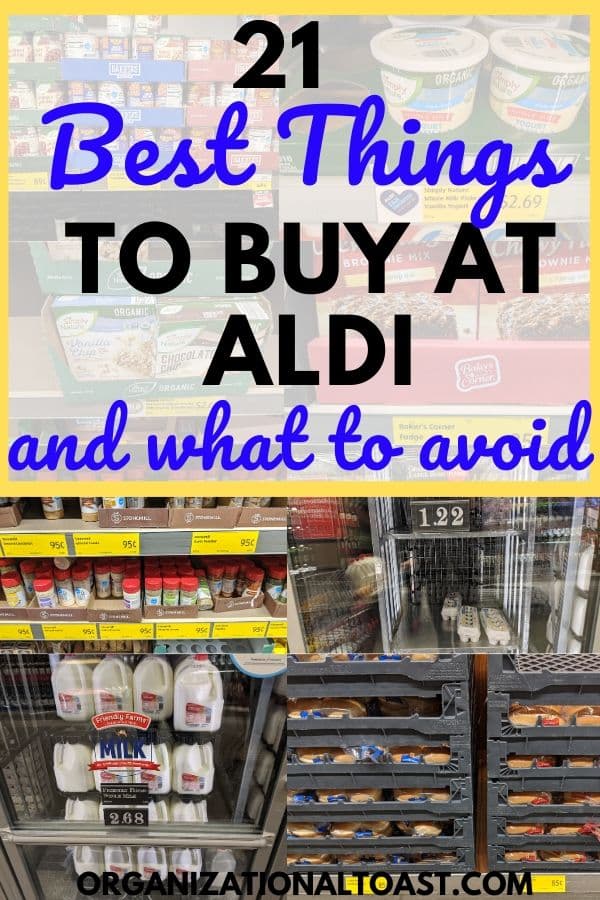 What are some of your favorite things to buy at Aldi?