As busy moms, it can sometimes be a struggle to find unique and budget friendly ways to bond with our kids.
Researchers and mental health professionals all agree that quality time with our kids is so important for a variety of reasons.
According to Mom Junction, being intentional while spending time with your kids can:
Promote your child's emotional and mental well being
Help build the child's confidence
Help the child develop strong problem-solving skills
Teach children how to regulate emotions in stressful situations.
With all those benefits, it's easy to see why we have to create those opportunities for bonding with our kids.
Related: 5 Best TED Talks For Moms
Occasionally when life is happening, finding quality time is easier said than done.
When that happens, mom guilt hits hard and I want to plan fun and super exciting activities.
But the reality is I can't drop $50 every time I want to bond with the kids.
Instead, I've had to be a bit more creative in order to choose budget friendly ways to spend quality time with the kids.
This list of activities are some of our favorites and some things our kids request when we have time to spend together.
17 Budget Friendly Ways to Bond With Your Kids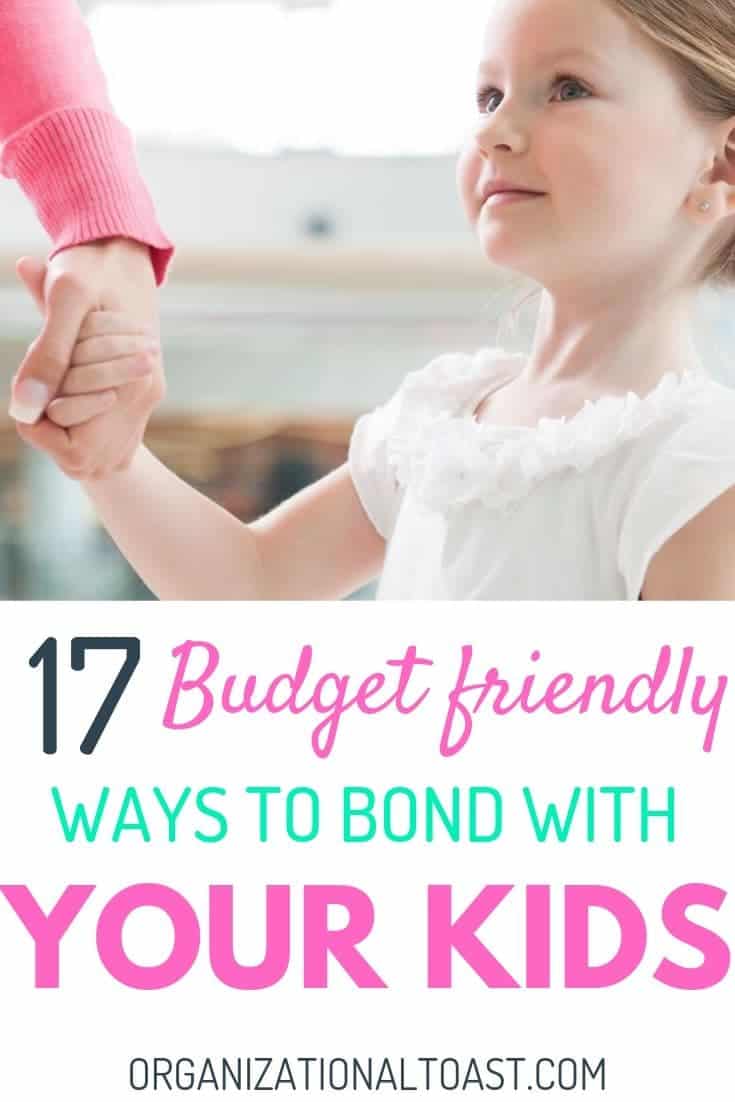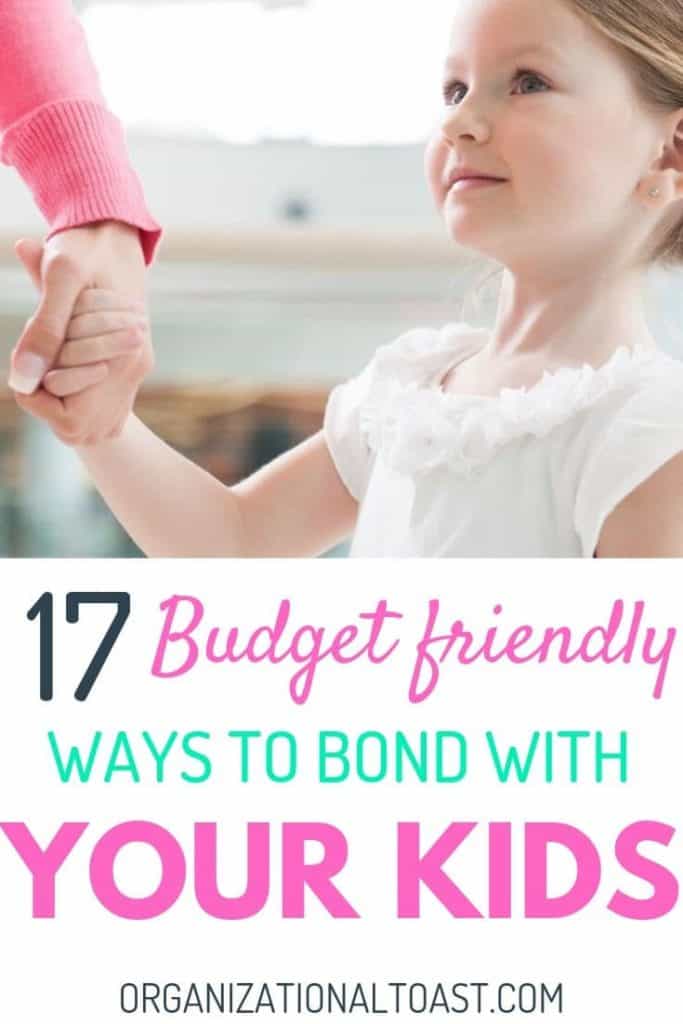 Bake/Cook
Dinner needs to get cooked anyway, why not make it a family affair? Let your children pick their favorite recipe and work together to prep and start cooking. We love to put on some music and dance around the kitchen while we're cooking!
Family Game Night
Get out the board games and have a family game night. If you're looking for inexpensive board games or puzzles, hit up some garage sales or even the dollar store. You can get checkers, puzzles and cards from the Dollar Tree for $1 each!
Exercise Together
Exercise increases our endorphins and makes us feel happier. And the same is true for our kids. Don't know what exercise to do? Check out YouTube for some free exercise videos. You can choose from yoga, dance fitness or more. Just search "kids exercise" on YouTube and you'll get tons of options you and your child will love.
Watch a Movie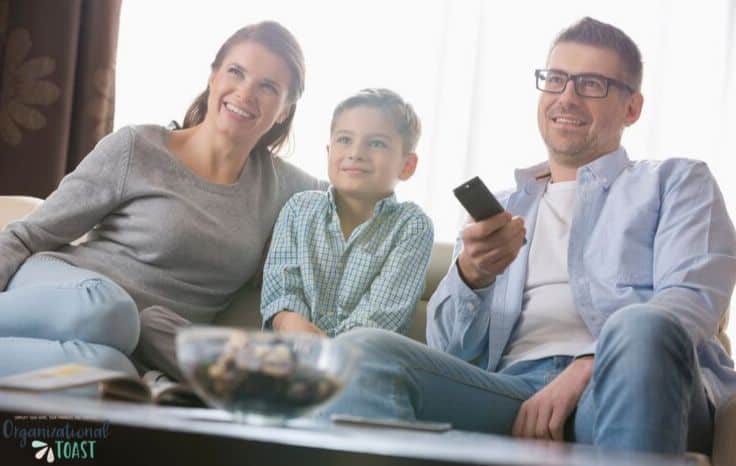 You can rent a movie from the library for free and make a cozy spot in front of the t.v. Make your own popcorn or other favorite movie treat and snuggle up!
Take A Class Together
Check out your local library or community center for free or cheap classes you can take with your child. Try pottery, poetry, dance or craft classes!
Go Geocaching
Geocaching is an outdoor treasure hunting game you can play in your community. Download the free app, start looking for caches (or treasures) in your area and have an adventure!
Fruit picking
Look for farms in your area where you can pick your own fruit. Berries are abundant in the spring, and apple picking is just as sweet in the fall.
Related: 20 Indoor Activities for Kids
Go on a picnic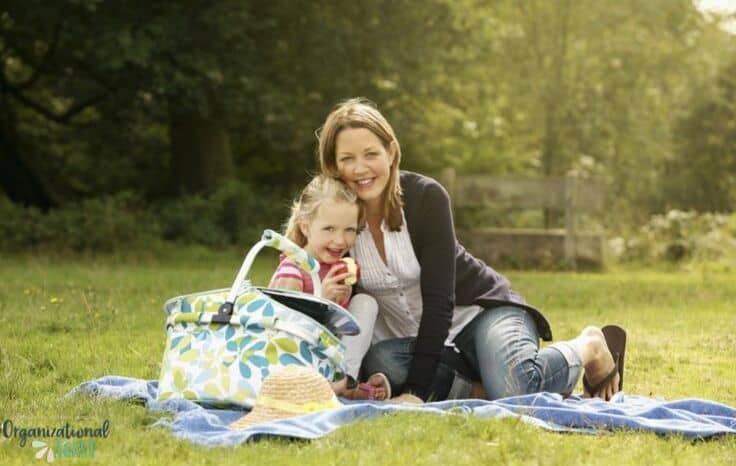 Pack up some sandwiches and a blanket and head to your favorite park or other awesome outdoor spot. Bring a frisbee or a ball and enjoy the afternoon outside.
Write a Story Together
Work with your child to write a book. Talk through the storyline and then get to work! If your child isn't writing yet, let them be the illustrator and you can write the words.
Fancy Dinner
Have a fancy dinner at home. Have everyone dress up in their nicest clothes, set the table with the good dishes and silverware, put on dinner party music and have a special dinner together. Our kids love decorating the table with place cards and creating a special centerpiece!
Go On A Hike
Head out into nature and go on a hike. Most parks have shorter hikes and longer hikes, so check your local parks map and pick one appropriate for your child's age.
Volunteer
Not only is volunteering a positive lesson to teach your kids, but it's also something you and your child can do together as a bonding experience! Check your local animal shelter or with your church for some age appropriate volunteering opportunities.
Make a Movie
Create a story, write out the script, design some costumes and film it! Put it up on YouTube to share with family and friends.
Make Up A Song
Come up with a tune and write some lyrics. If you want to take it to the next level, film a music video!
Have a Lip Sync Battle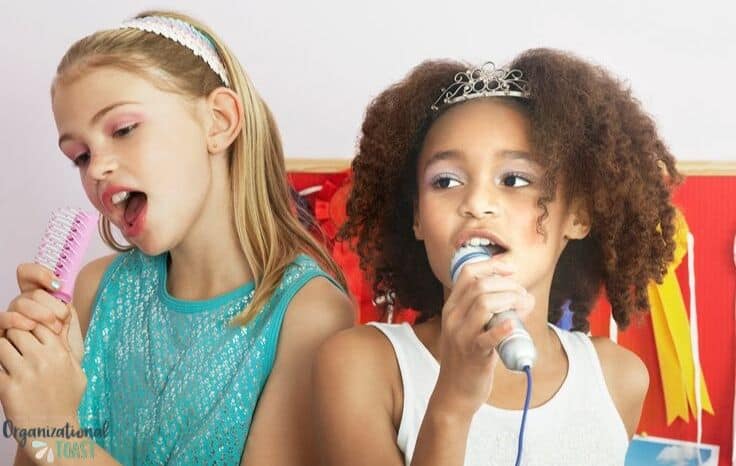 Put on your best lip syncing performances for each other.
Create Your Family Values
Sit down and brainstorm what is most important to your family. Put all your best ideas down on paper. You can even frame them and hang them up where everyone can be reminded of what is most important to your family.
A History of Your Family Book
Put together a scrapbook that shows the history of your family. Use photographs, let your child draw some pictures and write some stories down to help preserve all those amazing family memories.
My Best Advice for Bonding With Your Kids
Whichever activity you choose, here are some additional tips to help make these bonding activities even more special.
Disconnect
Put the phones in another room, leave them in the car or put them on do not disturb. Whatever activity you do just make sure your phone is not part of it. I'm making a strong point of this not only because it's true but also because I am guilty of being on my phone more than I should. Disconnecting from our phones gives us a greater opportunity to connect with our kids and is the simplest and cheapest way we can bond with our kids.
Create a special ritual
Make one of these activities a special ritual. Maybe that means Friday Night Game Night every week. Or even something as simple as a pancake breakfast on Saturday morning. These rituals or routines will be something your child will remember.
Quality or Quantity
We are busy. Our schedules are hectic. And sometimes simplifying those schedules is just not possible. So focus on quality over quantity. Focus on your child when you have the time with them and make the most of it!
Looking for more advice on building a strong relationship with your kids? Check out some of my favorite books on the topic: