Do you guys ever go to the grocery store and SURPRISE yourself with staying under budget AND getting everything you need?
It's like the four leaf clover of budgeting and frugal living.
That's exactly what happened to me this week.
I attribute this to the fact that last week I stocked up on some good BOGO deals at Sprouts.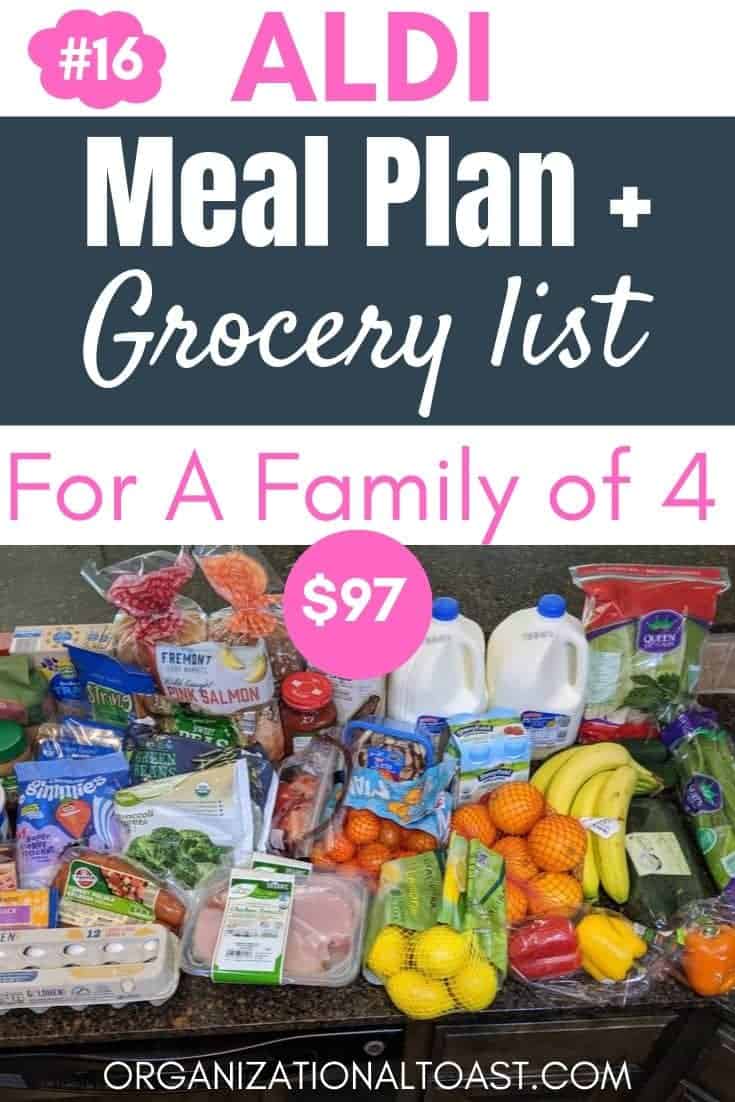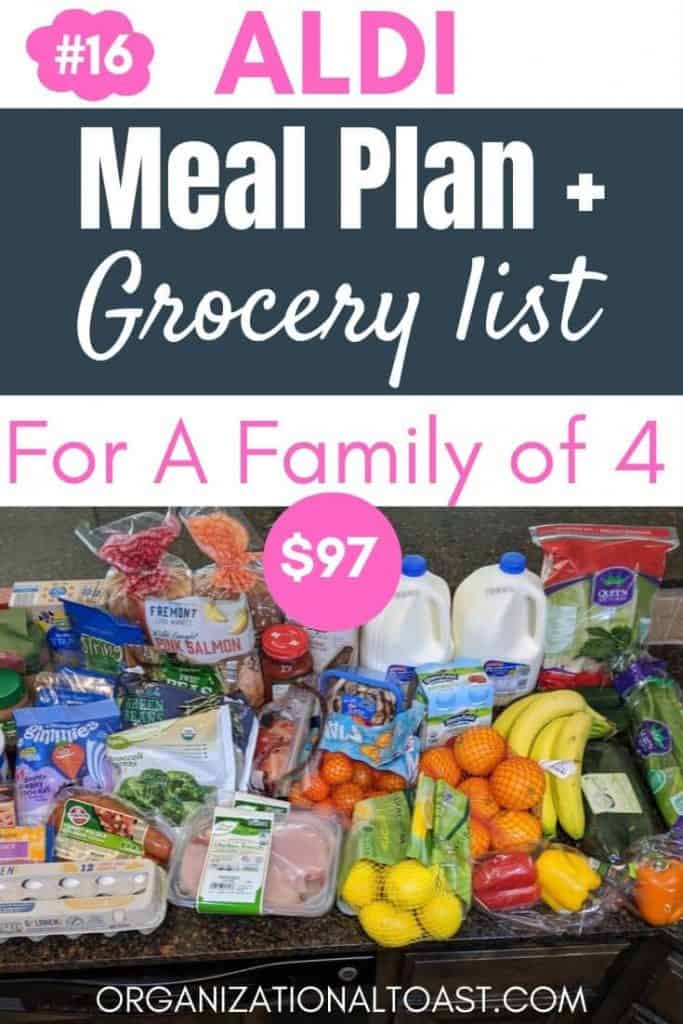 I've been really bad lately with stocking my pantry and this week was just a reminder that a stocked pantry can make so much extra room in the budget, if it's done right (which means you don't ever exceed your grocery budget at any give time but still have lots of extras).
Related: Eat Down Your Pantry Challenge
I think it also had to do with the fact that this week I was short on time and when that happens, I usually only make it to one grocery store. This week it was Aldi.
My weekly grocery budget for our family of four (2 kids and 2 adults) is $125. This week I came in at $97.80!
Aldi Grocery List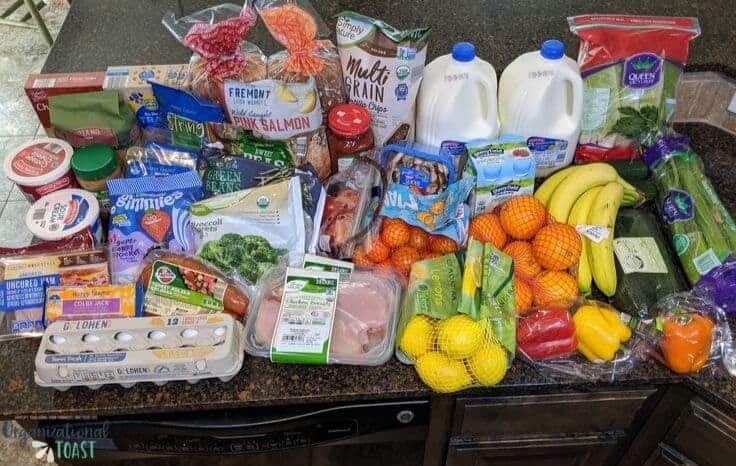 2 X Gallon of Milk – $5.20
Frozen Peas – $0.99
Organic Frozen Broccoli – $1.99
Frozen Wild Caught Salmon – $3.99
Organic Chicken Breasts – $8.05
Organic Chicken Breasts – $7.18
Organic Yogurt Smoothies – $3.99
Chobani Yogurt Tubes – $3.89
Sour Cream – $1.49
String Cheese – $2.79
Cottage Cheese – $2.29
2 X Cucumbers – $0.98
3 pk. Peppers – $2.99
Roma Tomatoes – $0.99
Multigrain Chips – $1.89
Sliced Mushrooms – $1.69
Turkey Kielbasa – $2.49
Celery – $1.29
2X Sliced Colby Jack Cheese – 3.98
Ham Lunch Meat – $1.99
Colby Jack Cheese – $1.99
Romaine Hearts – $2.19
Mini Chocolate Chips – $1.89
Brownie Mix – $0.85
Trail Mix – $2.99
Organic Pasta Sauce – $1.89
Mandarins – $3.29
Lemons – $2.79
Rigatoni Pasta – $1.19
Bananas – $1.27
Naval Oranges – $2.19
2 X Organic Bread – $8.58
Subtotal – $89.06
Tax – $8.74
Total – $97.80
Meal Plan
Full disclosure, some of the items on my meal plan include items I already had on hand. This includes things like pancake mix, eggs, cereal, teriyaki sauce and potatoes. I always try to use what I have when making my meal plan along with what's on sale for the week. If you're looking for a some simple tips to help you with meal planning, check out these tips.
Related: Easy Frugal Dinners
I'm trying to incorporate some different meals into my menu plans. Apparently, everyone is getting bored with the same rotation of dishes and I can't blame them.
It's super easy to just stick with what you know everyone eats and is cheap.
So I'm making a promise to myself to try one new recipe a week (or bring back a recipe I haven't made in awhile.) This week it was Baked Ziti and it was a total hit!
Dinner
Baked Ziti with salad
Kielbasa, Potatoes and Pepper Skillet
Sauteed Chicken with Mushrooms, Mashed Potatoes and salad
Grilled Chicken, Rice, Salad
Teriyaki Chicken, Rice, and Broccoli
Salmon, mashed potatoes and peas
Lunch
Leftover Baked Ziti
Ham and Cheese Sandwiches and yogurt tubes
Peanut Butter and Honey Sandwiches
Breakfast
Cereal
Pancakes
Hard Boiled Eggs with Toast
Snacks
Cheese Sticks
Cottage Cheese
Trail Mix
Multigrain Chips
Oranges