Finding indoor activities for the kids to keep busy on days that are too cold or wet to go outside can sometimes be challenging, especially if it's a long stretch of cold and wet days. I know that playing with toys will only take us so far and that getting out of the house is sometimes just not an option.
And I don't know about you but when my kids get bored things go south really fast! Don't get me wrong. They are great playing by themselves or with each other….to a point.
Sometimes I have to step in with activities to get their little minds working or their bodies moving.
Here is a list of 20 indoor activity ideas for your kids. Most of these are geared for children in K-5, though some will be appropriate for younger kids too.
For some of these indoor activities, you'll need to have a few items on hand. Most of these you can get at the dollar store. I like to stock up and have these items on hand for when the kids are getting cabin fever.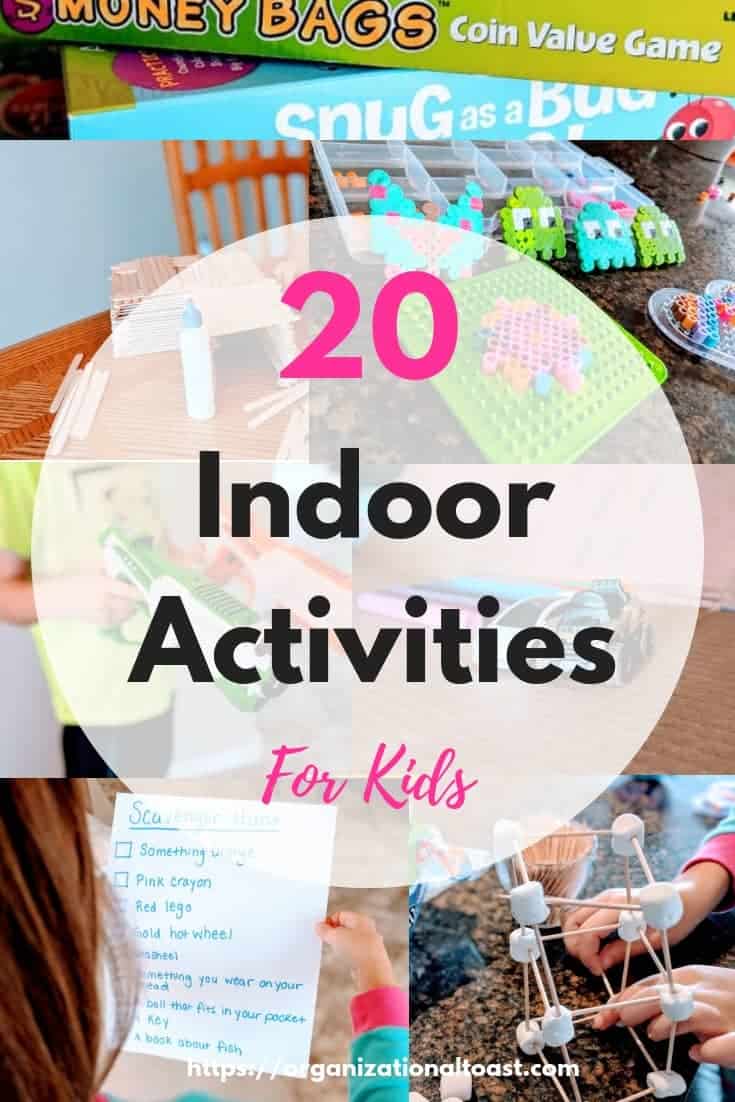 Best Indoor Activities for Kids
Scavenger Hunt
Put together a scavenger hunt by make a long list of items you have around the house the kids have to find. You can even take turns and have each child create a list for everyone else!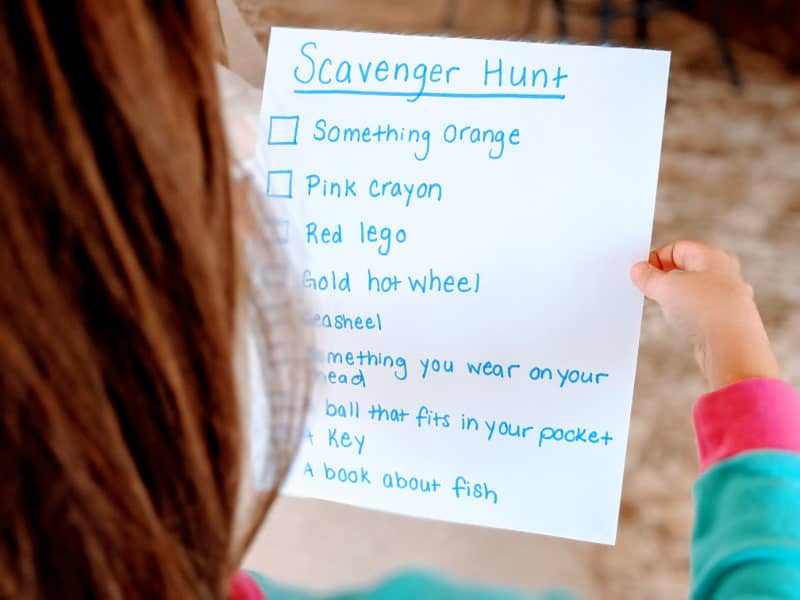 Hide and Seek
This is a go to around our house. We have some expert level hiders and have had to end games just to find one of the kids!
Balloon Games
Blow up some balloons and let the giggles start. From "don't let the balloon touch the floor" to "how many times can you bounce the balloon in the air" this is a great way to get the kids moving.
Origami
There are tons of easy to make origami tutorials online. This is one of my favorite posts with lots of ideas for simple kid friendly origami. We like to use plain white paper and color our creations once we're finished folding!
Popsicle Stick Structures
With some Popsicle sticks and glue, you can create all different types of structures! We've built garages for our cars and farm houses for little animals and much more. Building these little houses takes time and then they have something to play with after!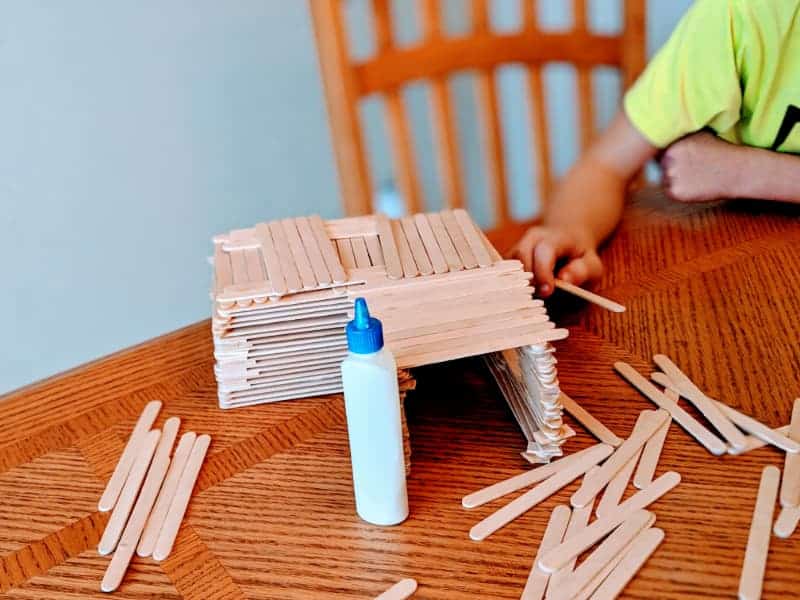 Card Board Box Race Track
We always have some empty amazon boxes lying around and they are perfect for building tracks for race cars! We have about 1 million hot wheels in our house (maybe a little a less) so this a favorite activity. Again, it takes time to draw the track and decorate it and then you can race all day!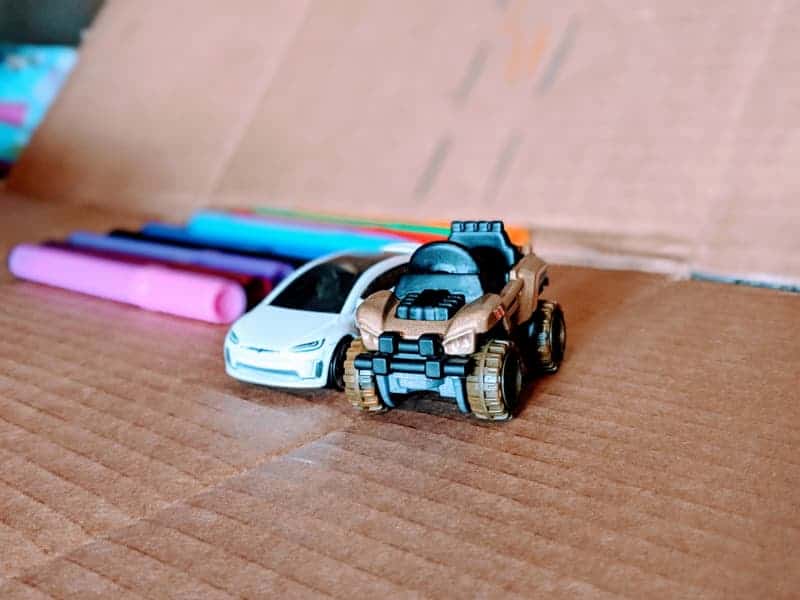 Baking/Cooking
This is another favorite activity in our house. We have to eat, so on those days we need some extra activities, I'll get the kids in the kitchen. We might bake chocolate chip cookies or I might have them help me peel potatoes.
Blanket Forts
This might take up a ton of room in our family room, but this always provides hours of fun! For my older kiddo, he loves to take his flashlight in the fort and read his books and my youngest loves making it a school for her babies.
We use the Crazy Fort building kit and have been able to create a ton of different forts with this! They are easy to store and easy for the kids to work with!

Laser Tag
We bought these laser tag guns for my son's birthday party and they have been the best purchase to date. With four laser guns in the pack we can each play. There are no bullets to clean up or worry about anybody getting hurt and the kids run around forever. They even build bases and try and play a laser tag version of capture the flag!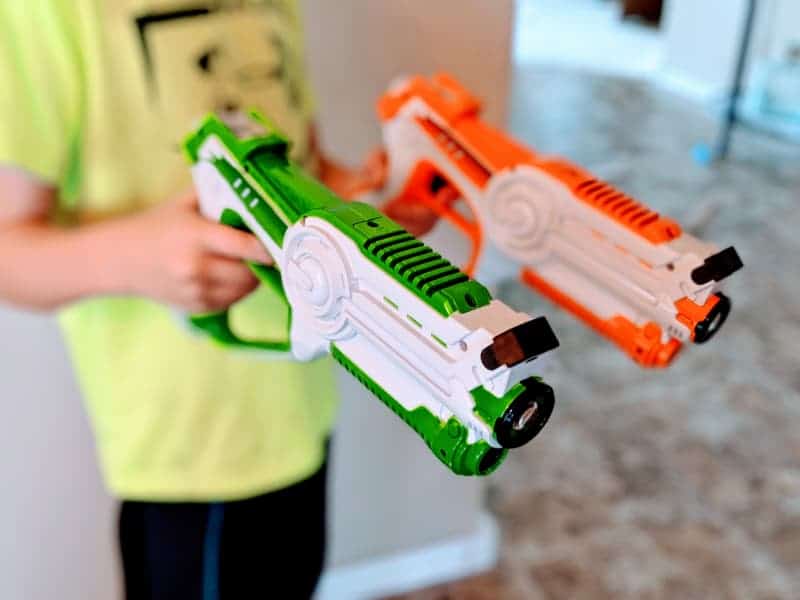 Puppet Show
Make your own puppets from old socks or paper bags. Or use some pre-made puppets. Have the kids make tickets and put on a puppet show!
Family Game Night
Break out all the board games and have a family game night. It can sometimes be hard to find games we can all play but a few of our favorites are Mancala, Go Fish, Money Bags, and Monopoly. The 5 year old loves Monopoly, mostly because she gets to play with the money.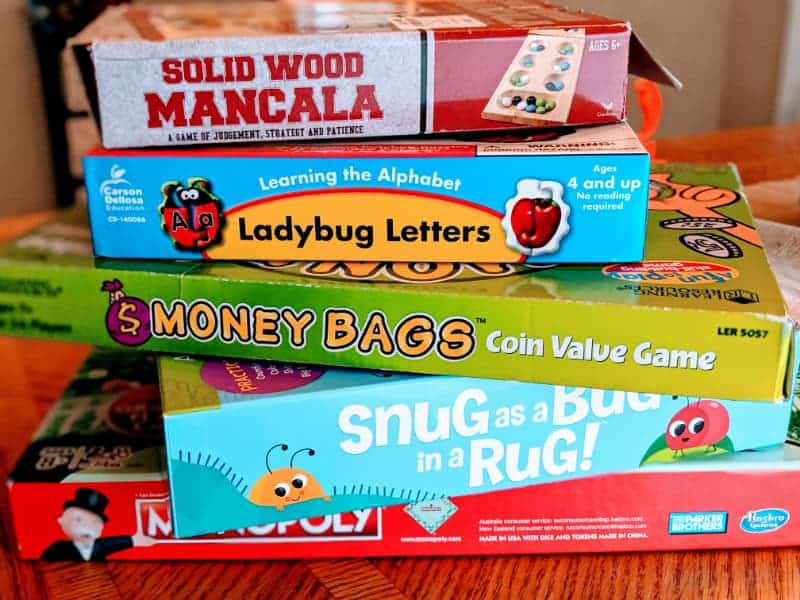 Silly Fashion Show
Have everyone dress up in their silliest outfits and put on a silly fashion show!
Indoor Camping
Set up some sleeping bags, pack a cooler or even put up a tent in the family room and let the camping fun begin! Tell scary stories, make smores and play flashlight tag!
Perler Beads
Perler Beads are a favorite in our house and always keeps everyone busy! There are so many great Perler designs online the kids can follow or they can make up their own!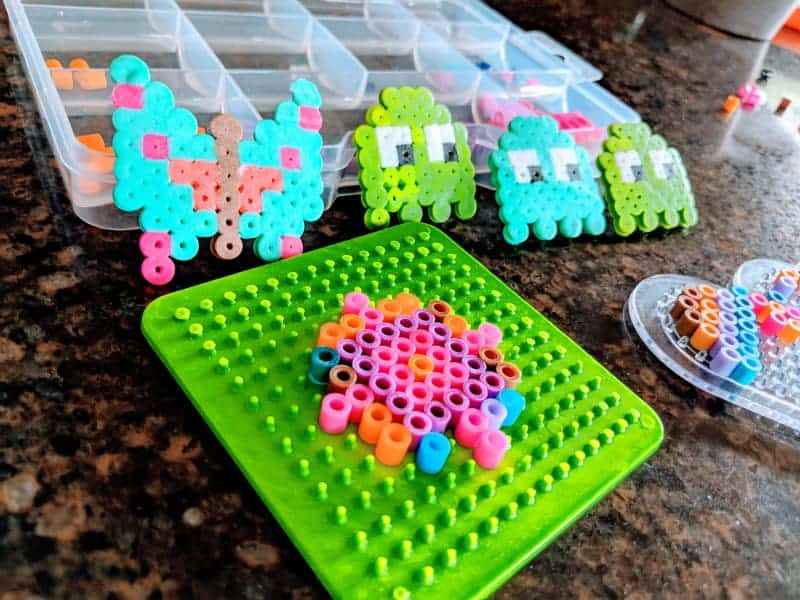 Relay Races
Put together a classic relay race: a (hard boiled) egg and spoon race, "potato sack race", crab walk and wheelbarrow races.
Create a Stop Animation Movie
This is one of our favorite activities. To make a stop animation movie, you use an inanimate object and take pictures of it moving. Each picture is a movement in a sequence. When you stitch the pictures together (I use the google photos app on my phone) you can create a little movie.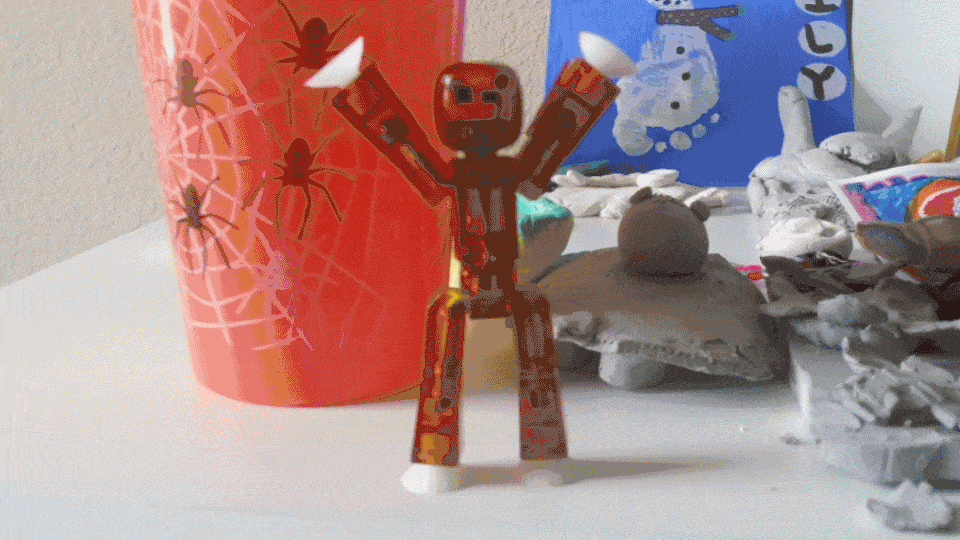 Movement/Exercise Videos
There are tons of videos online for kids to help them get moving. One of our favorites is go noodle! There are plenty of silly games or dance videos to get everyone up and moving!
DIY Laser Maze
Using just toilet paper and tape, create a "laser" maze for the kids to try and climb through! It's easy set up and even easier clean up.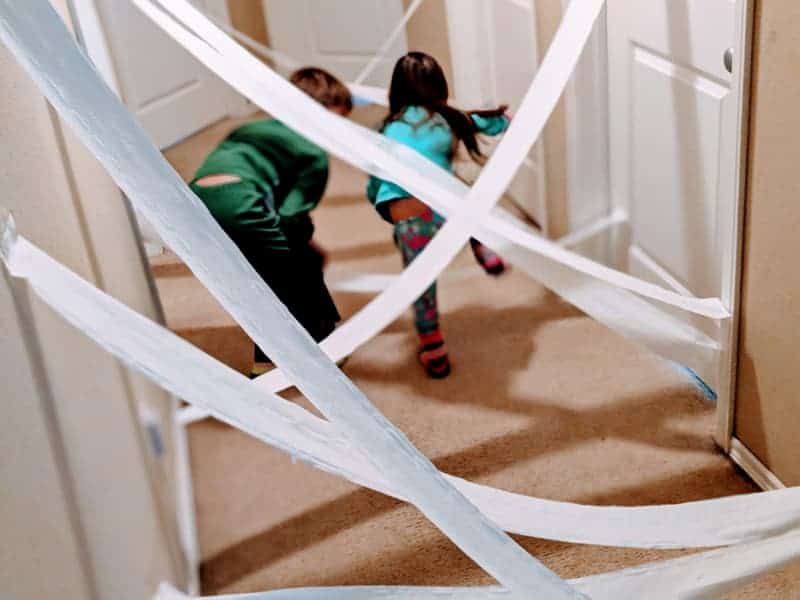 Make a Book
Get out your paper and markers and make a book! I like to give the kids a topic (for example a scary or a silly story) and let them work on their creations. If your little one is still not writing, have them draw the pictures and you fill in the words. Then, everyone can read the stories to each other when they are done!
Some of these have turned out so good, I've scanned the images into Snapfish and have had the books published.
Bowling with Plastic Cups
Use plastic cups and set up your own game of bowling! You can get silly and assign points to each cup and tally up the points for each turn!
Marshmallow Toothpick Building
Using mini marshmallows and toothpicks, let your kids get creative and build some amazing structures! Just make sure the kids are safe and don't poke themselves with the toothpicks. You can always cut off the sharp edges just to be extra cautious.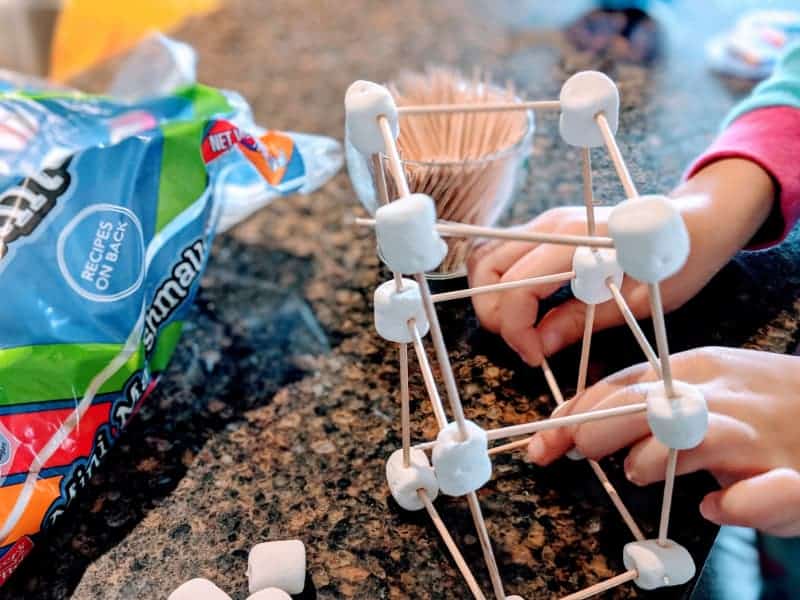 I hope you and your little ones find lots of indoor activities on this list that keep you busy and happy on those long days indoors.
What are some of your favorite indoor activities for keeping the kids busy and staving off cabin fever?