My 6 year old daughter is currently going through a horse phase (don't most kids go through this phase at some point?). So this year we decided to throw her a horse themed birthday party at one of the local horse farms.
I had so much fun planning this party and all the kids (both boys and girls) had a blast and enjoyed the theme and activities.
It was much easier to plan this party than I thought and there were so many options for decorations, foods and activities.
I'm sharing all my tips that really brought the horse themed party to life!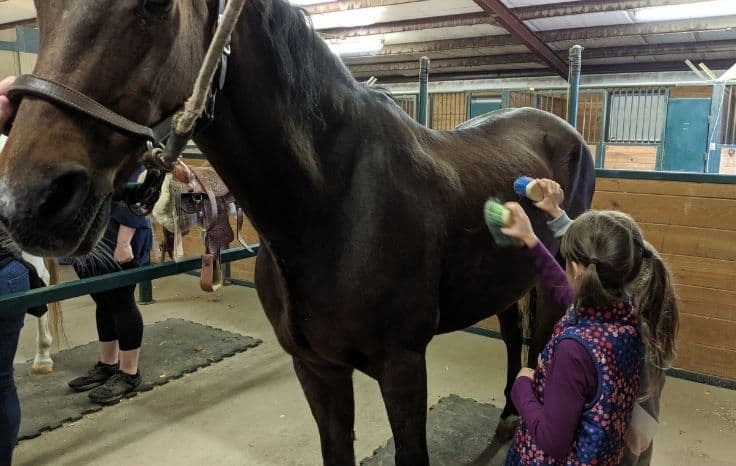 Venue/Decorations
I decided not to have the party at our home mainly because I knew we just don't have the space for the kids we were going to invite. Our daughter is incredibly social and a lot of her friends have brothers my sons age so it made sense to invite the siblings too.
We chose a horse farm not too far from our house that hosted birthday parties and provided both opportunities for the kids to groom and then ride the horses.
We have tons of horse farms in our area so it just made sense. And it turns out it was a pretty economical venue compared to some of the other party venues.
The party space for snacks and food was in the stables and the horse riding was out in a huge barn. And it was a good thing because the weather changed that day and was super rainy and cold.
If having a horse themed party at a barn or horse farm is out of the question, you can bring that barn feel to your house or local park. Reserving pony rides or renting a bouncy house
Decorations can transform any space! A few ways to get that barn feel:
Get some hay bales and use them for seating or decorations.
Get some Cowboy hats and bandannas and hang them on the walls. 
Try this Large Fabric Saloon background or Barn Door Backdrop for a simple themed setup!
Add some of these fun horse themed decoration bundles and you can transform any space!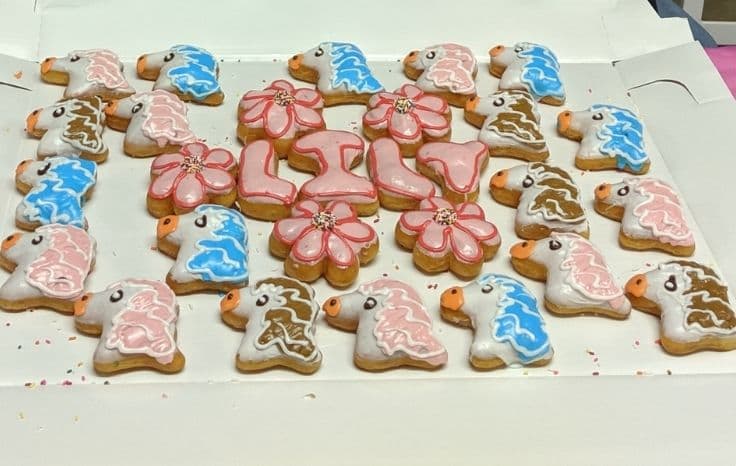 Food
The party time often dictates the type of food you will serve. Our party time was from 2-4, so rather than serving pizza or lunch we opted for lots of snacks. We served chips, animal crackers, apples and carrots (horse's favorite snacks!), and crackers and cheese. 
Instead of a birthday cake, we had horse shaped donuts and they turned out adorable!
Other ideas for birthday treats include:
Horseshoe shaped cake or cupcakes with horse toppers.
Hay Bales (Rice krispie treats)
Carrot Shaped Cookies
Horse shaped finger sandwiches or cookies (you can use cookie cutter for both!)
Candy Apples
Serve all your tasty food on some fun plates for that added touch!
Horse Themed Party Activities
There are so many great party activities that fall into a horse themed party. You can even incorporate field day activities like a three legged race or tug of war! From games to crafts here are some of the best ideas for horse themed party activities: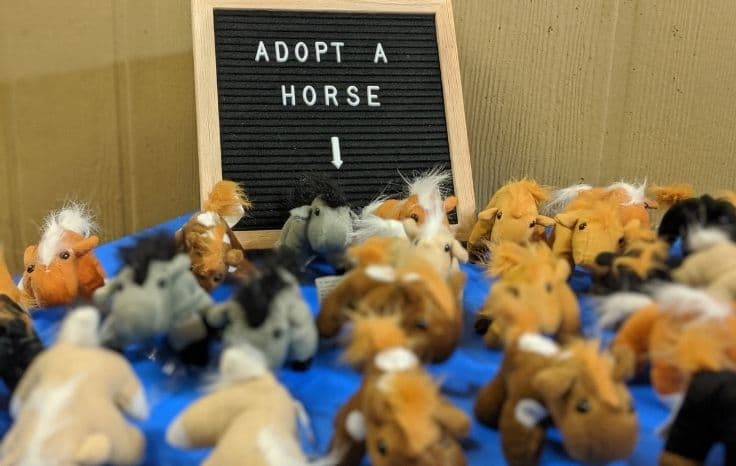 Horse Themed Party Favors/Goodie Bags
Everybody loves a goodie bag. With a horse themed birthday party, there are some really great party favor ideas you can send your favorite party goers home with
Adopt a Horse – This was a huge hit at our party and the kids each went home with their own horse to love on! These plush ponies were inexpensive and really cute!
2. Purchasing a simple horse themed party favor bundle is another great way that doesn't require too much planning. All you have to do is put the favors together and you have a themed party favor the kids will love!
3. Horse coloring books/stickers – Send the kids home with a fun quiet activity the other parents will be grateful for. This coloring book bundle with crayons is so easy and fun!