This meal plan includes 7 breakfast, lunch and dinner ideas from Aldi that kids will love! These are tested and kid approved in our house and always get a thumbs up!
Before I meal plan, I always take stock of what I already have on hand in my pantry and freezer and then build up my meal plan from there. (Grab the free meal planning toolkit here)
If you're a pro Aldi shopper, you know that they don't run a lot of sales. Their prices are pretty low and occasionally they will have $.10 -$.20 off on certain items. What I do always look out for are the $1 and $2 off stickers on items. These are items that are often set to expire. I only buy them if I can freeze them or eat them before the sell by date. This week I scored a supreme pizza with a $2 off sticker…which means the pizza only cost $3.99. It fed us for dinner AND we had leftover for lunch!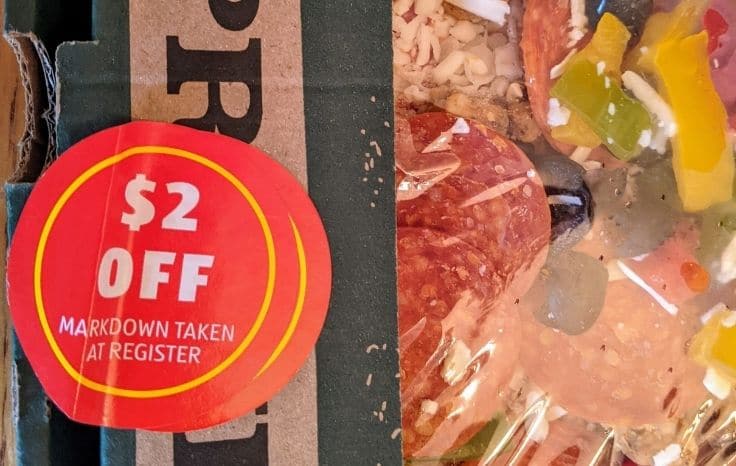 Aldi Shopping List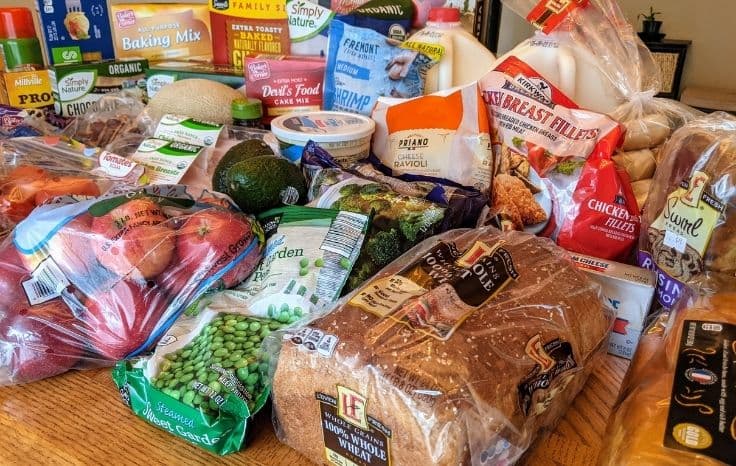 2 Gallons Milk – 2 x $2.84
Vanilla Yogurt – $2.69
3 Pack Cheese Pizza – $4.99
2 Bags Frozen Broccoli – 2 x $.89
Frozen Peas – $.75
Cheese Ravioli – $2.85
Breaded Chicken Breast – $5.99
Frozen Shrimp – $4.99
Granola Bars – $2.25
2 lb Spaghetti – $1.39
Protein Granola Bars – $2.29
Cheese Crackers – $2.85
Apple Sauce Pouches – $4.49
3 Avocados – 3 x $.69
Pork Loin Fillet – $3.71
Pork Loin Fillet – $4.28
Roma Tomatoes – $.89
Cake Mix – $.85
Cheese Puffs – $1.97
Frosting – $1.15
Potatoes – $3.29
Ham Lunchmeat – $2.45
Mini Bagels – $2.49
Grapeseed Oil – $3.69
Olive Oil Spray – $2.15
Bananas – $1.54
Milk Chocolate Morsels – $1.69
Brioche Buns – $3.65
Wheat Bread – $1.75
Cantaloupe – $1.89
Cream Cheese – $.79
Apples – $2.69
2 X Sliced Cheese – 2 X 1.79
Cinnamon Raison Bread – $1.79
Strawberries – $1.99
Honey – $3.15
Red Grapes – $1.79
Pickles – $1.19
Supereme Pizza – $3.99 ($2 OFF!!!!!)
Chicken Breasts – $7.53
Chicken Breasts – $8.45
$117.61
$10.52
Total – $128.13
Aldi Meal Plan
Dinner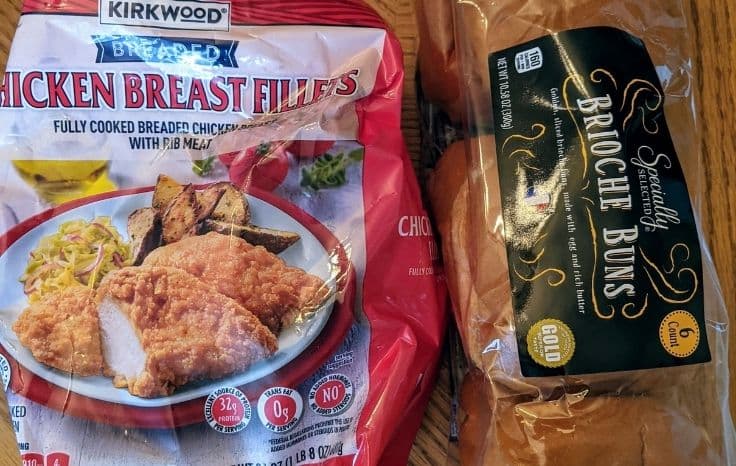 Imitation Chick Fil A Chicken Sandwiches – I use the frozen breaded chicken filets and Brioche Buns. Add pickles, lettuce tomatoes, ketchup and mayo or if your kids are like mine just bread and meat! My best friend shared this meal with me and ever since I tried it, it's on our meal plan every week!
Pizza
Shrimp Scampi, Spaghetti and Broccoli (Check out this easy Shrimp Scampi Recipe)
BBQ Pork Loin, Mashed Potatoes and Peas (The pork loin comes marinated so I just pop it on the grill. It usually takes 30-40 minutes depending on the size of the loin to cook through. I use a meat thermometer to make sure internal temp is 165)
Grilled Chicken, Rice and Broccoli
Sheet pan Chicken and Potatoes with Avocado and Tomato Salad – There are so many ways to sheet pan chicken. I marinate the chicken in my Mustard Vinaigrette dressing. I dice the potatoes into 1 inch pieces season with everything but the bagel seasoning and olive oil and bake together for 40-45 minutes. For the Avocado and Tomato salad, I just dice them up and dress them with the same Mustard Vinaigrette dressing.
Ravioli with Marinara Sauce with Salad
Lunch
My kids and husband eat packed lunches at work and school. My kids love cold pizza in their lunches so I the weekend I bake a pizza and then put it in their lunch boxes. This week I made chocolate chip banana muffins for their lunch boxes. They also get a piece of fruit with their meals. My husband gets leftovers or sandwiches with fruit and either crackers or muffins.
Cold Pizza
Ham and Cheese Sandwiches
Egg Salad
Mini Bagels
Breakfast
I serve all breakfast with fruit. I like to make a big batch of pancakes on the weekend and then we eat them throughout the week. This makes breakfast super simple on weekdays.
Cinnamon Raison Toast and Yogurt
Oatmeal
Pancakes
Snacks
If you have kids, you know snacks are a meal in itself. I send two snacks to school and also have after school snack to keep everyone from reaching hangry levels!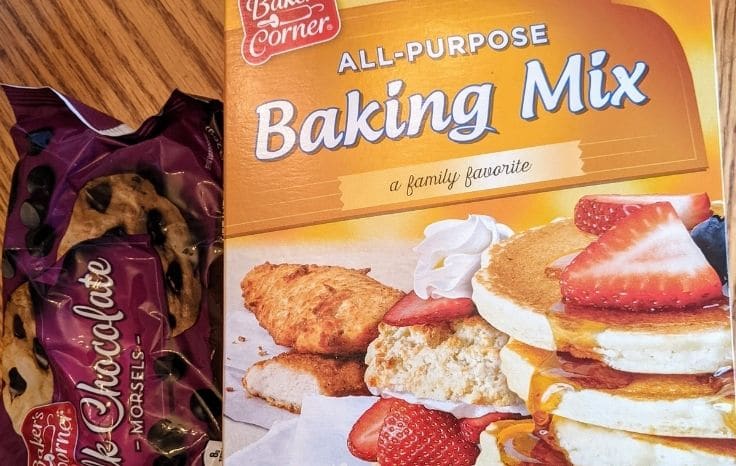 Chocolate Chip Banana Muffins – I love the Aldi Baking Mix. I use it for muffins and pancakes. They have a banana bread recipe right on the back that I use and instead of bread I turn it into muffins!
Granola Bars
Cheese Crackers
Cheese Puffs
Fruit
Cupcakes
Apple Sauce