We all have heard exercise is important and that many of us don't get enough. But what if I told you there is a way to get enough exercise with home workouts for FREE?
Did you know that according to a recent study by the World Health Organization, a quarter of the world's population doesn't get enough exercise. There are geographic discrepancies in this study which show depending on where people live the percentages vary. In the U.S. only 23% of Americans are getting the exercise they need!
There are tons of reasons for this. Most people cite either time or money as the major reason they don't get the exercise they need. Mixed in with those reasons is gym intimidation and the discomfort of working out.
Before you read any further, I want to be clear with you: I do not love working out. I've gone through various stages in my life where I exercised at a gym doing the elliptical FOREVER or only doing yoga classes.
I always ended up quitting these exercise regimens because, you guessed it; they took up a lot of time and money.
Then I had kids.
And I had even less time, money and motivation than ever.
But I started to feel the effects of not taking care of my health properly. So I decided I needed to start exercising.
I knew I didn't want to go to the gym, and I knew any running or biking just wouldn't fit into our family's daily schedule.
So I turned to free at home workouts. Most were from YouTube.
And friends, let me tell you. It has been awesome. So much so that 3 years later, I am still committed to a regular exercise program. That's the longest exercise relationship I've ever been in!
So I'm sharing my tips for getting started with free at home workouts in the hopes that you find your exercise groove and enjoy all the physical and mental benefits of working out!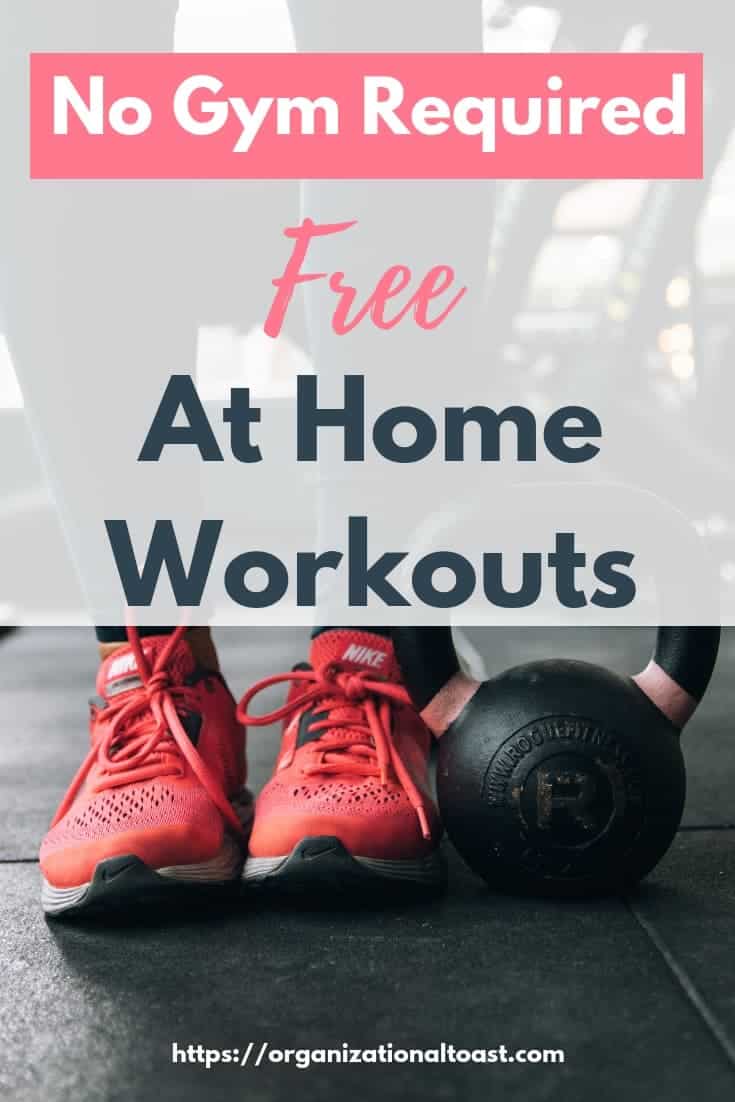 How To Start An At Home Workout Routine
Start Slow
If you haven't worked out in years (or ever) do not start by trying to run 5 miles or do an HIIT workout (high intensity interval training).
Start by finding some way to move your body, increase your heart rate and get your blood pumping. This might just mean going for a walk, doing a 15 minute yoga/stretching video, or finding a dance workout and just shaking your booty.
As you get stronger, you can incorporate more strenuous workouts. Remember: Your workouts don't have to look like anybody else's!
Find A Time That Works For YOU
Just because that girl you follow on Instagram wakes up at 4:30 to get her workout in doesn't mean that's when you have to.
I tried working out at 5 am and guess what? I was exhausted by the end of the week and I felt worse than when I wasn't working out. Instead, I find pockets in my day to get my workout it. Sometimes it is before the kids wake up. Other days it's before I cook dinner or even after the kids have gone to bed.
I recommend looking at your weekly schedule and finding those times before the week starts. It may be different times on different days and that's OK.
Focus On What It Will Feel Like Once You Are Done
I can tell you I never regret doing a workout once it's done. But sometimes starting is the hardest part.
This is an actual conversation I have with myself on those days I don't feel like working out.
Me: I don't feel like working out. I could probably skip it today.
Also Me: You'll hate yourself if you don't.
Me: I'll get over it.
Also Me: You know you always feel better after.
Me: Yeah, you're right.
Instead of dreading the workout focus on the after workout feeling! Focus on how good you will feel about yourself for getting it done.
Create a Workout Space
My workout space is in the living room. I keep my mats, my weights and my sneakers all in the storage space under the TV. I have the TV to play my YouTube videos on and I have a good line of vision so I can keep an eye on the kids.
Having a dedicated space (even though it's not really a workout room) helps me get into the right mindset to knock out a workout.
Pair Your Workout With Something You Love
This is a great way to get yourself to workout! Maybe that means listening to certain music while you get your workout in or having a tasty smoothie after. My husband likes watching his favorite show while he's on the treadmill. I like turning the audio down on my videos and putting on my own tunes. Whatever it is, find something you love and make it part of your workout routine!
Have a Plan
I mentioned this earlier but I can't stress this enough: schedule your workout times for the week and pick out what workouts you will do. On Sunday when I sit down for my weekly planning sessions, I write out when and what workouts I will do that week.
This way I don't have to waste time trying to figure out what workout I feel like doing that day.
Don't Give Up If You Don't See Immediate Results
I worked out twice this week and I still don't have abs! Actually, I've been working out for 3 years and I still don't have a six-pack.
What I have noticed is that over time I have become stronger and can push myself more. But it took time.
So even if you don't lose all the weight immediately or you feel like the exercise is "not working" just know a lot of the benefits of exercise are not immediately visible. You will get there and you can do it. If you need help with motivation check out " How To Stay Motivated to Achieve Your Goals".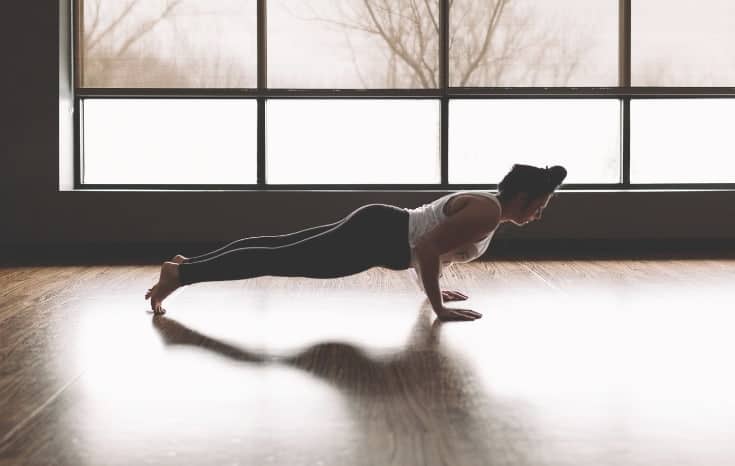 Free At Home Workouts
Now that you have a plan to get your workouts done, check out all these free exercise resources.
I've included a wide variety of workout plans. I recommend you try all different types of workouts until you find the one that works for you. Just because one workout doesn't suit you doesn't mean they all won't!
Jessica Smith has a really good variety of workouts including Barre workouts, 10 minute or less workouts, pre and postnatal workouts, and low impact workouts.
Fitness blender has lots of free videos for a variety of levels. Workouts range from Cardio, HIIT to weight training videos. Just be aware that not everything on this website is free. Some videos and challenges are fee based.
In addition to some great workout videos, there are a number of great videos about nutrition including a video on healthy treats and immunity boosting foods.
When I think of Popsugar, I don't normally think of workouts. However, their workouts are so fun and it feels like you are hanging out with your girlfriends while you get your workout in!
So many good videos here, some of which are done by celebrity trainers. You can choose from beginner workouts all the way to "get shredded" workouts. My favorite workouts are the dance cardio ones! (The kids love doing these with me)
Yoga/Pilates
I loooove fightmaster yoga. She has a ton of videos for a variety of skill levels. She also has 30 day and 90 day challenges that start out super easy and build as you move through the challenge.
Not only are the workouts perfect for all levels, She also includes free workout planners along with lots of other tools to set you up for success.
I love the Yoga By Candace videos. She has lots of great short videos to help you get started. I love her Heart Opening Practice. It just makes me feel happy every time I do it!
With over 4.3 million YouTube subscribers you know Adrienne has got some great yoga videos. She has a great beginner series and 10-15 minute yoga practices for busy people.
I really like these videos because there are a variety of instructors to choose from as well as 30 day challenges to get you started.
Final Thoughts….
Now you have all the tools you need to start with at home workouts for free.
Remember: Exercise is not meant to be stressful. It is one of the best forms of self care! Find an exercise routine you love and make it your own!