There is so much on your plate you don't know where to start or you are caught staring at your screen with only the sound of crickets playing in your head.
Does this sound familiar?
Whether you run your own business, work outside the home or in the home, you have probably struggled with productivity at one time or another.
We have all been there.
I started working from home 4 years ago when our second child was born. While I am so grateful for the opportunity to work from home it took some time, and a really awesome babysitter, to find ways to be productive in order to fulfill both my roles as an employee and a mother.
During that time, I came to realize that the foundation to being a productive working mom is good time management.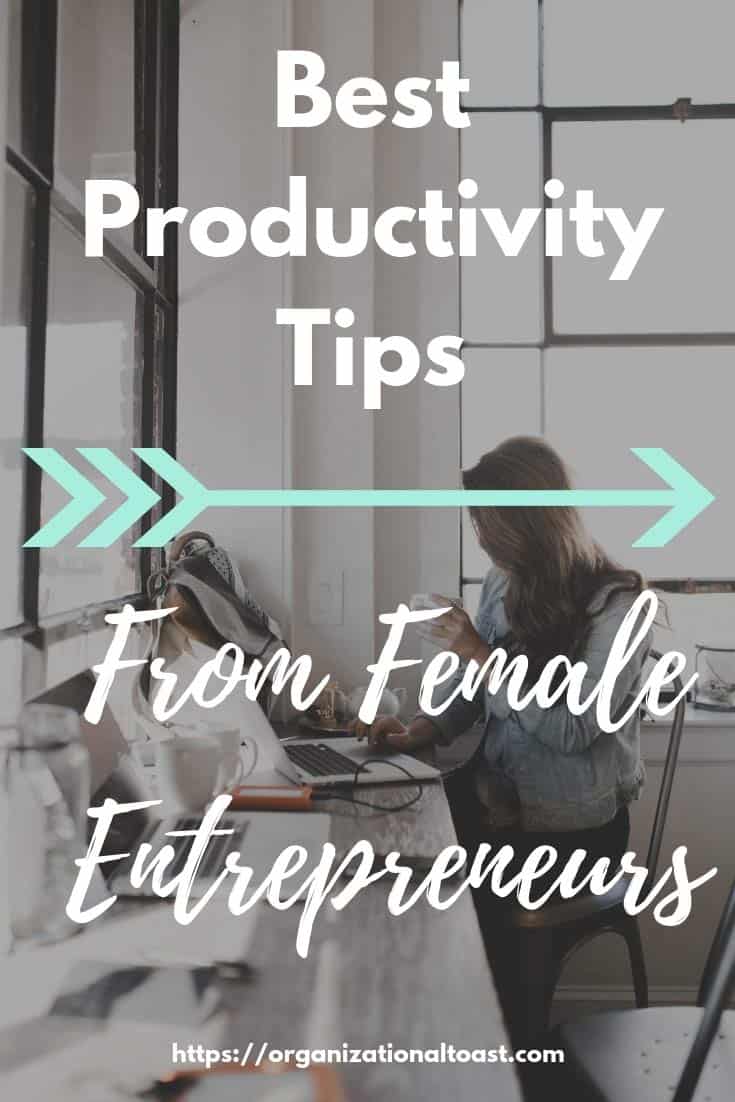 Female Entrepreneurs Share Their #1 Productivity Tips For Working Moms
So how do you set yourself up for success and increase your productivity?
I talked to female entrepreneurs that are rocking it in their online businesses to find out what their number 1 productivity tips for working moms.
My best tip would be to set timers. I am someone who usually focuses too much time on one specific task. What I like to do is list out my tasks from most important to least important. Then I will set a timer on my phone (usually an hour depending on the task) Once the timer goes off I will stop the task and focus on my next "to do"! If I don't complete my task by the time my timer is up, I will bring it to the bottom of my list and work on it again after I work on all other items on my "to do" list! -Ell Duclos
Ell is the creator behind Boss Girl Bloggers and ellduclos.blog and has turned her passion for writing and inspiring others into a full time career.
It's so important to be intentional with your time. Create an hourly schedule, set an alarm, and stay focused on your work during work hours. It's really the best way to get things done and excel in your business. – Cate

Cate Rosales is the mommy-of-two and blogger behind SweetandSimpleLife.com. She helps aspiring female entrepreneurs start a blog and earn passive income, so you can live life on your own terms!
Avoid over-scheduling your time. Plan no more than 60% of the time you have available during a work session. You will be able to tackle unexpected items and allow yourself to go slower, so that you can be more creative and thoughtful about your work. – Jenny
After years of juggling work and home life, Jenny left her job to be a full time mama to her three littles. She loves encouraging other mamas to find the right balance so their families can thrive. Read about Jenny's tips for Spending More Time Doing What You Love, on her blog Home After Three.
My number 1 productivity tip is to practice single tasking. When you turn off distractions and focus on one task at a time, you can put 100% of your energy into that project. What's more, you don't waste time refocusing your thoughts while jumping from task to task. Single tasking helps you quickly reach your "flow state" and stay there, which allows you to plow through your to-do list with much greater efficiency. -Paula
Paula is the voice behind I'm Busy Being Awesome, a resource for busy women looking for balance in their lives. Working together, she helps women create strategies to manage their time, get organized, maximize their productivity, and find time for fun. Read all about Paula's "3 Simple Steps to Singletasking" to learn more!
Staying productive as a WAHM is essential because it is easy to fall into the trap of doing household chores instead of working. One of my biggest tips is to be consistent in your planning. Before I start each week I plan my days with themes. Monday may be an admin day, Tuesday a writing day, and Thursday a promotional planning day. Having a theme allows me to create a plan for each day according to how it's themed. This keeps me organized and on task! – Autumn
Autumn is an honest, real and never perfect bad-ass wife, mom and PPD, anxiety and life survivor. She's also behind the blog She's A Wreck that brings you practical parenting and motherhood tips.
I feel that the best strategy to increase productivity is to stop multitasking. I have found that when I focus on one task at a time I am more efficient and focused. As a mom this means that I often work when my children are asleep or outside with friends.- Lauren
Lauren's site Simply Well Balanced, helps moms create balance and find the joy in motherhood. She shares tips about practical minimalism, homemaking and family activities.
Sometimes we bypass the most practical things for what's new and flashy. However, when it comes to getting more done, as much as possible, you should get more sleep! -Rose Barnett
Rose Barnett knows what it means to struggle as a mom and that's why she compiled 97+ Successful Mom Resources to help you find purpose, get organized and generate an income.
Set Yourself Up For Success
Now that you have these awesome tips to help you with productivity, I want to share with you a few tools I use that help me stay on track and keep me moving towards my goals.
Planners
Day Designer
This planner will whip you into shape and keep you on track. It's packed with tools to help you shape your goals and structure your days and weeks so that you are working smarter, not harder. Check out all the beautiful planners in the link below
Day Designer 2021 Planners
Productivity Planner
This is another planner that I absolutely love. This planner provides some guided list making and helps you beat procrastination!

Productivity Planner – Daily Planner – Non Dated 5 x 8″ – Accomplish your 2018 Goals
Motivational Books
If you are looking for some books to give you a kick in the butt and jump start your productivity, here are a few of my favorites:

The Power of Habit: Why We Do What We Do in Life and Business

The Happiness Advantage: How a Positive Brain Fuels Success in Work and Life

You Are a Badass at Making Money: Master the Mindset of Wealth

Girl, Wash Your Face: Stop Believing the Lies About Who You Are so You Can Become Who You Were Meant to Be
Tech Tools
These are some of my favorite tech tools that work wonders for my productivity. And they are all FREE!
The all in one family organizing suite. It includes a calendar, to do lists, recipes and meal planners, and a family journal.
Google Drive
You can create text documents, spreadsheets, presentations and more with google drive. Plus, since everything is web based you can access your documents from anywhere, even your phone. And the autosave function is a life saver.
Google Keep
Think of google keep as your virtual sticky notes. I use google keep to take quick notes, or write down an idea or something I need to add to my to do list.
Stayfocused
StayFocused is a free Chrome extension that restricts the amount of time you are allowed to spend on "time-wasting websites" like Facebook.
Armed with your new set of productivity tips for working moms and some awesome new tools, it's time to set some big goals and get to work!
What do you struggle with the most when it comes to productivity? What's something that gets you motivated and keeps you on track for meeting your goals?