Looking for some fun stocking stuffer ideas for tween boys? Need some inspiration for unique gifts that won't break the bank?
Sure, most of the time you can buy a tween some electronics and be done with it.
But if you're looking for creative ideas other than electronics it can be hard to pick something you know they will really enjoy and use.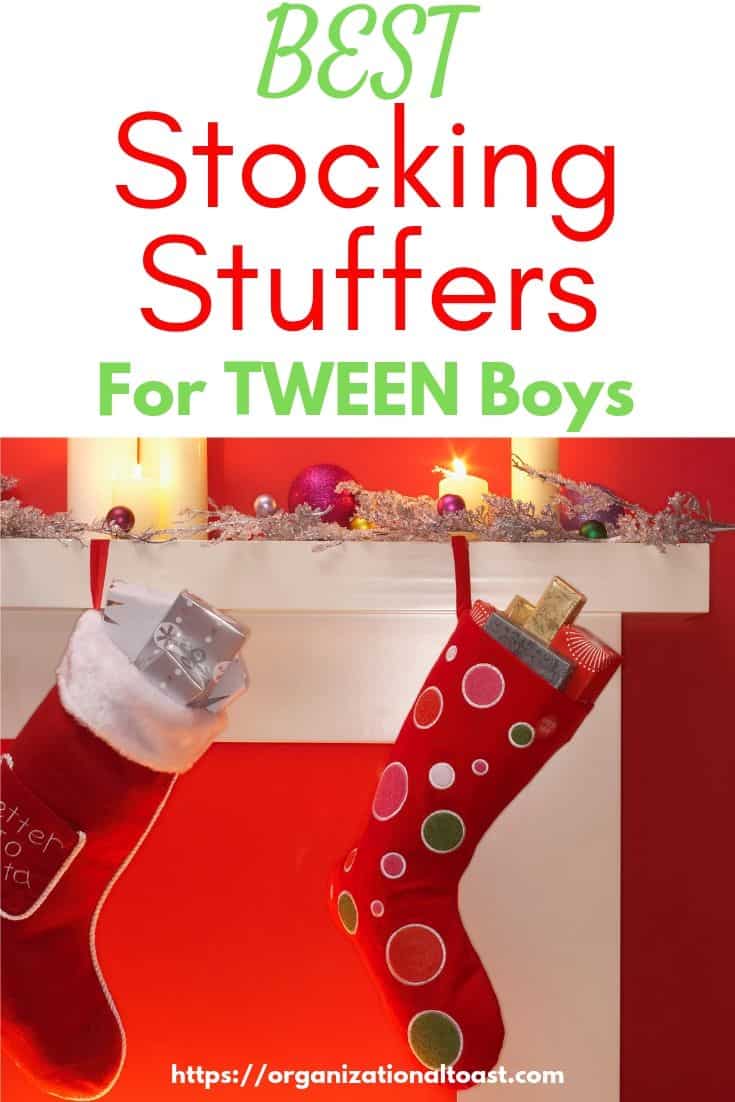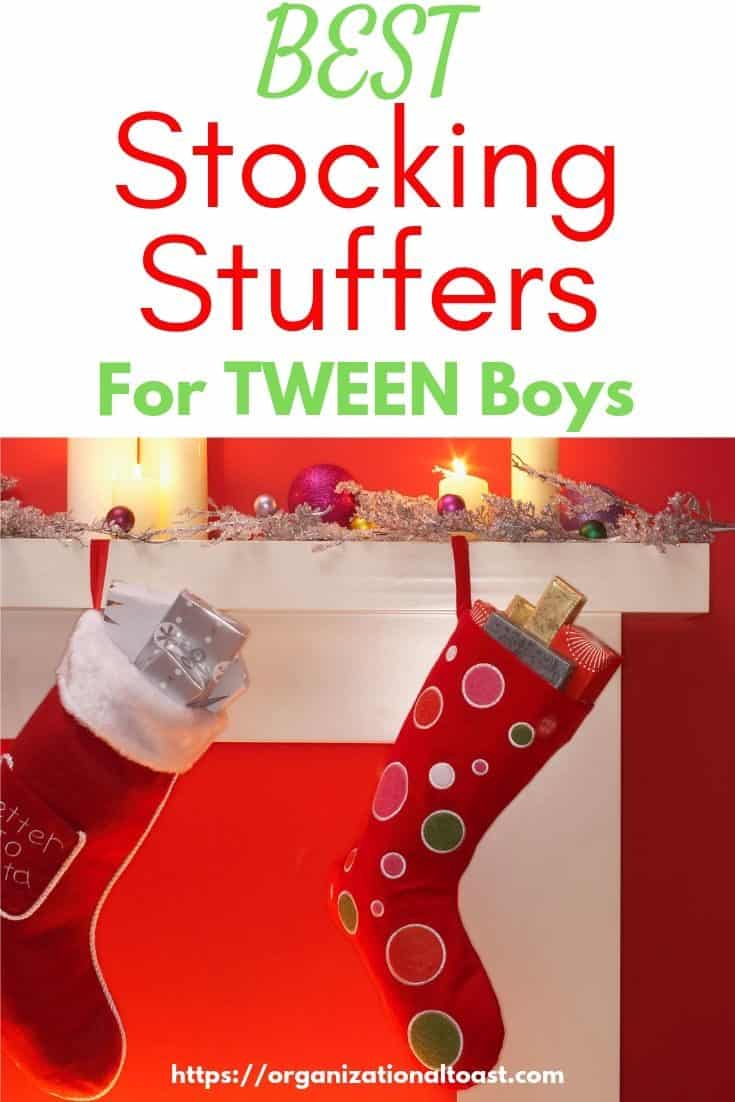 Well, I have got you covered. Whether your favorite tween boy is your son, grandson, nephew or friend this list of stocking stuffers for tween boys is bound to have something fun for them!
And the best part?
I've kept this list to super budget friendly gift ideas.
These inexpensive stocking stockers are sure to get a big smile from your favorite tween boy!
14 Stocking Stuffers for Tween Boys
Remember when every kid wanted a drone for Christmas? Well this holiday season, hand drones are the newest and hottest item. This drone doesn't require a remote and is controlled when the high tech sensors detect obstacles. It's absolutely incredible to watch this mini drone scoot around the house without crashing. You and your tween will be amazed as you watch this mini drone zoom through the air! It's inexpensive and fits right in your tween's stocking.
This easy to learn silly card game will get your tween away from the screen and having a blast in no time. It's a fill in the blank game inspired by Cards Against Humanity, but much more family friendly. This toy has won several awards, including a National Parenting Product Award and a Scholastic Gold Star Toy Award.
The first time I saw a Stickbot, I thought it was just another fidget toy. But it's so much more! It's an awesome little toy your tween can use to make stop animation videos. The stickbot is extra flexible and can be posed in a ton of different and silly ways. Using the free stickbot app, your tween can easily pose, film and edit their stickbot animation and share it with their friends!
My son was gifted this handheld gaming system and he absolutely loves it. It comes with over 300 retro games. It's small, lightweight, very durable and easy to use. The best part is it doesn't have games he already has on his pad and there are so many to choose from. For the price, this is the perfect stocking stuffer for your tween boy!
Anything Minecraft in our house is a win. The Minecraft version of Uno is no different. It has all the Minecraft characters plus a unique rule that makes this classic game so fun! Kids of all ages and adults will have tons of fun with this game!
Poop emoji and fart sounds. I mean, need I say more? This silly pen will have everyone giggling. Just make sure your tween knows to keep the sound off during class!
Sneak in a good STEAM activity for your tween without them even realizing it! This small device combines music and computer programming in a fun and super accessible way. Kids will learn how to make their own electronic music, play songs, or code a DJ Booth of sound effects. It's designed by teachers and perfect for beginners!
This game is truly addicting! Test your coordination with this simple but exciting balancing game. Winner of the Creative Kids 2018 Toy of the Year, this toy is fun for the whole family.
This 3-in-1 night light, alarm clock and bluetooth speaker changes colors and has a dimming option. It's sleek design is perfect for your cool tween. Plus, they'll be able to rock out in their room!
Perfect for keeping your tweens toes warm during winter break, these gamer socks are a silly gag gift your favorite gamer will love. These socks are sure to get a giggle from your tween!
Anything Fortnite is a big hit around here, and my guess it's the same with your tween. You can choose from a wide variety of pint size fortnight heroes. And at this price you can get a few different packs!
Even if your tween isn't a big reader, they will love the Alex Rider Series! These books are about Alex Rider a teen spy hired by MI6. Alex is sent on amazing spy missions with tons of adventure. Reminiscent of James Bond, these adventure stories are perfect for your young adult reader!
Perfect for reading in bed, camping, riding their bikes in the evening hours, this headlamp will come in handy!
This fun fidget cube will keep your favorite tween busy! This cube can be configured into tons of different shapes. It's small, lightweight, and lots of fun!
Are you sus? Your tween will get a kick out of these collectable Among Us figurines! Small enough to fit in a stocking but plenty of fun!