One of the reasons I started this site was to share everything I learned on my own debt free journey.
When we were still in debt and working hard to pay it all off, I found inspiration and motivation from hearing how other people were successful. Through these stories I was often reminded that the steps to becoming debt free were simple but that it was never easy.
Every debt free journey is different and provides opportunities for us to learn and apply new tactics to our own debt free journey.
So, today I'm sharing a debt free story from Sara Conklin who paid off $100,000 in debt including the mortgage! She is also a Financial Coach and now provides coaching services and shares her best tips on her site Frozen Pennies!
Tell me a little about yourself.
My name is Sara and I am 46. I am a wife of 22 years, a mom of two boys, ages 20 and 18. I am also a bonus mom to an amazing man and his wife. We are expecting our first grandchild in May – we are all SO EXCITED! It's a girl!! I am a writer over at Frozen Pennies.
How much debt and what kind of debt did you have before starting your debt free journey?
We have paid off over $100,000 including our house. Our debt besides the house were two car loans, student loans, and a family loan.
How long did it take you to pay off all your debt?
It took us about three years to pay everything off except the house. Then my dad passed away and left us almost the exact amount we still owed on the house. We took that as a gift from heaven and paid it off.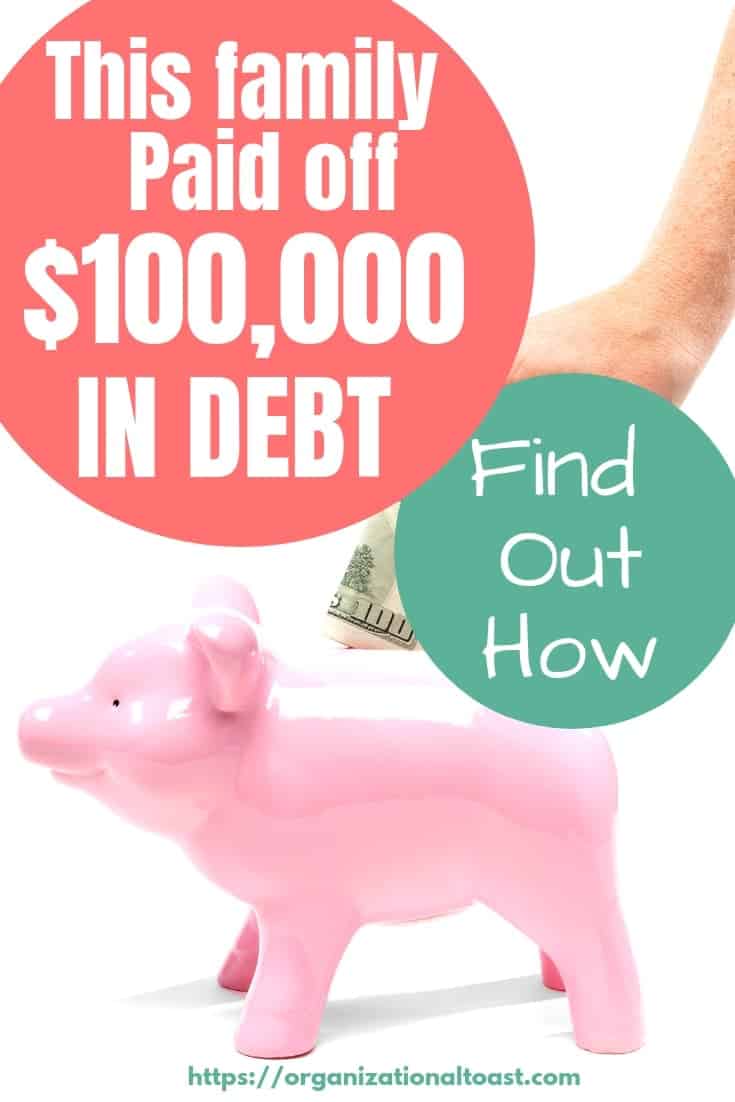 How did you budget? Excel? Budget Planner etc? How did it differ from how you were budgeting?
I love a budget binder. I am a total pencil and paper nerd. I love adding up the numbers and creating budgeting sheets to track everything I may need. I have tried all the apps and computer programs but none of them work as well as my trusted Budget Binder.
Did you experience any setbacks while paying down your debt? How did you handle those setbacks?
There always seem to be set backs. The car needs a new alternator, the hot water heater dies. Preparing the best way you can always helps. Having an emergency fund and keeping up with sinking funds makes all the difference. Facing those set backs can be discouraging but remembering why you are doing this makes everything just a little easier. Knowing that soon you will owe no one and that you are changing your family tree really matters.
Share your best money saving tip!
As a Financial Coach, the BEST advice I can give anyone wanting to get out of debt is to prepare. Preparation is the secret. Prepare for those unexpected happenings to come along, because they will. If you have money set aside for household expenses, it won't hurt as much if the microwave dies. You won't have to put your debt elimination plan on hold to buy a new one because you will already have it set aside just for this purpose.
Did you do anything extreme to pay off your debt?
I wish we had! It would make for a much better story. However, if you call camping every summer our only "vacations" and sleeping in a used camper (that we bought cheap) extreme, than that would be the best of it!
What would be on piece of advice you would give others just starting to tackle debt?
Educate yourself. Face your debt head on and know your numbers. This will go as fast (or as slow)as you want it to go. And its only temporary. Living on less doesn't have to last a life time unless you want it to.
What advice would you give to people about staying debt free?
Cash. Is. King. Seriously. If you don't have the cash in hand, you do NOT buy it. Bottom line. You do not need it. It will eliminate the urge to ever have another credit card.
Is there anything else you want to share about your debt free journey?
I run into people often who feel they won't be able to survive without credit cards. We have been doing it for years. Even before we started our Debt Free Journey. I was in so much consumer debt in college that it took years to dig out. I checked my credit a few months ago and I am proud to say, my credit score is zero. We are doing just fine without it!!
Thank you Sara for sharing your debt free journey with us!
Related: Must Read Getting Debt Free Books for Your Debt Free Journey
Would you like to share your own debt free story? You don't need to be a blogger or a personal finance guru! Just send me an email at jill@organizationaltoast.com with "Debt Free Story" in the subject line and I'll send you some questions so you can share your own story.