Farmhouse decor can get very expensive very fast. You can cut the costs by bargain hunting or trying a DIY frugal project but if you're short on cash and time you'll love these cheap farmhouse decor ideas.
With some of these simple accent pieces and a great coat of the right paint color you can easily transform any room to achieve that farmhouse look a la Joanna and Chip.
The best part is that everything on this list is under $20 and will help you create that cozy farmhouse look and stay on budget.
I've separated these items out into several categories for easy browsing. You can skip to any category by clicking on of the categories below.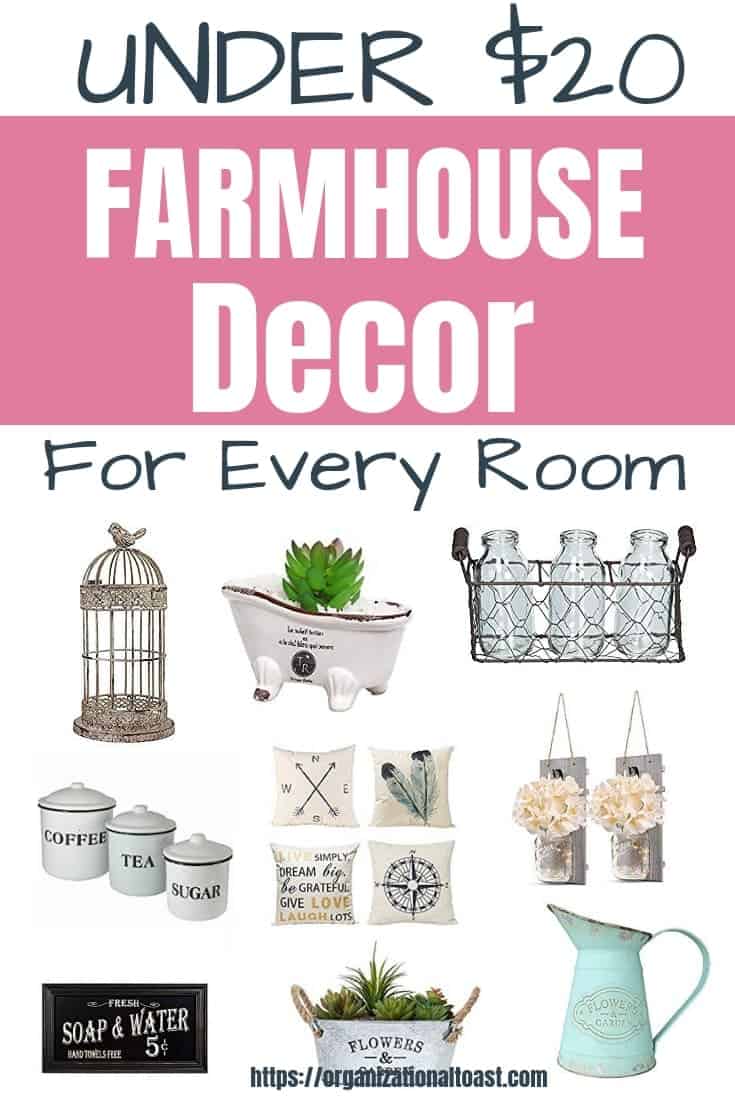 Wall Decor

Mason Jars Sconce, Rustic Home Decor,Wrought Iron Hooks, Silk Hydrangea and LED Strip Lights Design for Home Decoration (Set of 2)
Rustic Wood Arrow Sign Wall Decor r
Vintage Bath Advertising Wall Art 

Barnyard Designs Farmhouse Retro Vintage Tin Bar Sign

Rustic Wood and Metal Arched Window Wall Decor

Cast Iron Native American Arrow Wall Decor

Comfify "Love" Decorative Wooden Letters 


Vintage Distressed Look Farm House Metal Room Sign

Gather Word Galvanized Metal Wall Decor

Barnyard Designs Vintage Florals Botanical Wood Plaques

Be Still & Know White Wash Pine Wood Farmhouse Stick Sign

Chiaravita Vintage Rustic Torched Wood Hanging Wall Mount Floating Shelves

Cotton Stems Farmhouse Style Display Filler

Industrial Black Iron Pipe Bracket Wall Mounted Floating Shelf Hanging Wall Hardware 

Small Galvanized Metal Olive Wall Half Bucket

Rustic Galvanized Metal Distressed Style Heart 
Pillows


"And So Together They Built a Life They Loved" Cotton Linen Home Decorative Throw Pillow

Burlap Farmhouse Decor Buffalo Checkers Plaid Cotton Linen Decorative Throw Pillow

Vintage Farm Truck Decorative Throw Pillow Case 

Meekio Farmhouse Pillow Covers with Home Sweet Home Quotes 

"Family a Little Bit of Crazy a Little Bit of Loud and a Whole lot of Love" Cotton Linen Home Decorative Throw Pillow Case

Set of 4 Cotton Linen Square Throw Pillow Case 

Phantoscope Set of 2 Beige Button Linen Decorative Throw Pillow Case Cushion Cover

Retro Checkers Plaids Farmhouse Tartan Throw Pillow Covers

Decorative Throw Pillow Covers Set of 4 Cotton Linen Cushion Covers

Set of 4 New Living Series Coffee Color Decorative Throw Pillow Case Cushion Cover

All Smiles Throw Pillow Covers Case Decorative Farmhouse Cotton Linen
Bathroom

SheeChung Mason Jar Bathroom Apothecary Jars 

Colonial Tin Works Chicken Wire Toilet Paper Holder

Home Classic Farmhouse Stripe Kitchen Towels

Farmhouse Metal Wire Bathroom Wall Mount Hair Care & Styling Tool Organizer Storage Basket

White Porcelain Petite French Country Style Claw Foot Bathtub Vintage Flower Pot Planter/Soap Dish

Rustic Barn Door Shower Curtain for Bathroom

Colonial Tin Works Galvanized Steel Vintage Dalton Wall Box with Towel Bar

His and Hers Towel Hooks (Set of 2); Cast Iron Rustic Farmhouse Decor Door Wall Hangers

Park Designs Antique Toothbrush Holder
Kitchen
Farmhouse Salt and Pepper Caddy Set

Creative Co-opMetal Containers with Lids, Coffee, Tea, Sugar, 

Eat Red Wooden Farmhouse Kitchen Wall Plaque

Everything Is Better in a Mason Jar Tea Towel

Red Ceramic Mason Jar Kitchen Sponge Holder


White Ceramic Mason Jar Measuring SpoonsGoodscious

Farmhouse Kitchen Signs


Farmhouse Decor Metal Wire Food Storage Organizer, Bin Basket with Handles for Kitchen Cabinets, Pantry, Bathroom, Laundry Room

Dishwasher Magnet Clean Dirty Sign
Accent Pieces

Mini Mason Jar Night Light in Rustic Brown Metal Color

Blossom Bucket Small Rectangle Decorative Metal Basket with Three Glass Bottles

Shabby Chic Metal Jug Vase Pitcher Flower Holder

High Decorative Vase with Unique Heart-Shaped and Rope Design, Galvanized Finish

Farmhouse Glass Bottle with Chicken Wire Wrap

The Bloom Times 2 Pcs Fake Plant for Bathroom/Home Decor

Rustic 'Flowers & Garden' Bucket Design Small Metal Succulent Plant Container w/Twine Handles

Galvanized Washboard 

Slate Metal Serving Tray with Rust Trim & Cutout Handles

Shabby Chic Cast Iron Decorative Wall Hooks

Stonebriar Small Aged Wire Bird Cage

Enamel White Farm Fresh Milk Jug Decor Metal Black/White

Stonebriar Galvanized Metal Serving Tray with Rust Trim and Metal Handles