If you've seen my other meal planning posts, you know that we budget $125 a week for our family of four.
We've made some big savings goals for the next year, which includes saving up to be able to pay cash to redo all the floors in our house, and so I'm looking for little places we can trim.
Grocery shopping is definitely one of those ares in our budget where I can make some better decisions.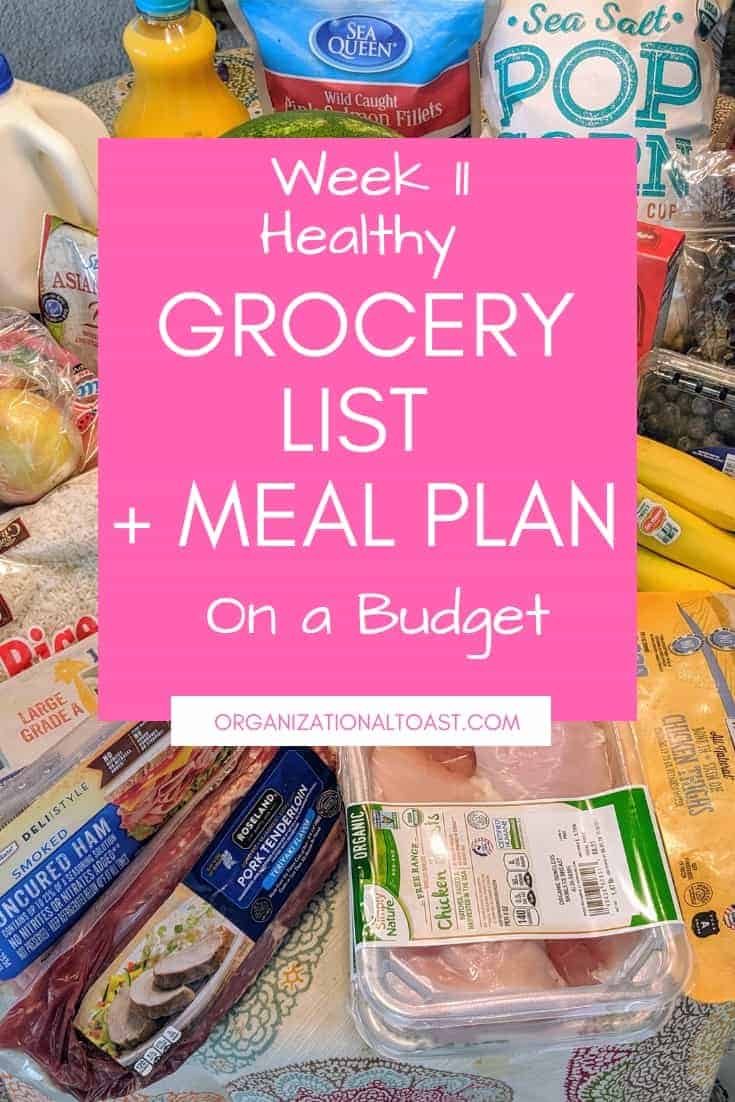 Since our grocery budget has been the same for years, I'm really nervous about how I will be able to make this work. I've cut our budget to $100 a week.
And this week I was able to stay under $100!
The hardest part was that I FELT like I didn't buy enough, when in fact we had enough food. Everything was written out on my meal plan sheet and I knew we would be fine. (Go here to download my meal planning template)
Check out exactly what I bought below!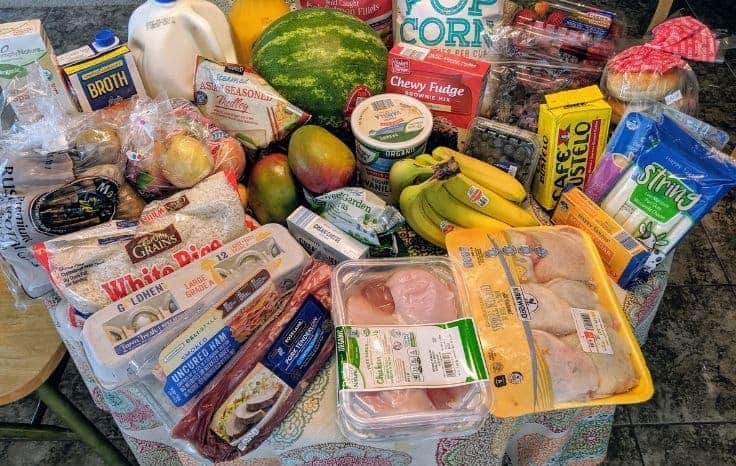 Aldi Grocery List
5 Lb. Baking Potato – $1.99
Large Eggs – $1.07
Wild Caught Salmon – $3.99
Asian Blend Frozen Vegetables – $1.59
Frozen Peas – $0.79
Mild Cheddar – $1.99
Deli Sliced Cheese – $1.99
Deli Sliced Ham – $2.49
String Cheese – $2.79
Chicken Broth – $1.39
Coffee – $2.99
Organic Whole Wheat Spaghetti – $1.09
3 Mangoes – $1.17
Brownie Mix – $0.85
Organic Yogurt – $2.89
Organic Bagels – $2.99
Long Grain Rice – $1.99
Popcorn – $1.99
Red Grapes – $3.99
Bananas – $0.83
Blueberries – $1.69
2 X Strawberries – $1.29
Cream Cheese – $1.29
3 lb Apples – $3.49
Watermelon – $2.79
Pork Tenderloin – $6.56
Chicken Thighs – $4.86
Organic Chicken Breasts – $8.51
Organic Chicken Breasts – $8.45
Gallon of Milk – $2.55
Taxes: $7.33
Total: $83.63
Looking for More Meal Idea Inspiration? Check out The Dinner Daily. Try 2 Weeks Free! Make Your Dinners Easy & Healthy with The Dinner Daily!
Meal Plan
As with all my weekly meal plans I had some items already in my pantry and fridge that are part of these meals. I always take an inventory before I go to the grocery store to help me come up with my meals. This week those items include: lettuce, tomatoes, peanut butter, honey sandwich bread and oatmeal.
Dinner
Chicken and Rice Soup
BBQ Pork Tenderloin, Rice, Salad
Vegetable Lo Mein
Grilled Chicken, Mashed Potatoes, Peas
Foil Pack Salmon, Mash Potatoes, Green Beans
Chicken with Mustard Sauce, Rice, and Salad
Leftovers
Lunch (all served with fruit)
Ham and Cheese Sandwiches
Peanut Butter and Honey Sandwiches
Leftovers
Breakfast
Bagels and cream cheese
Oatmeal and berries
Scrambled eggs and toast