I keep telling myself I'm not going to buy anymore kitchen gadgets.
But then Christmas or a birthday rolls around and everyone asks me what I want and I usually ask for the kitchen gadget I said I was not going to buy.
But isn't that what a present is supposed to be? Something you wouldn't buy yourself?
This is exactly how I ended up with an air fryer.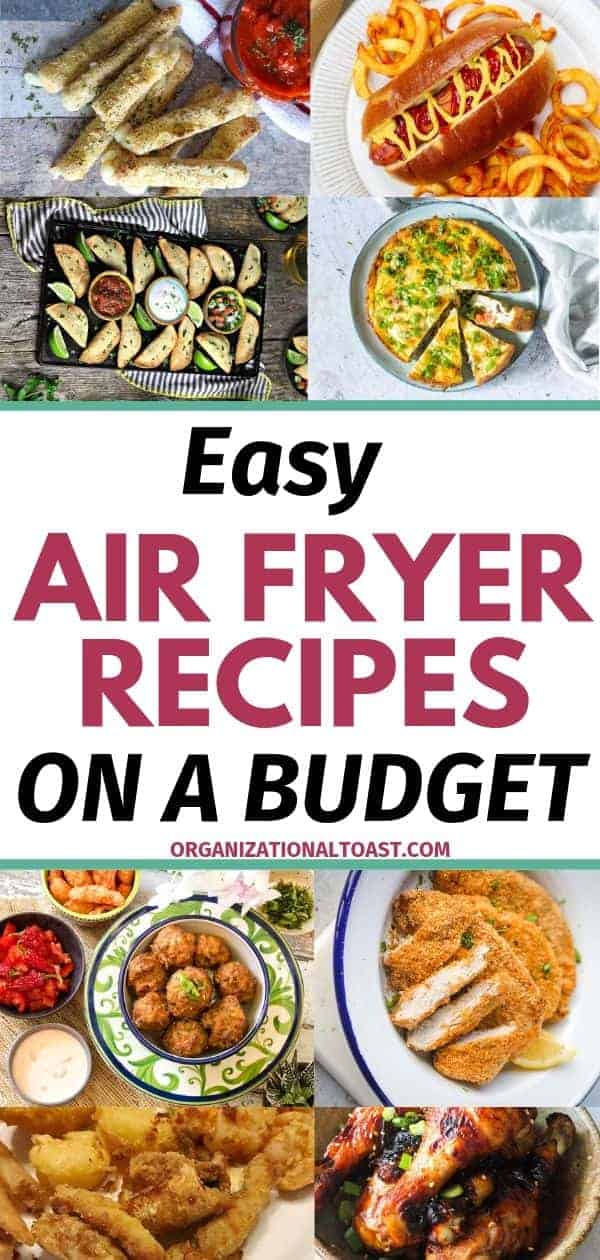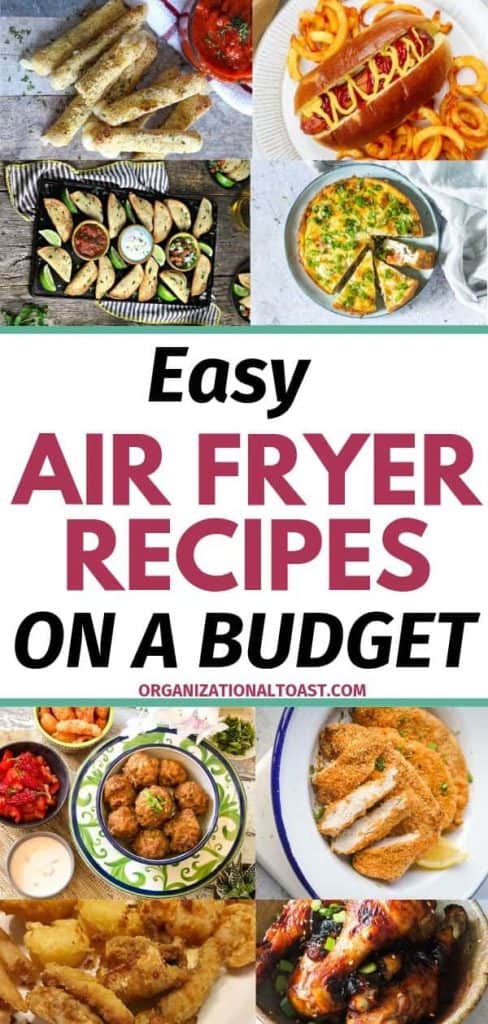 Christmas rolled around and beyond a new pair of sneakers and some workout clothes, I didn't really know what to put on my Christmas list. So I added an air fryer because, well, why not?
Turns out it was my most favorite Christmas present and I'm kicking myself for not actually buying it for myself sooner.
Related: Cheap Meals Your Family Will Love
I'm a total air fryer nut now and have been on the hunt for a variety of easy air fryer recipes to try. And of course, I'm always looking for recipes with inexpensive and simple ingredients.
I've put together a list of 50 simple budget friendly easy air fryer meals. It's a pretty long list so you should probably go ahead and pin this.
I've organized them by the following categories to make it easier to find exactly what you are looking for:
Vegetables
Chicken & Turkey
Seafood
Beef & Pork
Meatless
Must Have Air Fryer Accessories
These are some of my must have air fryer accessories that make cooking in the air fryer that much easier!
Air Fryer Liners are a small investment. They prevent your food from sticking while also keeping your air fryer clean. Less mess is always worth it!
Air Fryer Racks make your air fryer more versatile by maximizing your cooking surface and allowing you to cook kebabobs and other tasty foods!
This Air Fryer Accessory kit has everything you need to maximize the use of your air fryer at the best value!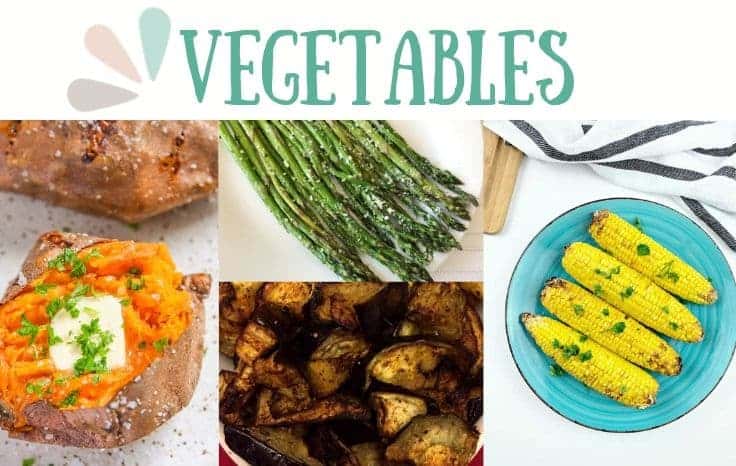 Vegetables
Air Fried Asparagus with Garlic and Parmesan – Journey to SAHM
Air Fryer Corn on the Cob – Stylish Cravings
Baked Sweet Potato– Courtney's Sweets
Air Fryer Eggplant – Melanie Cooks
Bacon Wrapped Asparagus – Monday is Meatloaf
Cajun Sweet Potato Fries – Canadian Cooking Adventures
Roasted Rainbow Vegetables – All Recipes
Roasted Cauliflower – Eazy Peazy Mealz
Sweet and Spicy Air Fryer Brussel Sprouts – My Forking Life
Green Beans – Vegetarian Mamma
Zucchini – Hungry Girl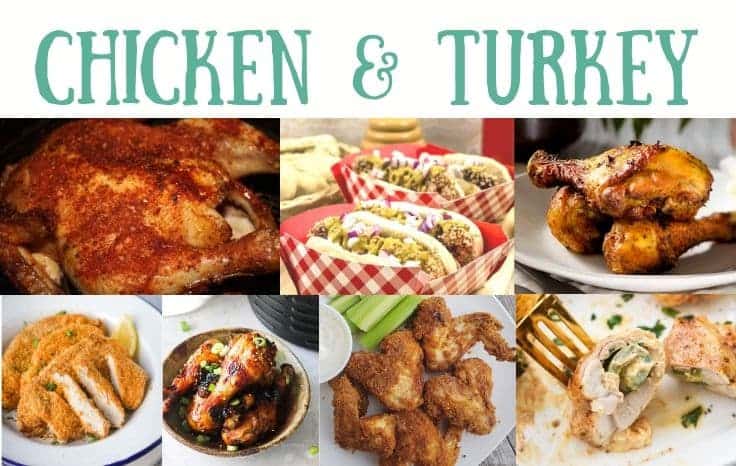 Chicken & Turkey
Golden Crispy Air Fryer Chicken Breast – Recipes from a Pantry
Tandoori Chicken – Piping Pot Curry
Crispy Air Fryer Chicken Breast – Little Sunny Kitchen
Teriyaki Chicken Drumsticks – Berry Maple
Garlic Parmesan Wings – Dr. Davinah's Eats
Keto Friendly Chicken Wings – Everyday Shortcuts
Crispy Chicken Wings – Wholesome Yum
Tempero Baiano Brazilian Chicken – Two Sleevers
Basic Chicken Breasts (no breading) – Carmmy
BBQ Chicken Breast – My Forking Life
Jalapeno Popper Stuffed Chicken – Meal Plan Addict
Buffalo Chicken Egg Rolls – The Endless Appetite
Rotisserie Chicken – Recipe This
Chicken Tender "Hot Dogs" – Awe Filled Homemaker
Chicken Breast with Cornflake Crumbs – Courtney's Sweets
Cheesy Chicken Tenders – Intelligent Domestications
Simple Air fryer Turkey Dinner – Carmyy
Turkey Meatballs – Recipes from a Pantry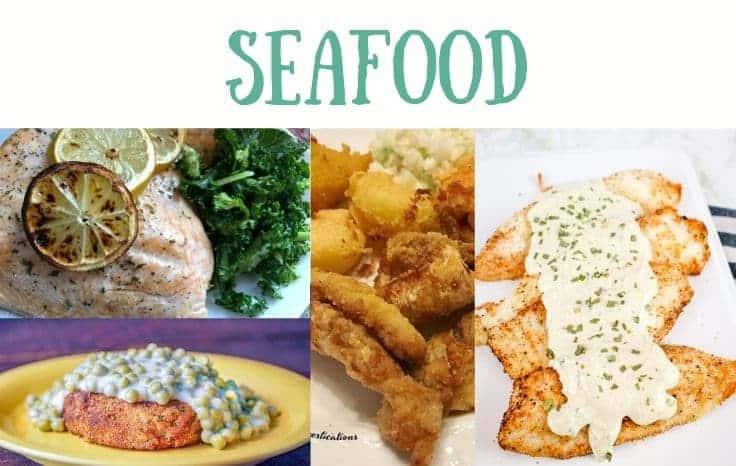 Seafood
Lemon Dill Salmon – Mama Cheaps
Salmon Patties – Monday is Meatloaf
Low Carb Fried Fish with Dijon Mustard – The Endless Appetite
Southern Fried Catfish Nuggets – Intelligent Domestications
Perfect Airfryer Salmon – Noble Pig
Bang Bang Panko Breaded Fried Shrimp – Stay Snatched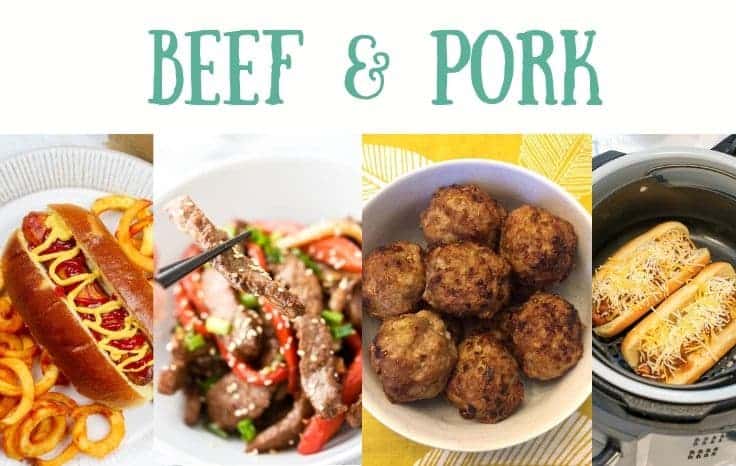 Beef & Pork
Crunchy Air fryer Hot Dogs – Little Sunny Kitchen
Air Fryer Meatballs – Melanie Cooks
Chili Hot Dogs – The Typical Mom
Taco Meatballs – Two Sleevers
Asian Beef and Veggies – The Meal Plan Addict
Steak Bites (or Steak Tips) With Potatoes– Best Recipe Box
Meatloaf – PaleOMG
Mustard Glazed Pork Tenderloin – My Forking Life
Breaded Pork Chops – Kitchen Dreaming
Chinese Salt and Pepper Pork Chops – This Old Gal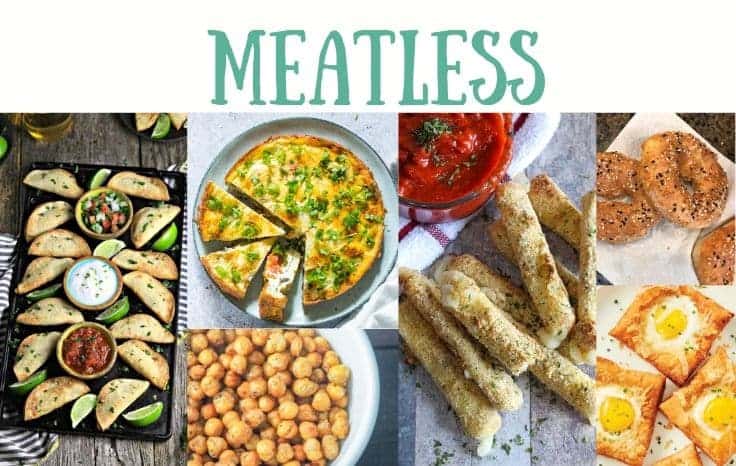 Meatless
Simple Grilled American Cheese Sandwich – This Old Gal
Simply Seasoned Air Fryer Chickpeas – Monday Is Meatloaf
15 Minute Air Fryer Bagels – Gimme Delicious
Macaroni and Cheese Balls – Awe Filled Homemaker
Potato Air Fryer Tacos – Vegan Huggs
Mozzarella Sticks – Kimspired DIY
Breakfast Frittata – Recipes From A Pantry
Puffed Egg Tarts – The Flying Couponer
If you're looking for more budget friendly meal ideas check out my Weekly Grocery Haul and Meal Plan Series!