My weekly grocery budget is $125 for our family of four. We eat breakfast and dinner at home and I pack lunches for my husband and the kids on the days they are at work/camp.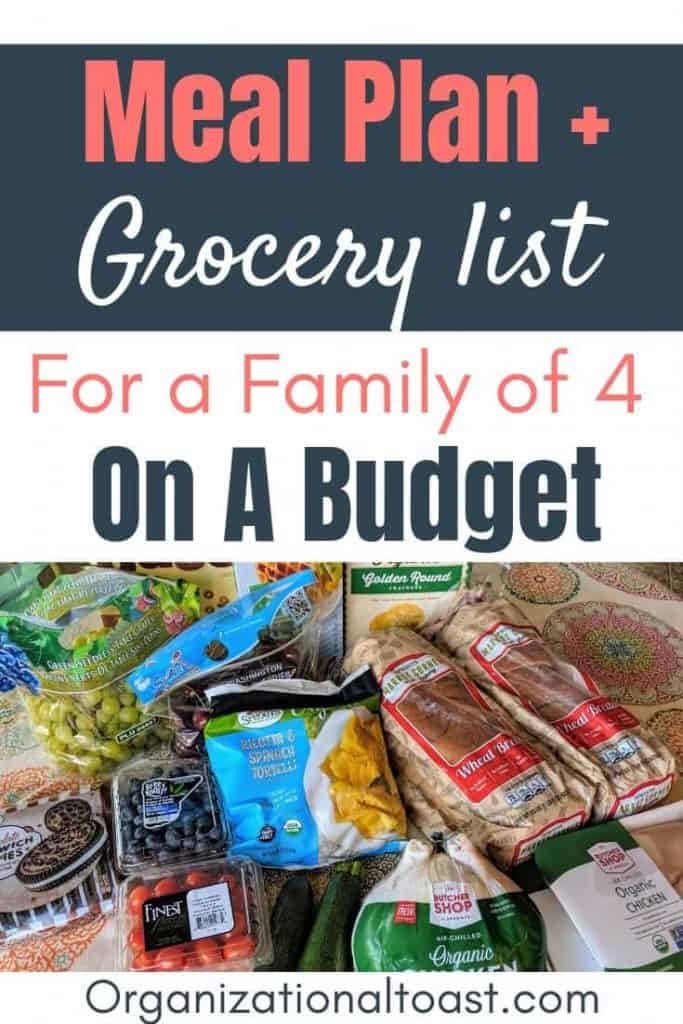 I've been trying to keep it under the $125 and am practicing with different meals and shopping routines to see how I can maximize my savings.
You might also be interested in "Meal Planning for Beginners + Free Meal Plan Template".
I also use the Ibotta App to earn money back on my grocery shopping. Some weeks it's $.50 other weeks I'm able to earn $5.00 or more. I don't calculate this into my spending, since I don't see the money right away. But when I get a pay out, I use the earned funds towards groceries or other household products like paper towels and laundry detergent.
Aldi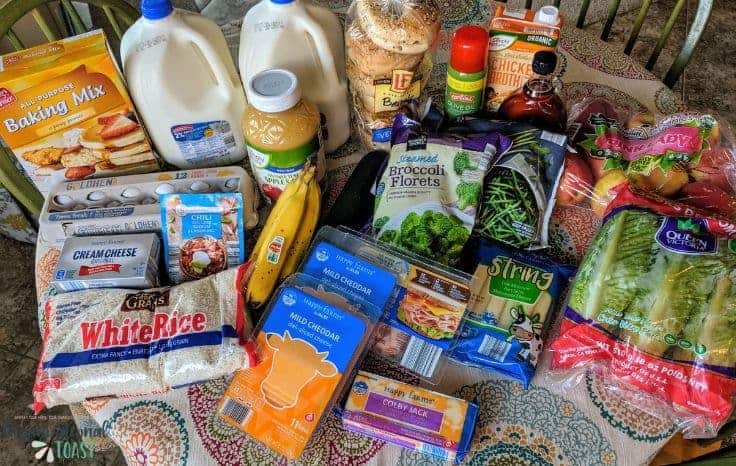 Baking/Pancake Mix – $2.49
Organic Chicken Broth – $1.89
Long Grain Rice – $1.99
Chili Seasoning – $0.49
Frozen Broccoli Florets – $0.95
Organic Applesauce – $1.95
2 x Gallon Milk – 2 x $3.09
Deli Ham – $2.49
Dozen Eggs – $0.78
Bagels – $1.99
Olive Oil Spray – $1.49
Bananas – $0.40
Romaine Lettuce – $2.19
Cucumber – $0.59
Organic Apples – $4.99
2 x Cream Cheese – 2 x $1.29
String Cheese – $2.79
2 x Deli Sliced Cheese – 2 x $1.99
Maple Syrup – $6.89
Colby Jack Block – $1.99
Seedless Watermelon – $2.99
Cantaloupe – $1.29
Taxes $5.28
Total: 58.65
Sprouts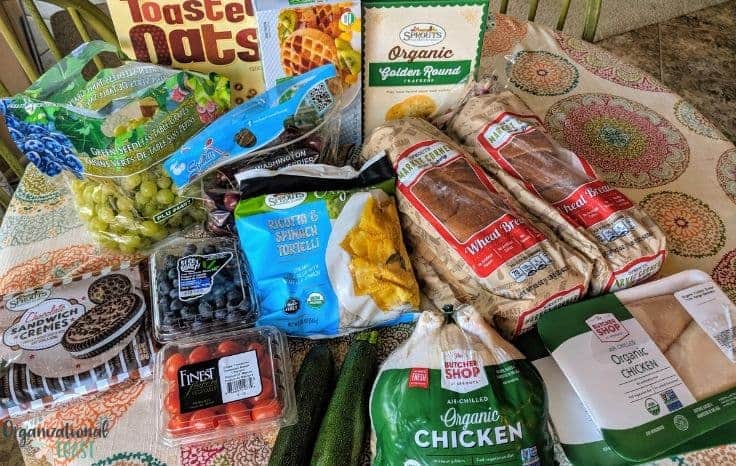 Grape Tomatoes – $0.98
Green Grapes – $1.70
Zucchini – $1.01
Pint of blueberries – $1.67
Red Cherries – $4.12
Sprouts Chocolate Sandwich Cookies $1.99
Organic Golden Round Crackers- $2.99
Organic Toasted O's – $2.99
Organic Chicken Breast – $8.71
Organic Chicken Breast – $8.87
Organic Whole Chicken – $11.24
2 x Whole Wheat Bread – 2 x $2.29
Organic Multigrain Waffles – $2.79
Spinach Ravioli – $4.99
Tax: $6.38
Total: $58.63
Weekly Total – $117.28
Weekly Meal Plan
As always, I try to use what I have in my pantry, so some of the items on this meal plan may not be on my grocery list because I already had them on hand. This includes the Ground Turkey and Vodka Sauce I served with spaghetti. I made the sauce last week and we ended up not eating it all and it was actually enough for a second dinner. So I popped it in my freezer and used it as a quick dinner for one of our busy nights.
I always serve breakfast, lunch and dinner with fresh fruit on the side.
Dinner
Instant Pot Rotisserie Chicken, Rice and Green Beans
Grilled Chicken, Mashed Potatoes and Salad
Sheet Pan Fajitas with Tortillas
Ravioli, Sauteed Zucchini and Salad
Spaghetti, Ground Turkey and Vodka Sauce and Green Beans
Lunch
Leftover Rotisserie Chicken Sandwhiches
Ham and Cheese Sandwhiches
Peanut Butter and Jelly Sandwiches
Breakfast
Cereal
Waffles
Bagels
Snacks
Crackers with Cheese
Homemade Apple Cinnamon Muffins
Applesauce
String Cheese
Cookies
Looking for a super easy way to build meal plans and save a ton of money? Check out this Try eMeals Free for 14 Days
">14 Day FREE Trial with eMeals. Choose from tons of meal plan options (including keto, budget friendly and more) and get complete shopping lists and recipes!