Are you scratching your head each morning wondering "What should I put in my kindergartner's lunch box?"
Or is your 2nd grader coming home with a full lunchbox because they didn't want to eat the same sandwich again?
As moms we all face the same challenge: coming up with a variety of healthy ideas for lunch at school our children will eat. 
Related: How We Changed Our After School Routine
I wish I could send my kids a peanut butter and jelly sandwich every day but their elementary school is completely nut free and we all know they would still get bored of them after a while.
But we can make it easier on ourselves and provide wholesome lunch box options our children will love (and eat).
How?
The key to ending school lunch packing fails is to use a go to list of healthy foods your child loves and mixing and matching them in a whole bunch of different ways. That ensures they have plenty of options and they are eating a wide variety of healthy foods.
From my master list of lunch for school ideas, I use this formula when packing lunches:
Protein + Carbs/Starch + Fruit + Vegetable = Complete Lunch
This helps me make sure that they get a well balanced meal. Some days I may double up on the protein or fruit, or throw in an extra snack, but overall this formula makes it easier to put together lunch each day.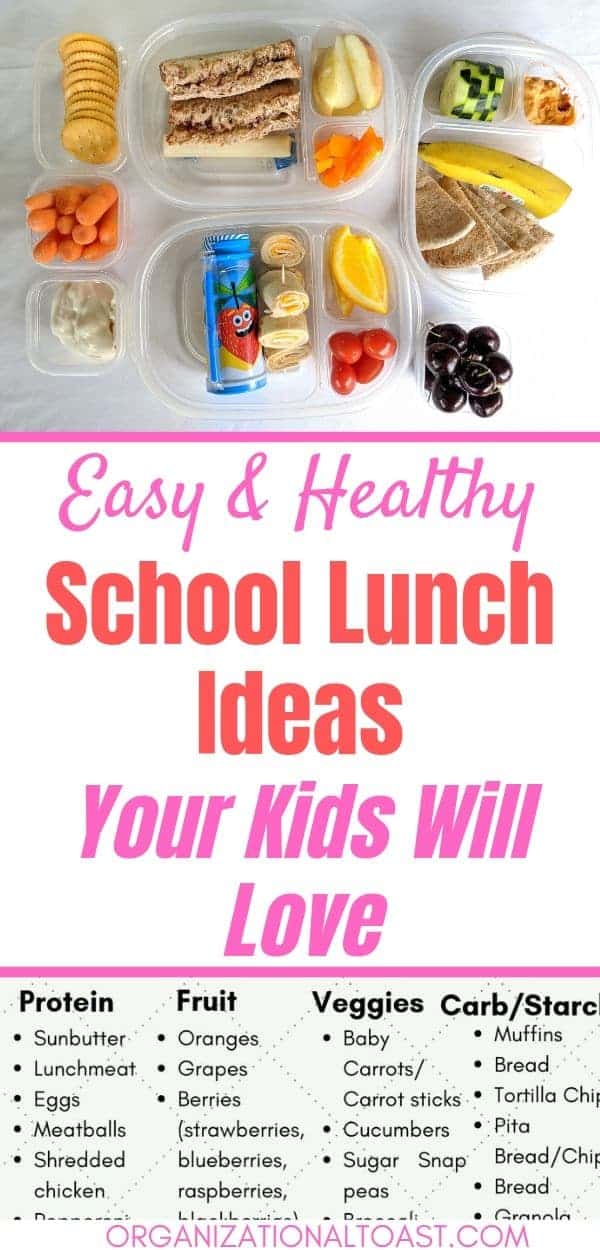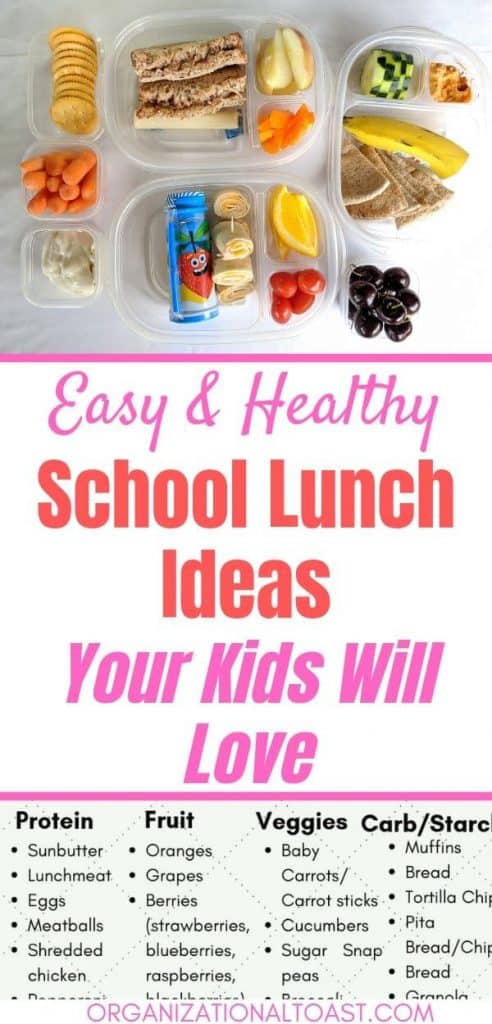 School Lunch Box Tools
First things first. The right lunch box tools will make your life 100% easier.
When my first child went to kindergarten, I invested in a fancy bento box thingy.
It was super clunky and didn't really fit things the way I wanted them to fit.
Then I switched to plastic bags and that was a mess too. Food got crushed and "icky" and I ran out of bags mid lunch packing a few times. Plus, I'm trying to reduce our waste so I've been using reusable containers whenever I can.
After all that trial and error I bought this cheap multi pack of containers and have been incredibly happy with them.
I use these little containers if I need an extra compartment in the larger containers for dips or anything more liquid than solid.
You can also invest in a good thermos so you can send food like macaroni and cheese or chicken noodle soup. Just remember to teach your child how to properly open the thermos!
And finally, our kids are not really big juice or milk drinkers so I always send a reusable water bottle.
I make sure I have 2 days worth of all of this stuff because the kids lunch boxes don't always make it home each day. And if they do and I don't get the containers washed, I don't have to wash containers during the morning rush.
The Master List of Lunch For School Ideas
Here is a sample of kid friendly foods I use to fill my children's lunch boxes. You can download it here.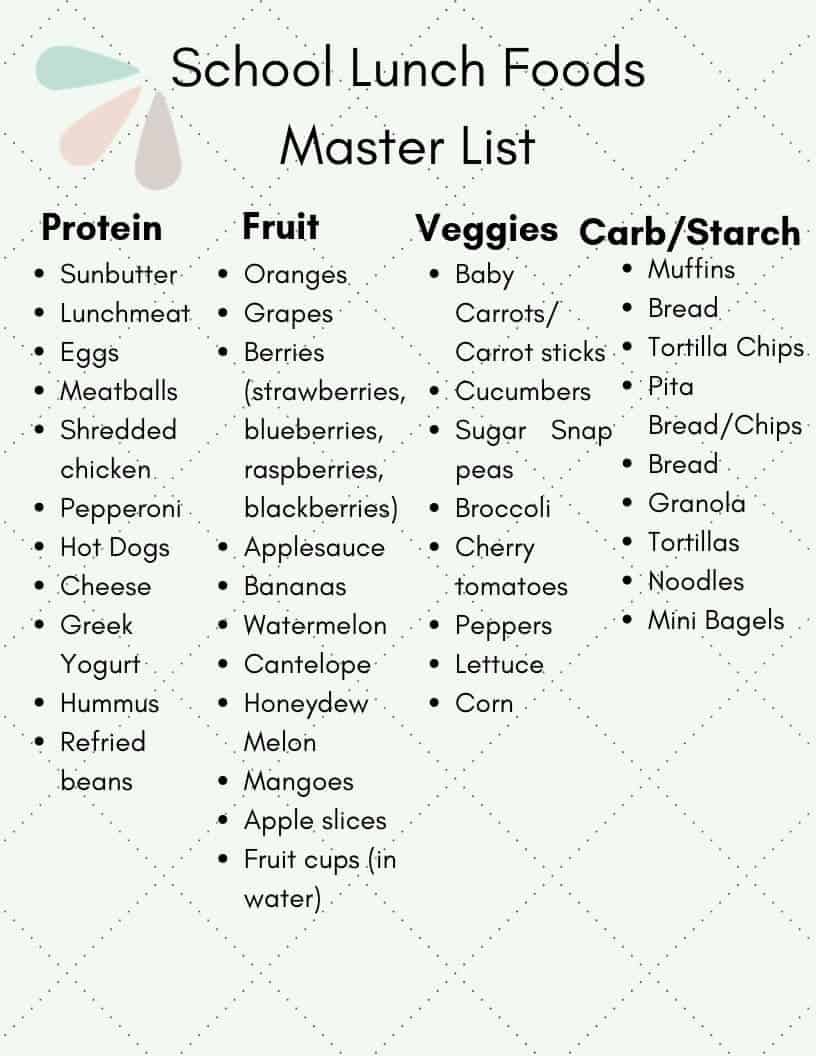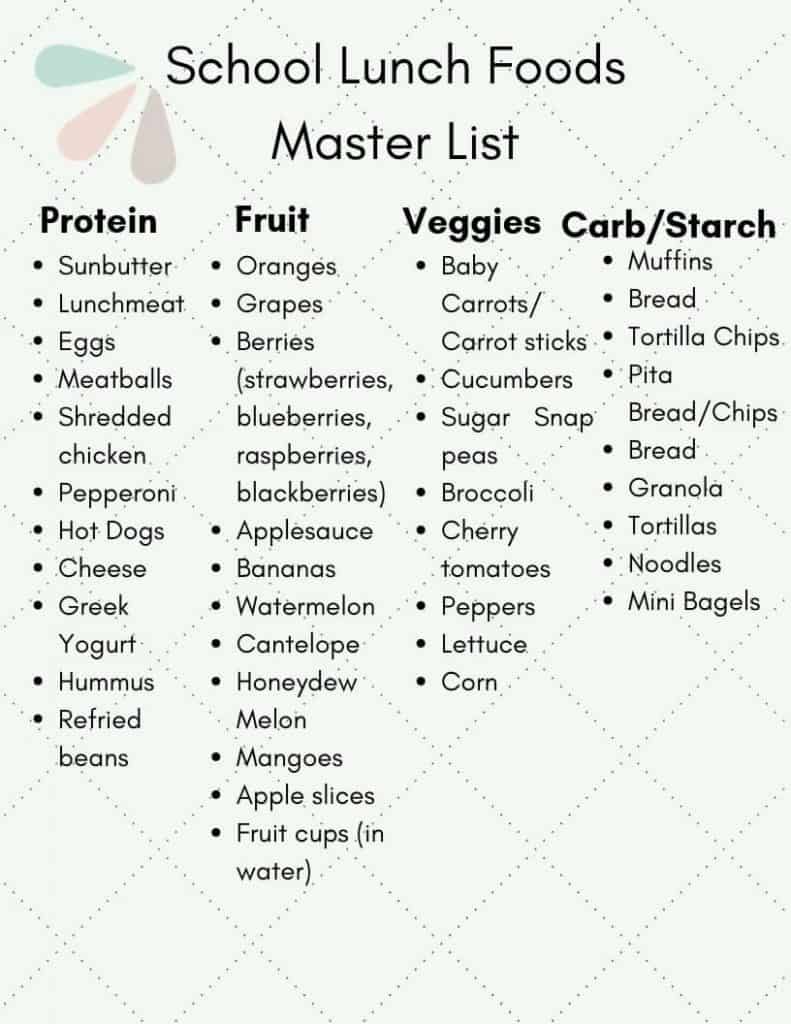 There is also plenty of space to write in your own favorites to have on hand.
As I mentioned above, I use this formula:
Protein + Carbs/Starch + Fruit + Vegetable.
That breaks down to one food from each group.
My master list of lunch box foods includes:
Protein:
Sunbutter
Lunchmeat
Eggs
Meatballs
Shredded chicken
Pepperoni
Hot Dogs
Cheese
Greek Yogurt
Hummus
Re-fried beans

Fruit:
Oranges
Grapes
Berries (strawberries, blueberries, raspberries, blackberries)
Applesauce
Bananas
Watermelon
Cantelope
Honeydew Melon
Mangoes
Apple slices
Fruit cups (in water)
Vegetables:
Baby Carrots/ Carrot sticks
Cucumbers
Sugar Snap peas
Broccoli
Cherry tomatoes
Peppers
Lettuce
Corn
Carbs/Starches:
Muffins
Bread
Tortilla Chips
Pita Bread/Chips
Bread
Granola
Tortillas
Noodles
Mini Bagels
Here are a few school lunch ideas with a few of our favorite combinations just to get your gears spinning. But the possibilities are endless!
#1 Go Greek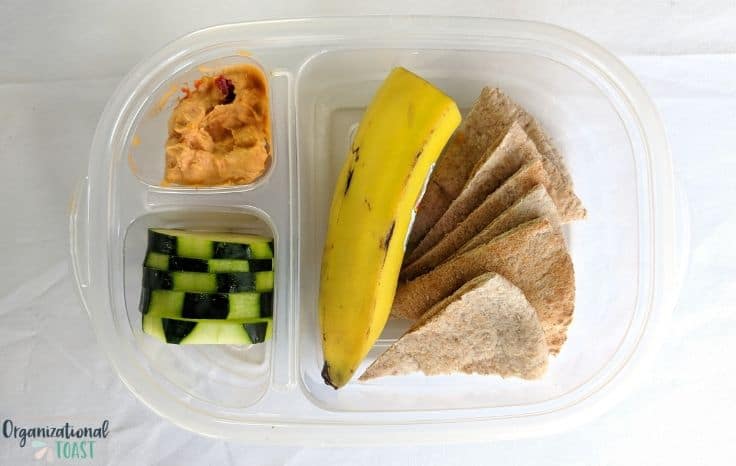 Hummus
Pita Bread
Cucumbers
Banana

#3 Breakfast for lunch
Greek Yogurt
Granola
Berries
Muffin

#4 Italian Feast
Mini Meatballs
Cherry Tomatoes
Watermelon
Garlic bread/Breadsticks

#5 Corndog Fun
Corndog muffins
Oranges
Broccoli Florets
Yogurt Tube

#2 Classic PB&J (hold the PB)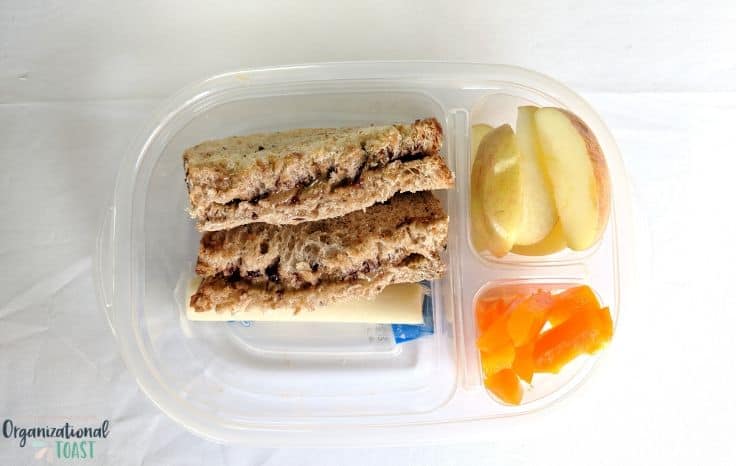 Sunbutter and jelly sandwich
Apple Slices
Sliced Peppers
Cheese Stick

#6 Mini Pizzas
Pepperoni
Pita Bread
Shredded Mozerella Cheese
Tomato sauce
Cantelope

#7 Homemade Lunchables
Crackers
Lunchmeat
Cheese
Applesauce
Carrots

#8 Mexican Feast
Bean and cheese burrito (refried beans, cheese, and tortilla)
Mangoes
Corn

# 9 Nacho average lunch
Shredded chicken
Tortilla Chips
Queso
Grapes
Corn

# 10 Keep it Simple
Elbow Macaroni with butter and parmesan cheese
Shredded Chicken
Sugar Snap Peas
Oranges

#11 That's A Wrap
Lunch meat and cheese rollups (lunch meat, cheese, tortilla)
Oranges
Peppers

#12 Egg-celent Choice
Hard boiled egg
Muffin
Honeydew Melon
Sliced Peppers

#13 Bagel Fun
Mini Bagels with Sunbutter and honey
Strawberries
Cucumber
Yogurt Tube

#14 Brunch it up!
Mini Pancakes with Syrup
Blueberries
Cucumbers
Yogurt

#15 Sweet and Savory
Cream Cheese and Jelly Sandwich
Watermelon
Sugar Snap Peas
Just remember that packing lunch for school doesn't have to be stressful. Play around and figure out what works for your child the best. Hopefully, you've found some good ideas for lunch at school your child will enjoy!