There are so many mobile apps out there that help you get organized that you almost need an app to organize all your organizing apps. Say that 10 times fast.
There are a few good ones and a lot of not so good ones. So how do you know which ones are the best apps for organizing your life?
Lucky for you, I have already gone through many of them searching for THE tool that will solve all my first world problems. And I am sharing my list of the best mobile apps for organizing various aspects of your life.
Friends, this is an all in one family organizing suite. Not only does it include a calendar to keep track of all your events, but it also includes:
A Shopping List

To Do Lists

Recipes and Meal Planners

Family Journal (take pictures, record your thoughts, share them with anyone)
I love the fact that I don't have to go to five different apps to do all these things. I have my meal plan right next to my shopping list, and my to do list with my calendar.
Even better, my husband has access to it and you can sync your other calendars. We are able to maintain one master calendar.
Personally, my favorite feature is the weekly email with all my upcoming events. This is so useful when I sit down on Sundays for my weekly planning session.
If you still prefer a paper calendar, Cozi has you covered. You can print your calendar!
The best part is, this app is free. *drops mic* There is a premium version called "Cozi Gold" that has even more features (if you can believe it).
Try the Cozi Family Organizer today. It's FREE!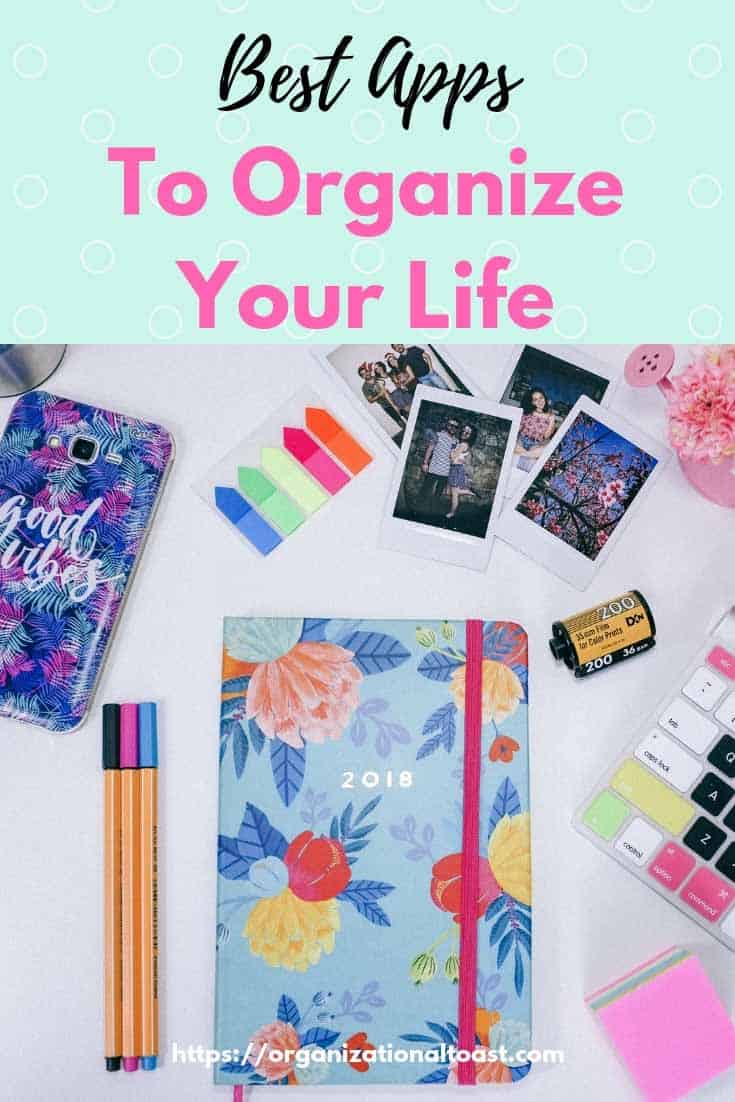 I'm going to be real with you and just say I love all things Google. The calendar is so simple to use and it is a great way to start organizing all your tasks.
I love Google calendar because you can sync it to other calendars (like Microsoft Outlook). With Google calendar you can create different calendars for different people (read: kids) and display them all on one calendar.
The color coding for the individual calendars was one of my favorite features, but they recently changed this. In the past, each event was highlighted in the color of the calendar, and now it's just a small colored dot next to the event. I find it a bit trickier to see the color coding, but I'm also getting older.
Even without the color coding, Google Calendar is awesome and I recommend it to anyone who wants a free and really simple calendar tool.
I have tried a lot of to do list apps in my time and I never really liked any. This one, however, is so simple to use yet provides a lot of functionality that the others don't. Here are a few of my favorite features.
You can have multiple to do lists.

You can add an item and

then

assign it to a list.

You can add priorities to each task (high, medium, low and none)

You can add a time estimate for each task on your list.
My favorite feature of all is the daily notification. You get a notification on your phone with your daily tasks that you can easily check off as you finish things up during the day.
This is a great budgeting and money tracking app! I prefer this app over budgeting apps like Mint. Once you get signed up, which is super easy and free, you can easily create your budget. This is a great tool for anyone that is:
New to budgeting

Wants easy access to their budget on a phone or pad

Doesn't want to use a spreadsheet
Basically, you begin by adding your income and then listing your expenses for the month. There are 8 standard expense categories but you can add custom categories as well. You enter your planned expenditures and then as you spend you can track your remaining balance. You can also connect your credit card accounts and bank accounts to make it even easier to keep track of your monthly budget(this is part of the premium option).
There is also a little graphic that shows you what percent of your income each category occupies. This goes a long way in helping you to asses your spending!
Are you blessed with (read:drowning in) your kids artwork all around the house? Do you feel guilty about throwing things out or worried you should keep them? Well Keepy has you covered!
This app allows you to take pictures of your child's art work and store and share that art work with grandparents and other "fans" (people you add to your app). You and their fans can add text, voice or video comments to art work. My kids especially love this feature.
This is a great way to get rid of some of the clutter without feeling guilty and having someone ask where their picture is. My kids love seeing their artwork in the app and will scroll through, read or listen to the comments and talk about their art work.
Check out these 5 apps and you will be on the road to creating better routines, organizing your days, and simplifying your life! Let me know your favorite!