Is your after school routine not working for you? Do you ever feel like after school is the hardest part of your day?
This was absolutely true for our family.
Everyone came home overwhelmed and exhausted and there was still so much left in our day. Between dinner, homework and showers things got very chaotic.
When my kids started school I had visions of happy children coming home and sharing wonderful stories about their day while we packed away our lunch boxes and backpacks and sat down to a healthy snack while they did their homework.
In the early days, I tried oh so hard to make that vision a reality, but most days I was met mostly with grunts, sidelong glances, and even a meltdown or two.
I have realized over time that this picturesque after school routine just did not work for our family. While we still need a routine in order to accomplish everything that needs to get done after school, it needs to be less a routine and more a flow. Some days the kids come home and need a cuddle and quiet time. Other times, they need to get outside and run around.
Knowing this, I've developed some strategies that quell the chaos, provide flexibility to meet our children's needs on that particular day, and still allows us to get everything done.
The changes I made to our after school routine have resulted in happier kids and more relaxed parents. Here are the changes I made to our after school routine.
Looking for another great way to get organized this school year? Try the Cozi Family Organizer today. It's FREE!

1. Don't ask too many questions
When the kids first started school and came home, right away I would ask them all sorts of questions about their day. (Apparently, I miss them quite a bit while they are at school and I wanted to know everything they did while we were apart.)
Turns out, the kids are usually not really ready to talk about their day. They need quite a bit of time to decompress and process what happened at school that day.
Now, I simply ask "How was your day?" I usually get an "It was good" and that's it. But it's fine, because as they process their day they begin to share tidbits and stories. By bedtime I have a full picture of what happened at school that day.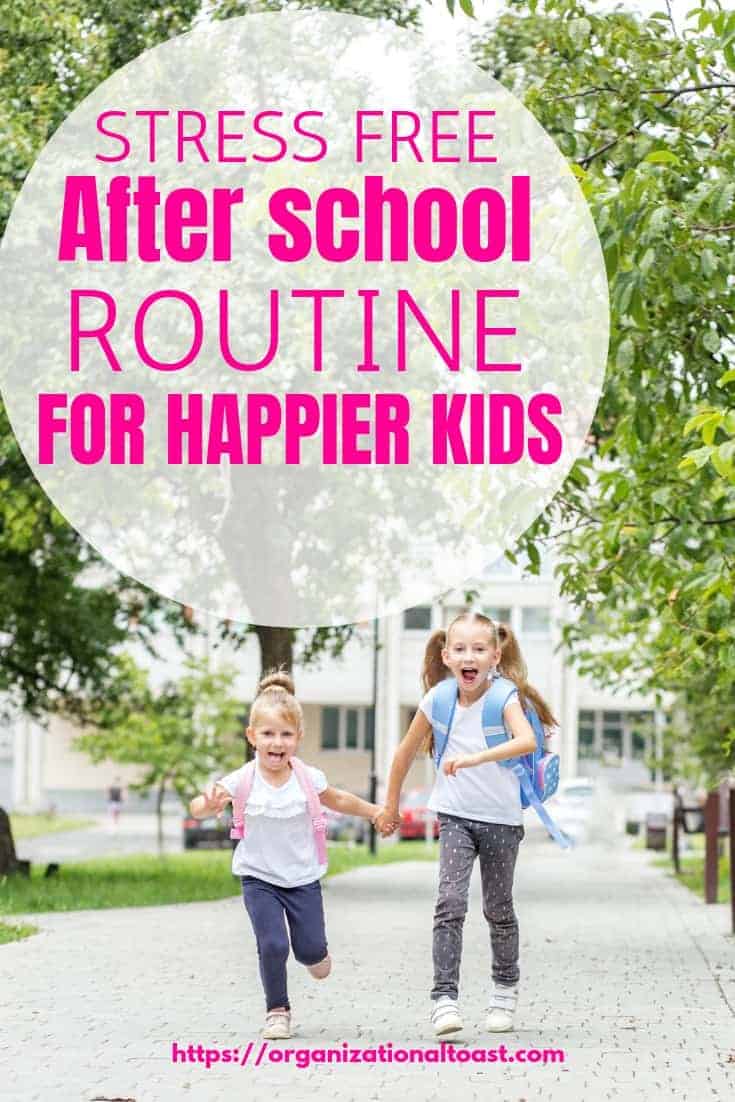 2. Free time
Once we are home and everyone has made it inside, we have free time. This is a time where the kids can choose what they want to play.
This free time also involves me actively spending time with them while they do their chosen activity. Even if it is just 20 minutes before I begin my dinner prep, this time is so important for our kids. When I spend this time with them, they are more likely to allow me the space I need in order to start my evening routine (cooking, cleaning etc).
Free time includes:
Sitting together and reading out loud
Outside play time
Board Games
Coloring
Legos
We don't do tv or computers right after school. I have found that this does not help them decompress and they still crave that quality time with me after the screens shut off.
3. Early Dinner
Our kids still have an afternoon snack at school, usually about 45 minutes before they get home. I don't normally give them a snack unless they are hangry or missed snack at school that day. If they have a snack it is usually something small like a yogurt or a piece of fruit.
Instead, I have dinner ready early and we are sometimes sitting down at the table at 4:30 to eat.
Early on, I was pushing a snack when the kids got home as the first part of our after school routine. Then they would end up not wanting to eat dinner. So instead, I keep the snack small or non-existent and instead serve them dinner early. They eat a much better dinner this way (and complain less about the broccoli or other offending vegetable on their plate).
This is even more helpful when the kids have after school activities and they don't get home until 4:30 or 5.
So how do I get dinner done early? Well, a couple of ways.
Meal planning. I know exactly what I am having on which day so I don't have to waste time figuring out what's for dinner.

The crockpot and instapot are our friends.

I only make quick 30 minute meals during the week. Check out some of my favorites

here

.
Side note: as part of our dinner time routine, I always ask the kids to tell me the best thing and the worst thing that happened at school. They are always happy to talk at dinner 🙂
4. Homework
After dinner, the kids get about another 20 minutes or so of free play time while I clean up the kitchen and pack lunches.
Then it is time to start homework.
The little one doesn't have homework yet but we do 20 minutes of reading with her right before bedtime. She will usually spend time with daddy or do her own "homework" while my son works on his homework.
I have found doing homework after dinner is the key to the kids being successful. The kids are well fed and they have had time to relax and decompress from the day. Moving homework towards the end of our after school routine has made a tremendous difference.
We round out our evening with showers and a little bit of tv time before everyone reads and goes to bed.
Tell me what your after school routine looks like. What's something unique that works for your family?