Are you looking for the tools to get your finances in order, save money and crush your financial goals? Well then you have come to the right place, friend!
I have put together the Ultimate Free Printable Budget Worksheet list of all the best FREE budget worksheets on the web.
As many of you know, I've made my own printable budget worksheet, but I realize that everyone and everyone's budget is unique. So I decided to check out some other printable budget worksheets.
And friends, I was not disappointed. I am so excited to share that there are tons of different FREE printable budget worksheets out there.
Side note: If you're just getting started with budgeting and are looking to learn more about how to create a solid financial plan, you can check out this free Personal & Family Financial Planning
course from Coursera.
Now you officially have no excuse to get started budgeting.
Each one of these budget worksheets and budget binder kits will give you the tools you need to create your budget, set financial goals, and manage your finances. They come in a variety of formats, designs, and each has unique value.
If you don't know what to do with these worksheets, check out The Easiest Way to Make a Budget to follow the exact steps I use to create my monthly budget.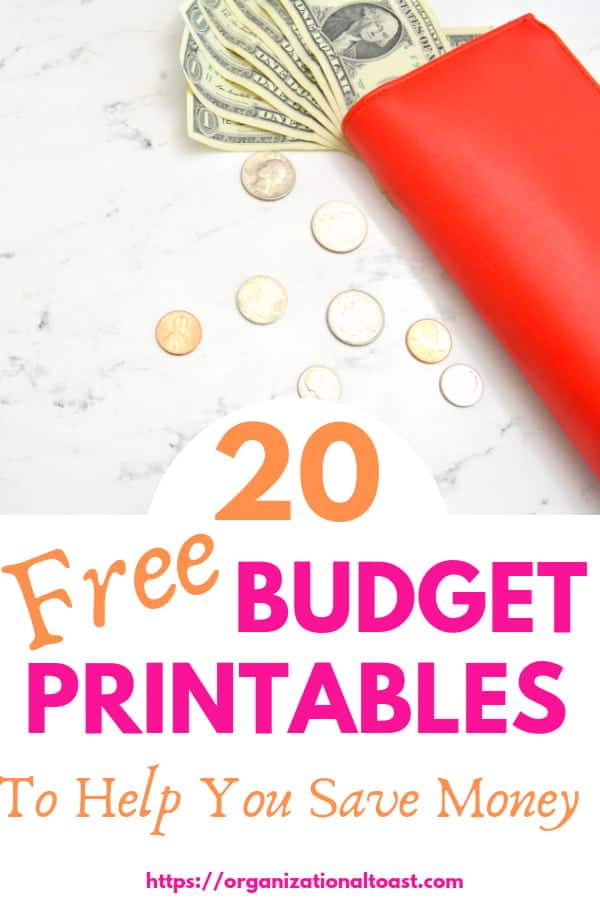 The Ultimate List of Printable Budget Worksheets
Free Printable Debt Snowball Worksheet From A Cultivated Nest
This is a great tool to help you track and pay down your debt using Dave Ramsey's Debt Snowball Method. This worksheet helps you track your total balance, your snowball payment and your monthly balance as you pay off debt. This is a great tool to help you stay motivated and on track for debt free living!
Monthly Budget Printables From A Day in Candiland
This bundle of 8 free budget worksheets includes a monthly budget sheet, bill payment checklist, monthly expense tracker, debt repayment plan and more!
Family Budget Printable From the Spectacled Owl
This one page budget worksheet is an easy way to organize your monthly expenses. It includes everything you need to get started with making a monthly budget.
Budget Binder Printables From Blooming Homestead
If you want free budget binder printables that are not only functional but beautiful then these are the worksheets for you. You can choose from 3 different styles including floral, grey and yellow, and coral and navy (my favorite!). Also includes a "Month at a Glance" worksheet, which is a great way to review your goals and expenses for the month in one place!
Family Binder Budgeting Printables From Clean and Scentsible
The free budget worksheet printables from Clean and Scentsible include budget at a glance, budget overview, and a debt tracker.
Make a Budget Worksheet From the Federal Trade Commission
This budget worksheet is great because you can actually edit the .pdf and then print it out. When you enter the budget amounts it will also add up your totals for you!
3 Free Printable Budget Worksheets From the Freebie Finding Mom
The Freebie Fining Mom has created a variety of colors and formats for her budgeting printables. You can select the color you like and choose between downloading the worksheets as .pdfs or as an Excel spreadsheet (with some functions already built in). You can also find a Christmas Shopping Budget Worksheet and an Event Planning Budget Worksheet.
Free Budget Binder From Just a Girl and Her Blog
My favorite part of this bundle of printable budget worksheets is the Financial Goals Tracker. This worksheet gives you so much space to get really specific about what goals you want to achieve and how you will achieve them.
Free Budget Worksheet From Living Well Spending Less
This is a great beginners guide to saving worksheet. This one page budget worksheet provides everything you need to get started with your monthly budget.
Monthly Budget Excel Templates From Mint.com
This resource provides you with so many different excel budget templates including daycare budget, home budget, student budget and more.
Printable Monthly Budget From My Frugal Home
This is a comprehensive printable monthly budget that nicely outlines many of the common expenditures for you. I love this, especially because as you are getting started with budgeting it's normal to forget to include certain expenditures in your budget.
Paycheck Budget Printable From Printables by Design
These budget worksheets allow you create a budget based on your paychecks. On these worksheets you can track your expenses for each pay period to help you manage your money better.
Free Printable Budget Forms You Can Edit From The Queen of Free
If you've never checked out the Queen of Free you are missing out my friend. She is a great resource for getting debt free and has so much valuable information on her site. Her printable budget worksheets also do not disappoint. These .pdf worksheets can be easily edited on your computer and then printed out. I also like how she includes both short term and long term financial goals on these sheets!
Free Budget Binder From Shining Mom
This bundle of printable budget worksheets includes 8 separate sheets including monthly budget, monthly cash flow, savings log and more!
2018 Budget Binder Printables From Simply Unscripted
This is the most comprehensive budget binder printable bundle on this list. With over 20 printables, this bundle provides you with everything you need to get your financial house in order!
Free Budget Printables From Smart Money Simple Life
Another great bundle of budget printables, this set includes a financial calendar, family balance sheet, a sheet for all your account numbers, and a daily expense tracker.
Free Budget Tools From The Busy Budgeter
These are not exactly printables, but they are so good I just could not leave them off this list. Sign up for these freebies and you get access to the Ultimate Money Saving Workbook and the 90 Budget Boot Camp to help you jump start your savings and get your finances in order.
Are you as impressed and excited as I am?
I'd love to hear which set of printables works best for you!