A new year is always a great time to build new habits, get organized and reach all your goals. And 2021 is an extra special year because it provides us with an opportunity for a fresh start from what has been a challenging year for many.
That's why I decided I wanted to GIVE YOU the tools to do amazing things in 2021 for FREE. While we may not know what 2021 will bring, I do know one thing: My perspective on goals and planning have completed shifted this year.
That's why I created this planner.
And I'm giving it to you for FREE.
This planner includes 15 pages to keep you organized and help you manage all areas of your life! The planner pages include
Important Information Sheet
Yearly Goals (Personal, Career, Family, Education)
Monthly Calendar
2 Page Weekly Spread
Weekly Meal Planner
Monthly Bill Tracker
Monthly Budget
Sign up here to get your FREE printable planner now!
I suggest using a 3 ring binder to keep all the pages together. Since this planner is meant to last the whole year, I also recommend using binder hole reinforcements.
You can print this planner out month to month or all at once. I think this just comes down to personal preference.
I printed it out for the whole year so I could include things like birthdays or other important dates (like the end of the school year) and things like that.
I also like to keep all the planner pages over the course of the year to help me track my progress and help me evaluate my progress.
I love a good paper planner, which I why I made this one, but the truth is that I use both a paper planner and a digital planner. (My favorite free digital planner is the Cozi app.)
To me, nothing beats putting pen to paper.
The Free Printable 2021 Planner includes:
Setting Goals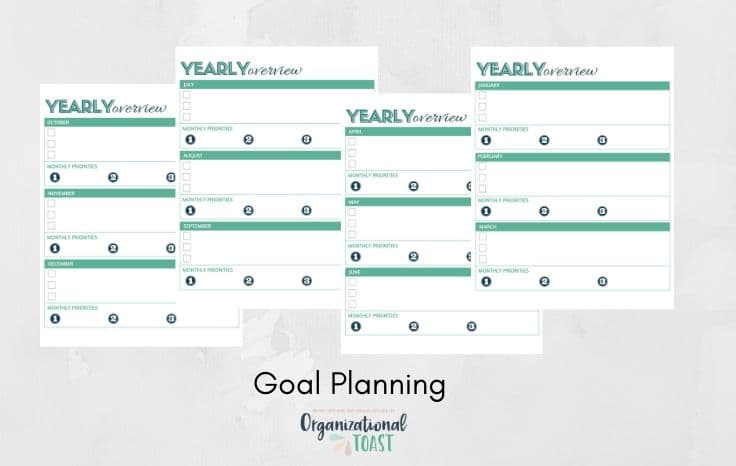 Outline your yearly goals month by month and set top priorities for each month. This section is designed to help you achieve any goals you might have – personal, fitness, career, or family goals.
Write down 3 priorities for the month. This could include priorities like exercise 3 times a week, do a no spend challenge or finish a project at work.
Use the check list for each month to write down actionable steps to help you achieve those priorities.
I encourage you to review your priorities at the end of each month to check in with how you did.
Consider what worked and what didn't. Learn from any mistakes to help you craft your priorities for the next month.
Check out "How to Stay Motivated to Achieve Your Goals" for tips on staying on track to reach your goals.
Day To Day Planning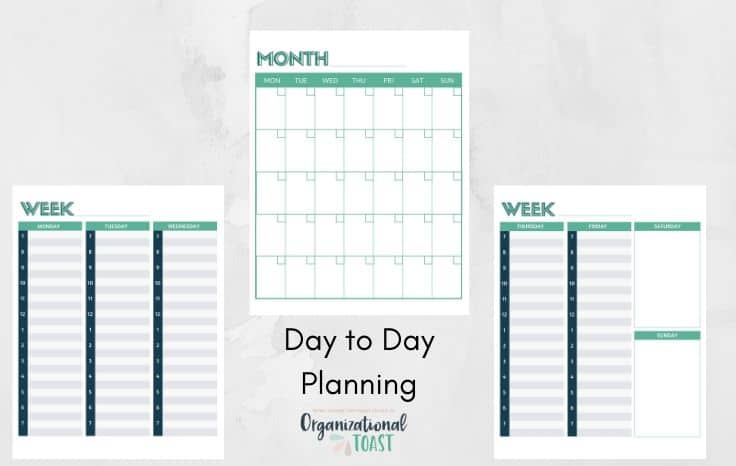 Keep track of the daily to-do's with the weekly planner pages. The weekly planner pages are spread over 2 pages so you have plenty of room to keep track of your appointments. Check out my tips for creating a weekly plan here.
Use the monthly calendar to give you a top level overview of your month.
Manage Your Finances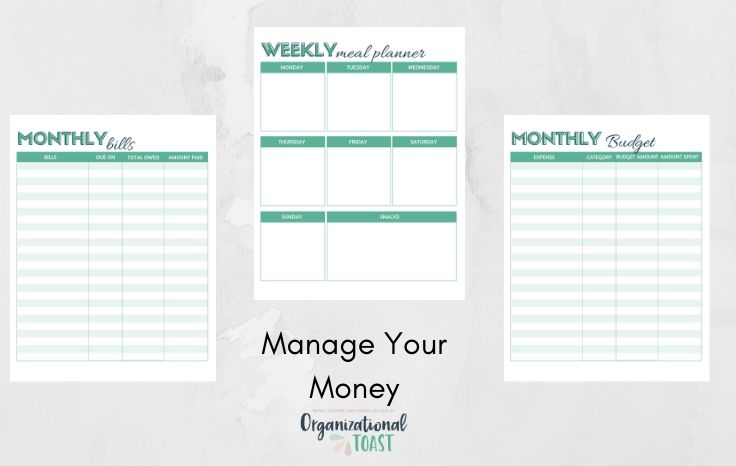 This is probably my favorite part of this planner and the one that is most often missing from other planners!
Use these pages to create a monthly budget and use the bill tracker to help keep track of all your bills.
Plus, the weekly meal planner will help you organize your meals, which will help you cut your grocery spending. Check out these tips to help you reduce spending at the grocery store.
Ready to Start Planning? Grab Your Free Planner Here!