Summer's almost here and it's time to get organized with a list of fun and frugal summer activities for kids!
I'm a big fan of having a more unstructured summer with the kids. One year I went crazy and had a super planned out summer and it was not fun for any of us. It stressed us out and we didn't feel like we had a break. It also ended up straining our budget in more ways than I expected.
The next year I had zero plans, and that was also a mess. We quickly ran out of activities, boredom ensued and there was A LOT of screen time.
I don't want you to suffer the same fate!
It's so important to have lots of flexibility and SOME plans and to keep a list of simple fun summer activities for kids in your back pocket for those days you need to do something extra.
I will leave the rest blissfully blank and that's where this list will come in handy!
I have put together 50 frugal summer activities for kids that are fun but won't break the bank! Most of these activities are free or cheap to help fit any budget. And don't forget to check out this list of Free Virtual Summer Camps for 2020 for even more ideas!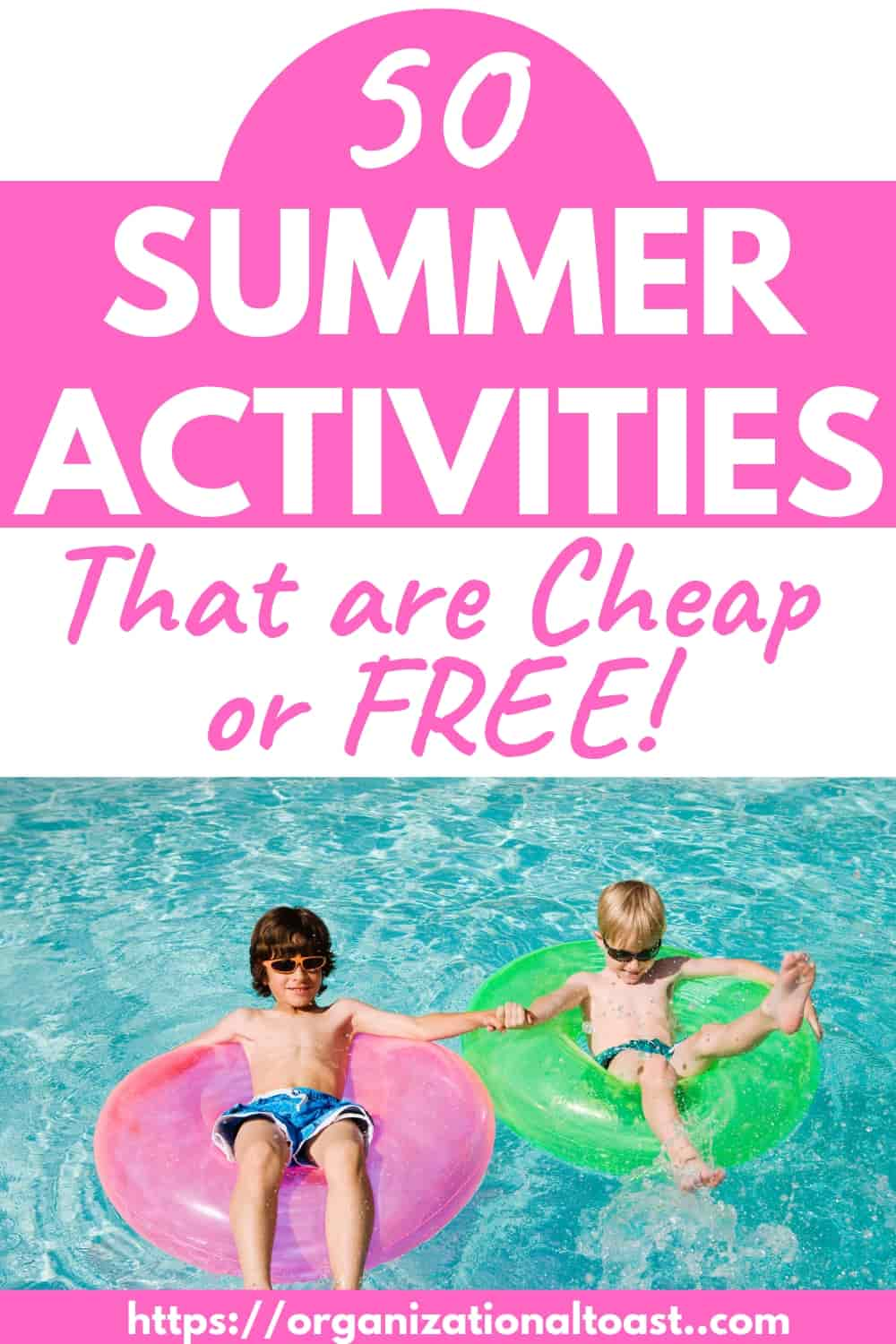 1. Make Tie Die T-Shirts
We did this last year and I can't even tell you how much fun the kids had. You can buy a pack of white undershirts, a tie die kit, and lots of rubber bands and let the kids get creative!
2. Paper Airplane Competition
Time to fold those paper airplanes. Have your kids make their own paper airplanes and have a race! We love this paper airplane kit.
3. Water Balloon Fight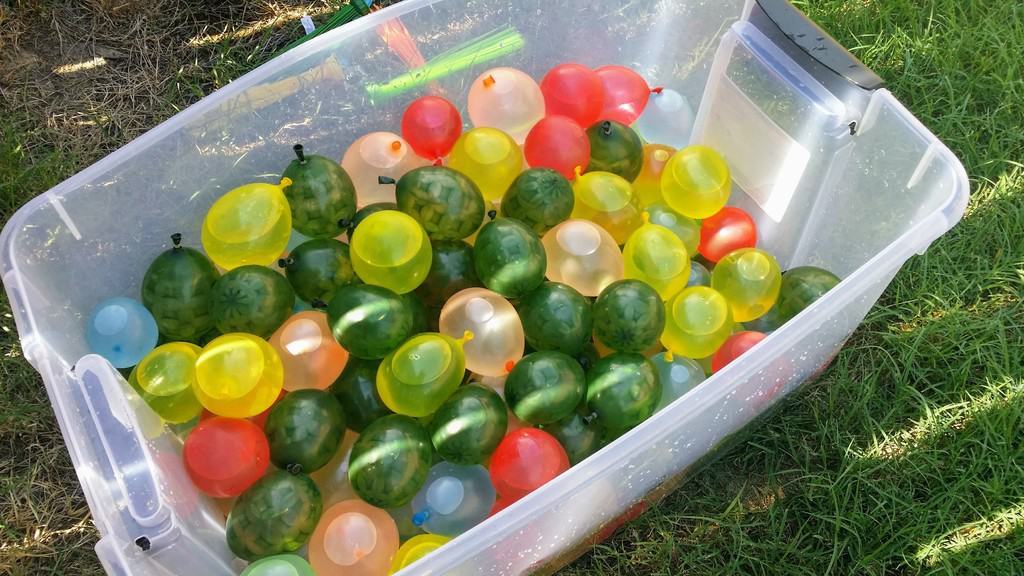 Fill up a ton of balloons and let the kids go wild! You can use these to fill a bunch really quickly.
4. Play Flashlight Tag in the Backyard
Wait until it gets dark and send the kids out for a game of flashlight tag.
5. Have a Nerf War in the Backyard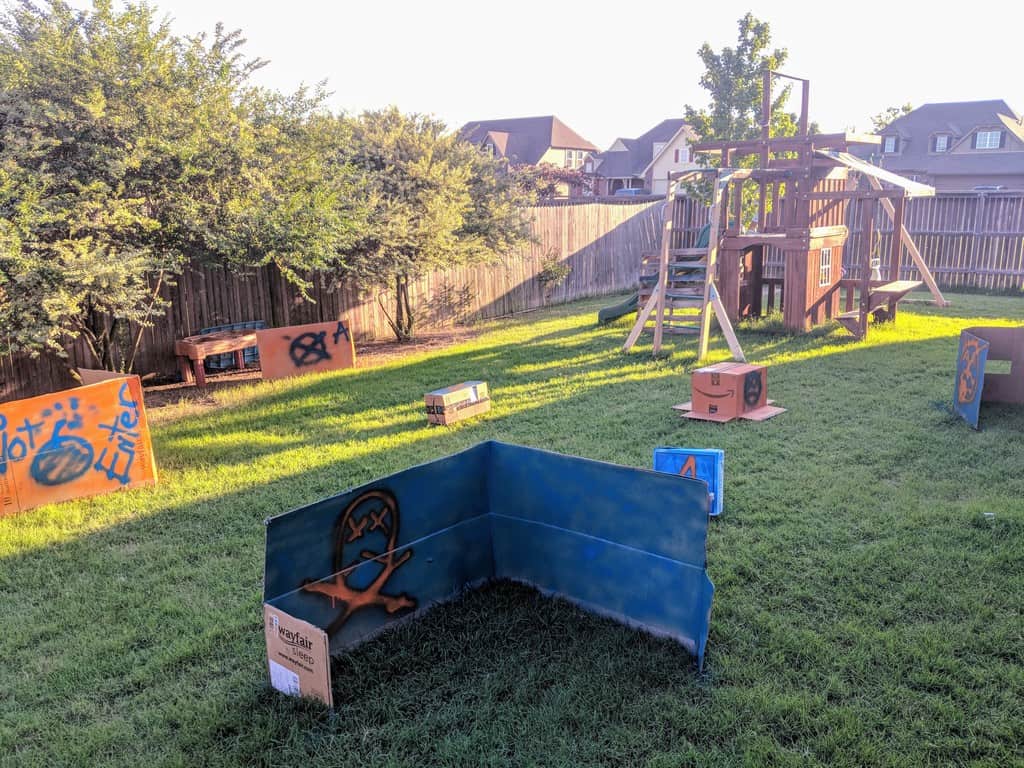 Set up bases and have a Nerf War in the backyard. We did this for my son's birthday but ended up keeping it up for weeks so he could play.
6. Make Lanyard Crafts
How many lanyard bracelets did you have as a kid? I had 20 at any given time and I loved making them! Teach your kids the box stitch or the zipper stitch and they'll happily keep busy making these bracelets.
7. Free Bowling
Check kids bowl free to see if your local bowling alley takes part in this awesome summer program. All you need to do is sign up and you get 2 free bowls per child every day of the summer!
8. Have a Picnic
Go to a park or set up a picnic in the backyard! Have your kids help make the sandwiches and put together all the snacks. Make it extra special with some lemonade or a fun summer dessert. If it's too hot at lunch time, make it a dinner picnic and enjoy the cooler evening weather.
9. Go on a Nature Scavenger Hunt
Make a list of items found outside and create a nature scavenger hunt. Your list can include pine cones, acorns, a yellow flower, a weed, a clover or anything else your kids might find outside!
10. Backyard Camping
Set the tent up in the backyard and sleep under the stars. Make microwave s'mores and tell campfire stories.
11. Go to the Farmers Market
Find a local farmers' market and go exploring. Many farmers' markets have live music, vendors with free samples and even games for kids. Plus, you can stock up on some fresh produce and support your local farmers.
12. Make a Laser Maze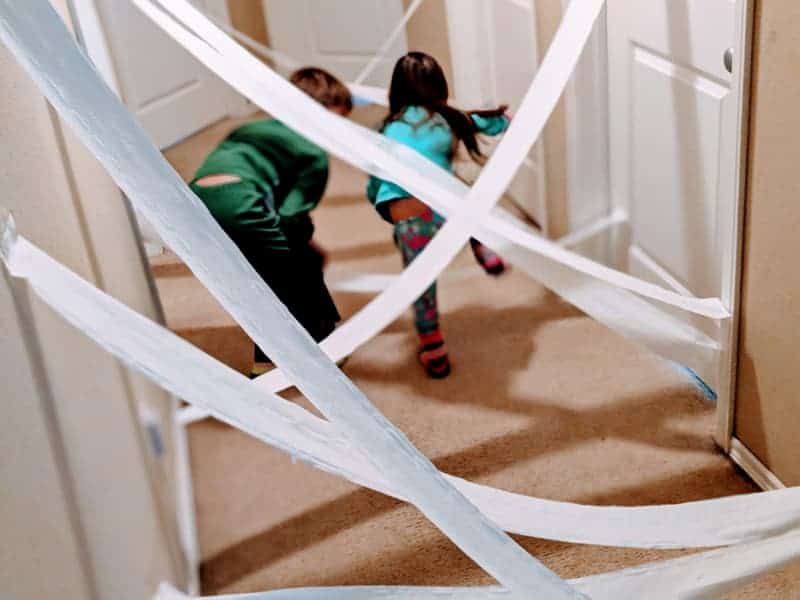 This one gets tons of giggles in our house. Using tape and toilet paper (if you have streamers or yarn that works too) you create a laser maze. The kids have to make it from one end to the other without touching the lasers!
Find a book about local birds and take your kids out bird watching. Check the Audubon Society for more activities like making birdhouses and drawing birds.
14. Sign Up for the Summer Reading Club
Check out your local library and get the kids signed up for the summer reading club. The kids have to read a certain number of books and once they complete their reading, they'll receive a prize. Our local library gives a coupon book in the prizes that includes free admission to the zoo and other local museums!
15. Look at the Stars
Spread out a blanket and gaze up at the night sky. Get a book about constellations from the library or use a free app to help you look for constellations!
16. Fly a Kite
Summer is a great time to get outside and fly a kite. Make it even more interesting and try making your kite!
17. Catch (and release) Fireflies
Let the kids have fun chasing after fireflies and putting them into jars. Just make sure you have air holes for the fireflies and you release them when you're done.
18. Go to a Splash Park
When it's hot outside a splash park is a great place for the kids to run around and get out some of that extra energy. Most splash parks are free!
19. Plant A Garden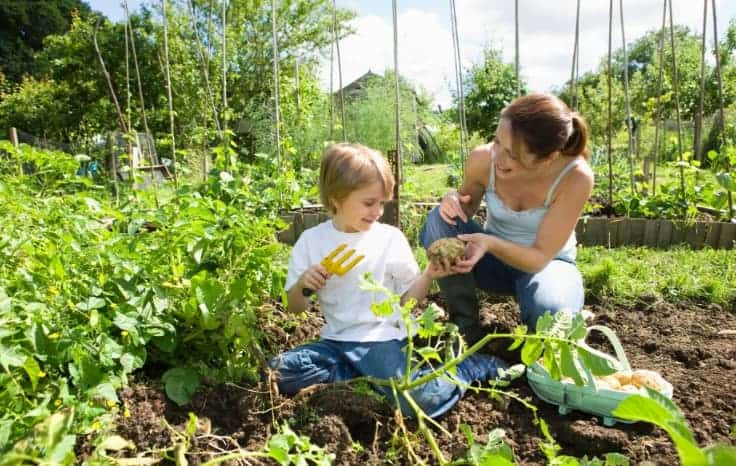 Whether you plant a whole garden or just plant some vegetables and fruits in pots, your kids will be excited to take care of their garden and taste the fruits of their labor (literally!)
20. Hike
Get out into nature and check out some new hiking trails in your area. Just be sure to bring lots of water and snacks!
21. Go to the Movies
Check out a Matinee or see if your local theater shows discounted movies in the summer. If you have a Regal Cinema near you, they have "the Summer Movie Express". For just $1 a ticket you can go see a movie!
22. Build a Playhouse Outside
Box forts are always fun, but they are even funner outside! Gather all those empty amazon boxes and make an outdoor playhouse!
23. Backyard Obstacle Course
Create an epic obstacle course in your own backyard. Check out this super easy and cheap obstacle course!
24. Make a No Bake Dessert
No need to heat the house baking goodies. Try an easy no bake dessert. Your kids will love making it as much as they'll love eating it!
25. Have a Lemonade Stand
Get your kids' entrepreneurial juices flowing and help them set up a lemonade stand. It's a great chance to teach them about what they'll need to spend to get started and how to calculate profit.
26. Write Letters to Family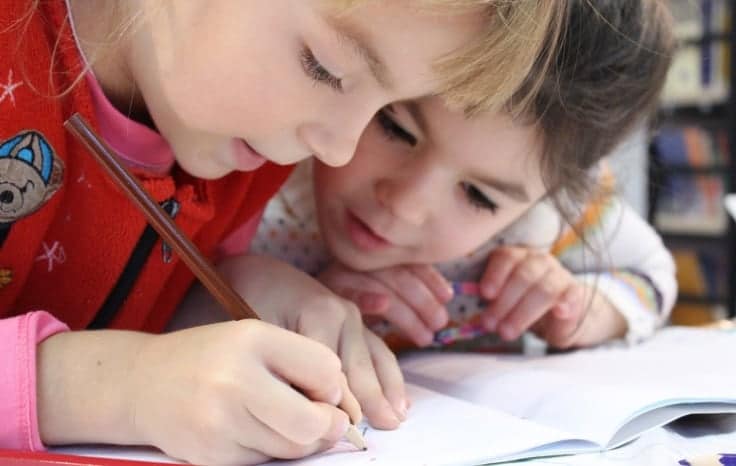 Write letters or draw pictures and send them to relatives near and far!
27. Volunteer
Find a kid friendly place to volunteer. Many animal shelters will accept school-age kids as volunteers to help walk dogs or just to play with them.
28. Have a Puppet Show
Make your own puppets and have the kids put on a puppet show. Have them make it official by selling tickets and creating a playbill.
29. Visit a Museum
Look for discounted rates at your local museums. And they don't just have to be children's museums. I take our kids to the local art museums, give them a clipboard and some paper and let them sketch as we walk through the museum. Check out this comprehensive lists of museums to find a new one in your area!
30. Make Boats
Make your own boats out of different materials and see which ones float the best. Try using items from your recycling bin and let the kids get creative!
31. Make a Family Cookbook
Work together to put the family's favorite recipes into a book. Have your kids help you design the cover and add illustrations. Laminate it or get it bound at staples for a few dollars so it lasts longer.
32. Attend an Outdoor Festival
Summer is festival time! Check your local newspaper for a schedule of local festivals. Many won't even have an entrance fee!
33. Find a Free Kids Workshop
Stores like Barnes and Noble, Lowes and Home Depot often offer free workshops or story time for kids. Check to see if your local businesses offer free workshops regularly.
34. Have a Sleepover or Pajama Party
Have your children invite a friend over for a sleepover party. If they're too young for sleepovers (or sleepovers just ain't your thing) have a pajama party with popcorn, pillow fights and movies.
35. Visit a Local Fire Station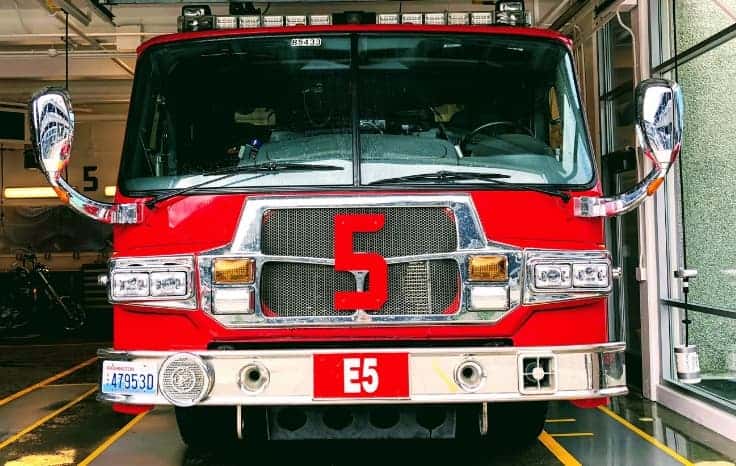 Check to see if your local fire station has free tours for the public. Even if they're not fire truck buffs, they'll love seeing the station and learning about fighting fires.
36. Balloon and Paper Plate Tennis
All you need is paper plates and a balloon for your very own tennis match. Your kids will giggle as they hit the balloon back and forth with their paper plate rackets!
37. Make a Scrapbook
Print out pictures from your phone and collect mementos from the summer. Then, put them all together in a summer vacation scrapbook.
38. Play in the Rain
You don't have to be stuck inside on a rainy day. Let the kids outside to play in the rain and jump in puddles. You'll be the coolest mom!
39. Listen to Audio Books
Use that library card and get some audio books! Check out picture books with accompanying CDs for the little ones and check out chapter books for the older ones.
40. Go Fishing
Nothing says summer like fishing.
41. Make Books
Cut sheets of computer paper in half and have your kids write and illustrate their own books! When their pages are finished, staple them together and have a story time.
42. Make a Fairy Garden (or a Lizard Garden)
Find a little spot in the yard and create your own fairy garden. Have them create a path of stones, a house from sticks and plant some flowers around the space. If your child isn't a fan of fairies, make it a dinosaur garden or whatever other type of creature is their favorite at the moment.
43. Make Shrinky Dinks
Remember Shrinky Dinks? Buy a pack and let your kids draw their creations. Then let them watch the magic as their art work gets miniaturized in the oven!
44. Make a Nature Collage
Remember that nature scavenger hunt I mentioned above? Have your kids create a collage from the natural items they found. See what different animals or scenes they can make using the materials they found.
45. Go to Garage Sales
What? More stuff? Here me out. Give your kids $1 or $5 and let them go shopping. They'll love going through the toys and picking something out, plus they'll have something new and fun to play with.
46. Have A Dance Party
Kids Bop Kidz has a YouTube channel with simple choreography you and your kids can do together. They'll love learning the moves and everyone will burn some energy!
47. Make Bookmarks
Have your kids design their own bookmarks. To make them sturdy, you can use construction paper and then laminate them or use card stock. Add some ribbon at the top for a little something extra.
48. Go Play Miniature Golf
Look for summer rates for miniature golf. You can usually find coupons or discounts for the weekdays during the summer.
49. Random Act of Kindness
Think of some random acts of kindness with your children and make it happen! Bake cookies for a neighbor or sweep their driveway without them asking. Here is a great book with some more ideas.
50. Sign up for Vacation Bible School
Check with your Church or other churches in your area to see if they offer Vacation Bible School (VBS). VBS is usually free to the community and is a week long "camp" for 2 -3 hours a day. It's a great way to get your kids more involved in church activities and get them out of the house and having fun!
***Bonus Tip***
Sign up for a subscription box and get ready made activities right at your doorstep. We love KiwiCo and right now you can get 30% off with code Share30.
What are some of your favorite frugal summer activities for kids?