This week my trip to the grocery store was a bit rushed and not as well planned as I would have liked. Everyone has been sick this week including me and my husband. I took about 2 minutes to throw together a meal plan on a scrap of paper (including our Easter Meal) and headed to the store.
I usually take a bit more time to look at the weekly sales at Aldi and Sprouts and plan my meals around them. This week I just stuck with what I knew and grabbed things on sale as I saw them that I figured we needed.
Surprisingly, I was only a dollar over budget. I also was still able to earn $0.75 on my Ibotta app.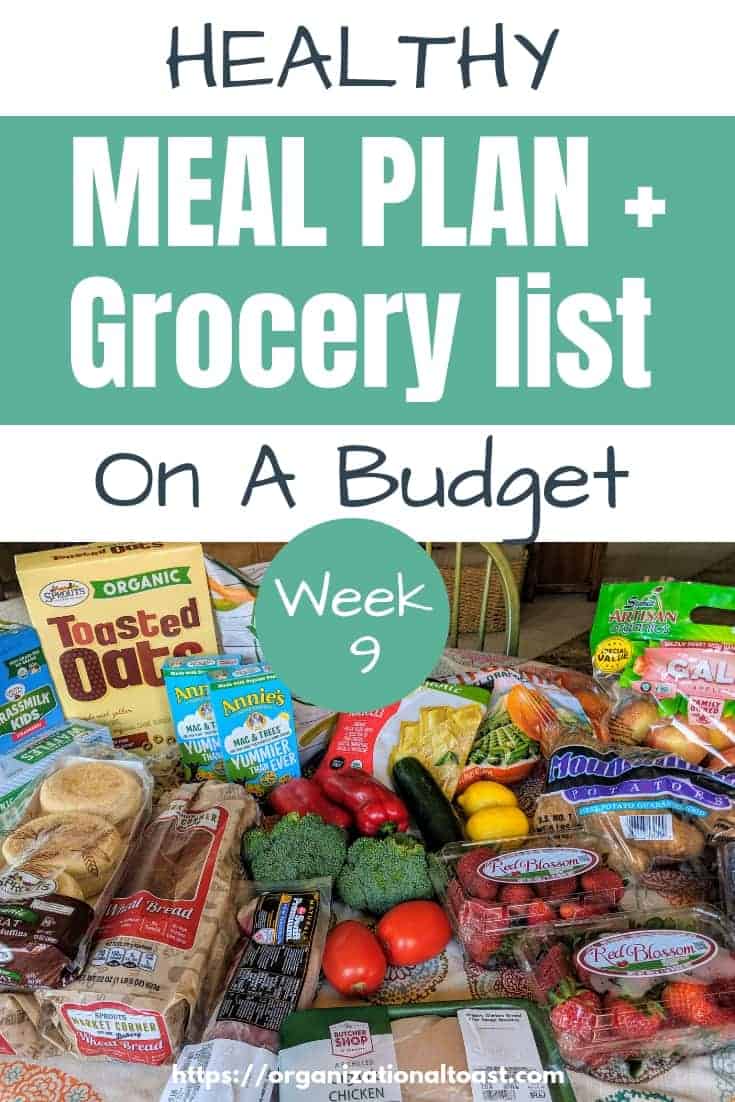 If you haven't followed the rest of my grocery haul and meal plan series, here's a quick recap:  We are a family of four with two adults and two kids. We eat all breakfast and dinner at home and I pack lunches for everyone each day. Also, you might see foods on our meal plan not listed as part of the grocery shopping trip. These are items already in our pantry or freezer.
Grocery Shopping Trip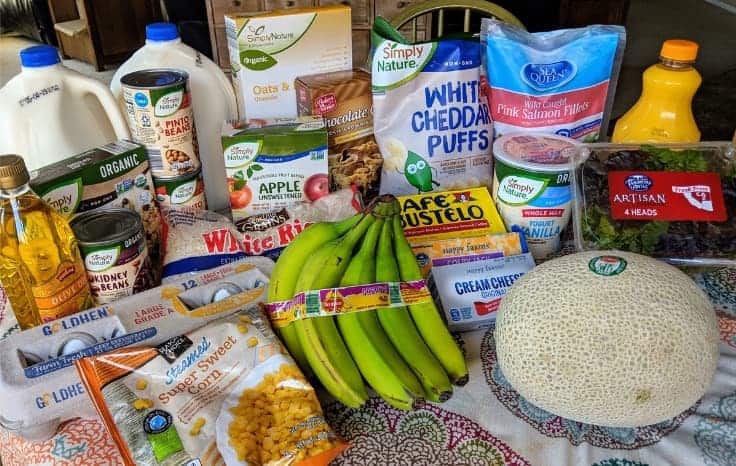 Aldi
Organic Yogurt – $2.89
Organic Bananas – $1.39
Frozen Corn – $0.79
Frozen Wild Caught Salmon – $3.99
Long Grain White Rice – $1.99
Colby Jack Cheese – $1.69
Apple Sauce Pouches – $1.49
Orange Juice – $1.99
Cantaloupe – $1.89
2 x Gallon of Milk – $2.89 x 2
Baby Lettuce – $2.29
Cream Cheese – $0.89
2 x Organic Pinto Beans – $0.89 x 2
Organic Kidney Beans – $0.89
Cookie Brownie Mix – $1.79
Organic Granola – $2.79
Organic Puffs – $1.99
Unsalted Butter – $1.99
Organic Granola Bars – $2.39
Olive Oil – $3.79
Espresso Coffee – $2.88
Dozen Eggs – $1.39
Tax-  $4.97
Total- $53.72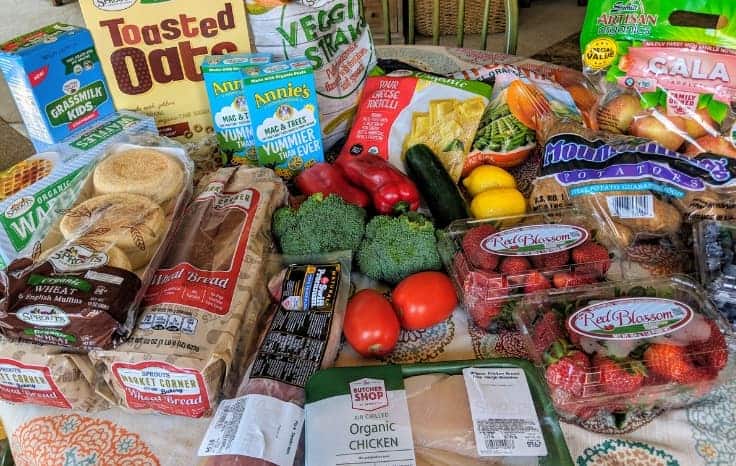 Sprouts
2 x 1lb Strawberries – $3.33
5 lb Russet Potatoes – $2.49
Broccoli Crowns – $1.24
Cucumber – $0.50
2 x Half Pint Blueberries – $3.34
2 x Lemons – $1.00
4 lb Navel Oranges – $1.98
2lb Organic Apples – $2.98
2 x Red Bell Peppers – $1.96
Roma Tomatoes – $0.55
2 x Annie's Mac & Cheese – $0.98 x 2
Organic Oats Cereal – $2.99
Veggie Straws – $1.67
Yogurt Tubes – $3.99
Pork Tenderloin – $9.34
Organic Chicken Breasts – $9.67
Wheat English Muffins – $2.99
2 x Wheat Bread – $2.29 x 2
Organic Ravioli – $6.99
Organic Waffles – $2.79
Tax- $5.98
Total- $72.34
Weekly Total: $126.06
Meal Plan
Dinner
Pork tenderloin, mashed potatoes and broccoli
Grilled Chicken, mashed potatoes and salad
Foil pack salmon, rice and frozen peas
Ravioli with vegetable ragu
Chili
Lunch (all served with fruits)
Ham and Cheese Sandwiches
Peanut Butter and Honey Sandwiches
Leftovers
Mac & Cheese
Breakfast
English muffins with cream cheese
Waffles
Scrambled Eggs and Toast
Snacks
Yogurt with granola
Veggie Straws/Puffs
Cereal
Granola Bars