This past weekend, we threw our son a sleepover party. He's been asking for a sleepover party for a couple of years now, but I still felt like he was too young. This year, I finally gave in. So for his 8th birthday we invited his best buds over for video games, pizza, a nerf war and a sleepover.
We invited three of his friends, and one friend for my daughter so she would have someone to play with. Believe me when I say that this was enough! Any more kids and I think it would have been overwhelming for everyone. Plus, all the boys had a chance to interact and really enjoy their time together. There were lots of laughs all night long!
In addition to making sure the boys had lots of fun, my goal was to tire them out! I wanted to make sure everyone was ready to sleep at the end of the night. I had lots of activities planned and the kids had tons of fun. My son is already planning his sleepover for next year!
I was also super conscious of our budget. We have done parties at the typical birthday party places in the past, and while I loved the convenience of those party places they are so expensive! This year I wanted to have a party that my son would be so excited about but that wouldn't break the budget.
For all the activities I had planned, I included the cost and some links so you know exactly which items I purchased. There's too many choices out there ya'll!
Birthday Party Activities
Nerf War
This was absolutely the highlight of the whole party! We made a super simple Nerf War course in our backyard using old amazon boxes. My original plan was to use wood pallets, but they were so hard to come by. Instead, we cut apart some of the Amazon boxes we had and spray painted them orange and blue.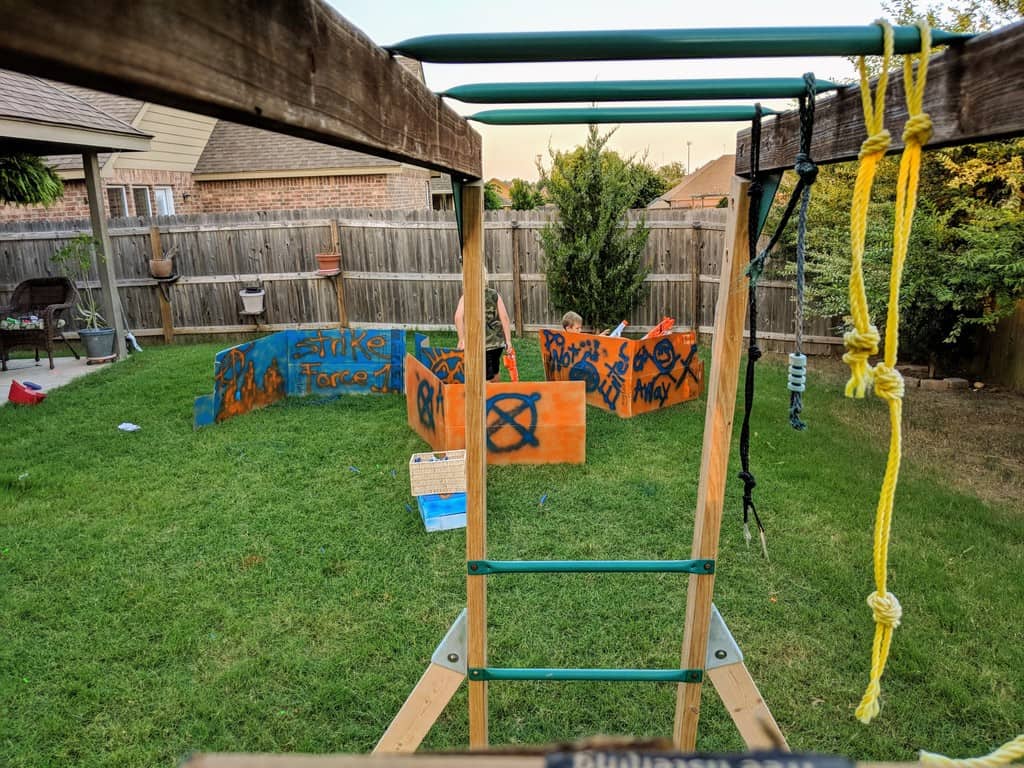 The Nerf War was a huge hit and the cardboard boxes actually worked out better than expected. For one, the kids could move them around into different configurations and build different bases. It was also much easier to clean up those cardboard boxes!
We also got some extra soft Nerf bullets and protective eye wear to keep everyone safe. Honestly, half the boys tossed the eye wear but others absolutely loved them. Plus, I felt better that at least half the boys wouldn't loose an eye. 
Nerf Wat Supply List:
Orange and Blue Spray Paint: $10
Soft Bullets: $8.98 (Buy Them Here)
Eye Wear: $15 (Buy Them Here)
Total Cost: $36.77
UPDATE: After having the party I came across this awesome Nerf Team Kit.
It comes with eye wear, bullets and camouflage bandannas for two teams. I would have totally gone with this kit had I seen it before!
Water Balloon Fight
When everyone was hot and sweaty we had a water balloon fight. I bought These Bunch O Balloons and they were super easy to blow up! We had about 300 water balloons in 10 minutes. Not only were they super easy to fill up but I didn't have to knot all 300 of them. They have a little rubber band that keeps the water in and your fingers happy! Even with 300 hundred balloons, I was surprised at how quickly they went through them!
Total Cost: $19.99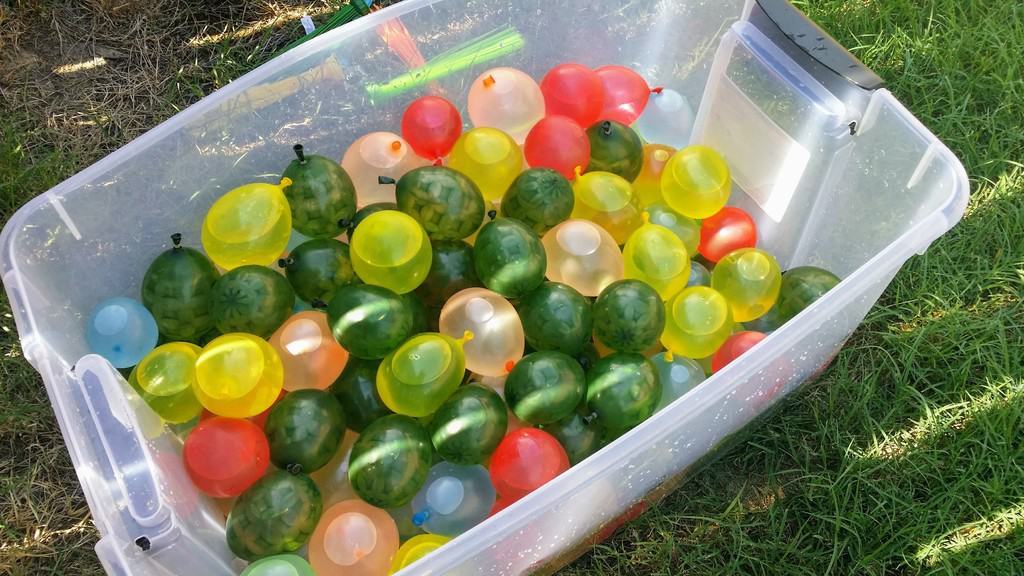 Laser Tag
When it got dark I sent the boys back outside for a game of laser tag. These laser guns came with 4 in pack and they are so much fun. Even my husband jumped in to play a round of laser tag. This was probably the most expensive item we purchased, but we made this item one of my sons birthday presents so it was kind of a win-win!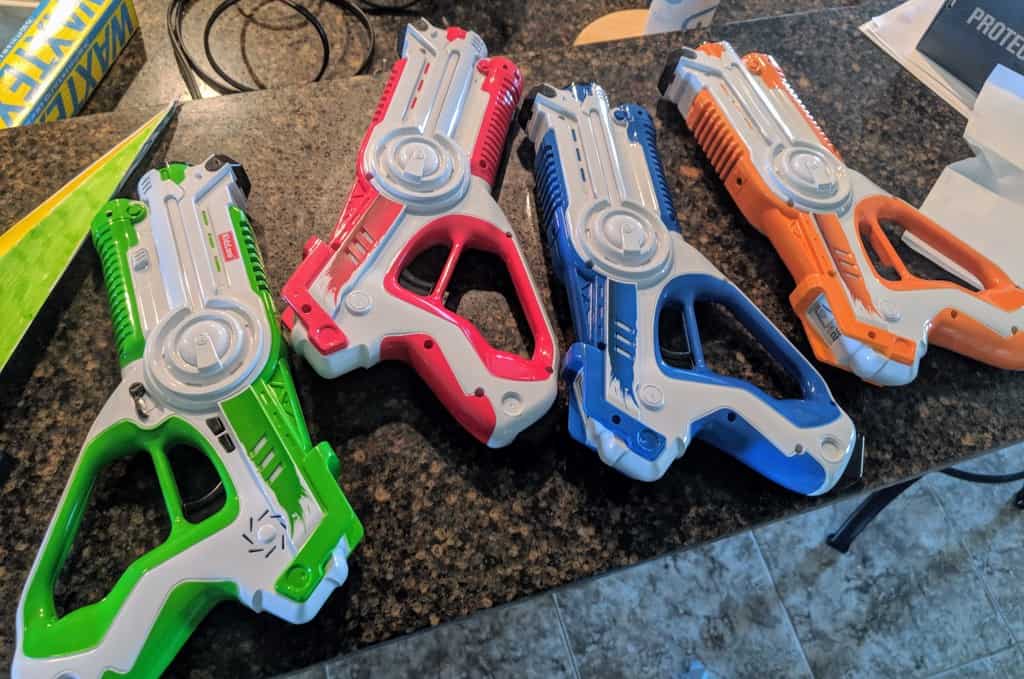 Total Cost: $59.99
Video games
We have a shield console which we use for all our media needs, but we only have 2 game controllers. I asked the moms to send everyone with ipads and they all had tons of fun sharing their ipads and taking turns on the video console.
Total Cost: Free!
Movie
When it was time to start winding down, I had everyone put on their pajamas and brush their teeth, then I got them settled for a movie. This was a great way to transition from running around like crazy to a calmer mood.
Total Cost: Free!
Sleepover Party Activity Total Budget: $116.75*
*Amazon had the best prices for the laser tag and bunch of balloons. I shopped around quite a bit and even found that they beat WalMart.
Party Food
I don't know about anybody else, but in my opinion, if the food stinks the party stinks. But that doesn't mean it has to be complicated! I kept it really simple. This time around I also spent the money to have a cake made because I am the queen of Pinterest fails and I was just not about to put that kind of stress on myself.  We ordered pizzas from a local pizzeria. The thought of baking 4 pizzas in my oven in the middle of July did not sound appealing. I was also worried we wouldn't have enough food and snacks, but everyone had plenty. I left out the grapes and cheese and crackers and the kids snacked through the evening.
Cracker, Cheese, and lunchmeat tray $6
Grapes $4
Individual Bags of Doritos $4.99
Pizza $32.79
Cake $23
Total Food Cost: $70.78
Our grand total for the party was……. $187.53!
Honestly, the cost of the party could have been much less if we hadn't splurged on the laser tag and the cake but those were the two biggest hits so I'm honestly glad that we did.
Sleepovers have a bad reputation but if you plan ahead, they can be enjoyable for you and the kids. I will definitely let my son have another sleepover birthday party!
Extra Sleepover Party Tips and Tricks
If you are looking for tips and tricks for throwing an awesome sleepover party check out these sites. They were super helpful when I was planning our party!
10 tips for hosting a successful sleepover