I'm a little embarrassed to admit this but I really enjoy grocery shopping. I think this probably has to do with the fact that I usually get to do it alone (thanks hubs!) and because I enjoy cooking and creating new recipes. I'm not a great chef by any means, but no one has ever cried over my dinner.
Well, except for that one time I made split pea soup and my son literally cried (I wish I had thought to record it, but I was laughing too hard).
We try to eat as many whole foods as possible (hence my experiment with split pea soup). We're also on a budget, so grocery purchases have a cap. I can get into some serious trouble at the grocery store. Having a budget helps me to step away from some of the items I don't really need. It takes a little bit of planning and some commitment, but it is well worth it in the long run.
You might also be interested in "Meal Planning for Beginners + Free Meal Plan Template".
To help you get a better idea of what whole foods we eat and how much we spend, I've decided to share with you what our shopping trips look like.
We eat most of our meals at home and my husband takes lunch to work 4 days a week. This week in particular we are all eating at home since the kids are home for the summer. I've included my meal plan towards to end of the post.
I love shopping at Sprouts and Aldi because they give me the best bang for my buck. They have the best prices on fresh foods. My weekly grocery budget is $125 for our family of 4 (kiddos are 4 and 8), but this week I was a little bit under. I have a bit of a stockpile going on in my pantry right now so I didn't have to buy as much. Check out these tips for creating a pantry stockpile.
Also, I don't calculate this in my weekly spending, but find out how I earn money on my grocery shopping
Grocery Shopping List for the Week
Sprouts:
2 – 1b packages of strawberries $2.50 (4 for $5.00)
5 lb Bag of Potatoes $1.99
Broccoli Crowns $0.63 (0.82 lbs @ $0.77/lb)
Cauliflower $1.11 (1.44 lb @ $.077/lb)
Green Beans $.59 (.60 lb @ $0.98/lb)
Italian Squash $1.55 (.92 lb @ $1.69/lb)
Large Navel Oranges $3.20 (3.27 lb @ $0.98/lb)
Lemons $0.50 (1 @ 2 for $1.00)
Organic Baby Carrots 1 lb $0.98
Organic Spring Mix $3.00 (1@ 2 for $6.00)
Organic Bananas $1.46 (2.11 lb @ $0.69)
Organic Gala Apples $3.92 (2.65 lb @ $1.48lb)
Red Bell Peppers $1.96 ( 2 @ $0.98 each)
Red Mangos $1.00 ( 3 @ 3 for $1.00)
Red Seedless Grapes $4.42 (2.23 lb @ $1.98/lb)
Roma Tomatoes $1.11 (0.86 lbs @ $1.29/lb)
Cucumbers .50 (1 @ 2 For a $1.00)
Plain Whole Milk Yogurt 32 oz container $2.50
1 Lb Ground Turkey $4.99
Organic Chicken Breast $12.68
Organic Chicken Breast $11.51
Whole Wheat Flour Tortillas $2.49
Organic 21 Grain Bread $6.58 ($2 @ 3.29)
Canned Kidney Beans $0.89
Canned Pinto Beans $0.89
Organic Baked Beans $1.49
2 Boxes of Cereal $8.98 (I don't usually buy cereal but the kids were with)
Organic Popcorn $1.99
Organic Cheese Crackers $2.99
Multigrain Tortilla Chips $1.50
Cheddar Multigrain Tortilla chips $1.50
60% Less Sodium Potato Chips $1.50

Produce Total $30.42
Grocery Aisles: $62.48
Total: $92.90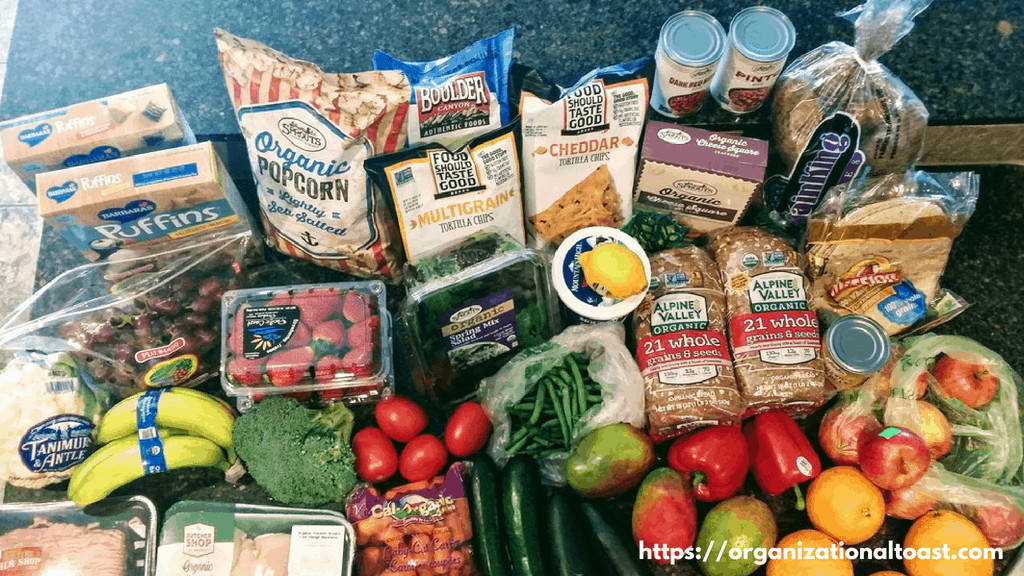 Aldi
2 Gallons of Milk $5.18 (1 Gallon at $2.59)
2 Cartons of Eggs $0.96 ( .48 cents for 1 dozen eggs)
2 packages of sliced cheese 3.98 ($1.99/pack)
1 package Sliced Ham $3.99
Whole Wheat Spaghetti $1.09
Organic Marinara Sauce $2.19
Can of Tomato Sauce $0.39
Organic Granola Bars $2.19
Cream Cheese $2.58 (2@1.29)
Total $18.56
Weekly Budget Summary:
Budgeted $125
Total spent $111.46
Under Budget: $13.54
Meal Plan for the Week
So, what am I making this week with these groceries? I did have the following items in my pantry: Rice, Homemade Salad Dressing (check out my recipe here), Peanut Butter, Honey, Canned Beans, Pancake Mix, Syrup, and Macaroni and Cheese.
Breakfast
Whole Grain Protein Pancakes with Syrup and Strawberries
Cereal with bananas or strawberries (3 times this week, Lord knows we had enough cereal this week)
Scrambled Eggs with Toast and Mangos
Toast with Cream Cheese and Fruit
Lunch (all lunches are served with fruit)
Ham and Cheese Sandwiches
Peanut Butter and Honey Sandwiches
Grilled Cheese with carrot sticks
Macaroni and Cheese
Quesadillas with Leftover chili (see dinner below)
Dinners
Chili with Cheese quesadillas and Fruit Salad ( I only use ½ lb turkey)
Marinated Grilled Chicken with Salad, Carrot Sticks, and Mashed Potatoes with Cauliflower (I marinate the chicken in my homemade dressing and marinade)
Spaghetti with Meat Sauce and Salad/Broccoli and Apple Slices(the other half a pound of turkey is used here) This will make 2 dinners
Chicken Breast in Mustard Sauce with Rice and Green Beans
Vegetable Stir Fry with Rice and Apple Slices( I save this one for the last dinner and use up all the veg we haven't eaten yet)
Snacks
Popcorn
Chips
Apple Slices with Peanut Butter
Yogurt with Honey and Fruit on Top
Cereal with Milk
Check out the full Grocery Haul and Weekly Meal Plan Series to see how I've been doing with my grocery budget and find more meal plans.
Looking for other frugal meal ideas? Check out my collection of healthy, kid approved meal ideas here!