If you've been following along on our frugal journey, you know that I absolutely love finding easy ways to save money. And one thing I have done is to invest a little in reusable products that save me money every month!
These are items that seem like no brainers or items you wouldn't think would make a big difference, but I'm here to tell you you're wrong.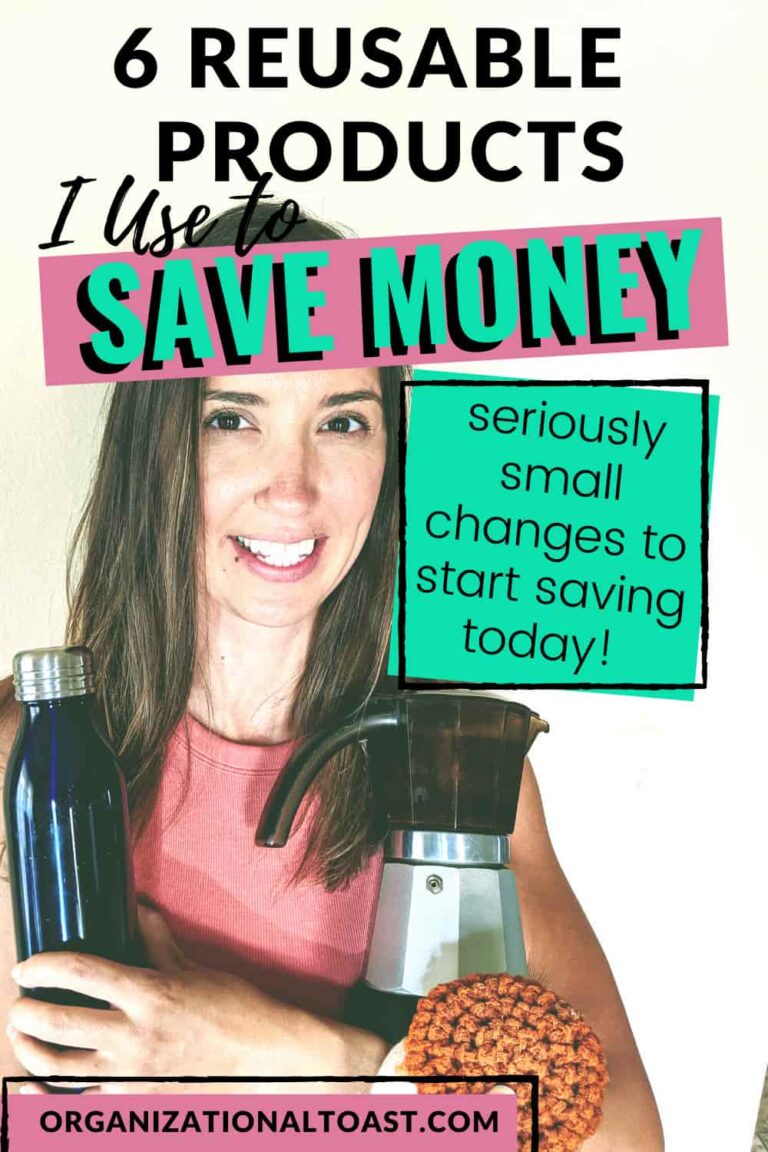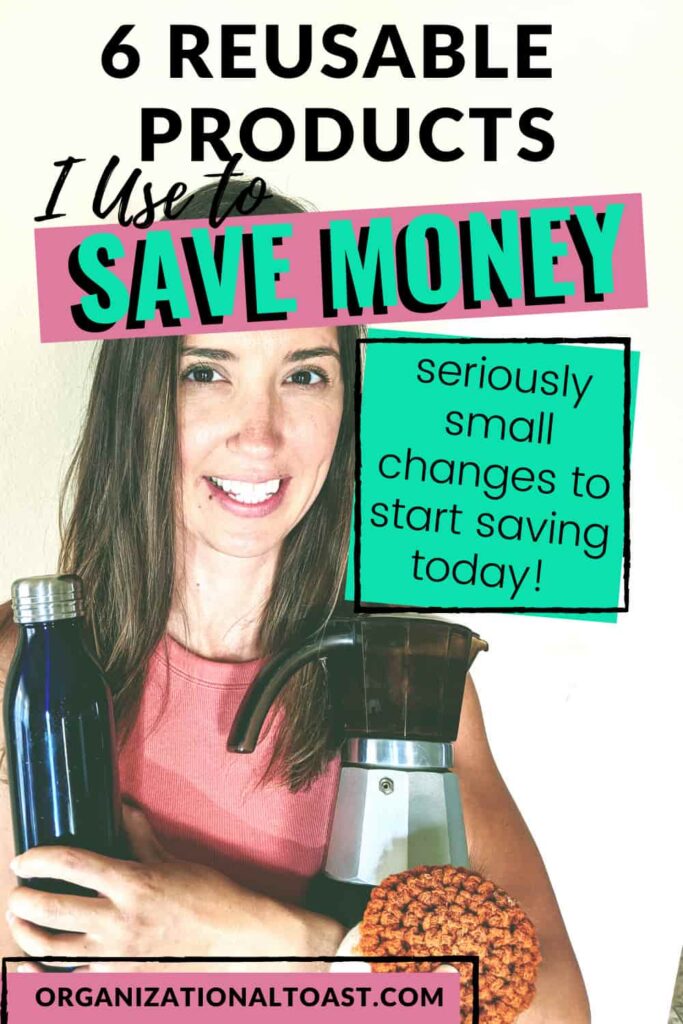 #1 Reusable Grocery Bags
I love Aldi and most of my grocery shopping happens there. If you also shop at Aldi, you know that you either need to bring your own bag or pay for bags.
When I venture to other grocery stores like Publix or Sprouts, I've noticed they are now giving a $.05 discount for each bag you bring!
I purchased the dollar bags at Aldi, but they honestly split apart after a few months of weekly grocery shopping and so I had to find something more durable so I wasn't adding grocery bags as an expense.
I bought this pack of 6 reusable grocery shopping bags from Amazon and they have been wonderful!
They are machine washable (which is now so important) and they come in a variety of colors and patterns. And they've lasted me without any rips or tears!
#2 Water Bottles
This is one that I have seriously been doing for years so I can only imagine how much money it's saved me over time. Each family member has their own water bottle (even the kids) and we refill and drink from them daily.
My husband and I love this stainless steal water bottle. And the bonus is it comes with it's own cleaning brush so you can easily wash the water bottle.
My kids use these water bottles at school and at home.
We're fortunate that our refrigerator has an awesome water filter so we get really excellent water. If your fridge doesn't have a water dispenser a Britta filter is another great option!
#3 Wool Dryer Balls
I initially bought these wool dryer balls to save on dryer sheets, which I'll admit is a really small savings. They cost me $16.95 and are meant to last for two years. A box of 240 dryer sheets costs me about $11.97 and lasts me about 9 months. I saw the benefit of investing in the wool dryer balls worth it for the small savings
What I didn't realize, was that these dryer balls cut my drying time by 25%-50%, meaning I'm saving on my utilities! This is so important especially in the summer months, when I don't want my dryer running all day and heating up the house while I have the ac running! I love surprise savings!
#4 Reusable Nylon Dish Scrubbers
Again, this was kind of one of those savings my accident discoveries. I was tired of yucky sponges that didn't properly clean my dishes, so I invested in these reusable nylon dish scrubbers.
A pack of two sponges for $9.00 has lasted me over a year and they are still going strong! When I need to clean them, I soak them in vinegar over night to disinfect (vinegar is a cheap disinfectant) and by the morning they're ready to use again.
#5 Espresso Maker
My morning coffee is my religion and I do not mess with it. And I like espresso. My morning Starbucks run (and my mid afternoon one for that matter) was one of the first things my husband and I cut from our budget when we started our debt free journey. But we also didn't want to spend a ton of money on a good espresso machine.
Well friends, for $21.99 we purchased this stove top espresso maker and have never looked back. We bought it 6 years ago and it is still going strong. My husband and I each have a latte at home every morning. That's an $8 savings daily right there! I actually prefer our home lattes to Starbucks now.
The stove top espresso maker is great for gas stoves, but if you don't have one this is the electric version. We have this one for when we travel, so we can make our own lattes and don't have to spend money on Starbucks when we're on the road!
#6 Soda Stream
Where are my LaCroix drinkers? Sparkling water is one of my favorite beverages and the Soda Stream is such a great way to save $4 every week on a case of LaCroix. This one cost me about $70 and paid for itself in those weekly savings in about 4 months.
The soda stream is worth it's weight in gold both in terms of convenience and opportunity to save money.
If you're a soda drinker, there are so many great soda flavors to choose from so you can make your own soda at home!
Want to Save More Money When You Shop?
I love using free apps to help me save money. My favorite by far is Ibotta, because I can save money on all sorts of purchases both in store and online. And if you're looking for more money saving ideas check out the Best Frugal Living tips for 2020!