The past few week's grocery shopping and meal planning has really felt like a chore. I am the first one to admit that doing a weekly meal plan can feel like a chore. And this week was especially hard.
But I did it anyway.
I made my meal plan, stuck to my shopping list, and was able to stay under budget!
And that's when I'm reminded of why I meal plan in the first place.
My budget for our family of four is $125 a week. This week I came in at $114.80!
I also took advantage of some great Ibotta deals and earned cash back on my grocery haul.
Sign up with this link and get a $20 sign up bonus.
You'll see from my shopping list that I do buy some organic, so if organic is not your thing, you can make this meal plan using this grocery list for even less.
You can see all my past meal plans and grocery lists here.
Grocery Haul and List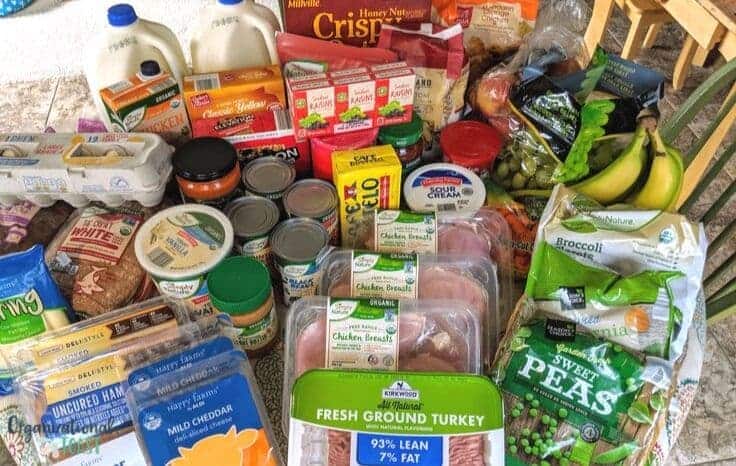 Organic White Bread – $4.29
Organic Wheat Bread – $4.29
Dozen Eggs – $0.84
2 x Organic Frozen Broccoli – $3.98
Frozen Peas – $0.99
Frozen California Vegetable Medley – $0.95
Ground Turkey – $3.49
Organic Chicken Breasts – $9.03
Organic Chicken Breasts – $7.76
Organic Chicken Breasts – $5.30 (this pack had a $2 off sticker!)
Cream Cheese – $1.29
Cafe Bustello Espresso – $2.88
2 x Sliced Deli Ham – $4.98
2 x Sliced Cheese – $3.98
String Cheese – $2.79
Organic Creamy Peanut Butter – $3.39
Chocolate Frosting – $1.15
Cake Mix – $0.85
Penne Pasta – $1.09
Organic Chicken Stock – $1.89
Honey Nut Oats Cereal – $2.45
Milled Flax Seeds – $2.29
Elevation Granola Bars – $2.49
Vodka Pasta Sauce – $2.89
Sour Cream – $1.49
Organic Black Beans – $0.89
2 x Organic Pinto Beans – $1.78
Organic Kidney Beans – $0.89
6 Pack Raisins – $1.89
Raisin Canister – $3.59
Organic Salsa – $1.89
Bananas – $0.94
Green Grapes – $1.83
Gala Apples – $3.89
Organic Baby Carrots – $1.39
2 x Gallon Milk – $4.96
Fusion Asian Chicken – $5.29
Subtotal – $106.05
Tax – $8.75
Total – $114.80
Meal Plan
Before I go to the grocery store, I always do a quick inventory of what I have and what needs to be used before it expires. After I've done an inventory, I'll quickly scan the sales for the stores I'm going to.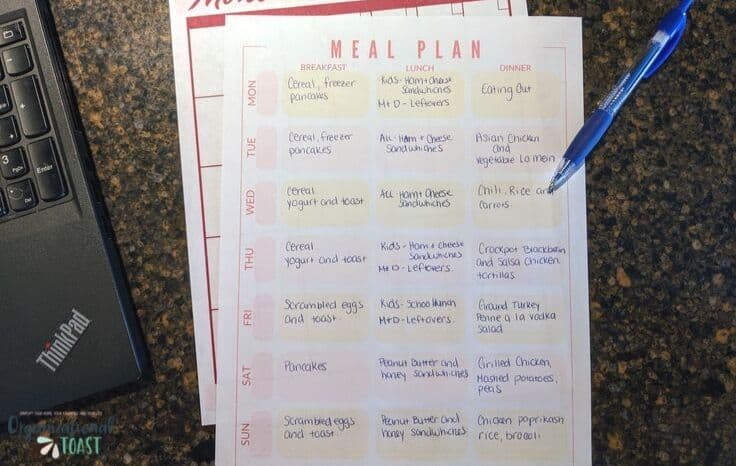 Download the Meal Planning Guide For Beginners
We still had quite a bit of fruit and fresh veggies leftover, so most of our snacks incorporated lots of fresh stuff so I could use it up. I had a good amount of zucchini that was on the way out, so I whipped up some chocolate zucchini bread that the kids devoured.
We also had a bunch of snacks leftover from my daughter's birthday party so I didn't buy too many snacks this week. I always buy single serve bags of chips for birthday parties. Even though it can be a few dollars more expensive, we're less likely to end up with half eaten bags of chips that go stale and go to waste.
We ordered a pizza one night since it was my daughter's birthday and we always let the kids choose their birthday dinners.
Most of the dinners I make end up with leftovers. Some I will freeze, others my husband and I will eat for lunch.
I don't list it out, but every meal we eat is served with fruit.
Dinners
Asian Chicken and Vegetable Lo Mein
Chili, Rice and Carrots
Crockpot Black Bean and Salsa Chicken with tortillas
Ground Turkey Penne a la Vodka and Salad
Grilled Chicken, Mashed Potatoes, Peas
Chicken Paprikash, Rice, Broccoli
Lunches
Leftovers
Ham and Cheese Sandwiches
Peanut Butter and Honey Sandwiches
Breakfast
Cereal
Pancakes
Yogurt with Toast
Scrambled Eggs with Toast
Snacks
Chocolate Chip Zucchini bread
Celery and Peanut Butter
Mandarin Oranges
Cheese Sticks
Cucumbers, Carrots and Hummus
Leftover party snacks – chips, animal crackers, popcorn
Birthday Cake
Looking for more meal ideas? Check out: