Getting out of the house in the morning with kids without being frazzled and totally stressed out sometimes feels like mission impossible.
So friends, to help you out, I've put together a list of 7 simple rules to create a morning routine that stops the chaos. Some of these tips are to help you feel your best, while others are practical time management tips.
Rule #1 Wake Up Before Everyone Else
This is a big one. How much earlier you wake up will depend on what you want to use this time for. You can use this time to meditate, do some stretching, journal, exercise or just drink your first cup of coffee while it's still hot. The one thing you should not use this time for is to get on your phone (see rule #3). This is your time and you should use it to set the tone for your day.
I wake up 20 minutes before everyone else. These 20 minutes give me time to get dressed, put on a little bit of makeup and fully wake up before the flurry of demands begin. Does someone wake up before me? Sometimes. When they do, I just incorporate them into my routine, even if this means letting my 4 year old brush my hair.
Rule #2 Shower At Night
Friends, I love to shower. The shower is my happy place. However, when I used to shower in the mornings, that happy place did not always end up happy. Actually, 99% of the time it was interrupted by at least one little person pressed up against the shower door needing something.
For the first couple years of my first born's life, I showered when I could. This meant either during nap time or when I could set him down to take the 3 minute shower I was used to. I never considered showering at night because a) I was too tired and b) I thought my hair would be worse off the next day.
Once I had our second baby, it became much harder to shower during the day. Most of the time I had to throw on some dry shampoo and hope for the best because a shower was just not happening. I hated dropping my son off at school looking a wreck and it totally tanked my mood.
So I experimented with taking a night time shower. When I did, the clouds parted and the angels sang. I had 10 minutes of uninterrupted time. I could actually shave properly. The next day I didn't have to squeeze it in and I could leave the house knowing I was fresh and clean (and my hair wasn't so bad). It was an immediate mood changer for me and made my days feel a lot less stressful.
Showering at night also frees up time in the morning and let's me sleep later. I call that a win-win!
Rule #3 Don't Check Your Phone
There are lots of reasons why we shouldn't look at our phones first thing in the morning, but the main reason is because our phones are a source of stress. According to recent research, all those notifications that have come through while you were sleeping trigger a sense of what you have missed and what you need to get done. This can have a major impact on your mood for the whole day.
Specifically, by staying off social media in the morning you won't start the comparison game or let someone else's "awesome" updates give you a major case of FOMO.
I challenge you to stop yourself when you reach for the phone first thing in the morning. Try this for a week and I bet you will see a difference.
Related: The Secret To a Successful Week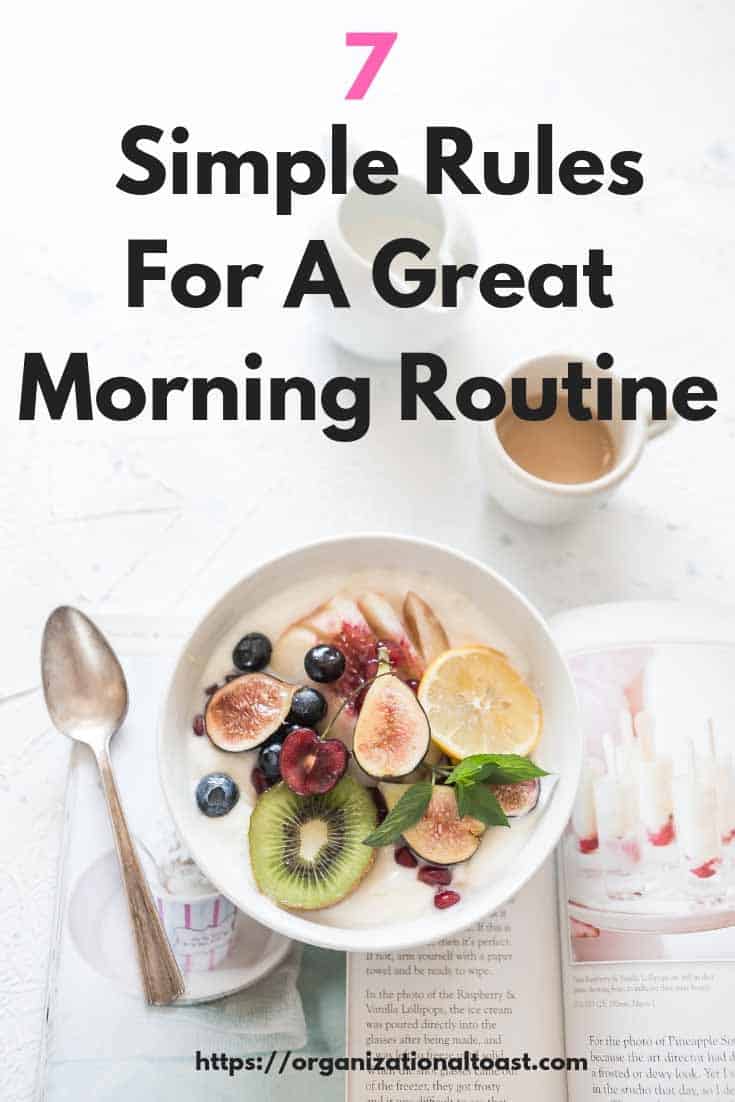 Rule #4 Hydrate
Don't roll your eyes. We all know we need to drink more water. I am chronically bad at getting in my eight glasses of water a day.
Hydrating in the morning is incredibly beneficial to your digestion, liver and overall well being. When I don't hydrate in the morning, I feel sluggish and grumpy by midday and I have a hard time catching up on my water intake. You can read all about the benefits of drinking water in the morning here.
Drink a big glass of water before you eat anything to boost your metabolism and help you re-hydrate from the night before. You'll feel better all day long, trust me.
Rule #5 Keep Breakfast Simple and Healthy
This is another one we all know we should do but we might not be great at. But eating a healthy breakfast has been shown to improve your concentration and performance throughout the day.
If you struggle to eat a healthy breakfast, here are some quick and easy (and kid friendly) options:
Whole Wheat Waffles with Orange Slices (make a huge batch on the weekend!)

Oatmeal with Bananas (quick oats are your friend)

Avocado Toast with Fruit

Hard Boiled Eggs with Toast and Fruit

Egg Muffin Cups – Check out this list of

Egg Muffin Cups Recipes
Many of these options can be made ahead of time, either on the weekends or the evening before. Having a healthy breakfast planned and made ahead of time will make the morning rush not so rushed.
Just remember: Not all breakfasts are created equal! Keep it simple with whole foods and you will feel your best! Check out these simple healthy on the go breakfast ideas for kids for more make ahead breakfast ideas.
Rule #6 Pack Up The Night Before
In the evenings, I help the kids pack their backpacks for the next day. Then we put their backpacks and shoes in the hallway ready for the morning. P.S. If you have a mudroom a) I am jealous and b) can I move in?
Anyway, having backpacks packed and shoes right next to them, makes leaving the house in the morning 1000% times easier. Gone are the mornings where we are looking for a sneaker or picking what to bring to show and tell.
You can also pack lunches in the evenings. Keep lunches super simple. I use these partitioned lunch containers: Ziploc Container, Divided Rectangle, 2-Count(Pack of 2)
.
I rotate the sandwich types (ham and cheese, turkey and cheese etc) and the smaller sections are usually a fruit and some kind of other protein (cheese, hard boiled egg, yogurt). Don't put too much pressure on yourself to make a gourmet lunch for the kids every day. If you include simple (healthy) foods, it makes packing them very easy and much less stressful.
Having all this done the night before takes me about 20 minutes, but that is 20 minutes I do not have in the morning.
Rule #7 Always give yourself wiggle room
My kids move like molasses in the morning and they need some space between the time they wake up to when they can actually start their morning. Not rushing puts them in a better mood and they are more willing to get through the morning routine without having a major breakdown.
Knowing you have some wiggle room will also allow you to be calmer. Some mornings go much smoother than others and we are actually ready before we need to leave the house. Other times, that extra time is filled with an impromptu dance show or clean up from a major spill at the breakfast table.
Here is a look at my morning routine, just so you can get a sense of how I have implemented these 7 steps:
6:45 – Wake Up, Get Dressed, Put on Makeup
7:00 – Hydrate
7:05 – Wake kids up if they aren't up already
7:15 – Get breakfast ready
7:25 – Get everybody to the breakfast table and eat!
7:45 – Get the kids dressed
7:55 – Hair Brushing/Tooth Brushing and Shoes
8:05 – Out the door (we actually don't have to leave until 8:10 to be at school on time, and we usually end up leaving between 8:05-8:10).
Take these 7 simple rules and make them your own. Remember: the morning sets the tone for the entire day and a morning routine will get you started on the right foot.
Looking for some simple ways to get you organized in all areas of your life? Check out my favorite 5 apps to get organized!